Sports & Outdoors
5 Best Upright Exercise Bikes 2023 – Best Exercise Bikes to Lose Weight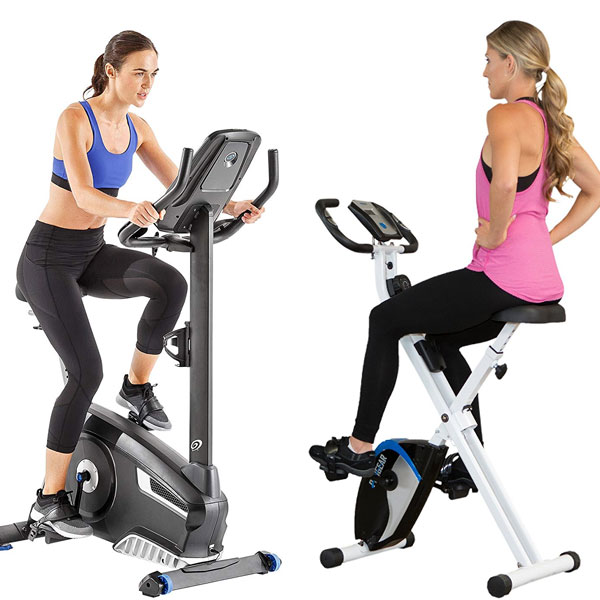 Upright exercise bikes offer a more authentic riding experience that mimics the positioning of an outdoor road bike more closely than most other types of stationary exercise bikes. These bikes keep your body in an upright position and feature pedals that are positioned directly under your feet while you ride. They consistently work the same muscles that you use when you ride a non-stationary bike outdoors.
Because of their unique design, upright exercise bikes provide a full body workout that tones your figure and increases your strength in addition to improving your cardio fitness. Like other bikes, they work your glutes, hamstrings, calves, and quads. However, upright exercise bikes constantly engage your upper body as well, including your ab and core muscles and your biceps, triceps, and shoulders. As an added bonus, the upright position of these exercise bikes takes up much less space in your home than do other types of stationary bikes.
If you are an outdoor cycler, an upright exercise bike can help you train indoors at home when the weather is bad or you feel like multitasking and watching TV while you ride. Upright exercise bikes are also a great choice for people who are just looking for a way to fit simple and effective at-home full body cardio workouts into their daily routine. No matter what your fitness goals are, these five top-quality upright exercise bikes can help you accomplish them.
1. L NOW Upright Exercise Bike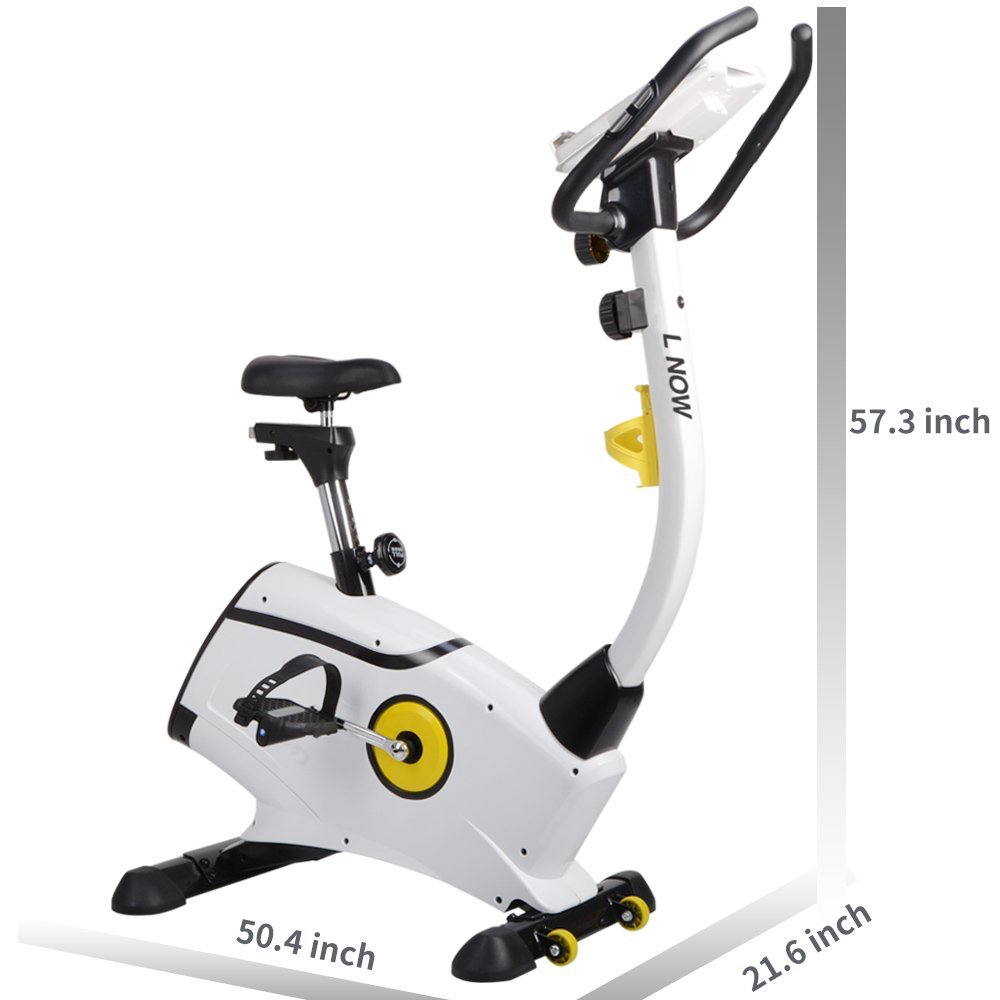 The sleek and simple design of this upright exercise bike adds to the aesthetic of your home without drawing too much attention. It spins and comes to a stop very quietly and includes eight different levels of resistance so you can adjust the intensity of your workout at any time. The bike's ergonomic handlebars and rough pedals are designed with your safety and comfort in mind. The hand pulse sensors built into these handlebars measure your heart rate in real time so you can track it throughout your workout from start to finish. This bike also features a built-in monitor screen that clearly displays your speed, time, distance, and number of calories burned.
Multi-tasking is a great way to distract yourself from your cardio, and this bike makes it easy to entertain yourself with its holder that is designed to secure an iPad, smart phone, magazine or book as you ride. The bike has a high maximum weight capacity of 300 pounds. It is designed to accommodate a wide range of heights and weights with its easily adjustable seat and handlebars. This upright bike is also extremely portable. Its built-in transport wheels allow you to easily roll it into a closet or another room when you're not using it.
Pros:
Operates smoothly and quietly
Features a monitor screen and built-in heart rate sensors
Built with transport wheels for easy storage and portability
Safely supports up to 300 pounds
Cons:
Designed for use on hard, flat floors only and can potentially malfunction when placed in carpeted areas
2. Exerpeutic Folding Upright Exercise Bike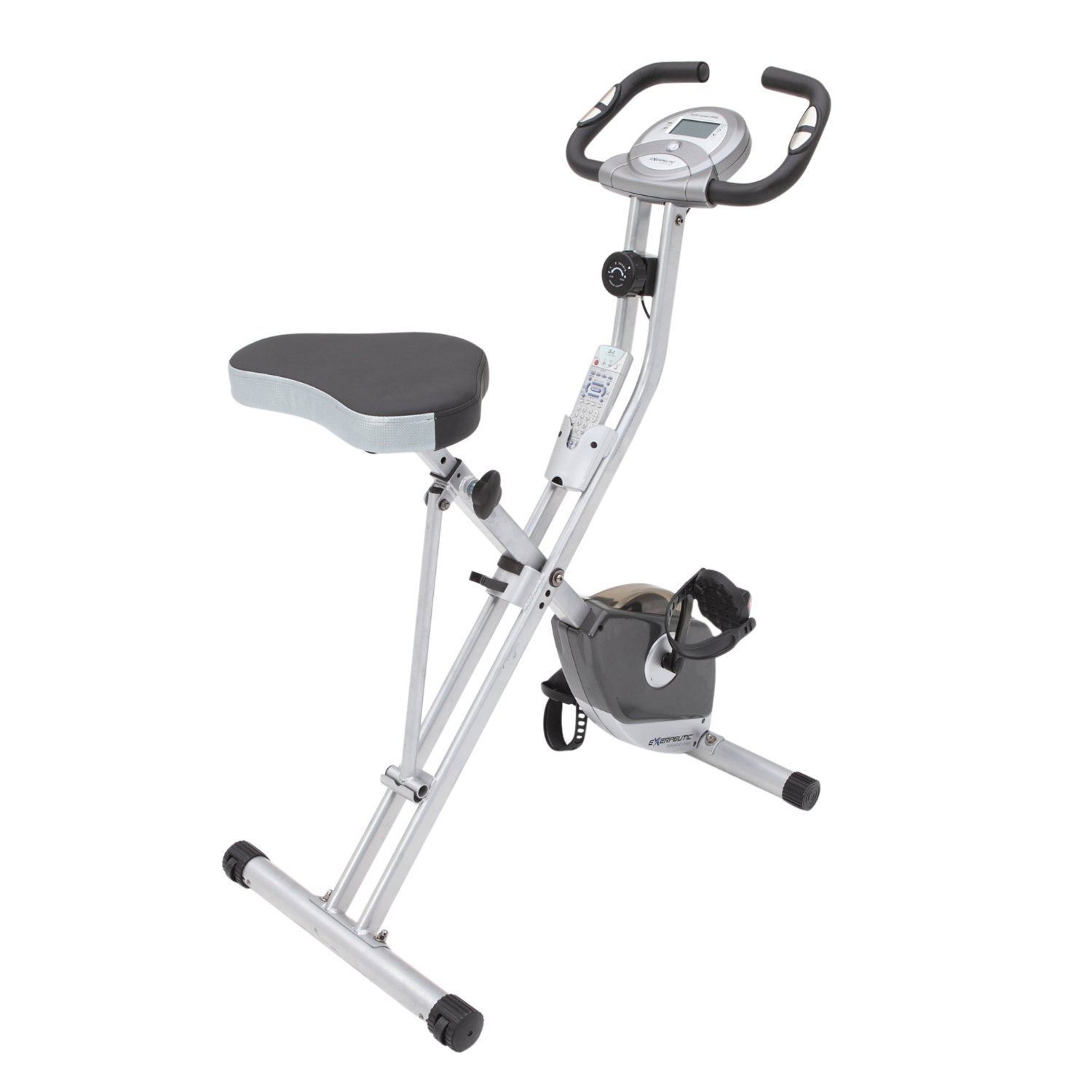 This upright exercise bike is designed for riders of all shapes and sizes. It can support up to 300 pounds and can accommodate heights from 5'3″ to 6'1″. It also features an extra-large adjustable seat cushion to prevent soreness and keep you comfortable during and after your workout. The LCD monitor screen built into this bike displays your distance, time, speed, and number of calories burned. The bike's handlebars also feature a hand pulse monitor that measures your pulse throughout your workout.
Its foldable design makes this bike extremely easy to store and transport. When folded, it takes up less than half the space it does when it is not folded. It also includes transportation wheels that make it even easier to store the folded bike frame in a closet, against a wall, or in another small space out of the way.
Pros:
Folds up to half its original size for easy storage
Features a built-in LCD monitor screen and hand pulse monitor
Built with transportation wheels for more portability
Safely supports up to 300 pounds and a height range from 5'3″ to 6'1″
Cons:
Makes more noise when its screws and bolts come loose and requires regular tightening to continue operating quietly

3. Nautilus Upright Exercise Bike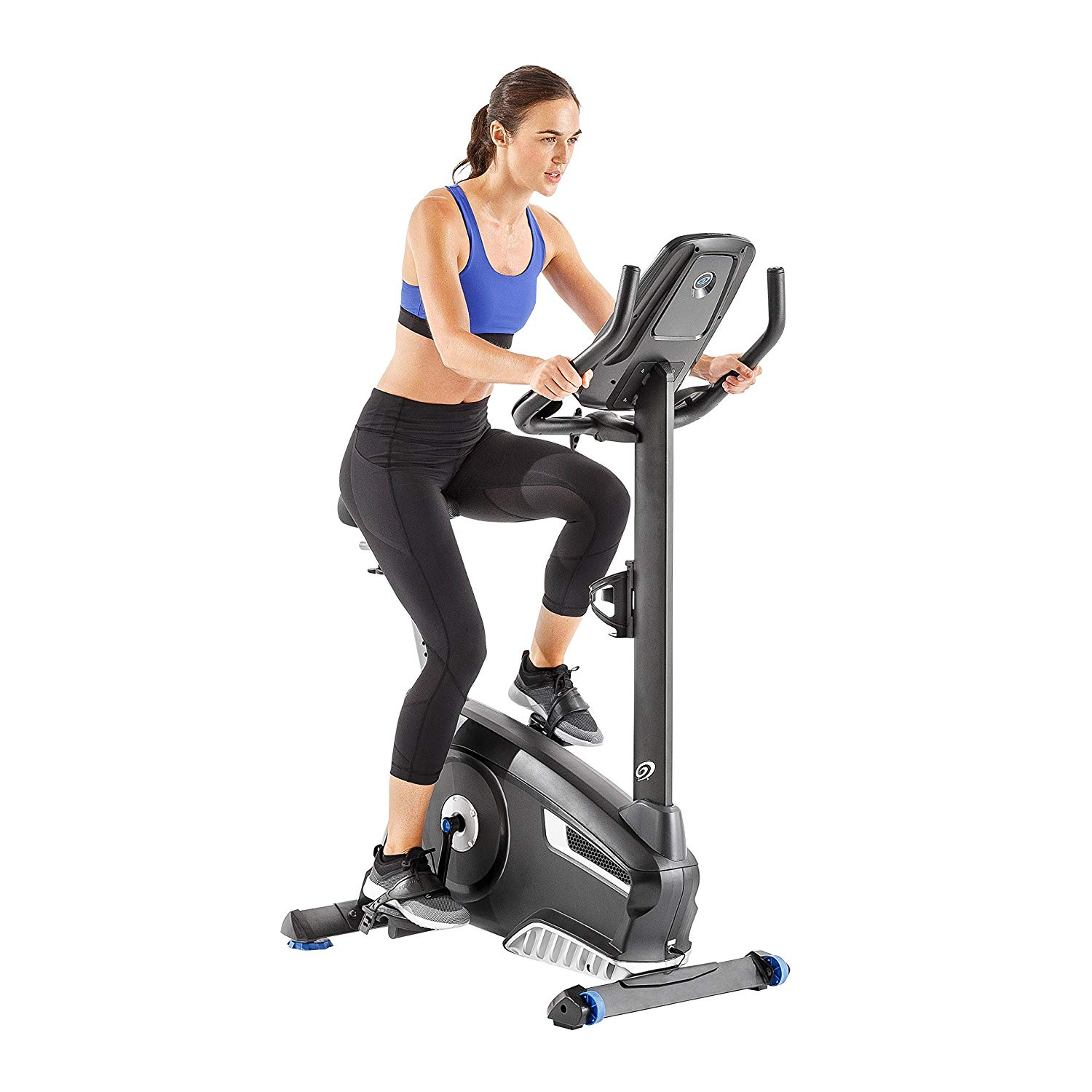 This high-tech upright exercise bike is outfitted with a ton of special features that help maximize all of your workouts. It features twenty-nine workout programs that you can choose from depending on your personal fitness goals. It also includes twenty-five resistance levels that allow you to easily increase and decrease the intensity of your workouts. The two LCD screens built into this bike allow you to easily monitor your workout progress as you ride.
Track your workouts using the Nautilus Trainer 2 app that links to this bike through Bluetooth connectivity. The Trainer app–which is compatible with smartphones and other mobile devices–helps you track your fitness progress over time. Make friends while you ride by downloading the RideSocial app. The RideSocial app also syncs with this bike–it gives you a change to virtually socialize with other riders in real time. This upright bike is also built with a media shelf for your smartphone or iPad, a USB charging port, internal speakers, and a three-speed fan to make your workout more comfortable and more enjoyable.
Pros:
Syncs with Nautilus Trainer 2 and RideSocial apps
Features two built-in LCD screens that display your workout details
Includes twenty-five resistance levels
Built with a media shelf, USB charging port, and fan
Cons:
While the seat is vertically adjustable, it cannot be moved forward or backward

4. Schwenn Upright Exercise Bike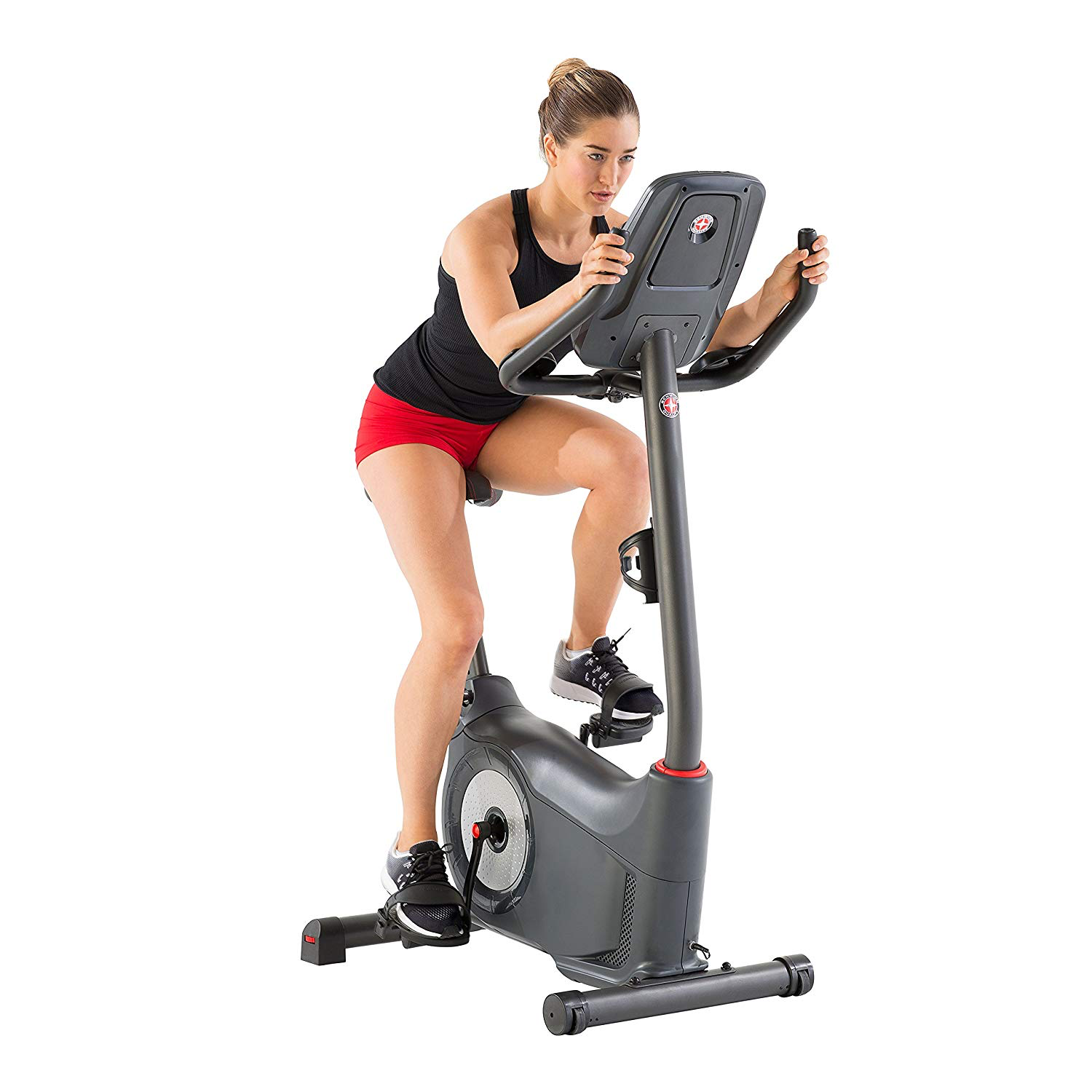 This high-performance, high-tech bike helps you stay on track with your fitness goals and ensures that all of your workouts are as efficient and enjoyable as possible. It includes multiple workout programs and assesses your skill levels and progress through fitness tests. The bike also syncs with two apps that you can download on your mobile device–the Schwinn Trainer app and RideSocial. Schwinn Trainer helps you track your workout progress. RideSocial allows you to connect with and get to know other riders in real time.
The twenty-five resistance level options this bike offers allow you to specify the exact amount of intensity you want in your workout. Comfort is as high a priority as performance for this exercise bike. Its seat is contoured and its seat and handlebars are  contoured to maximize your comfort and ward off any soreness. A built-in media shelf, speakers, USB charging port, and fan are just icing on the cake of an exercise bike that already creates an unbeatable indoor riding experience.
Pros:
Syncs with Scwinn Trainer and RideSocial apps
Built with padded handlebars and a padded, contoured seat
Offers twenty-five resistance levels
Includes a built-in media shelf, USB charging port, speakers, and fan
Cons:
The calorie counter built into this bike can be somewhat inconsistent and doesn't always give a count that is completely accurate

5. ProGear Foldable Upright Exercise Bike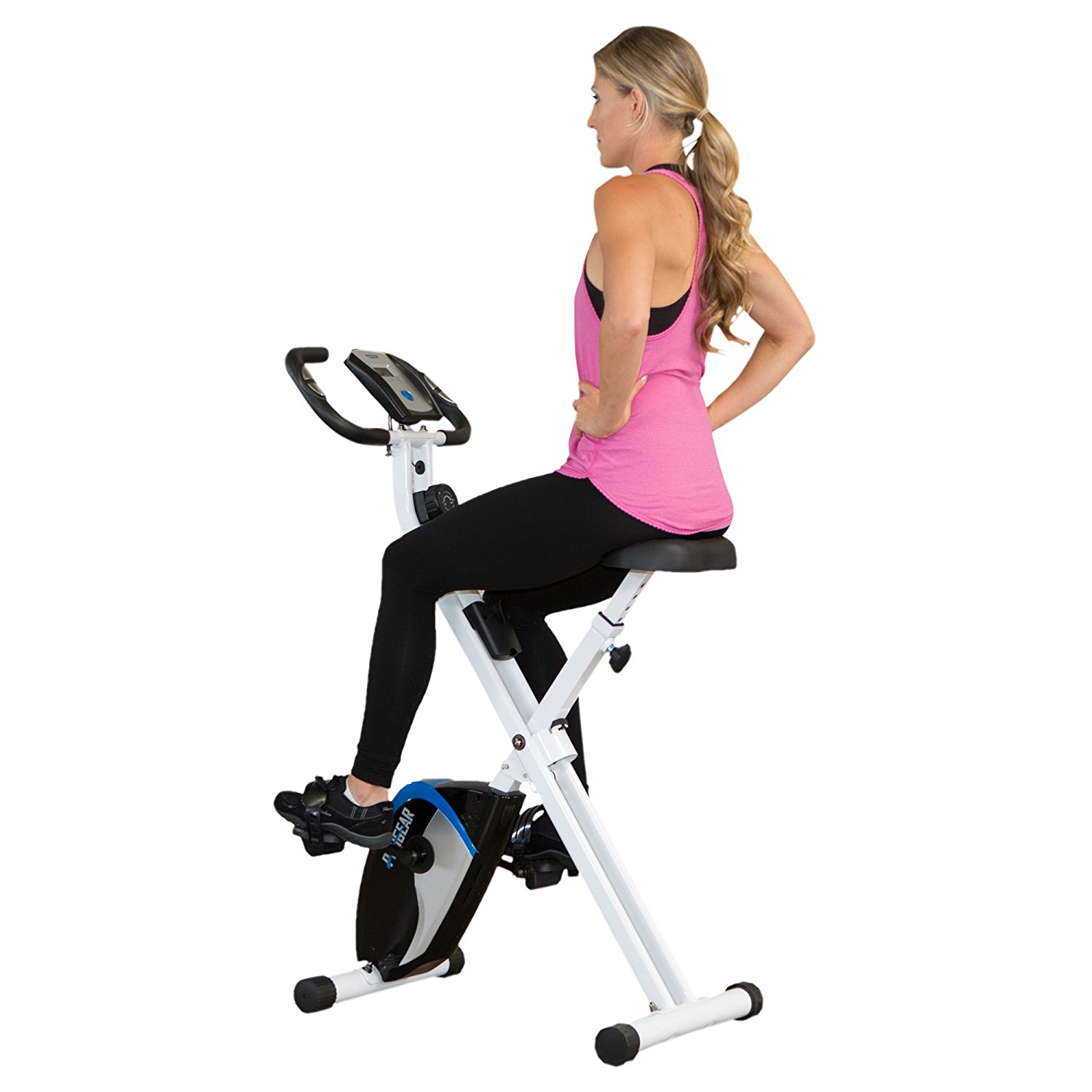 If you struggle with soreness or discomfort when you ride stationary bikes, this upright exercise bike might be the solution you need. It offers an ultra-comfortable riding experience with its ergonomic, contoured and padded seat cushion. The seat itself is adjustable and can easily accommodate riders between 5'1″ and 6″.
Don't let the comfort of this bike fool you. It also offers an extremely efficient, high-intensity workout. Its magnetic tension system features eight resistance levels, allowing you to adjust the intensity of your workouts to a level that is comfortable but productive for you. Its dual transmission flywheel ensures a smooth, quiet ride and allows the bike to operate at higher resistance levels for advanced riders. You can also track your workout progress at any time on this bike's built-in LCD screen. The screen displays distance, time, speed, heart rate, and the number of calories you've burned. As an added bonus, this high-performance upright bike folds up in seconds for quick and easy storage.
Pros:
Maximizes comfort with an adjustable ergonomic seat cushion
Features eight resistance levels
Built with an LCD screen that displays essential details of your workout
Operates smoothly and quietly with a dual transmission flywheel
Folds up for easy storage and portability
Cons:
Does not support back pedaling