Baby Store
6 Best Baby Teething Toys 2023 – Safe Healthy Teethers
Teething is a very painful experience for babies, which makes it a nightmare for both suffering babies and their parents. For new parents, it is easy to feel helpless when your baby starts teething. As a parent, there's absolutely nothing you can do about the sharp new teeth erupting forcibly through your precious baby's soft, sensitive, inflamed gum tissue. That's enough to make any parent want to cry. Teething is an inevitable process. In fact, as painful as it is for babies, it is actually a sign that a baby is growing and developing as they should.
On average, babies start teething at anywhere from two to six months of age. Most babies have their first tooth appear by the time they are six months old and finish teething completely with a full set of baby teeth by the time they are around two years old.  For new parents, the teething process might seem unbearably long when it's new for both you and your baby. Fortunately, there are ways to make the teething process slightly less nightmarish for you and your baby. Teethers are special toys that your baby can chew on safely. Teethers are designed to offer soothing relief and minimize discomfort, irritation, and gum swelling in teething babies.
If you're searching for a teether to soothe your teething baby, there are countless options at your feet. Browse through these teethers to help you make the right decision for you and your baby. These six teethers are some of the best teethers on the market in terms of comfort, safety, convenience, and effectiveness.
1. Comotomo Silicone Baby Teether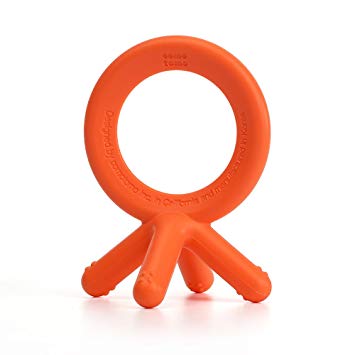 This bright, colorful baby teether from Comotomo is made from silicone in an innovative shape. Its soft silicone material is comfortable and safe for babies to chew. It is also very easy to clean and sanitize and won't grow mold or accumulate bacteria. The interesting shape of this teether features multiple points where your baby can grab, hold, and gnaw. These options help soothe teething babies while entertaining them for longer periods of time. The unique shape of this teether also allows babies to reach the back of their mouth while eliminating choking risk and other safety hazards.
The ring of this teether is easy for babies to grab and hold onto while chewing. Each of the four textured prongs on this innovative teether are about the size of baby fingers. The size, shape, and texture of these nubs encourage babies to soothe their teething discomfort by gnawing on the nubs instead of sucking their own fingers. By reducing finger- and thumb-sucking, this teether also helps promote healthy oral development in teething babies. This teether is designed for babies 6 months and older.

2. Nuby Ice Gel Teether Keys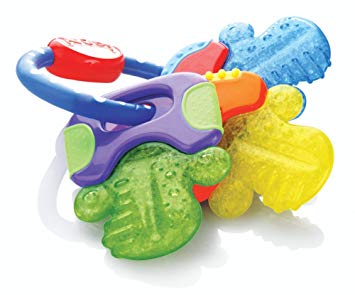 This teether doubles as an entertaining toy and an effective soothing teether for teething babies. It is made from non-toxic, BPA-free plastic that is completely safe and sanitary for babies to gnaw. It looks like a set of colorful dual-surface keys and is intriguing and entertaining for babies. This key set design provides multiple surfaces for babies to hold and chew on in order to reach the front, sides, and back of their sore gums without creating a choking hazard.
For added soothing for your teething baby's sore gums, place this teether in the refrigerator for a little while before giving it to your baby. The teether features ice gel technology that keeps it cool and helps it soothe your baby's mouth more effectively.

3. Baby Banana Infant Training Toothbrush and Teether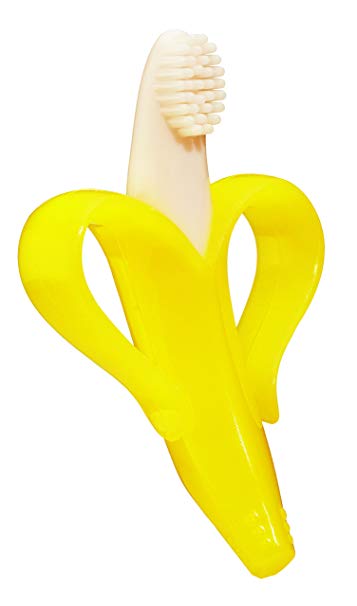 This dual-use, fun and stylish teether from Baby Banana doubles as both a training toothbrush and a soothing teether. The teether is made from food-grade silicone that is free of phthalates, latex, and BPA to ensure safe, non-toxic gnawing for babies.
Its silicone training toothbrush bristles are soft and help your baby get used to practicing good oral hygiene from a very early age. These bristles also massage teething babies' gums to reduce redness, soreness, and swelling. The teether features two side handles, which makes it easy for young babies to grab and hold onto without frustration.
This silicone teether is super easy to sanitize. It is dishwasher-safe for effortless cleaning. You can also put it in the freezer to cool it down to more effectively soothe your teething baby's gums with cooling comfort. The teether is made for safe use by babies ages 3 months to 1 year.

4. Consider It Maid Silicone Teething Necklace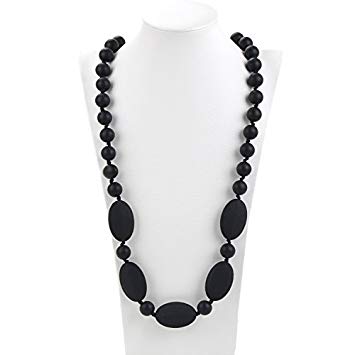 This simple and effortlessly stylish teething necklace from Consider It Maid helps ensure that soothing comfort for your teething baby's sore gums is always within reach. It is made from food-grade silicone and is free of phthalates, lead, PVC, latex, metal, cadmium, BPA, and other harmful materials and harsh, toxic chemicals.
When you are holding your baby, they can soothe their sore gums safely by chewing on this teething necklace while you wear it. This unique 30″ teething necklace is designed to be worn by moms of teething babies. Whether you're at home or on the go, this teething necklace makes achieving soothing relief for teething babies easier and more convenient. It also features knots between each bead to minimize choking risk.

5. Boon Pulp Silicone Feeder and Teether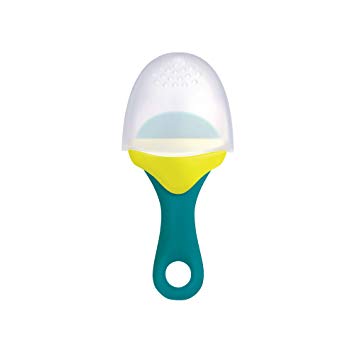 This innovative multi-purpose teether from Boon doubles as a teether and feeder for babies. It is made from food-grade silicone material with an easy-grip stem handle and upper compartment with small holes in the top of the compartment. This feeder and teether provides soothing relief from teething pain and nourishing distraction by allowing your baby to feed themselves while they gnaw.
The pieces of this teether are easy to take apart and put back together quickly with the teether's included quick snap ring. To use this teether, just separate its stem from its upper compartment. Then, fill the upper compartment with fresh fruits and vegetable baby food and snap the pieces back together. For sore, teething babies, you can also fill the upper food compartment with frozen baby food for added cooling relief that helps soothe inflamed and swollen gums.
All that's left to do is to hand the teether to your baby. They can gnaw on it and enjoy the food inside via the small holes in the top of the teether's upper compartment. These small holes allow your baby to self-feed without choking. The interior stem handle of this feeder/teether is small enough that it is easy for babies to grab and hold onto without losing their grip. The stem also continually pushes the food in the upper compartment toward the small holes at the top of the compartment to regulate feeding without posing a choking risk for your baby.

6. Malarkey Kids Munch Mitt Teething Mitten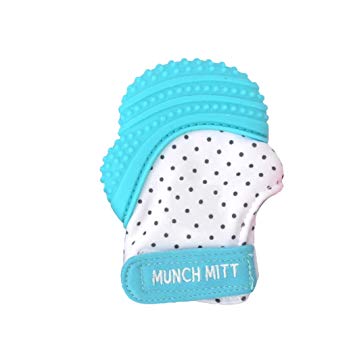 The innovative design of this teething mitten from Munch Mitt offers soothing relief for sore, teething babies while keeping their hands out of their mouth. It is normal for teething babies to stick their hands in their mouth in an attempt to soothe their sore gums. However, this habit can disrupt your baby's oral development.
This teething mitten fits your baby's hand like a glove. Your baby can still fit their mittened hand into their mouth, but they won't spread germs or disrupt their development. The teether features crinkling sound for sensory stimulation and a textured silicone top that effortlessly soothes sore gums. Plus, its adjustable Velcro strap helps babies keep the mitten secure on their hand to prevent loss and choking risk.