The best cast-iron skillet benefits are its incredible durability and the way it stores heat for economical, high-temperature cooking. With a cast-iron skillet you can get the best flavor from steaks, roasts, crispy fish and mouth-watering caramelized vegetables! And you can also use a cast-iron skillet to bake fresh bread or cakes in the oven. If you enjoy well-browned omelettes or softly scrambled eggs, your skillet takes care of those tasks, too!
Cast iron is safe to cook with at high temperatures that aren't suitable with non-stick pans and you can also use them under the grill. If you do a lot of home cooking, you'll probably already know how versatile a cast-iron skillet can be. So maybe it's time for you to invest in your own energy-saving, multi-function cast-iron cookware! This easy guide to the 2 best cast-iron skillets will get you cooking fabulous food in no time at all!
1. Best all-rounder
Lodge Pre-Seasoned 12" Cast-Iron Skillet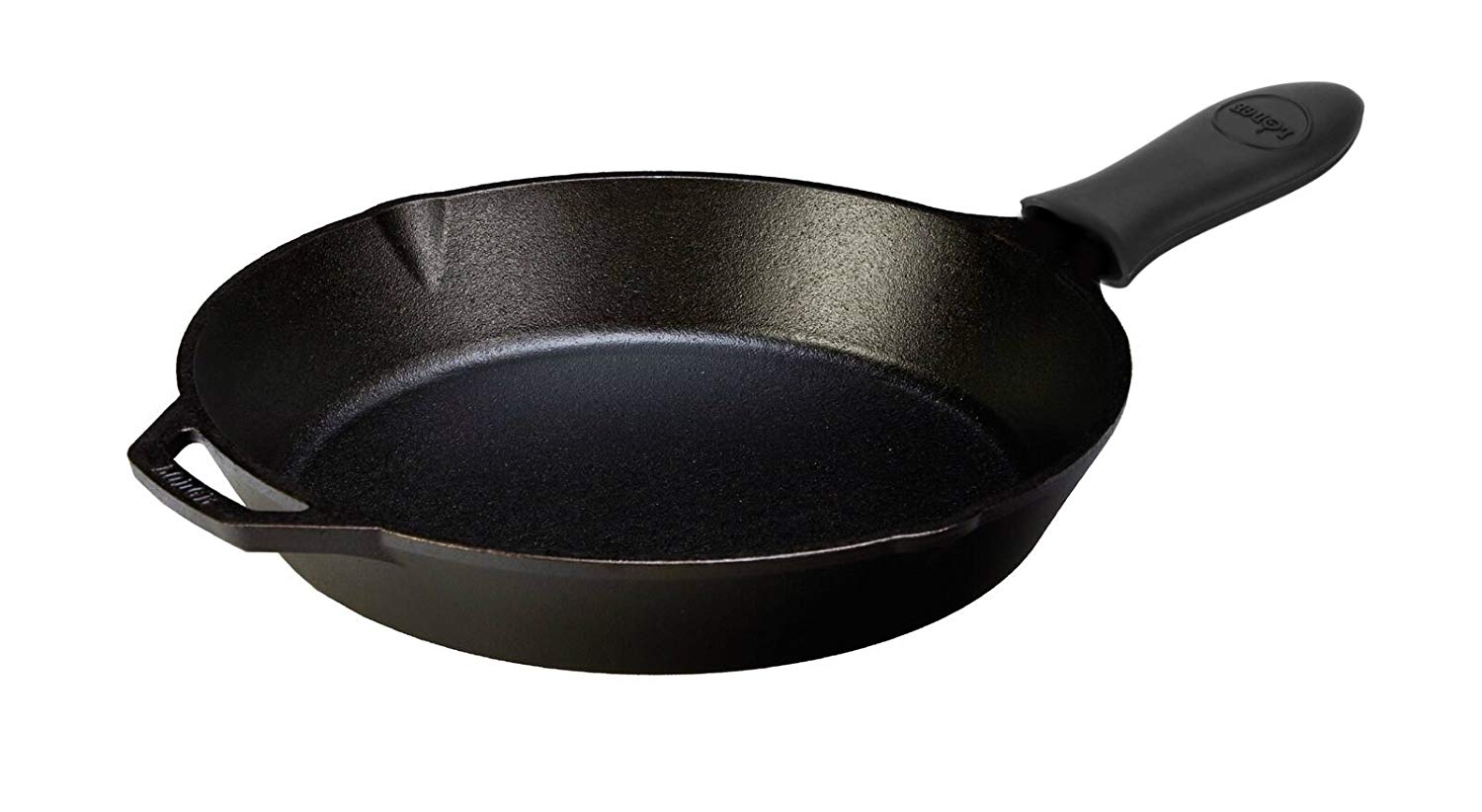 We recommend the Lodge 12" pre-seasoned skillet as the best cast-iron skillet from our tests. It is excellent for adding fabulous flavor to seared meat, frying bacon and cooking eggs to perfection. Steaks come out evenly cooked, thanks to its excellent distribution of heat. And our cornbread turned out traditionally crisp and golden every time! It also cooks food inside your oven, so you can use it to make bread or for cakes, too. In fact, it's a great substitute for a Dutch oven and will also let you slow cook casseroles on the top burners, if you cover it.
This skillet has a generous 10" cooking space and it's one of the larger pans in our short-list of best cast-iron skillets. It's durable, versatile and has a great price to performance match. And it doesn't matter if you're a home-cook or a professional; this is the best for all types of frying, searing, and baking inside your oven! As it's so popular, the Lodge is widely available and has a long-lasting factory seasoning and easy-hold handles!

2. Best for largest cook area
Victoria 12-inch Cast Iron Skillet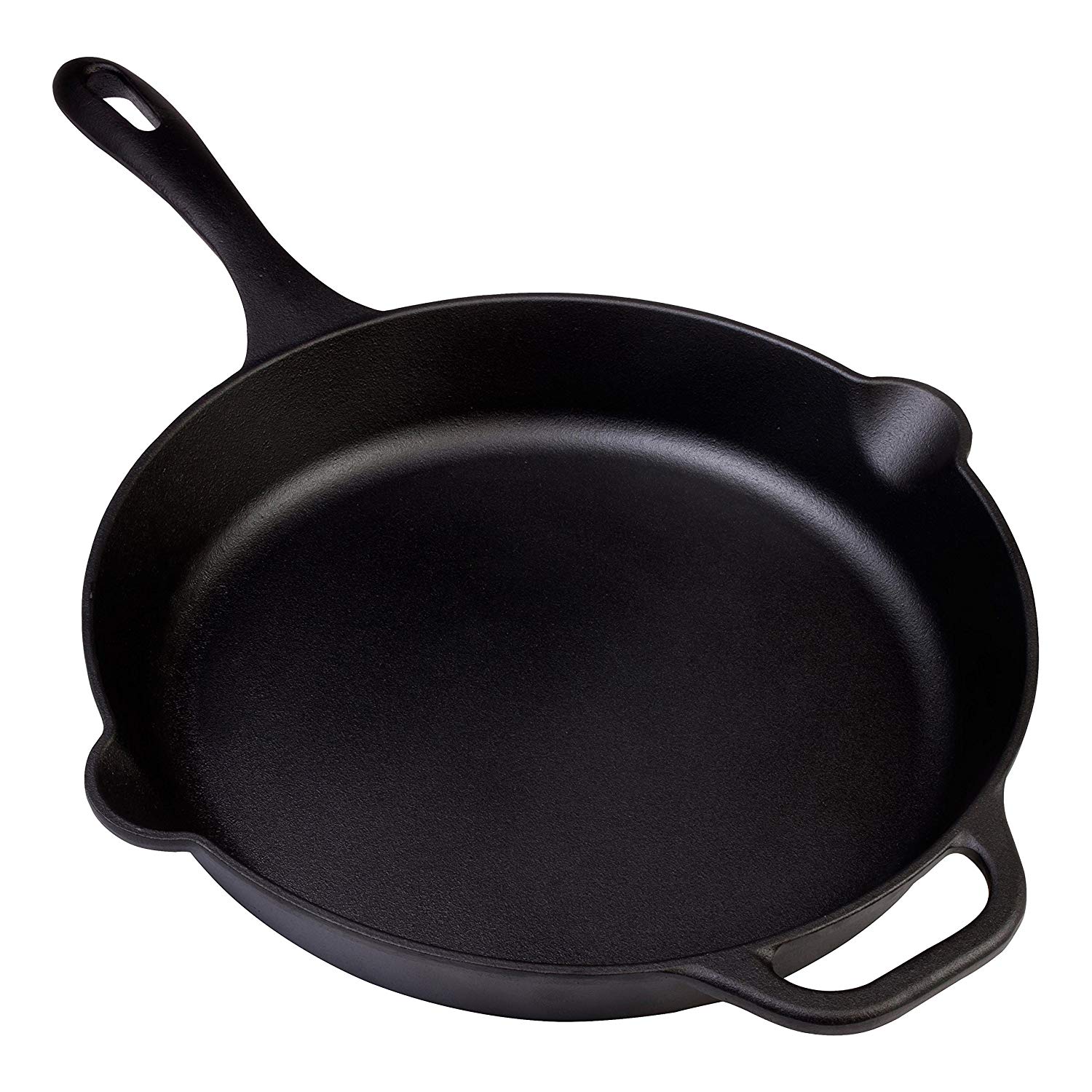 As our second-best choice, we can assure you that the Victoria 12 inch cast iron skillet, cooks just as efficiently as the Lodge. The main differences are 1) that the Victoria has a thinner pre-seasoning layer. So when you first use the skillet you'll find that it's not totally non-stick. But the more you use it, the more non-stick it will become! And 2) we weren't as keen on the Victoria's longer handle, which doesn't come with a silicone handle cover. However, you can pop this skillet into your oven and make fresh bread in it. So it's very handy to use instead of a Dutch oven for some recipes.
On the other hand, the wider, double pouring spouts, mean you can pour off large amounts of excess fat without messy drips. And the Victoria has a ¼" larger cooking area than the Lodge, at 10 ¼". Busy cooks appreciate this for cooking large, seared steaks and generous portions of eggs or cornbread. There's a handy hole in the handle for easy wall-hanging storage. And it's naturally pre-seasoned with flax-seed oil for your health!

There's not a lot to choose between these two high-performing cast-iron skillets and whichever one you do select will give you a lifetime of tasty, evenly-cooked dishes! And for sheer versatility, the traditional cast iron skillet can't be beat!