Sports & Outdoors
5 Best Exercise Bikes for Home 2023: Best Exercise Bikes for Apartments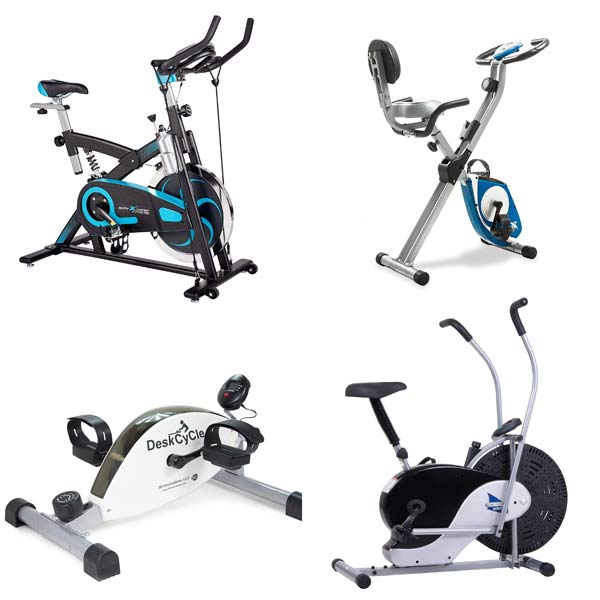 Exercise bikes are one of the most efficient, economical pieces of workout equipment to have in your at-home gym. Riding a stationary exercise bike is more gentle  on your body than running on a treadmill. It helps you burn a ton of calories, lose fat quickly, and improve your heart health. Plus, it's easy to multi-task when you're riding an exercise bike. You can advance your weight loss and fitness progress while simultaneously watching TV, reading a book, or otherwise completely distracting your mind from the boredom or discomfort of your workout.
Whether you have lofty fitness goals or just want to lose a few pounds, investing in an exercise bike for your home will encourage you to squeeze in a cardio workout on a more regular basis. Adding regular cardio to your routine–even if it isn't extremely intense–can significantly improve your overall health and energy levels.  If you want to start exercising or are sick of trekking back and forth to and from the gym, check out these five top-quality exercise bike models that are designed for you to use from the comfort and convenience of your own home.
What is the best indoor exercise bike? Check out this list:
1. Body Xtreme Fitness Indoor Exercise Bike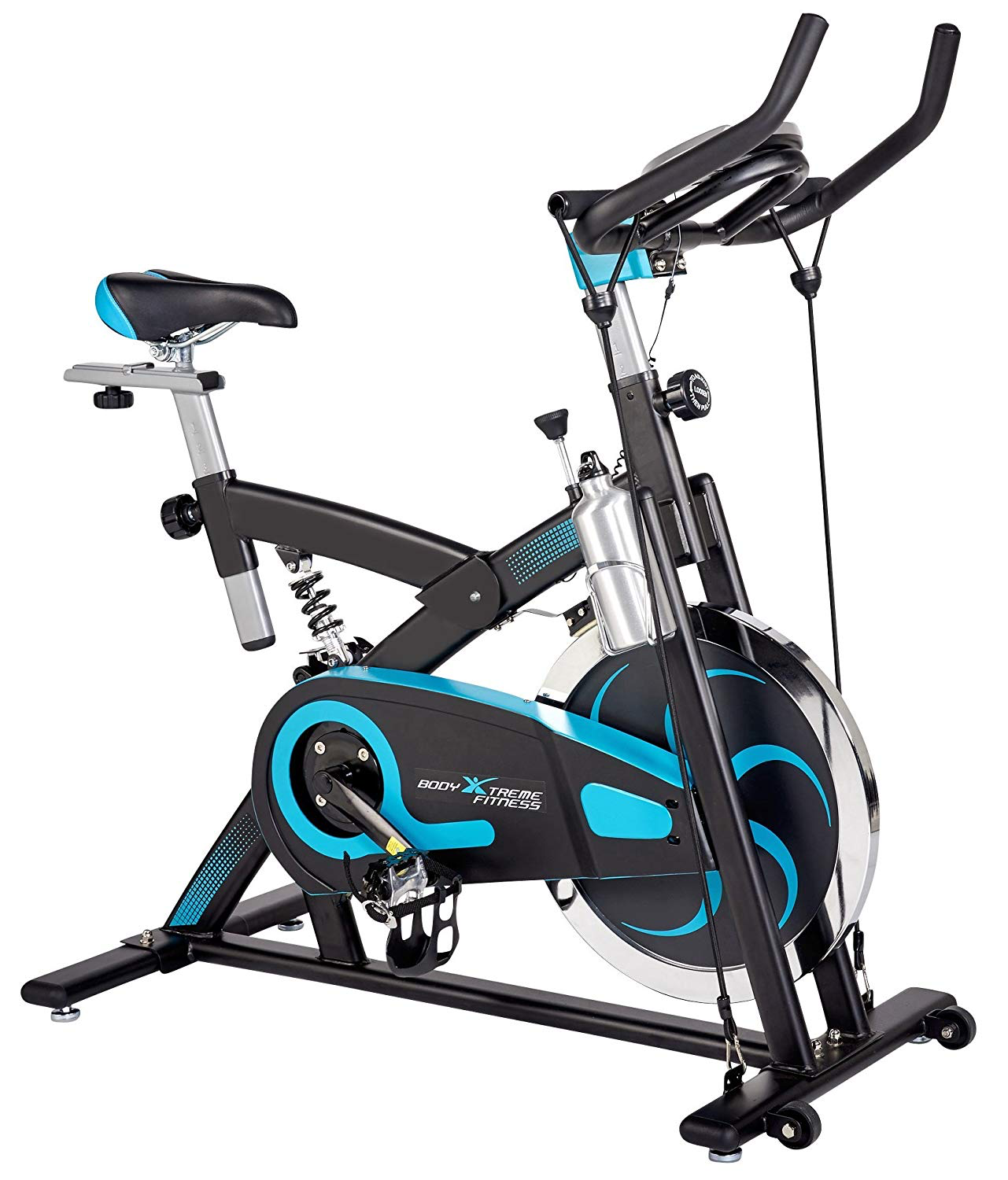 This exercise bike is designed for at-home use, but its sturdy frame is of semi-commercial quality and is strong and ultra-durable. Its heavy 40-pound flywheel and multiple adjustable resistance levels ensure a smooth and quiet workout and allow you to test out your favorite spinning bike workouts from the comfort of your own home. Its built-in foot straps and ergonomic seat increase your safety and comfort so you can focus exclusively on making it through your workouts and reaching your fitness goals.
Monitor your workout progress in real time by paying attention to the built-in LCD screen. As you ride, this screen displays the important details of your workout including your current speed, the distance you've travelled,  and the level of resistance you set. As an added bonus, this at-home exercise bike comes with a water bottle and special sweat-resistant towel to keep you cool, dry and hydrated throughout your entire workout. It also includes resistance bands for convenient upper body conditioning. This exercise bike can safely accommodate up to 250 pounds at one time. This is an ideal exercise bike to lose weight.
Pros
Built with a 40-pound flywheel that provides a smooth and quiet ride
Includes a built-in LCD screen that displays workout details
Safely supports riders up to 250 pounds
Comes with an included cooling towel, water bottle and resistance bands
Cons
Does not display the number of calories burned in a workout on its LCD screen

2. XTERRA Fitness Folding Exercise Bike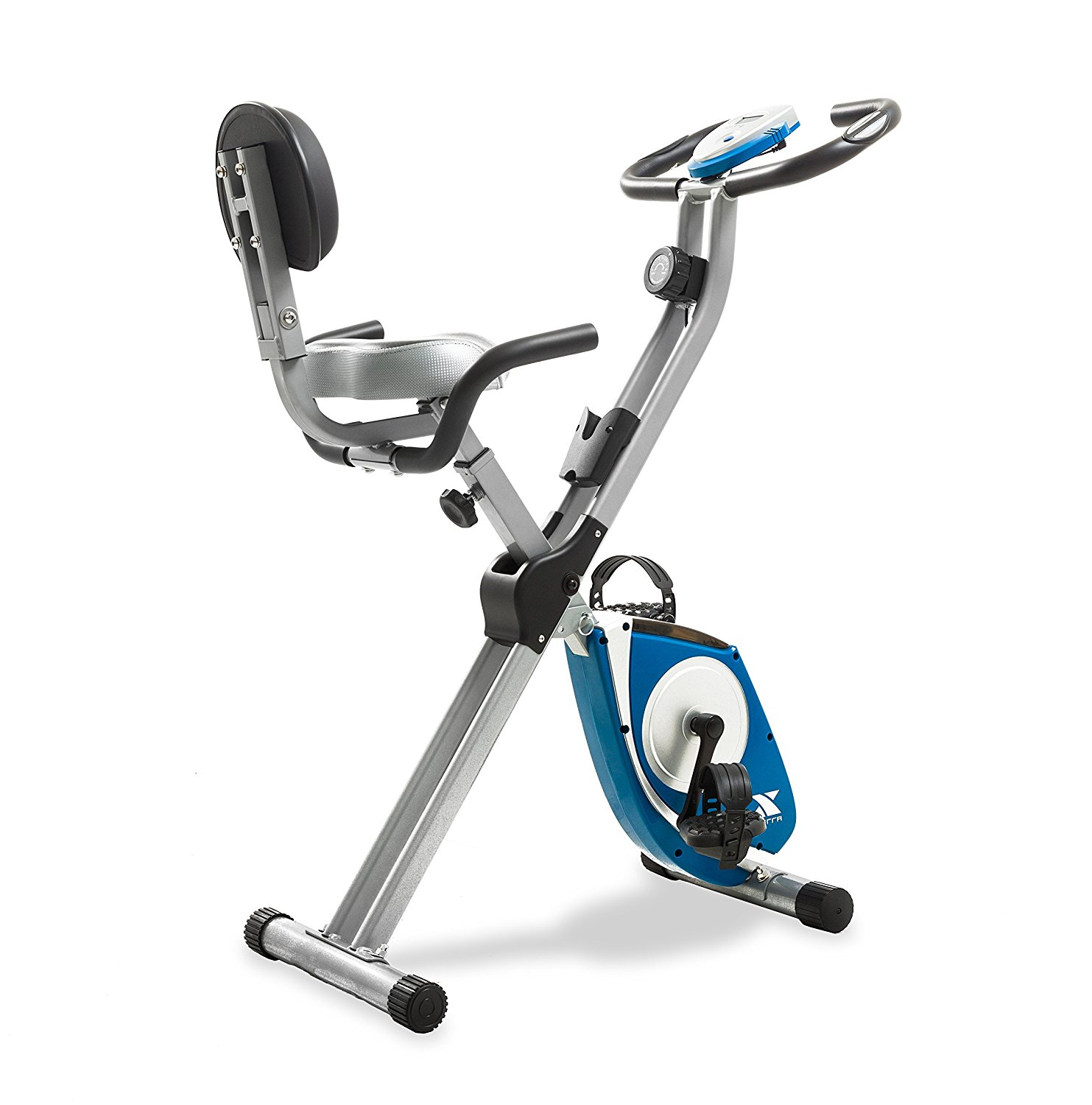 Designed with an intuitive X-frame that is crafted from ultra-durable steel tubing material, this exercise bike is simple, efficient, and perfect for convenient at-home use. It includes eight different manual resistance levels to give you plenty of options for adjusting the intensity of your workout. Its built-in LCD window displays essential information from your workout in real time so you can monitor your workout progress at any time. The details it displays include your speed, the distance you've ridden, your workout time, the estimated number of calories you've burned, and your heart rate.
To keep you safe and comfortable as you ride, this exercise bike features a lower back pad and a roomy seat that is both ergonomic and supportive. When you're not riding this bike, it doesn't have to take up precious floor space in your home. It folds up within seconds and features attached transport wheels so you can move it around effortlessly. The bike takes up less than two square feet of floor space after you fold it up. Plus, its steel tubing construction makes its frame extremely lightweight–despite how sturdy and durable it is–for easier portability.
Pros
Built from sturdy, durable steel tubing
Includes eight different resistance level options
Displays workouts details on its built-in LCD screen
Folds up for easy storage and portability when not in use
Cons
Some riders find it difficult to get on and off this bike due to its height
This is one of the best folding exercise bike for small spaces.

3. DeskCycle Under Desk Exercise Bike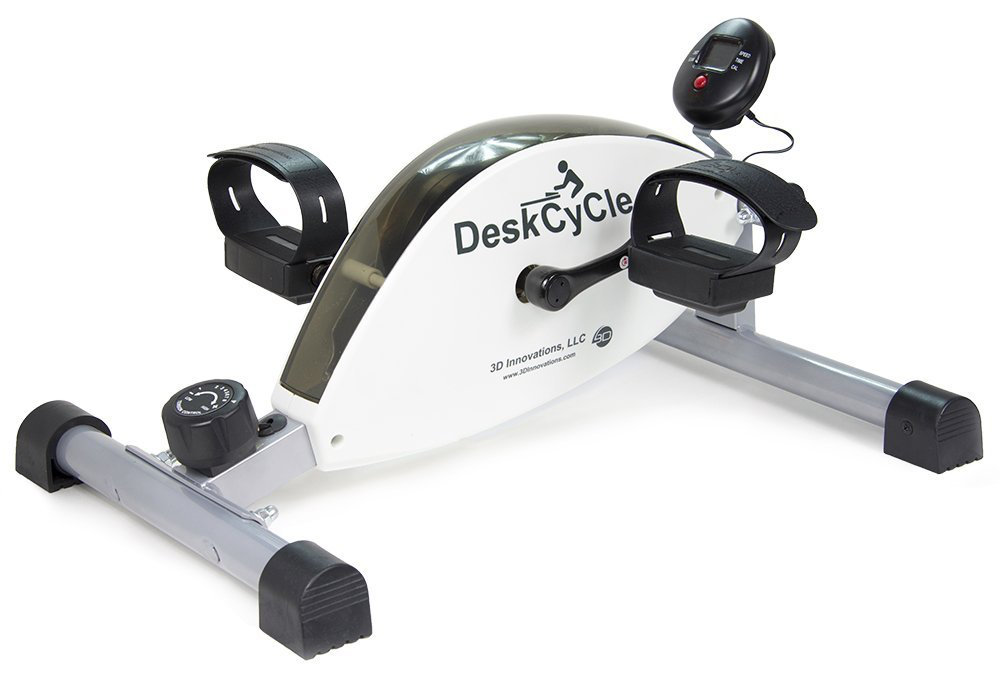 Sitting down at a desk all day can be detrimental to your health. It can lead to sore, stiff muscles and weight gain and significantly reduce your heart health. Make the absolute most of your time in the office and burn some extra calories with this under desk exercise bike.
The 10-inch pedal height of this unique and innovative exercise bike allows it to fit underneath even low-set desks. Its magnetic resistance ensures a smooth, quiet, and efficient ride. It includes eight different resistance levels, so you can increase and decrease the intensity of your workouts at any time. This full-servive under desk exercise bike even includes a built-in screen that displays the details of your workout, including your speed, distance, time, and the number of calories you've burned.
Pros
Operates smoothly and quietly
Features eight adjustable resistance levels
Has a pedal height of 10 inches to accommodate desks that are very low to the ground
Includes a display screen to help you keep track of your workout details
Cons
Some users' shoes hit the ground while riding this exercise bike because its pedals are so low to the ground

4. Body Rider Exercise Bike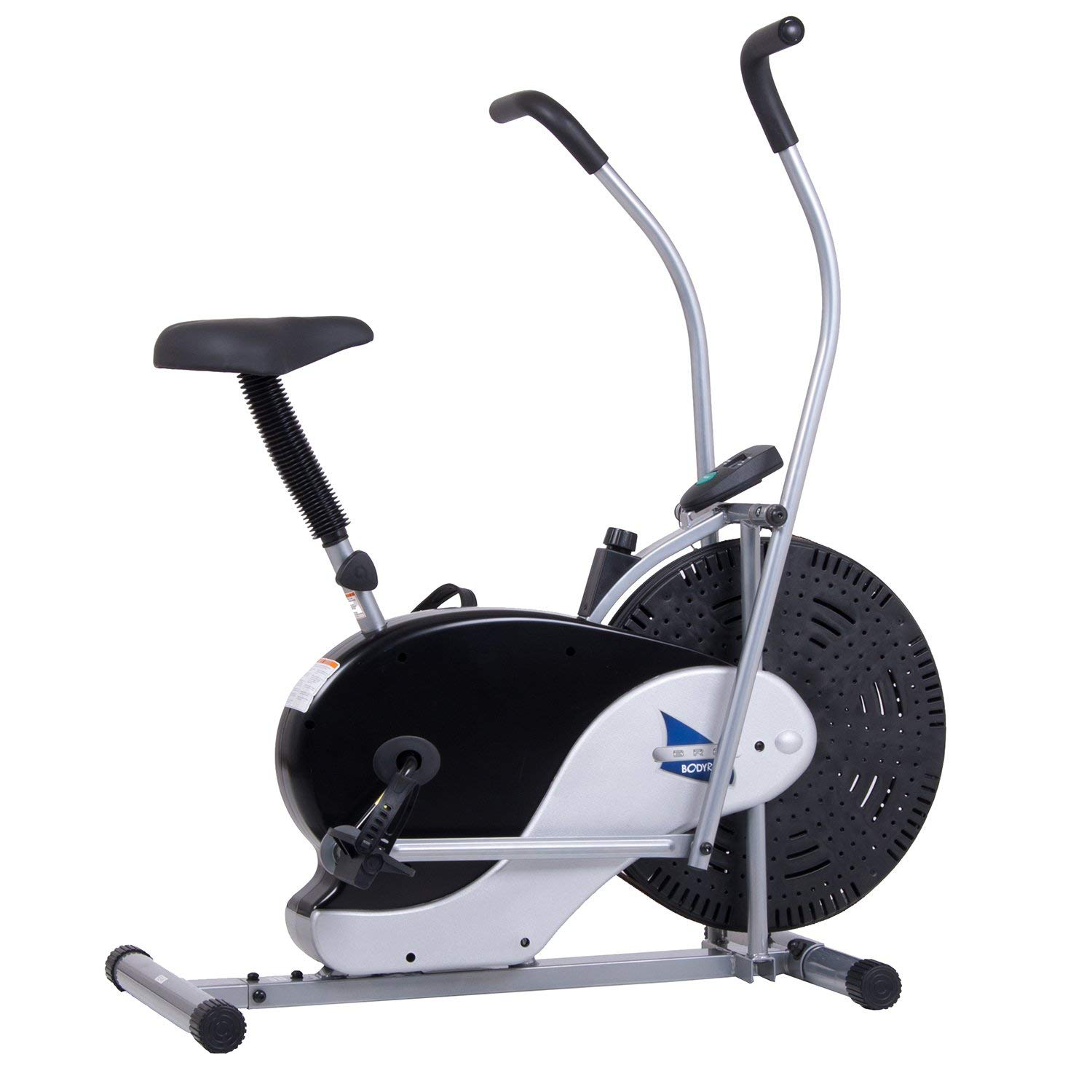 This at-home exercise bike is strong and sturdy; it is crafted from steel and designed with an efficient H-frame. Its special extended handlebars allow you to sit up straight while you ride and keep your upper and lower body engaged at all times throughout your workout to maximize your performance and results. Its adjustable, cushioned seat increases your comfort and support and ensures a closer fit.
Keep track of your workout progress in real time with this bike's built-in screen that displays your workout details like your speed, distance, and the number of calories you've burned. If you want to amp up the intensity of your workout, just adjust the bike's resistance level simply by turning its control knob. You don't have to worry about feeling hot and sweaty when you're riding this exercise bike no matter how intense your workout is. The bike includes a high momentum fan that keeps you cool and dry no matter how vigorously you pedal.
Pros
Crafted from durable, high-quality steel for guaranteed sturdiness and stability
Built with extended handlebars for comfort and constant upper and lower body engagement
Ensures your comfort with its padded seat and ergonomic design
Includes a built-in fan for cooling comfort during your workout
Cons
The seat, arm levers, and crank arms are uncomfortably short for some riders even when adjusted properly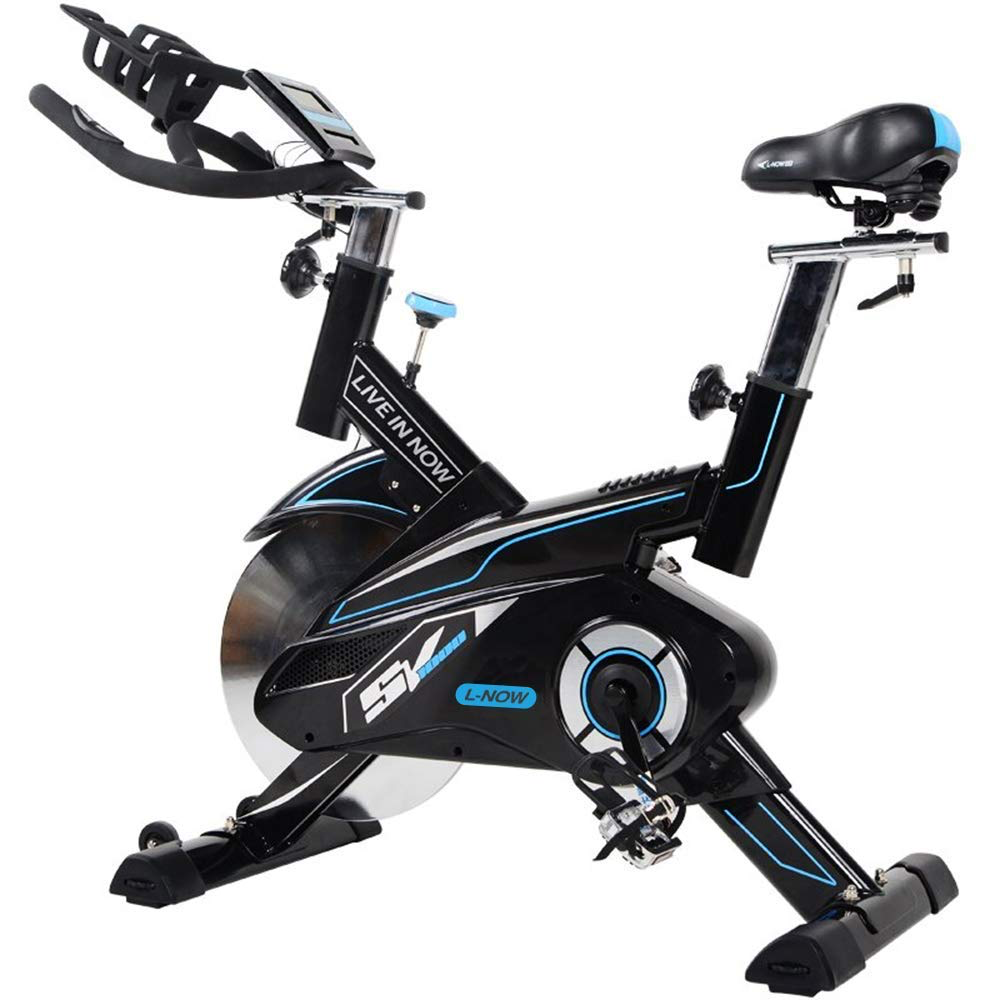 This exercise bike is extremely versatile. It is designed for use by beginners and advanced riders alike and accommodates multiple different riding styles. Its handlebars are ultra-ergonomic and comfortably support your weight through a high-intensity workout or when you're riding at a standing sprint. Its 40-pound flywheel gives you the freedom to try out spinning workouts at home. Plus, the handlebars and seat of this bike are easily adjustable to accommodate a wide range of heights and weights. The bike has a high maximum weight capacity of 300 pounds.
Cheer yourself on by monitoring your workout progress on this exercise bike's built-in LCD monitor. The LCD screen displays your current speed, the distance you've travelled, the amount of time you've been riding, and the estimated number of calories you've burned. The bike even includes an odometer and heart rate monitor as well to help you keep even better track of your fitness progress. If you're looking for a quiet exercise bike for apartment, try this one.
Pros
Built with a sturdy 40-pound flywheel for smooth riding
Features adjustable seat and handlebars for a better fit
Includes a built-in LCD monitor that displays workout details
Safely supports riders up to 300 pounds
Cons
The bike's wires hang down from its frame awkwardly and can sometimes get in the way of your workout