Baby Store
6 Best Baby Swings 2023 – Top Rated Portable Baby Swings
A baby swing is a must-have for new parents of little ones. Baby swings provide soothing comfort and entertainment for babies. They keep your little one comfortable, safe, and happy when you can't devote your full attention to rocking or carrying around your baby. This frees up some of your time to cook a meal, clean the house, or take a shower while your baby plays, rests, or even naps from the comfort and safety of their swing.
Of course, it goes without saying that infants and young babies still require constant supervision for their own safety even while they are in their baby swing. As such, baby swings aren't quite baby sitters. Instead, they act more like automatic mother's helpers that allow you to get some things done without worrying about your fussy baby. Every new parent needs a break sometimes to do something other than carry their baby around–even if it's just using the bathroom. A baby swing can give you the freedom to take that much-needed break without forcing you to compromise on your baby's comfort or happiness.
These six baby swings are some of the best options on the market. They are hand-picked for their quality, comfort, safety, entertainment, other special features, and portability. Any one of these swings can keep your little one calm and happy for a good amount of time while leaving you with more freedom and the peace of mind knowing that your baby is safe and comfortable.
1. Fisher-Price Sweet Snugapuppy Dreams Cradle 'n Swing
This adorable baby puppy-themed baby swing from Fisher-Price offers soothing motion and snuggly comfort that will soothe even the fussiest baby. Your baby can swing two ways–side-to-side and front-to-back–in this dual-motion swing. The swing also swings at six different speeds that you can adjust depending on your baby's preferences and whether its play-time or nap-time. 16 different songs and nature sounds are built into this baby swing to calm, soothe, and entertain your little one while they are playing, resting, or trying to fall asleep. A spinning mobile of soft plush toys offers added entertainment and soothing without posing any sort of choking risk or other safety hazard for your little one. This mobile stimulates your baby's senses, promotes eye-tracking for healthy development, and also includes a overhead mirrored dome for added visual stimulation. The built-in sounds and moving mobile in this swing require batteries to operate.
This swing features a plush seat pad to keep your baby comfortable while they sit in the swing. This seat pad is also machine-washable for easy cleaning. The puppy-themed body insert that comes with this swing adds extra padding, soft comfort, and head support for newborn babies. Plus, the seat of the swing reclines to two different positions that offer comfortable support for playing, resting, or napping. This baby swing can safely support babies up to 25 pounds.

2. Graco Duetsoothe Swing + Rocker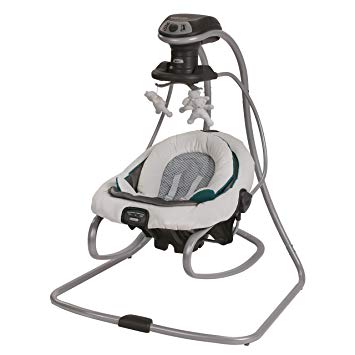 The swing seat in this Graco baby swing is removable, so the swing can also be used as a rocker. This versatile baby swing offers three different seating positions for your little one. It also features dual-motion swinging that allows you to choose between side-to-side and front-to-back swinging at any given time. To help soothe fussy babies, the swing also vibrates at two different speeds. Its soft toy mobile also entertains babies without creating a choking hazard.
This baby swing is ultra-portable, easy to store and travel with. Its infant swing seat is removable, and the rocker also features a carry-handle for increased ease of portability. Plus, the swing is compatible with both standard house plugs and batteries to allow for convenient use both on the go and at home. This baby swing is designed for use by babies from birth to 18 months old, as long as they are within the swing's recommended weight range of 5.5 to 30 pounds.

3. Graco Simple Sway Baby Swing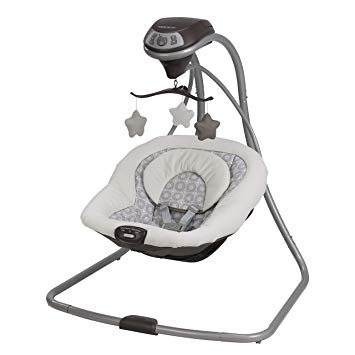 This baby swing from Graco is designed specifically designed to fit easily into small spaces. The small frame of this space-saving baby swing is ideal for small nurseries that are aching for space. The compact design of this lightweight swing also increases its portability and makes it easier to store and bring along while traveling. You can effortlessly move the swing around your house with you to keep your baby close by at home, or pack it neatly into the car for longer trips.
Two different built-in vibration speeds and 15 different built-in songs and nature sounds help this baby swing soothe your baby and keep them happy. The swing's side-to-side motion with six speeds, gentle vibrations, and soothing sounds calm even the fussiest baby. Its thick, soft plush seat with a removable infant head support and a five-point harness keeps your baby comfortable and safe. Plus, the overhead soft toy mobile of this swing offers entertainment and sensory stimulation and encourages eye-tracking.

4. Ingenuity Cozy Kingdom Portable Swing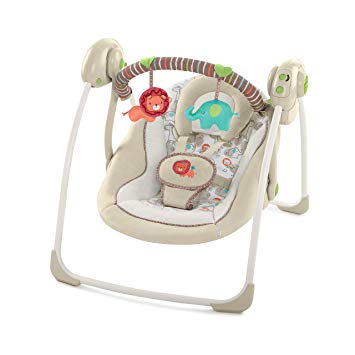 Keep your baby comfortable, safe, calm, happy, and by your side at all times with this ultra-portable, lightweight, and versatile baby swing from Ingenuity. This baby swing folds up easily into an ultra-compact package for easy travel and increased portability. It features six different back-and-forth swing speed options, two reclining positions, and six different built-in melodies for soothing entertainment.
This baby swing is made with soft, plush materials that maximize your little one's comfort. Its cheerful jungle animal-themed design is cute and gender-neutral. Its toy bar features two soft jungle animal toys and foam padding that offers comfort and entertainment for your little one without posing a choking risk or any other safety hazard.

5. Graco DreamGlider Gliding Swing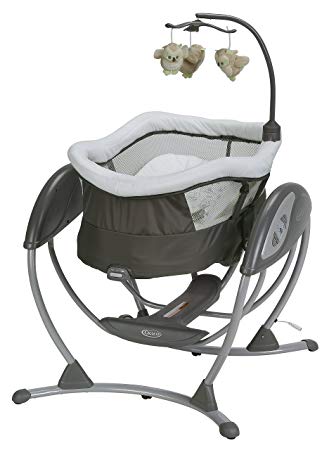 This one-of-a-kind baby swing from Graco is ideal for resting and nap-time when you want to keep your baby calm and relaxed. The swing gently swings in a gliding motion that soothes your baby without exciting them. It offers six different options for swinging speeds. It also features two vibration speeds and multiple built-in melodies and nature sounds for added calming entertainment.
You can plug this baby swing into the wall or insert batteries into it. These options allow for convenient use at home and on the go. The seat of the swing reclines using a unique one-hand lever. Use this lever set your baby up for nap-time without disrupting them. The overhead soft toy mobile of this swing soothes and entertains your little one while they rest or nap without posing a choking risk.

6. 4moms mamaRoo 4 Baby Swing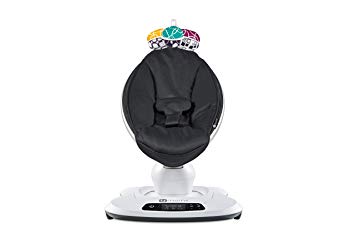 If you're in the market for a high-tech swing, you've found it with this advanced, tech-based baby swing from 4moms. This baby swing is compatible with Bluetooth. You can control the motion and sound of the swing from an app on your smartphone or other mobile device. It also features four different built-in soothing sounds of its own.
In addition to being high-tech, this baby swing is also very comfortable for your little one. Its seat fabric is durable, soft and smooth nylon material that is washable for easy clean-up. The seat itself features easily adjustable recline options. This baby swing can safely support babies from birth until they reach 25 pounds.