Sports & Outdoors
5 Best Spin Exercise Bikes for Home 2023 – Reviews of Indoor Spin Bikes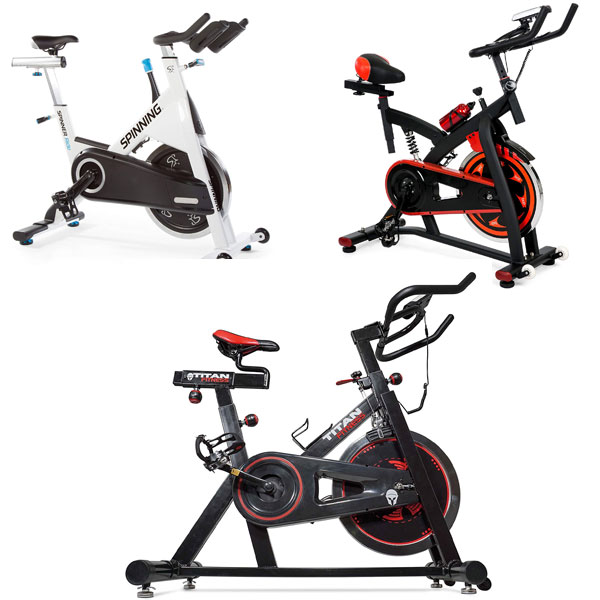 Spin bikes refer to a specific class of stationary indoor exercise bikes with a heavyweight flywheel that you "spin" as you ride. These bikes feature adjustable resistance settings that allow you to spin the flywheel at your desired level of resistance, so you can ease effortlessly into your spinning workouts even if you're a complete beginner.
Spinning is a form of high-intensity cardio that burns more calories and puts less strain on your body than jogging or running on a treadmill. It is designed to help you burn calories, and lose fat like other stationary exercise bike workouts, but spin workouts also focus specifically on improving your heart health. Plus, spinning is fun! You can find tons of online spinning workouts of all levels that you can complete from the comfort of your own home.
If you're looking for a versatile, entertaining cardio workout,  give spinning a try.  Even if you're already a fan of spinning classes, consider investing in your own at-home spinning bike to get more flexibility in your workouts. Whether you're an advanced spinner or a complete beginner, these five top-notch spinning exercise bikes for your home can add ease, efficiency, and convenience to your cardio workouts, read the following reviews and buy your favorite one.
1. Best Choice Products Indoor Spinning Exercise Bike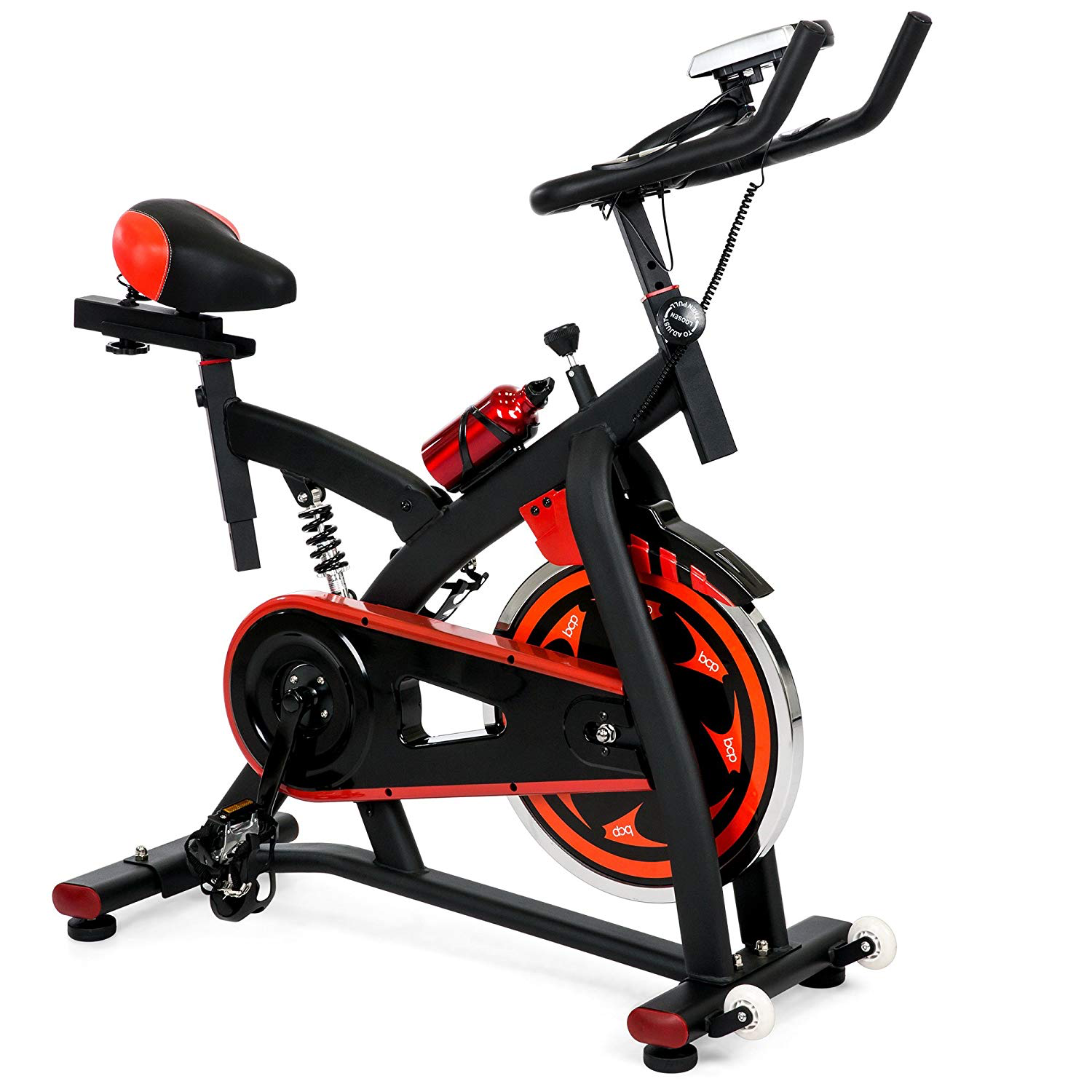 Since spinning is all about improving your heart health through high-intensity cardio workouts, this bike features pre-installed sensors on its handlebars that accurately measure your heart rate while you ride. Your heart rate gets projected instantly on the bike's display screen, so you can easily keep track of your heart rate throughout your workout. This built-in display screen also shows other important details of your workout: the amount of time you've been riding, your current speed, the distance you've travelled, and the number of calories you've burned. If you want to ramp up the intensity of your workout, just twist the resistance knob to increase the resistance level of the bike's flywheel.
The stylish, modern design of this spin exercise bike looks sleek in virtually any home environment. You don't have to worry about it being an eyesore in the middle of your living room. If you do want to store the bike out of sight, though, you can easily roll it away with its attached front wheels for easy storage and portability. Another notable convenience feature of this bike is its built-in water bottle holder that lets you keep your water bottle right where you can reach it for easy hydration during your workout.
Pros:
Designed with a modern finish to look sleek and stylish in any home
Includes pre-installed heart rate sensors
Features a built-in screen that displays the essential details of your workout
Built with front transport wheels for storage and travel
Cons:
The handlebars of this bike are not adjustable, which causes discomfort for some riders

2. Spinner Ride Commercial Indoor Exercise Bike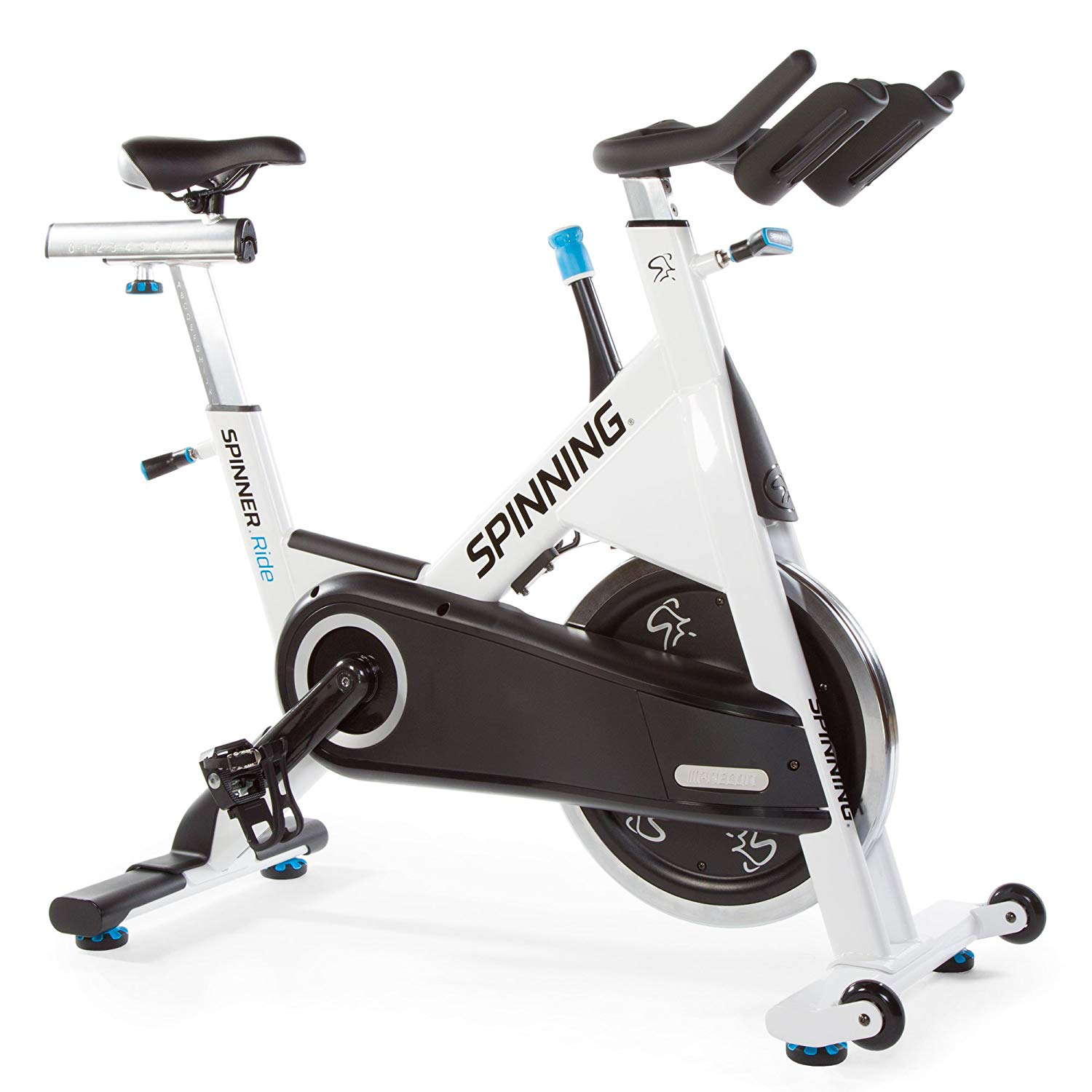 You can make vertical adjustments to the seat post and handlebars of this bike. This adjustability ensures a safe and comfortable fit and maximizes performance for all riders. Its adjustable frame accommodates rider heights from 4'9″ all the way up to 6'9″. Plus, it can safely support a maximum weight capacity of 350 pounds. It is crafted from sweat-resistant contoured steel tubing and its handlebars are made from strong aluminum material that is lightweight but long-lasting and durable. The frame also includes ground welds in areas that get exposed to a significant amount of sweat to prevent moisture damage and wear and tear.
This spinning bike is designed for easy, convenient at-home maintenance. It features a chain tension inspection window that allows you to monitor the tension of the chain in real time. The inspection window also makes it easy for you to lubricate the chain to keep your bike in great condition. If you want to store your spinning bike out of sight, just roll it into a closet or into another room using its edge-mounted transport wheels for easy storage and portability.
Pros:
Crafted from contoured steel tubing for durability, safety, and comfort
Includes a chain tension inspection window for easy lubrication and tension monitoring
Features vertically adjustable seat and handlebars to accommodate a wider range heights
Safely supports up to 350 pounds at a time
Cons:
This bike's chain sometimes makes an excessive amount of noise

3. Titan Fitness Pro Indoor Exercise Bike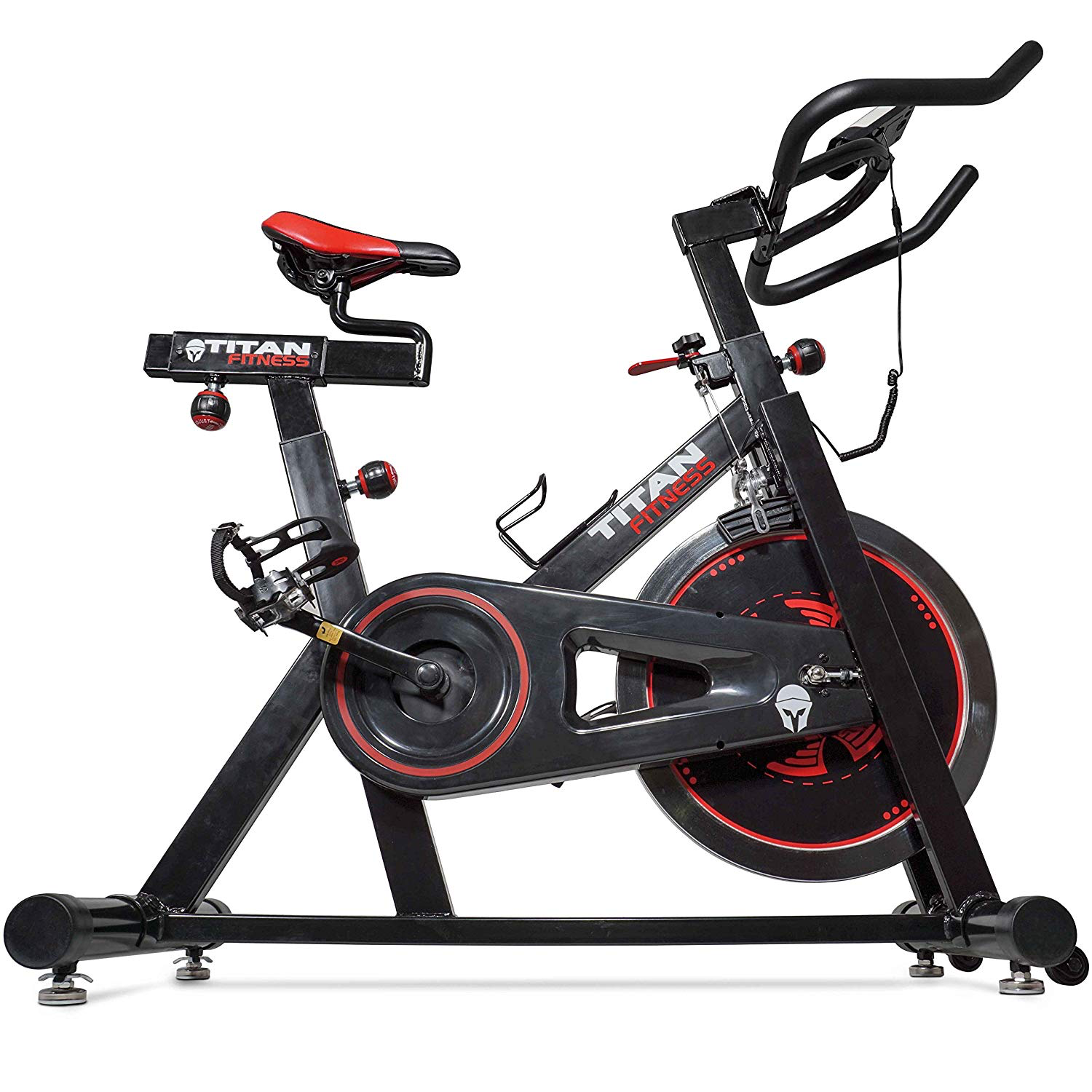 Designed for die-hard spinners, this exercise bike is built to support hours of vigorous riding per week without breaking down. It offers a smooth, safe and efficient spinning experience that helps you burn calories, lose fat, and improve your cardiac health more quickly and easily. The frame of this bike is crafted from heavy, strong steel material. It remains reliably stable on the ground no matter how hard or quickly you pedal. This frame also safely supports the spinning bike's heavy 40-pound flywheel. The flywheel offers enough resistance to help you maximize your performance and ensure that all of your workouts are worthwhile. Adjust the intensity of your workout to meet your comfort level simply by turning the knobs on the bike.
The flywheel and pedals on this bike are extremely quiet. You can cycle while reading or watching TV without getting distracted or in a public area of your house without worrying about annoying your family members. An LCD screen is built into the bike's frame. The screen displays the amount of time you've been riding and the number of calories you've burned. This information helps you keep track of your workout and push yourself to reach your spinning goals. Stay comfortable while spinning on this bike. It includes ergonomic foam handles and an adjustable seat and handlebars that offer a customized fit for most heights. This spinning bike can safely support riders who weigh up to 275 pounds.
Pros:
Crafted from strong steel that is extremely sturdy and durable
Built with a 40-pound flywheel for a smooth, quiet ride at any resistance level
Includes adjustable seat and handles for a better, more comfortable fit
Supports a maximum weight capacity of 275 pounds
Cons:
Can get squeaky after extended use and regular riding

4. Bodycraft SPX Club Indoor Cycling Bike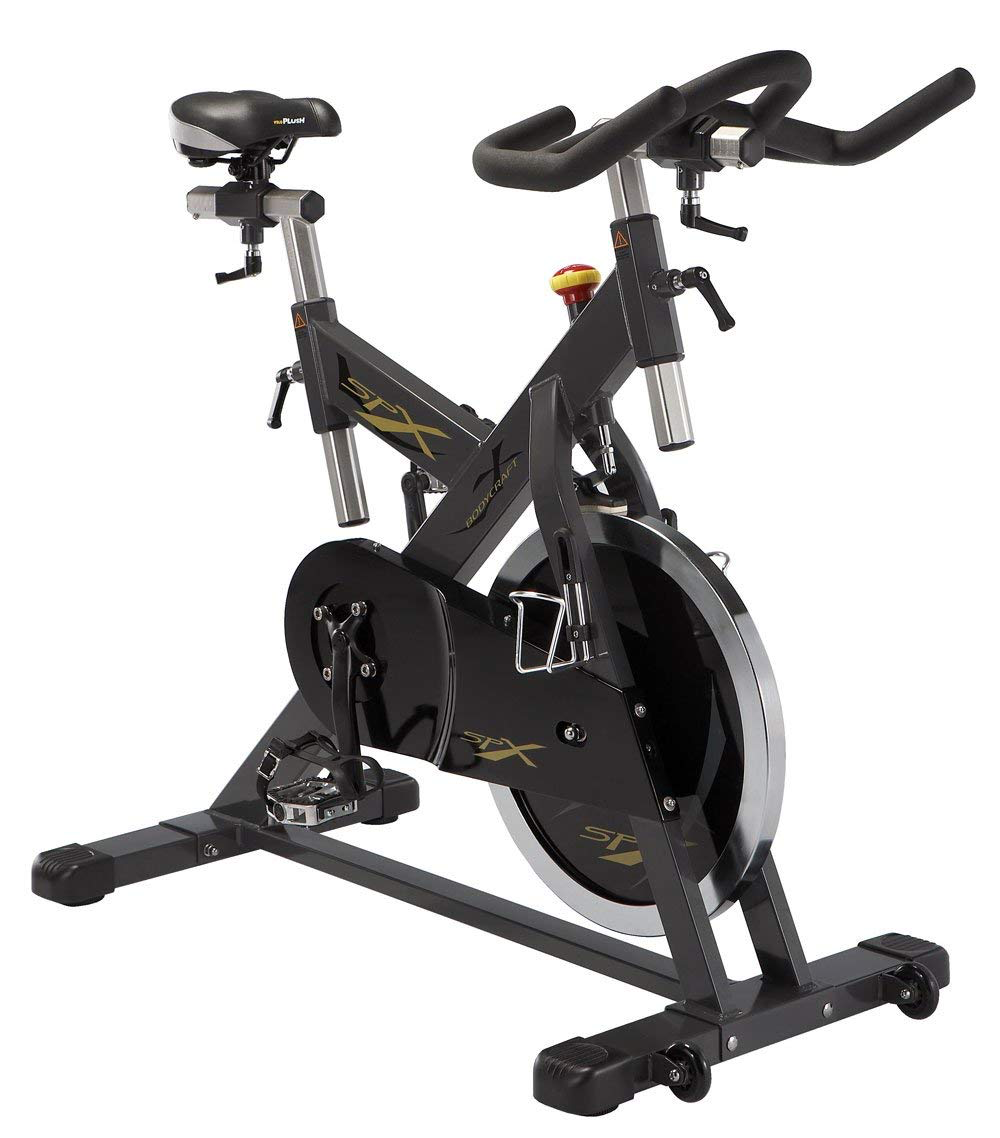 The sturdy steel frame of this bike is strong and resistant to wear and tear from regular cycling. It also includes a layer of powder-coated paint for a sleek, durable and sweat-resistant finish. The rest of the bike's construction is durable and top-quality as well. Its seat is crafted from stainless steel and its pedals are made from aluminum alloy. These pedals also include toe straps for added safety and comfort.
This bike's flywheel weighs 46 pounds in order to offer a wide range of resistance levels. These adjustable levels start at light resistance and ramp all the way up to high inertia resistance. Its sealed bearings ensure a smooth ride no matter which resistance level you choose. Its patented friction brake makes coming to a stop just as smooth as your ride. The brake also features an adjustable knob for additional safety and security. This spinning bike has a maximum weight capacity of 300 pounds. Plus, its vertically adjustable seat post and handlebars accommodate a wide range of heights.
Pros:
Crafted from powder-coated steel for extra strength and durability
Features toe straps for comfort, safety, and security through high-intensity workouts
Built with a 46-pound flywheel to accommodate both light and high resistance levels
Safely supports up to 300 pounds at a time
Cons:
This bike's heart monitor has sensors that are somewhat weak

5. Body-Solid Endurance Indoor Exercise Bike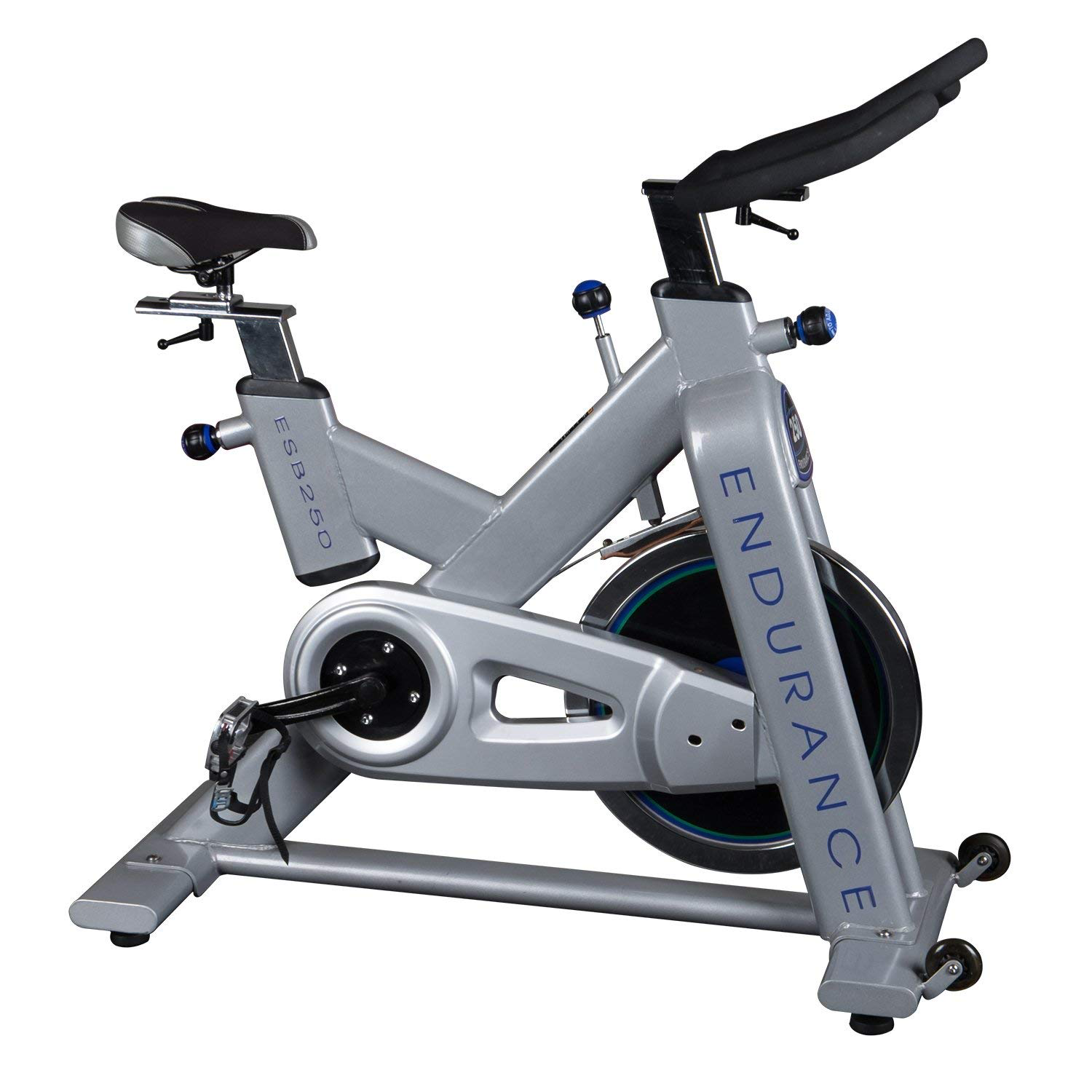 This spinning bike is built specifically with your safety and comfort in mind. Its dual-sided pedals are just like the pedals of a standard road bike. They offer you a realistic indoor riding experience that you can enjoy from the comfort of your own home. Its handlebars and seat pad are both vertically adjustable to offer you a close, personalized fit. This bike's brake features a durable leather pad. It ensures a comfortable, ergonomic grip, prevents your hands from slipping, and gives the bike a sleek, modern finish. Plus, its one touch safety stop offers an easy emergency stopping mechanism to ensure your safety and peace of mind.
This bike is ideal for heavier riders. It has a maximum weight capacity of 350 pounds. This weight cut-off is significantly higher than the average weight capacity of most other similar spin bike. Even though it is stable and sturdy, this spinning bike is easy to move around at your convenience. It features attached transport wheels that allow for quick and easy storage and mobility.
Pros:
Built with road-style pedals for an authentic riding experience
Includes a one touch emergency stop for added safety and security
Safely supports up to 350 pounds
Cons:
The seat of this bike can bend over time and become slightly crooked