Baby Store
5 Best Modern Nursery Night Light for Kids 2023 – Nightlight for Nursery
Fears of the dark and monsters under the bed are two of the most common childhood fears. In fact, more than 10% of ADULTS are afraid of the dark, so it's not something everyone outgrows. Considering the commonality of these fears for young children, it's only natural to consider adding a night light to your young child's room to help promote stress-free sleep and sweet dreams–sans guest appearances from monsters or other scary nighttime creatures.
Even if your child has no qualms about the dark at night, a nursery night light could still be a worthwhile purchase for your family. Putting a night light in your child's room can also make it easier for you as a parent to check on your child at night without disrupting their sleep or tripping over all the toys they left on the floor.
These five night lights are among the best of the best on the market when it comes night lights for kids. These nursery night lights  effectively bring light to a child's bedroom at night to dispel nerves and boost nighttime visibility without disrupting the quality of their sleep.
1. Hatch Baby Rest Night Light and Sound Machine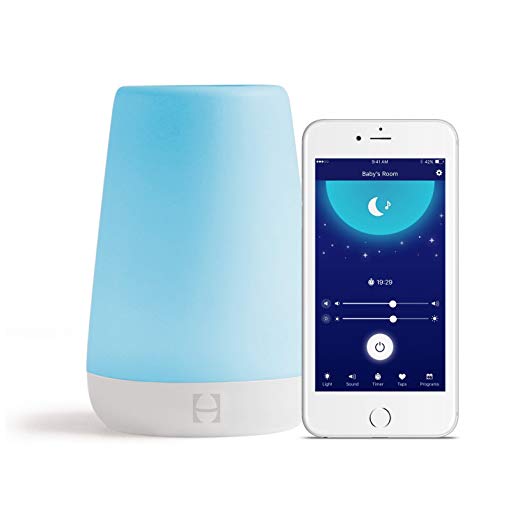 This ultra-versatile all-in-one night light, sound machine, and time-to-rise device from Hatch Baby is ideal for both children and parents. It effortlessly links with an app on your smartphone or other mobile device, so you can control its light, color, and noise remotely. This remote control feature increases the convenience and usability of this night light, and helps you avoid disrupting your sleeping child.
Customization is high with this nigh light. It offers adjustable brightness and volume and multiple fun, soothing color and sound options. Its innovative time-to-rise setting allows you to set a time for the light to turn on in the morning. This feature encourages your child to stay in his or her own bed until the night light turns on. On the other hand, you can also set this night light to turn on near bedtime to act as a fun, colorful warning for your child that it's almost time to go to sleep.
Pros
 Functions as a night light, sound machine, and time-to-rise device all in one
Links with a mobile app for increased usability and easy customization
 Offers remote control options from your mobile device for maximum convenience
Cons
Some customers report that this night light may turn on and off randomly with age and after prolonged use
2. VAVA Bedside Night Light for Kids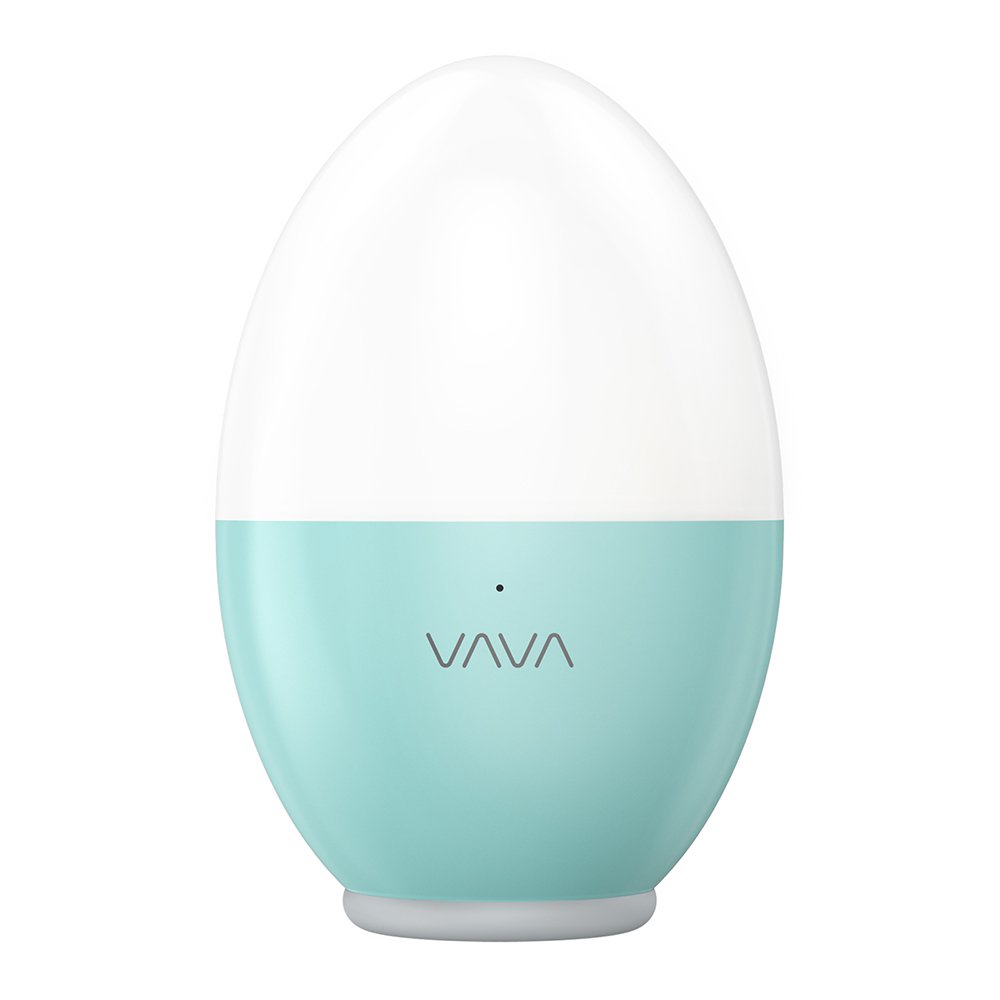 This night light from VAVA is designed with kids of all ages in mind. It is easy for even young children to turn on and off and adjust with its user-friendly touch controls. Its LED light technology is energy-efficient and creates a soft glow that will soothe and comfort  your child without disrupting his or her sleep or hurting his or her eyes. IP65 waterproof with a run time of 80 hours and easily rechargeable batteries, this night light is ultra-durable and portable for both indoor and outdoor use.
As an added bonus, this night light comes with 20 different facial expression stickers. Your child can decorate his or her light with these stickers as he or she chooses in order to give it a friendlier face and make it a more comforting bedtime companion. Plus, this night light is available in three different colors–blue, pink, and yellow–for added personalization to your child's preferences.
Pros
Features easy touch controls for maximum usability for children and adults of all ages
Emits adjustable, non-flickering LED light to promote relaxation and eye safety
Waterproof design and 80-hour run time for durability and portability
Comes with 20 facial expression stickers for added fun
Cons
Automatically turns on to the brightest setting, which may irritate some young children's eyes
3. Munchkin Light My Way Night Light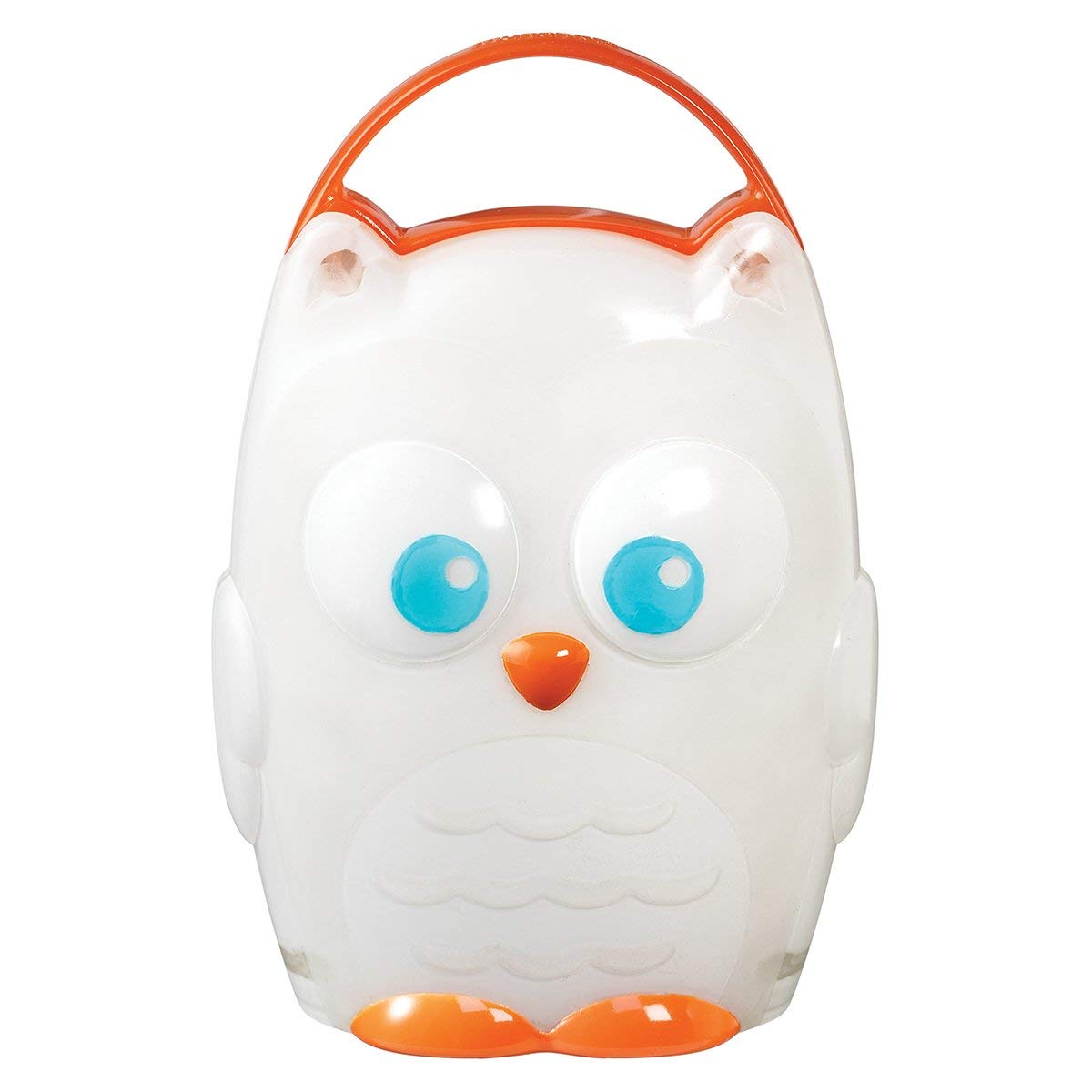 Shaped like a cute cartoon owl, this night light is ideal for young children who are looking for a friend to help comfort them to sleep at night. This night light is completely child-safe, even for toddlers and very young children. Its easy-grasp handle makes it portable and easy for children to carry around. Its one-button control encourage easy and safe use for young children. Plus, innovative LED light technology makes this light cool to the touch even when it is turned on for a while, so you don't have to worry about your child burning their fingers on a hot light bulb. Your little one can safely sleep with this owl-shaped night light in bed with them or close to their skin.
This night light emits a soft LED glow that provides comfort at bedtime or in the middle of the nigh without disrupting sleep. After 20 minutes, it automatically turns itself off to save energy. You or your child can easily turn it back on again using its one-button on-off control. This light runs on batteries, which makes it easily portable and ideal for indoor and outdoor use.
Pros
Shaped like an owl for added fun
Built with an easy-grasp handle and one-button controls for easy use by toddlers and young children
Runs on batteries for easy portability
Designed with special cool LED technology for safe use
Cons
This night light's on-off button is small and can be difficult to find when the light is turned off in a dark room
4. LumiPets Portable Night Light for Babies and Toddlers
Send your child to bed with this adorable bear-shaped night light that is safe and user-friendly for kids of all ages. It features easy touch controls that your child can turn it on or off or switch the color of its glow with just a tap or two. This light also comes with a remote control that features many different options as well as an auto on-off timer to allow you to control the color, intensity, and run time of this night light.
The special LED light technology of this night light is cool to the touch. Your child can safely take it into his or her bed or crib without risking burns or eye damage. It emits a soft, warm glow that is soothing but won't disrupt your child's sleep or hurt his or her eyes in the middle of the night.
Pros
Made with soft material and eye-safe LED light for maximum safety and comfort
User-friendly for children with easy touch controls
Compatible with a remote control with adjustable options for color and light
Runs on batteries or micro USB outlet plug for versatility and convenience
Cons
The USB charging port of this night light is on the bottom, so users must turn it over to plug it in and recharge it
5. SOAIY Sleep Soother Aurora Projection Night Light Lamp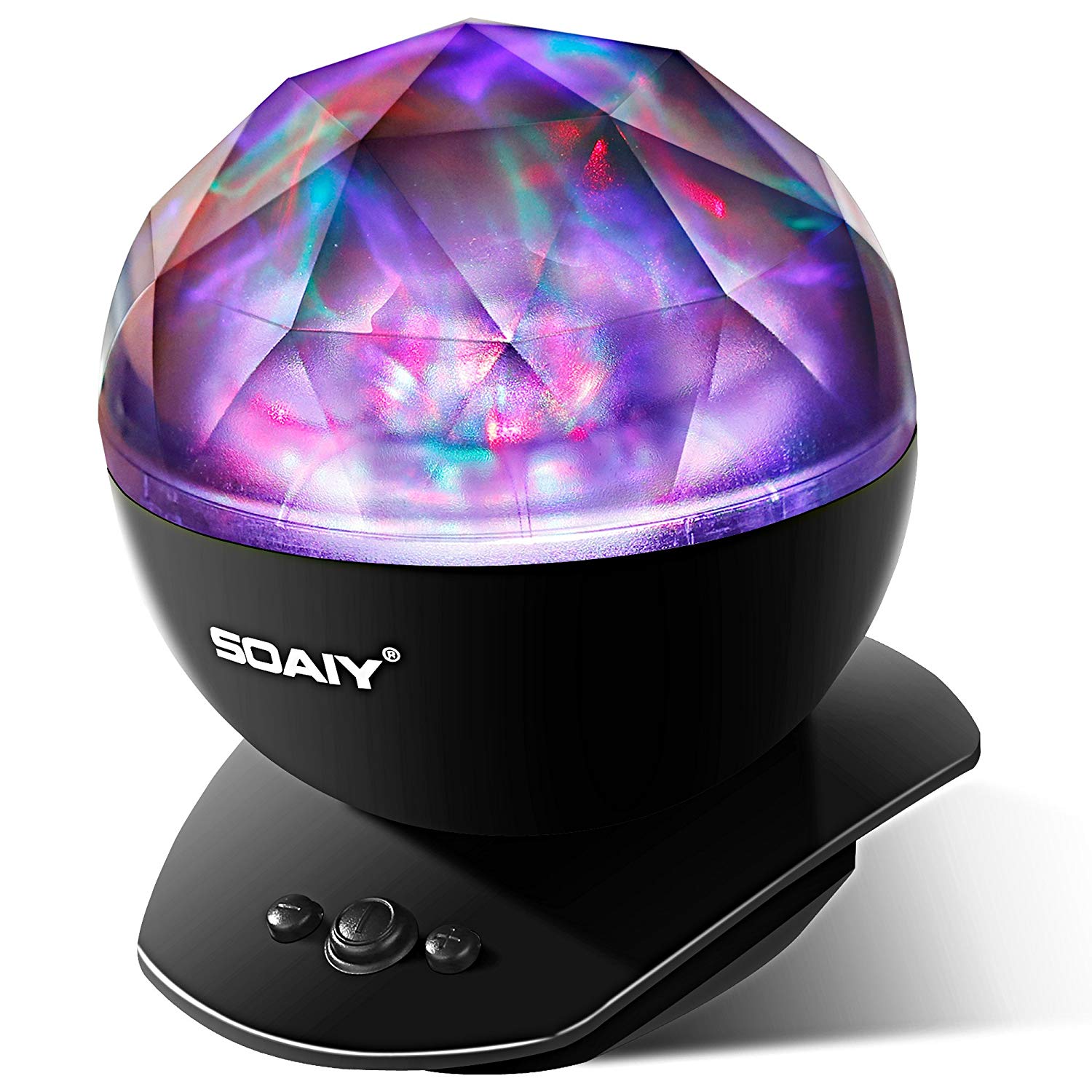 This ultra-cool night light lamp form SOAIY is both functional and stylish. It projects a realistic light show that mimics the breathtaking glow of the aurora borealis onto your child's bedroom walls or ceiling. Its soft glow is soothing and comforting. Plus, its beautiful multi-faceted surface adds to the decor of any room at any time of day or night.
The built-in speaker only adds to the fun of this special night light. You can use its included audio cable to plug in your iPhone, iPod, or other MP3 device and play any music of your choice while enjoying this night light's soothing light show with your child.
Pros
Mimics aurora borealis lights and projects this light show onto walls or ceiling
Includes 8 different light projection modes in different colors (red, green, blue, multicolor, etc.)
Features a built-in speaker compatible with iPod, iPhone and other MP3 devices
Rechargeable via an included USB cable
Cons
This night light is fragile and should be handled with care