Home & Garden
2 Best Cookware Sets of 2023 – Best Cookware Sets Reviews
The best cookware sets save you an absolute fortune in the long-term! So making a good investment in a quality brand is an excellent life decision. Many cookware sets lose their good looks after a few years on the job. And you don't want to buy a poor-quality cookware set and then find it all needs replacing after a couple of years! But the two sets we've chosen stay shiny and looking like new, even after years in a busy kitchen.
Look for tri-ply clad cookware, as this is a 'sandwich' construction that gives even cooking. Even-cooking is crucial to producing tasty and appealing food on a daily basis. The 3-ply system offers the strength and good looks of stainless steel exterior. And the non-reactive steel interior won't add unwanted chemicals to your food. But the middle layer is aluminum, which is a great heat conductor and ensures the heat is distributed all around the food being prepared equally.
Tramontina Stainless Steel Induction-Ready Tri-Ply Clad
12-Piece

Cookware Set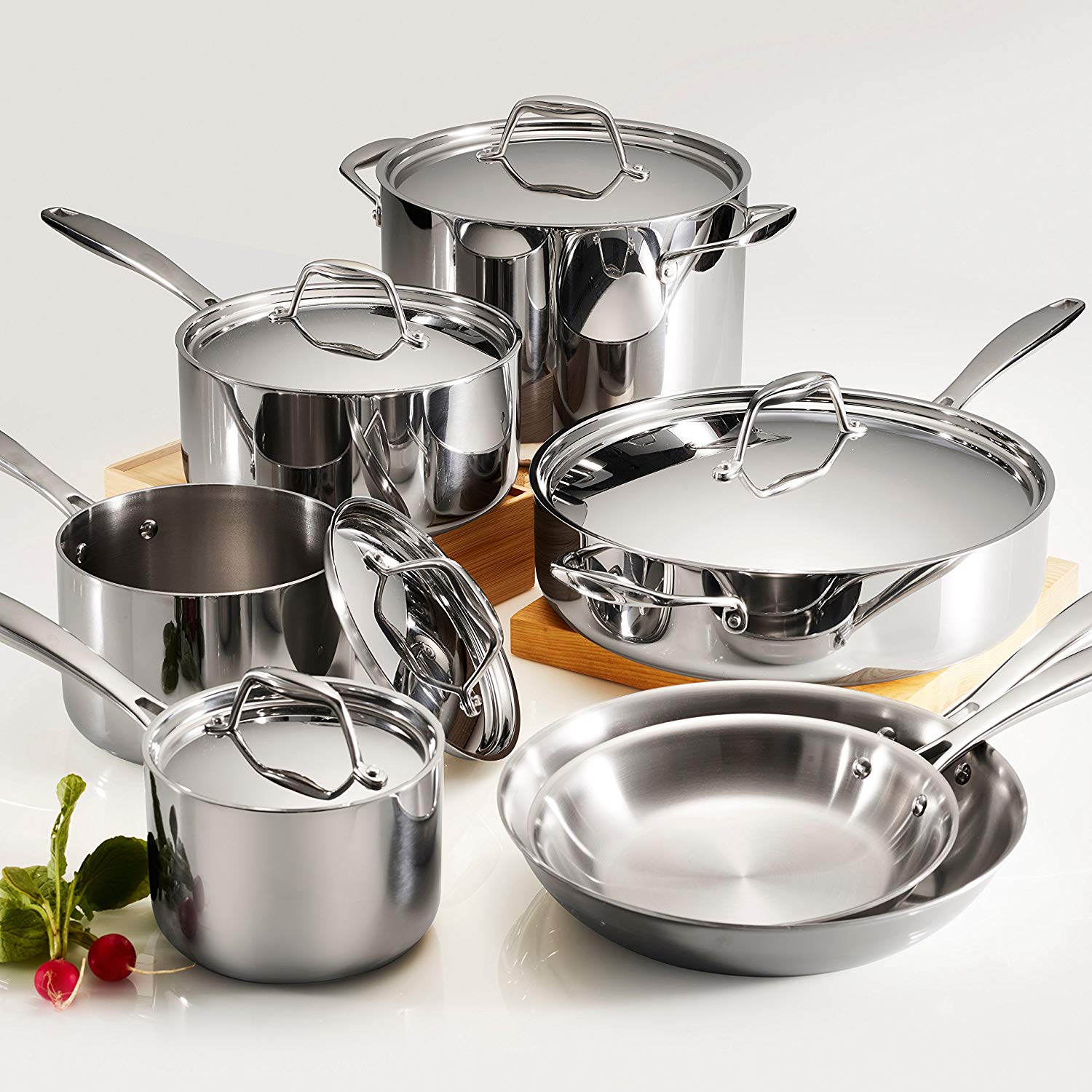 Made in Brazil, The Tramontina 12-piece Tri-ply Clad set gives you even heat distribution for efficient and tasty cooking. The various pieces are durable and will stay in shape even after knocking about in a busy kitchen for a few years. The pans aren't heavy, but have a medium-range weight that's easy to handle. And with special, ergonomic handles, we always found them comfortable in use.
The Tramontina set is solidly-built, with a sensible price tag. It includes 2 extra pieces – which are larger than the standard home-use cookware set. So bear this in mind if you expect to be cooking for large family occasions or neighborhood activities. There really is nothing worse than trying to cook too much food in a pan that's too small!
And if you like to use a stockpot, this is the only set we found that offered a 12 quart version. Plus you also get a lifetime warranty with this popular, high-class cookware set!

All-Clad Tri-Ply Stainless Steel 10-Piece Cookware Set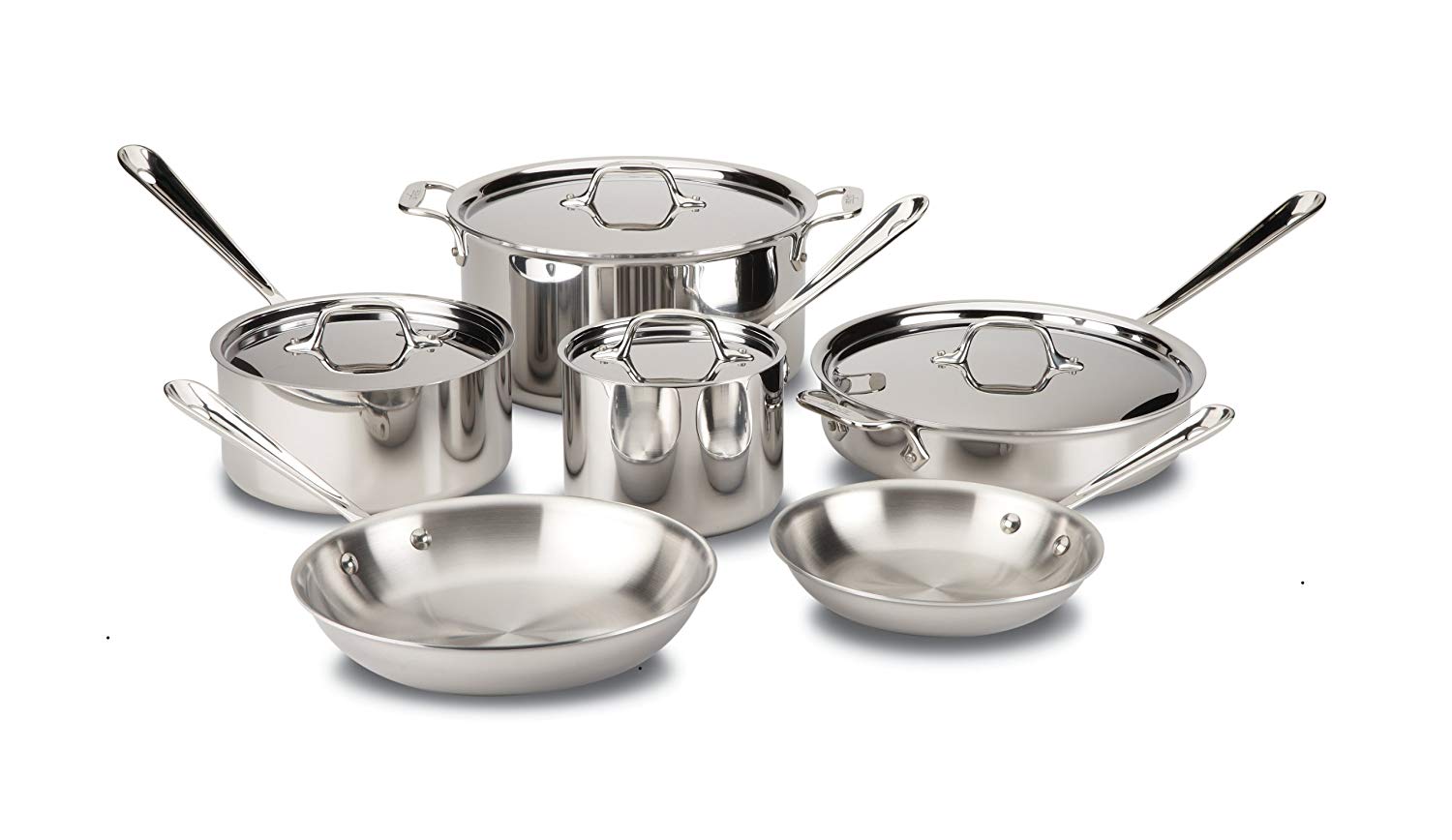 Made in USA, The All-Clad Tri-ply set contains 10 stainless steel pans. And the professional cooks in our test kitchen were very enthusiastic about their even heat distribution and life-long durability. This set is suitable both for home use and for commercial restaurant cooking. The larger skillet measures 10 inches, which isn't the largest you can buy. But it's the most efficient size for normal-sized stove-top burners.
And bearing in mind that you can expect this set to last a lifetime, it also stays looking new and attractive after years of use. Like the Tramontina, all the pieces in the All-Clad cookware set are a comfortable weight and easy to handle.
The All-Clad is safe up to a higher temperature than many other pans. And you can use it to cook food in the oven, or under your broiler up to 600º F. This set comes with a limited lifetime guarantee. Also this is a perfect cookware set for electric stove.

With home cooking making a huge comeback, and set to be a major health initiative in the future, it makes sense to fix yourself up with the best equipment!