Baby Store
Top 6 Best Baby Lotions 2023 – Organic, Natural, Ultra-gentle Formula
Lotion is essential for soothing your baby's skin. However, baby skin–especially newborn and infant skin–is incredibly sensitive. Any lotion that you rub into your baby's skin needs to have a very specific, safe, gentle formula to avoid irritating your baby's skin or causing more severe health problems. Finding a baby lotion that is gentle enough not to irritate your little one's skin but is also effective at moisturizing can be a major challenge for new parents. This task can be even more complicated and frustrating if your baby has a pre-existing skin condition–like cradle cap, baby acne, eczema, or even just ultra-dry skin–that requires extra attention and care.
Choosing a lotion for your new baby can be scary, but there's no need to stress. These six baby lotions offer healing, hydrating solutions for keeping baby skin soft and smooth. Whether your baby has dry skin, normal skin, or a more complex skin condition, one or more of these top-quality baby lotions can provide the safe, gentle moisture they need to stay healthy and comfortable.
What are the best baby lotion newborns with sensitive skin? Here is the answer.
1. Earth Mama Calming Lavender Baby Lotion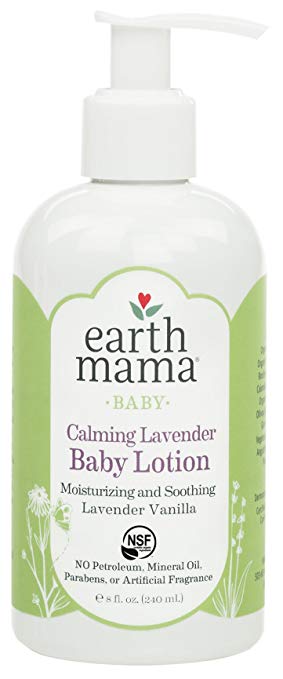 An ultra-gentle formula of a blend of organic herbs and oils helps this all-natural baby lotion from Earth Mama gently hydrate and soothe your baby's skin without causing any irritation. Organic shea butter and calendula are the active ingredients in this hydrating baby lotion. You can apply this calming lotion to your baby's skin from head to toe. It is safe for use on your baby's face.
Many ingredients that are standard in normal lotion can be very harmful to your baby's skin and lead to itching, irritation, and other more serious skin problems. Fortunately, this gentle, all-natural lotion does not include any petroleum, mineral oil, or parabens, all of which can be irritants for your baby's skin. It also does not include any artificial fragrance. Its light, calming lavender vanilla scent is all-natural due to the blend of natural lavender and vanilla essential oils in this lotion's formula.

2. Puracy Organic Baby Lotion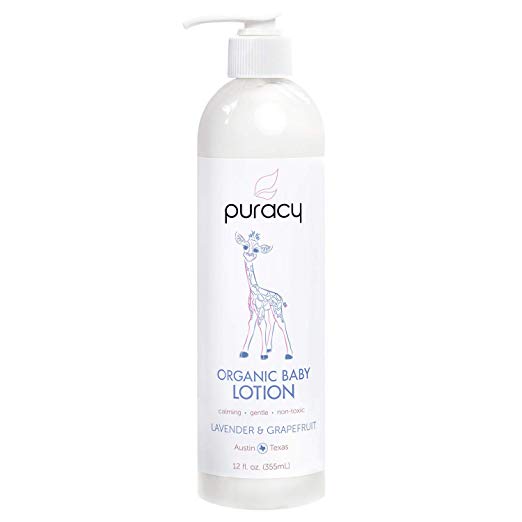 This baby lotion from Puracy is safe for babies, but it isn't just for babies. Its formula is ultra-gentle and won't irritate your baby's skin. However, it is also effective at hydrating and moisturizing skin of all ages–from infancy to adulthood. This lotion will serve your little one well as they grow from a baby to a toddler to a child and beyond. Its gentle formula is safe for use on newborn babies. It also effectively moisturizes babies with skin types, including very dry and very sensitive skin, and babies with skin conditions like eczema or cradle cap.
It does not include any harsh chemicals and is completely plant-based, organic and all-natural. Its active ingredients include sunflower oil, jojoba oil, Vitamin E, and shea butter. These hydrating ingredients create an ultra-lightweight formula that effortlessly penetrates your baby's skin without leaving any grease or oil on your baby's skin.  This lotion also includes a blend of essential oils, including pink grapefruit essential oil and lavender essential oil. These essential oils give this lotion's formula a light, soothing scent without any artificial fragrance.

3. Aquaphor Baby Advanced Therapy Healing Ointment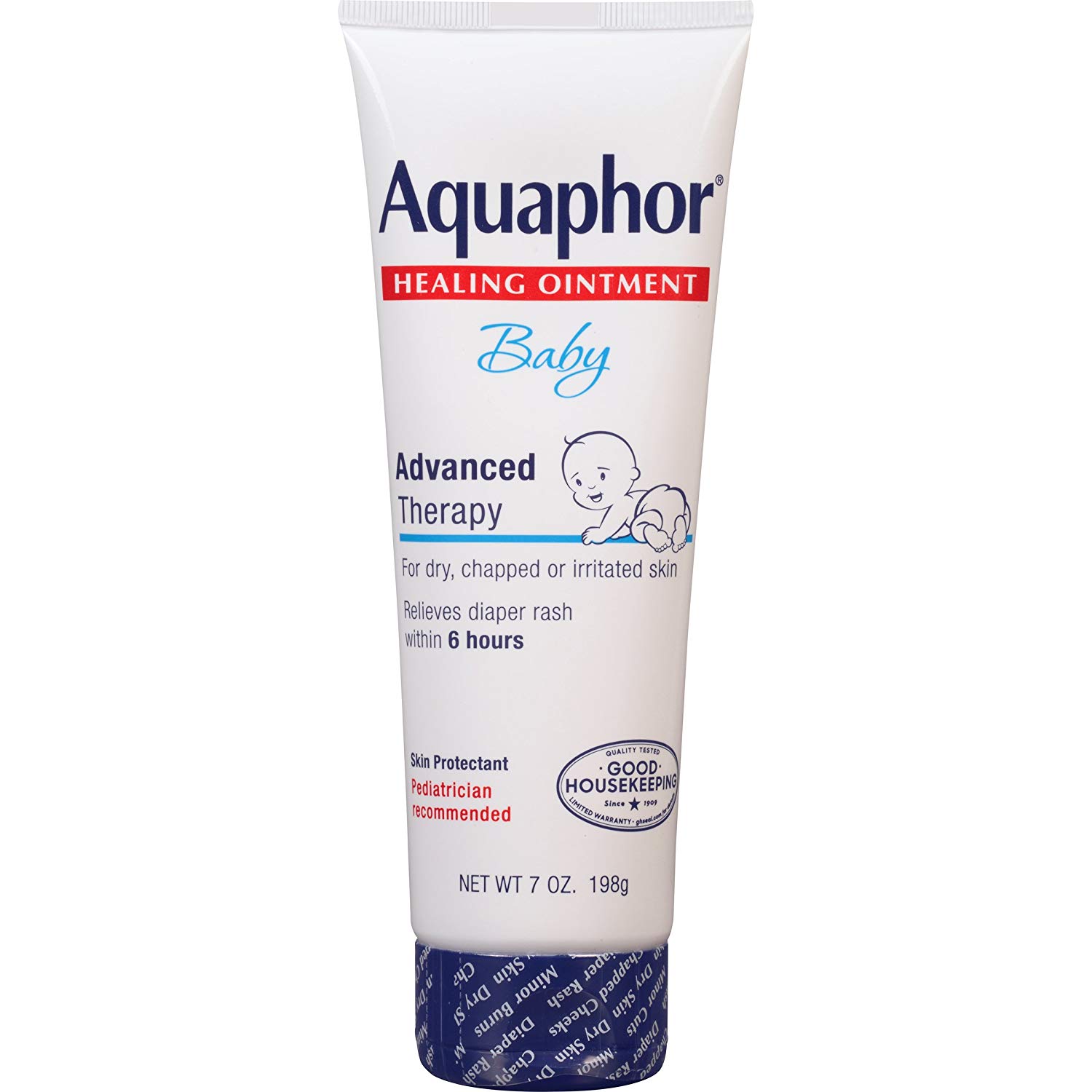 It is usually completely normal for babies to develop very dry skin or dreaded diaper rash, no matter how well you care for their skin. Despite the normalcy of these common ailments, having dry, itchy, or irritated skin is not fun for your baby or you. Your baby has to deal with discomfort and pain that they don't understand, and you have to suffer through their inevitable fussiness and crying as a result. It is difficult to find a baby lotion that effectively treats skin problems and  dry skin but doesn't have a super heavy formula–which can cause other skin problems.
This lightweight healing ointment from Aquaphor is designed specifically for safe, gentle, and effective use on babies. It is an extremely versatile formula. This ointment hydrates and softens very dry skin. It also relieves chapped skin and diaper rash in as little as six hours. It can even treat and soothe minor scrapes and scratches on your baby's skin. This lotion treats and protects your baby's skin. Its formula is very gentle and is made specifically for use on baby skin without causing irritation. This lotion is an essential to have on hand when your little one is young. You never know when anything from diaper rash to a minor wound might occur, and this lotion can help you and your baby get through these skin struggles more comfortably and peacefully.

4. Johnson's Head-to-Toe Moisturizing Baby Body Lotion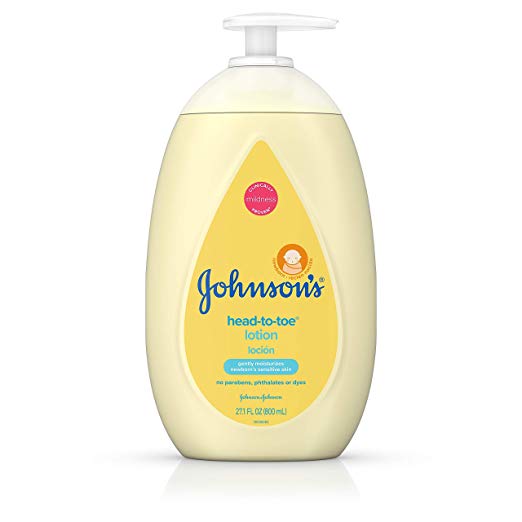 You can safely use this baby lotion from Johnson's on every inch of your baby's body–as it's name suggests, you can apply it to your baby's skin head to toe without worrying about irritation. Its gentle yet effective formula will leave your baby's skin soft and smooth for twenty-four hours without reapplication.
This lotion is an essential for babies with sensitive skin. Its formula is hypoallergenic and very mild. It doesn't include any parabens, dyes, phthalates, or any other harsh chemicals that can cause irritation to sensitive baby skin. Plus, its formula is pH-balanced to guarantee that it is gentle, mild, and non-irritating.

5. Mustela Hydra Bebe Body Lotion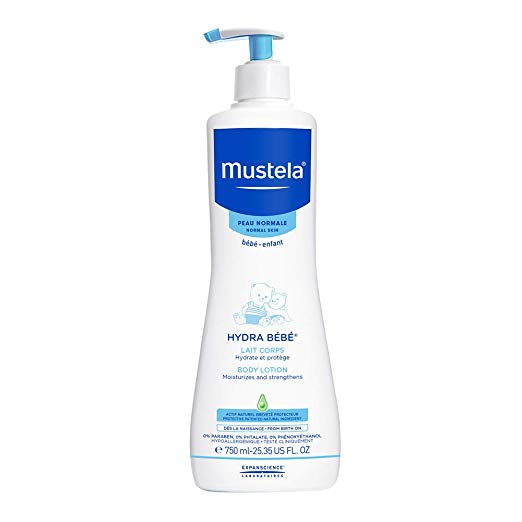 This daily lotion is simple, mild and gentle. It is ideal for everyday use for babies with normal skin from birth. That is, this lotion is ideal for babies with a normal skin type that is not especially dry or sensitive. The active ingredients of this baby lotion include a blend of natural, plant-based ingreidents. These ingredients include jojoba oil, vitamin E, vitamin F, shea butter, sweet almond oil, glycerin, and sunflower oil. This baby lotion does not include any parabens, phthalates, phenoxyethanol, or any other harsh chemicals, dyes, or fragrances. Plus, it is hypoallergenic.
One of the benefits of this baby lotion's unique formula is how quickly it absorbs into the skin. It leaves your baby's skin feeling soft and smooth without leaving a greasy residue. Its natural, light scent leaves your baby's skin smelling fresh without causing any irritation from artificial fragrances or harsh chemicals.

6. Weleda Sensitive Care Face Cream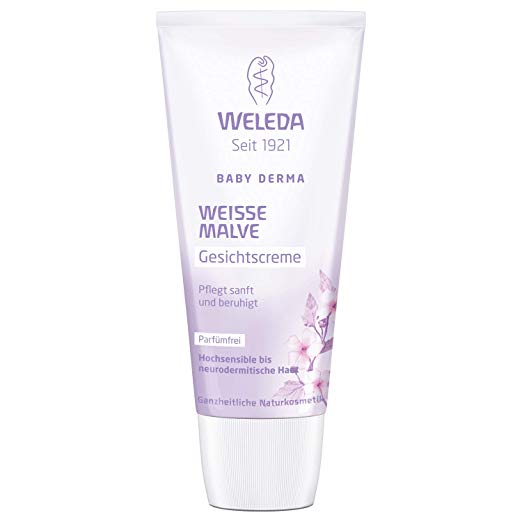 Baby skin is sensitive all over, but baby faces are especially sensitive. It can be very difficult to find a baby lotion that is gentle enough to use on your baby's face. This is especially true if your baby has sensitive skin. This face cream from Weleda is designed specifically for use on the ultra-sensitive skin of baby faces.
This baby lotion is plant-based. It does not include any synthetic preservatives, mineral oils, artificial dyes or fragrances, or any other harsh chemicals. It absorbs very quickly into your baby's skin to leave their face soft and smooth without leaving any oil or greasy residue.
The active ingredients of this baby lotion include all-natural sweet almond oil, chamomile flower extracts, and calendula flower extracts. Sweet almond oil includes unsaturated fatty oils that effectively hydrate and soften sensitive, dry baby skin. Chamomile flower extracts and calendula flower extracts both have naturally soothing and calming effects that leave your baby's skin feeling soft, smooth, and rejuvenated.