Baby Store
6 Best and Lightest Travel Cribs for Babies and Toddlers 2023
It's tough to travel with a newborn, baby, or toddler. From very frequent bathroom breaks on long road trips to crying babies on airplanes , keeping babies and young children comfortable, fed, happy, and entertained while on the go can make any out-of-town trip a lot more stressful. Even the vacations that are supposed to be the most relaxing can quickly transform into your worst nightmare at a moment's notice if your child gets too hungry, tired, cranky, etc.
One of the most important parts of keeping the peace on the go is making sure your baby or toddler gets a good night's rest while your family is traveling. Getting your child to sleep quickly and peacefully can be hard enough on any given night at home, but it becomes a much larger challenge when you're on the go. Just like you, your child gets comfortable and familiar with their familiar nighttime routine and crib or bed at home. Switching things up on them by expecting them to fall asleep and stay asleep all night long in an unfamiliar place can lead to disaster. With that being said, however, having the right travel crib or bed by your side can make bedtime on-the-go a much smoother and more peaceful process for you and your child.
This post details the top 6 best travel cribs and beds that are currently on the market for babies and toddlers. These 6 travel cribs and beds are designed to help your baby–and by extension, you–get a better night's sleep while on the go. They provide nighttime comfort and safety that you can easily bring with you wherever you go.
1. Graco Pack 'n Play On the Go Playard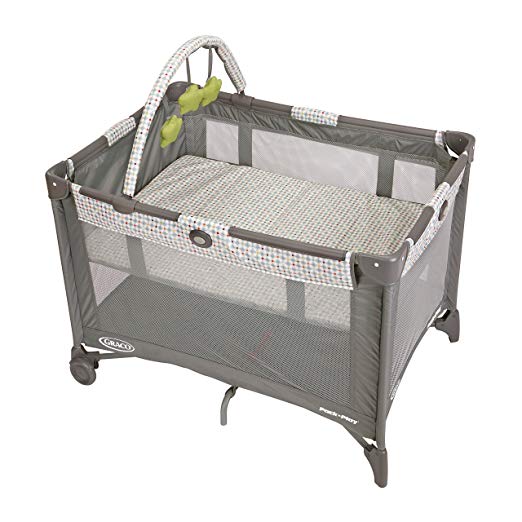 This awesome, space-saving, versatile travel crib from Graco triples as a portable playpen for safe and contained playtime, a changing station, and an ideal safe place to rest for nap-time or bedtime while on the go. It includes a removable, full-size bassinet for sleeping as well as a removable changing table. The bassinet is designed to safely support babies under 15 pounds and the playpen is made for safe use by young children who are still under 35″ tall. The changing table features special wipe-clean fabric for quick and easy clean-up and hygienic changing away from home.
The durable frame of this playpen and travel crib keep your baby safe and contained during playtime, nap-time, and through the night. Its lightweight, breathable mesh sides offer plenty of ventilation that allows your baby to keep breathing freely while they sleep. An included toy bar complete with a variety of soft toys gives your baby plenty of choices for entertainment and engagement to ward off boredom and fussy moods. This travel crib is fully collapsible. It features automatically folding feet and wheels and comes with a carrying bag for effortless storage and portability from place to place.

2. Lotus Travel Crib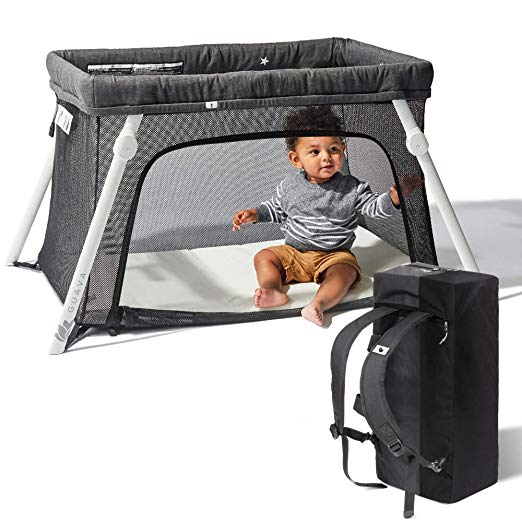 A heavy travel crib and air travel don't mesh so well, which is why this ultra-lightweight travel crib from Lotus is the perfect companion for your family on trips that include a flight. It comes with a convenient backpack carrying case that doubles as an acceptable airplane carry-on bag and weighs only 13 pounds when it is in its bag. Plus, it takes 15 seconds or less to pack or unpack this travel crib into its carrying backpack.
This lightweight, compact travel crib is suitable for nap-time or a full night of sleep for infants, babies, and toddlers ages 0 to 3 years old. It includes thick, plush foam that keeps your child comfortable while they sleep, rest, or play. It also includes a special zippered side door that offers quick and easy access to your child if you want to play with them, cuddle them, or just check in on them whether it's play time or nap time. This built-in side door opens ultra-quietly, so you don't have to worry about disrupting your sleeping child when you open it. Plus, it is lockable for maximum safety.

3. MiClassic 2in1 Portable Travel Crib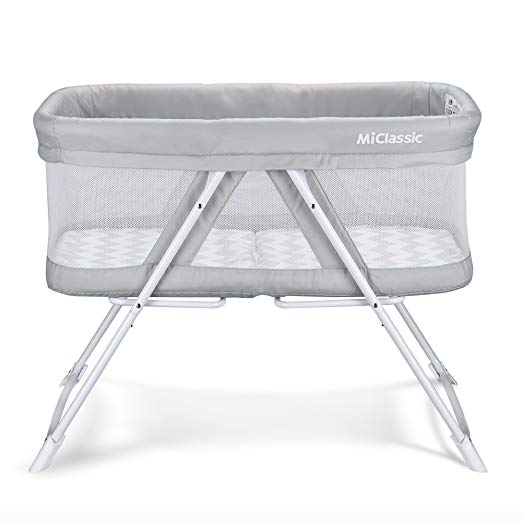 This  travel crib from MiClassic is designed specifically for young babies and doubles as both a rocking and stationary bassinet. When your baby is fussy and needs some extra soothing to fall asleep, just set this crib to rock mode. Once your baby falls asleep and you want to step away, set the crib to stationary mode for safety and peaceful sleep. Breathable mesh surrounds this bassinet to keep your baby safe and breathing freely while allowing you to check in on them while they sleep without disturbing them.
For convenience and effortless storage and portability, this travel crib folds up or opens in just one second flat. It also comes with a special carrying bag that helps you store and travel with this lightweight, compact crib when you're on the go with your baby.

4. Joovy New Room2 Portable Playard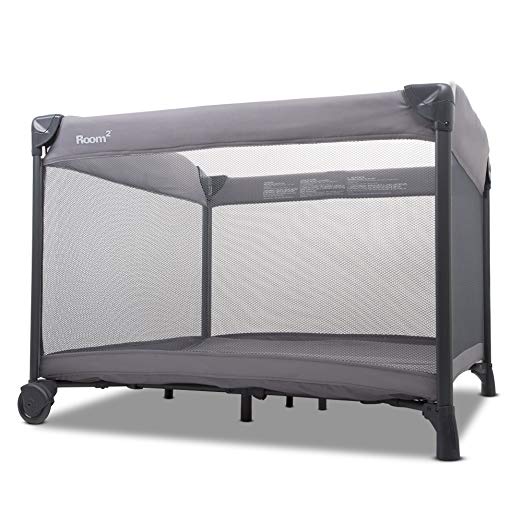 This extra-large portable play pen from JOOVY is comfortable and spacious enough for two babies or young children to play and rest comfortably for hours on end. It offers 10 square feet of space for play, rest, and sleep.
The mesh walls that surround this portable play pen from edge to edge provide safety and plenty of ventilation for your baby. These breathable mesh walls also allow you to see into the play pen and your baby to see out. The play pen features a heavy-duty padded mattress that provides comfortable but firm support for your baby while they sleep. It also comes with an included fitted cotton sheet for added bedtime comfort. The play pen folds up and both the play pen and fitted sheet fit into an included carrying bag for convenient storage and easy portability.

5. Graco Pack 'n Play Playard with Twins Bassinet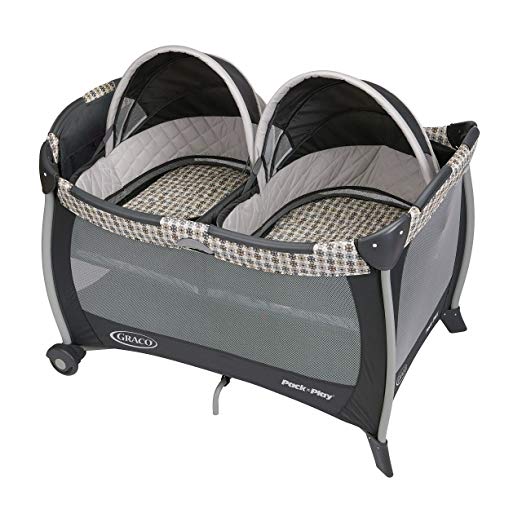 Bedtime on the go is tough enough with just one baby. If you have twin babies or two very young children that are close in age to each other, getting both babies to sleep peacefully through the night when your family is away from home becomes an ever bigger challenge.
This Graco portable play pen with two bassinets can help ease the struggle of getting two babies to sleep at the same time while on the go. It includes two separated bassinets with quilted mattress pads. These bassinets offer safe, comfortable sleeping environment for two babies. Both bassinets are also removable. The crib transitions effortlessly from a double bassinet for sleeping to a spacious, enclosed play pen for resting or playtime.    This play pen and double bassinet folds up effortlessly and comes with a carrying bag for easy storage and portability.

6. hiccapop Inflatable Toddler Travel Bed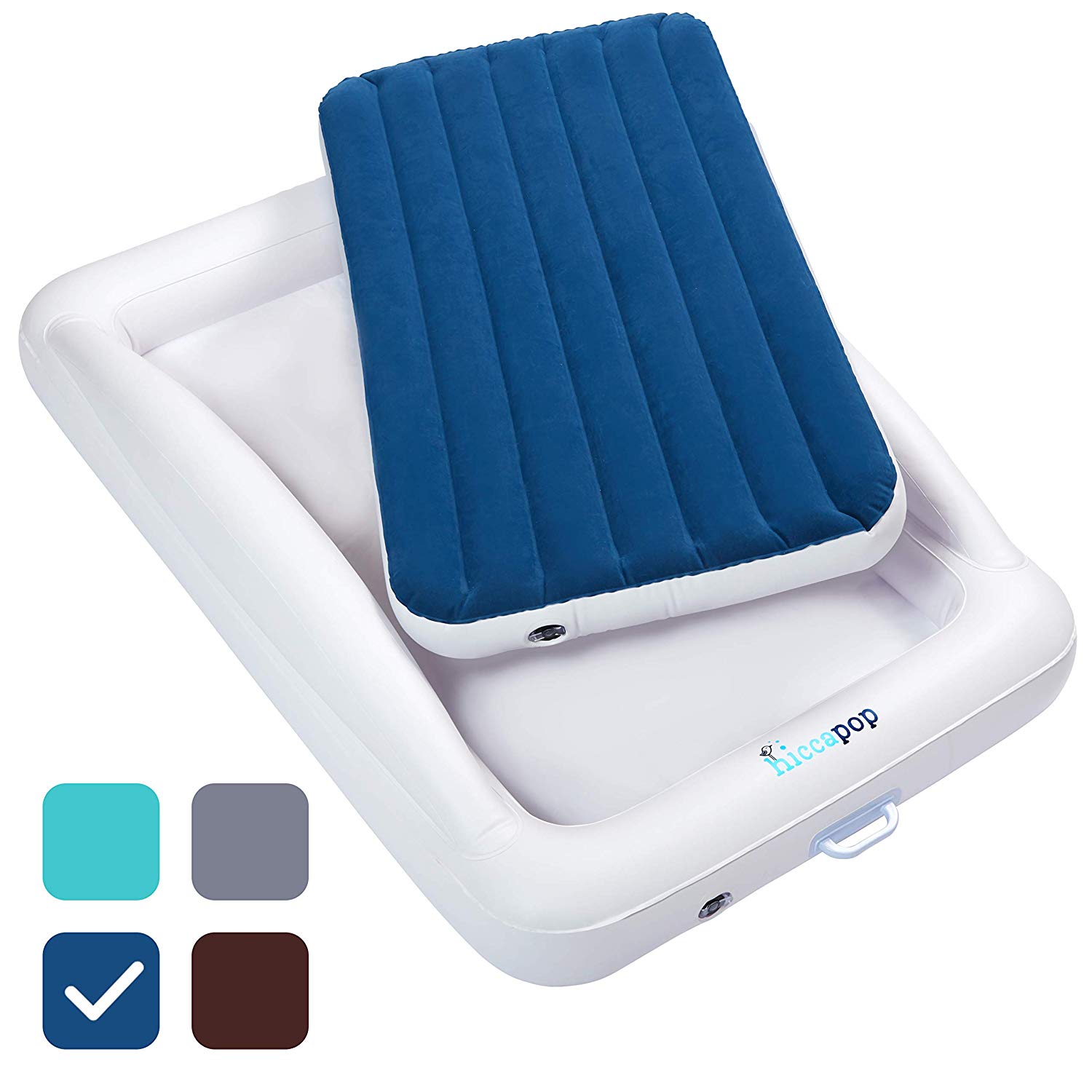 This inflatable travel bed from hiccapop is ideal for taking your toddler with you anywhere from a family trips to Grandma's house to a camping excursion in the middle of nature.
This ultra-durable and ultra-portable inflatable bed is the perfect size for a toddler who doesn't use a crib anymore but isn't quite ready for a full-size mattress yet. Its vinyl material is super strong and won't leak or deflate in the middle of the night. The mattress features reinforced weld-seams and an air valve that protects against punctures and leaking. Its extra-tall bed rail bumpers keep your toddler safe all night long. Plus, this mattress inflates in 30 seconds or less for bedtime at a moment's notice.