Electronics
5 Best Sound Machines for Sleep 2023 – Best White Noise Machines
Whether you've got a noisy roommate or a partner sleeping next to you who just won't stop snoring, logging enough hours of high-quality sleep every night when your rest is interrupted by noisy disturbances can feel like an impossibility. Even if your bedroom is silent by bedtime, relaxing enough to fall asleep peacefully can be a challenge for anyone who suffers from nighttime anxiety, overthinking, or general insomnia. White noise machines can also be very useful at helping lull you into forgetting your worries and allowing you to relax enough to fall asleep stress-free.
Whatever the reason for your trouble falling asleep and staying asleep, waking up groggy and badly rested can send your whole day downhill. These five white noise sound machines are all designed specifically to help you fall asleep and stay asleep to help you get the rest you need every night and wake up energized and ready to face the day ahead of you.
1. AVANTEK White Noise Sound Machine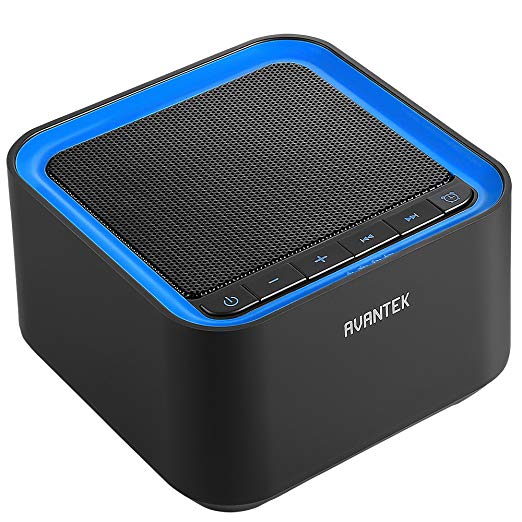 Drown out annoying noise, soothe your restless baby, or sharpen your focus with this sound machine that promotes relaxation, sleep, and focus for babies, children, and adults. It includes 20 different realistic and relaxing sounds, such as campfire noise, birds singing, rain falling, waves crashing, and much more. It also features 30 different volume levels to allow you to choose the ideal volume that relaxes you (or your restless baby) without causing a distraction or disturbance.
Everyone's preferences are different. Some people get their best sleep with continuous noise playing in the background all night long. Others prefer to fall asleep to noise but don't want to wake up to white noise in the middle of the night. You can use the settings on this sound machine to match your unique preferences. Choose the continuous play option if you want the machine to keep playing all night long. Or, take advantage of the sound machine's auto-off timer to set it to turn off anywhere between 1 to 7 hours after you press play. As an added bonus, this sound machine remembers the settings you chose in the past and defaults to your past settings automatically when you turn it on.
Pros
Features 20 different sounds
Includes 30 volume levels
Offers continuous play and various auto-off timer options
Ideal for promoting sleep and focus for babies, children, and adults
Cons
Determining which sound the machine is currently playing at any given time can be confusing and lacks user-friendliness

2. Big Red Rooster White Noise Machine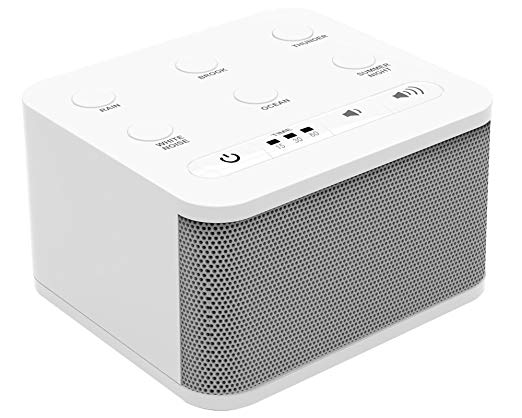 Big Red Rooster's white noise machine is simple, user-friendly, and effective at promoting relaxation at bedtime. It features 6 natural, realistic, and relaxing sounds: ocean waves crashing, thunder, white noise, summer night sounds, thunder sounds, and babbling brook noises. You can easily set it to play noise all night long while you sleep. Or, you can opt for the machine to turn off by itself once you fall asleep after 15 minutes, 30 minutes, or an hour.
This sound machine is effortlessly portable, which makes it ideal for traveling businessmen/women or anyone who is looking for help with sleepy-time relaxation both in and out of their own bedroom. Its compact size and lightweight design makes it easy to pack away in a suitcase or small overnight bag. Plus, it can be powered by either an included AC adaptor OR 3 AA batteries. Its AA battery power option increases the easy portability of this sound machine.
Pros
Features 6 natural relaxing sounds for sleep
Compact for easy portability
Can run on an AC adaptor or 3 AA batteries
Offers a continuous play and multiple auto-off timer options
Cons
Some customers report that this machine cycles through sounds more quickly than they would prefer

3. Adaptive Sound Technologies LectroFan High Fidelity White Noise Machine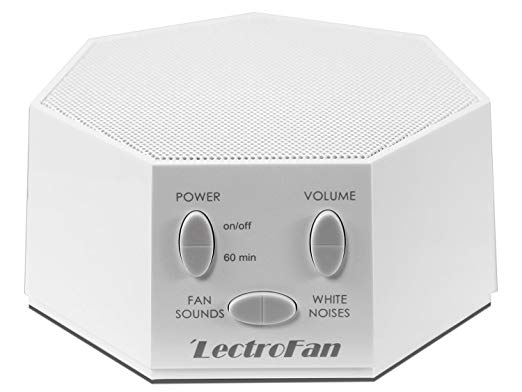 Choose between 10 different fan sounds and 10 different ambient noise options with this ultra-versatile LectroFan sound machine from Adaptive Sound Technologies. It is built with no internal moving parts or motor and plays clear sounds through its large, high-fidelity speaker. With its various fan sound options, this sound machine is ideal for those who are relaxed by the soothing sounds of a fan. It uses less energy to help you save on your electric bill and also helps you avoid dealing with the vibrations and rattling noises that real fans make.
This sound machine offers 10 different ambient noise options. In addition to classic white noise, it also offers pink noise and brown noise. Pink noise is especially beneficial at helping promote lasting sleep and helping you stay steadily and deeply asleep all night long. Brown noise is very soothing and helps you relax and focus in addition to helping you fall asleep. The multitude of ambient noise and fan sound options this white noise machine offers improves its versatility. It is useful for drowning out environmental noise, helping you focus when you need to study or work, contributing to relaxation, and promoting good-quality sleep.
Pros
Features 10 different fan sound options
Offers 10 ambient noise options
Includes a large, high-fidelity speaker to ensure clear noise with no moving parts or motor
Cons
Some customers report that the USB charger for this sound machine begins to malfunction with age and prolonged use

4. Marpac Hushh White Noise Sound Machine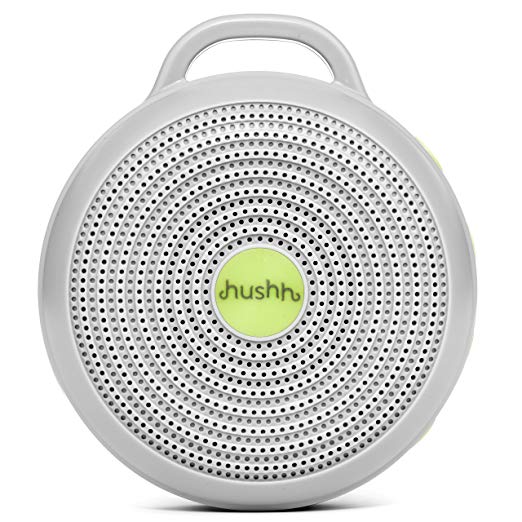 Designed specifically to help soothe restless babies and lull them into lasting sleep, this sound machine includes 3 different sound options: white noise, deeper white noise, and gentle surf sounds. It is ideal for parents who are desperate for a solution to their fitful infant or toddler who just won't sleep through the night.
A built-in baby-safe clip allows you to easily and safely clip this sound machine to your child's stroller, crib, or car seat to soothe and relax your little one while at home or on the go. This machine also features a child lock for added safety and peace of mind. It even includes an LED nightlight, making it even more ideal for soothing  babies and young children with a combination of soft light and gentle noise.
Pros
Features 3 relaxing sound options
Designed to soothe restless babies
Built with a special clip and child lock for safe use
Includes a nightlight for added relaxation
Cons
Offers limited volume options and doesn't get as loud as some other sound machines

5. Homedics White Noise Sound Machine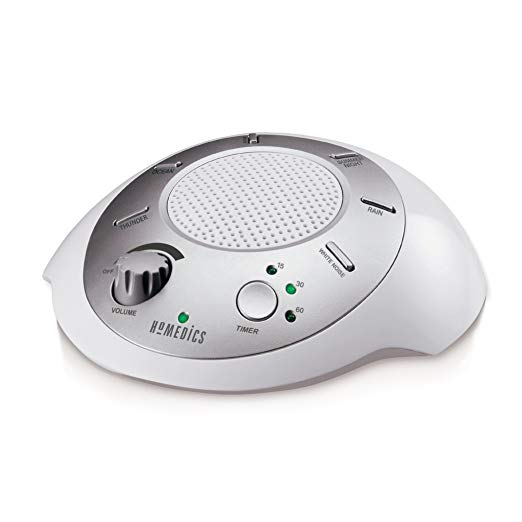 Ideal for meditation, activities that require focus and sharp attention, relaxation, and bedtime, this versatile sound machine is definitely handy to have around. It features 6 natural sounds: classic white noise, babbling brook, ocean waves, thunder sounds, and summer night noises.
The flat, compact, lightweight design of this sound machine makes it easy to take with you wherever you go. Place it on your bedside table at night to help you fall asleep. Or, bring it with you to your office and put it on your desktop to help you focus on your task at hand throughout the day. As an added bonus, this machine is also very user-friendly with simple settings and intuitive controls that allow you to customize the noises you want to hear and choose between several auto-off options.
Pros
Features 6 natural soothing sounds
Compact and lightweight for easy portability
Designed to soothe relaxation babies, children and adults of all ages
Includes user-friendly controls and an auto-off timer
Cons
Some customers report that the volume knob of this sound machine is unreliable