Electronics
5 Best Sound Machines 2023 – Best White Noise Machines for Restful Sleep
'Sound machines' are a new type of device, which helps you drop off to sleep by playing calming sounds. They are helpful for individuals/couples who find it hard to 'switch-off' and stop thinking when it's time to sleep. And our 5 best sound machines suit different budgets and varying sleep/disturbing noise situations. You can get a decent sound machine with good quality speakers for a very affordable price currently.
The major benefit of using a sound machine is that it gets you off to sleep faster, and helps you stay asleep longer – without sleeping pills! And as we're all aware of how addictive sleeping-pills are, not to mention the other dangerous side-effects, this is a fantastic non-chemical alternative! Suitable for adults and children, sound machines never cause a 'sleep hangover' the next day. And you can save hundreds of dollars previously spent on expensive sleep medication.
The best white noise sound machines have timers, ideally ranging from 15 – 90 minutes, giving you plenty of options about how long you need the calming sound to last. If you tend to wake up several times through the night, look for sound machine that can continue emitting a masking noise, which will help you fall back asleep easily.
Some couples enjoy the soothing sounds together, but if your partner doesn't like the nightly noise, buy a device with a headphone socket, so when you plug in your headphones only you will hear the sound you've chosen.  Moreover, sound machines used to mask a noisy work environment can also be used in this way. All sound machines plug into the mains outlet, but some also have a battery back-up, for use travelling, camping or during a power-cut.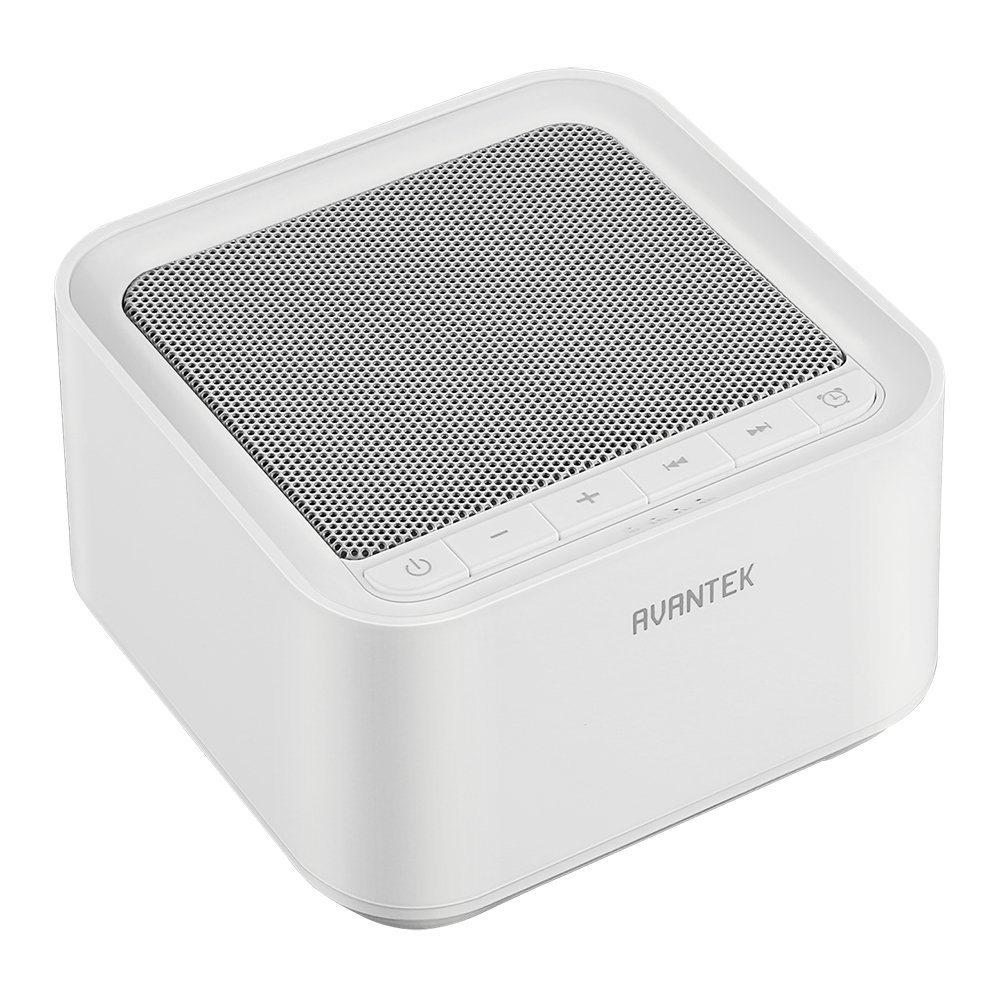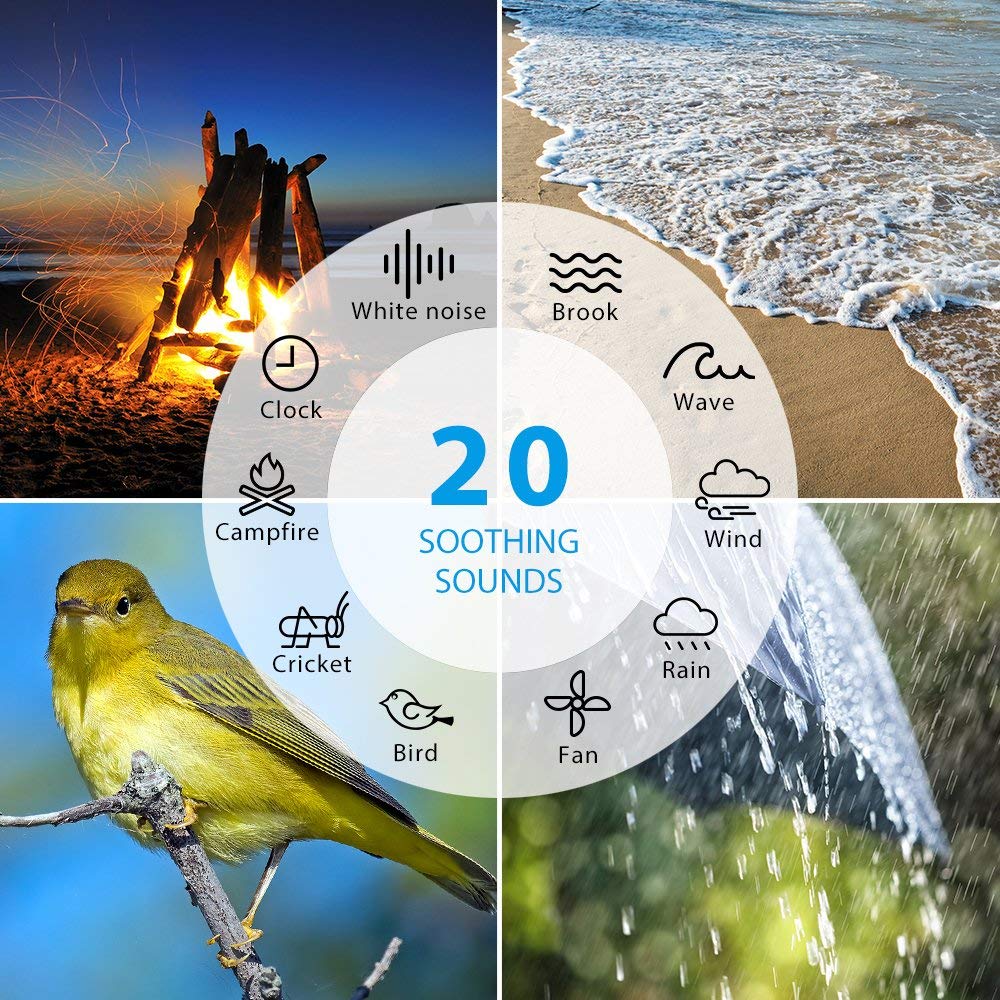 This great insomnia-therapy device is our choice of the best overall sound machine. It has a wide range of 20 nature and white-noise sounds, and a very adjustable range of volumes. And although its 'noise-masking' ability isn't quite as effective as our 'best device for sound-masking', it is a high quality device giving excellent value for money. You can choose from 6 white noise, six fan sounds and eight nature tones. And features a handy memory that saves your last 'sound choice' and volume, so you don't need to set it every time.
It doesn't have an LCD display showing which sound is playing, but for those with sleep problems even a tiny amount of light can stop you falling asleep. It has the longest sleep timer setting at 7 hours, but can also be set at one, two and four hours. And it's a good-looking, compact device, with a durable case, which would be easy to take with you when travelling. The sounds are realistic, with no sudden noises, obvious repetitions or jarring 'loop-joins'. The Avantek was the clear winner in this vital aspect and has 30 volume settings.
Pros
Great sound reproduction
20 high quality 'sounds'
Compact and durable for travel
Longest timer at 7 hours
Wide range of volume settings
Cons
No headphone socket
No back-up battery
No short-time timer settings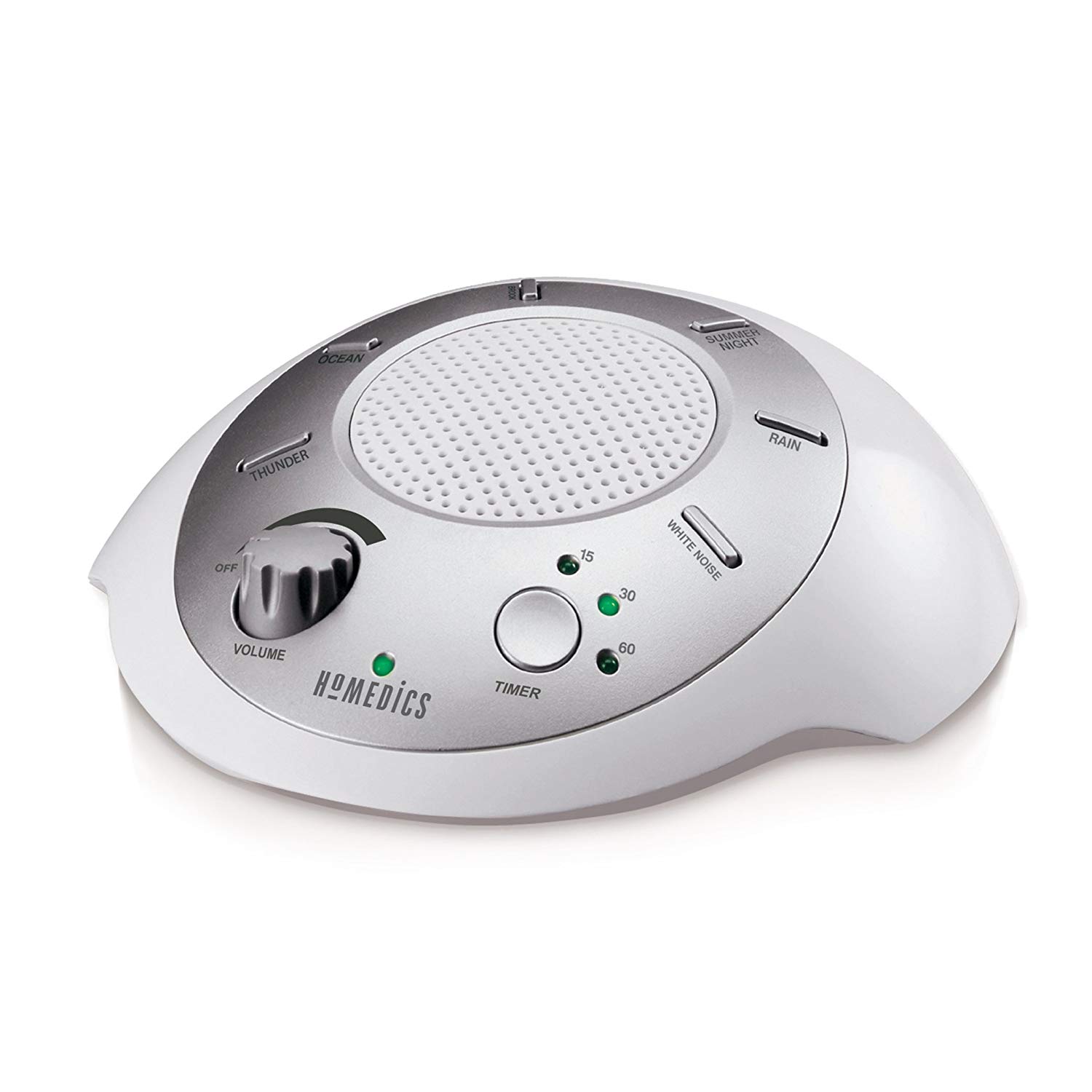 This is an inexpensive sound machine, which we believe offers the best value in the cheaper sound-machine range. Its soothing nature sounds are better than the average sound machine quality, and the loops were more than 20 seconds in length. So it fulfills the main quality standards any sound machine should have. With a compact shape and dual mains or battery powered use, it's also suitable for travel-use.
However, its white-noise setting is quite soft and doesn't mask external noises as well as some other sound machines. I wouldn't expect this sound machine to be as durable as more expensive models, but it's affordable, portable and has a good mix of nature sounds. For individuals with occasional sleep problems, who don't need total sound-masking, this could be just right!
Pros
Good mix of sounds
Better than average sound quality
Good for travel use
Inexpensive
Cons
Not sturdy
Disappointing sound-masking
Poor bass reproduction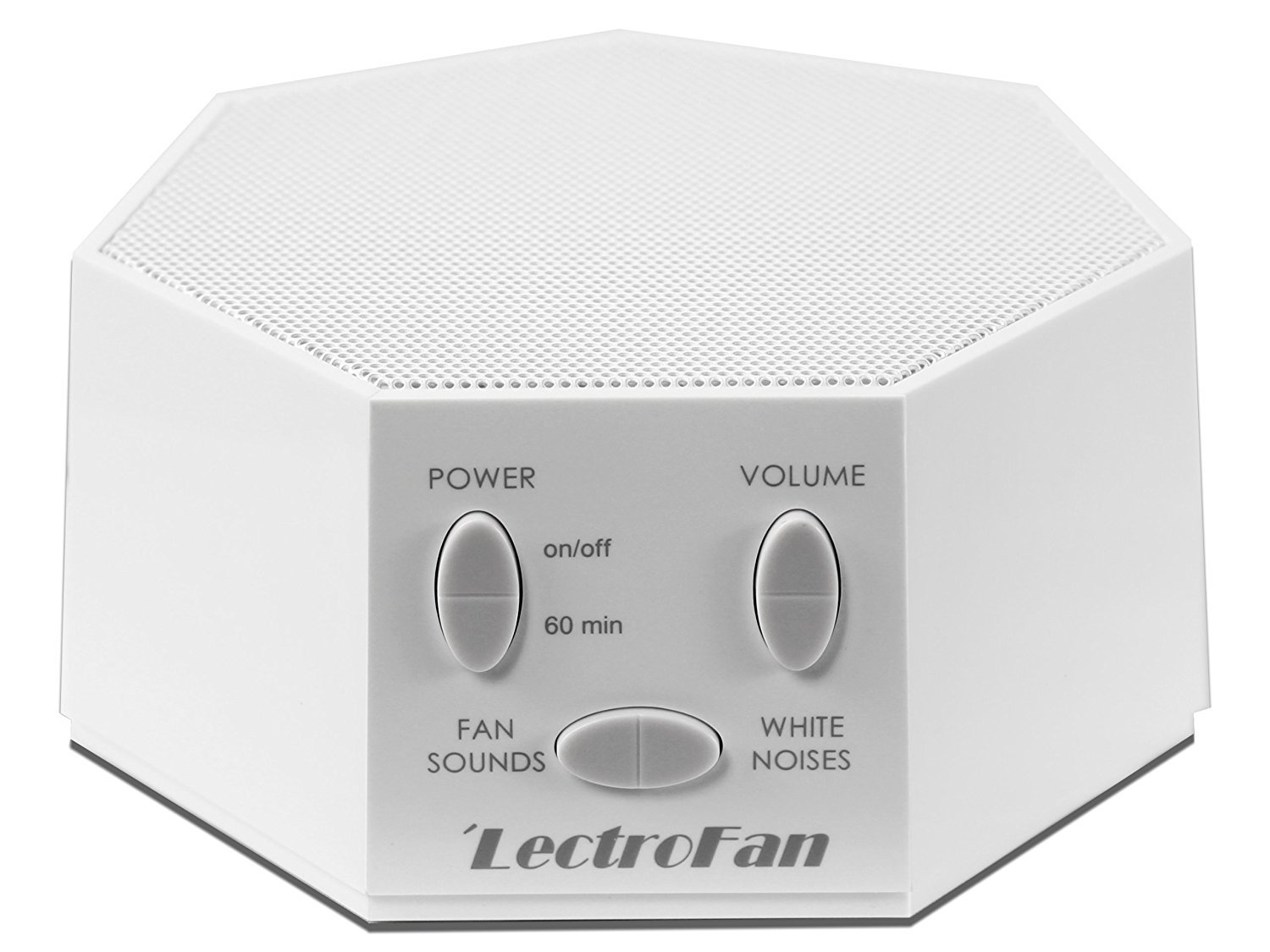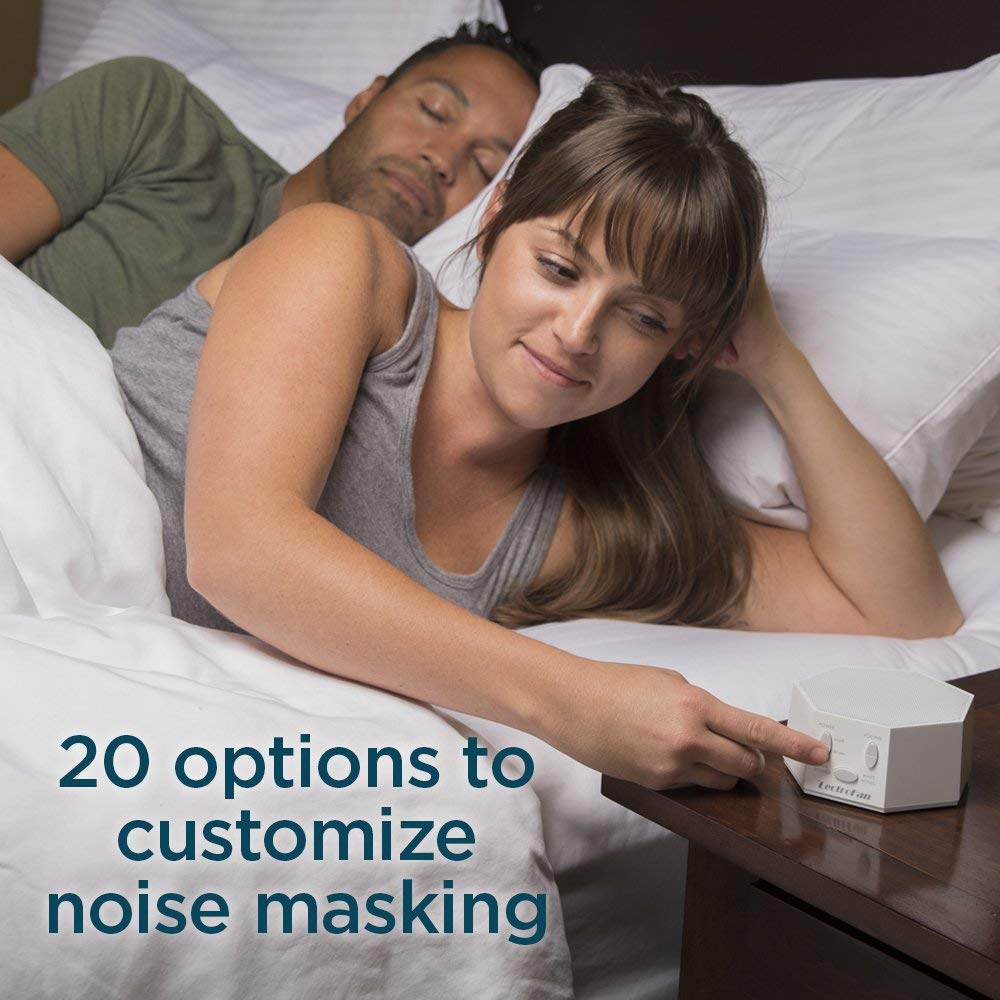 The LectroFan is the best sound machine for blocking external noise, with a wide choice of white-noise or fan-sounds. It out-performed all of the other devices in our test for white-noise, sound masking. And that's important, because the white-noise setting is one of the most used features by users who need to 'filter-out' stuff like traffic and any other extraneous sounds. Night-shift workers who need to sleep during the day need an excellent noise-masker like the LectroFan, which masked vacuum-cleaner and blender noises more efficiently than any other device in our review.
With 10 fan sounds and 10 types of white-noise, you get a good range to select from. And as a simple, compact device that's easy to use, you can use this machine when away from home and be assured of a good night's rest. It also has a useful sleep-timer, which cuts the white-noise off once you've fallen asleep. And this means you can have silence while you sleep. The LectroFan lacks some features such as head-phone socket, and an LCD screen displaying which sound you've set.
Pros
Oustanding noise-masker
Good choice of white-noise/fan sounds
Small, easy-use, travel-friendly
Noise timer cut-off
Cons
No 'nature sounds'
No battery function
No head-phone socket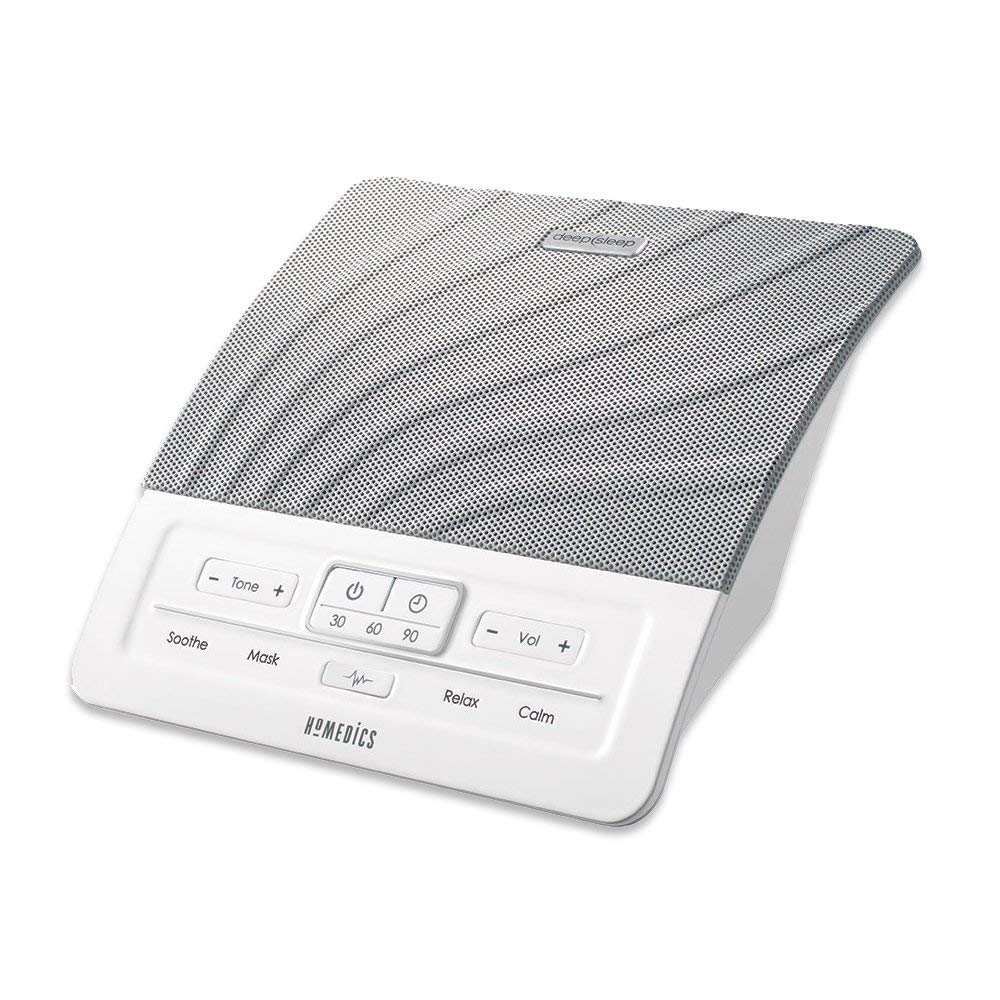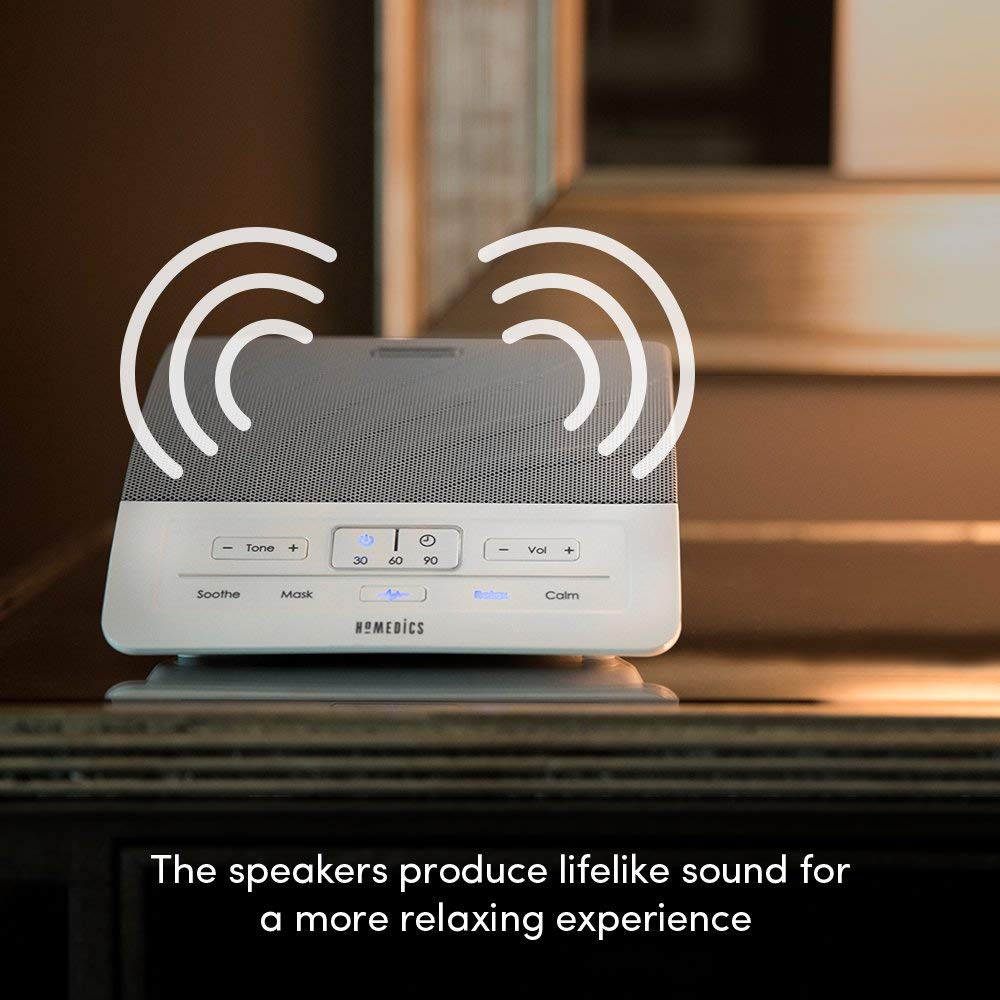 This HoMedics HDS-200 model is specially designed to produce deep sleep in users and it offers the best sound profiles. It has a special white-noise tone that provides outstanding sound-masking, ensuring no external noises disturb your full night's sleep. And the nature and water sounds are the best quality recordings/sound profiles of any other sound machines we've looked at. In total, there are 12 sleep-inducing sounds including, white-noise, nature and water.  You can also adjust the tone of the sounds to find the best one for calming you and creating a soothing sleep environment, from the dual speakers. which blots out the noise of neighbours
The tones are very relaxing and unusually, the sound's make-up or 'profile' changes when you play it at different volume levels. For example, when played at a high volume the thunderstorm sound projects thunder as the dominant sound.  However, if you gradually lower the volume, falling rain becomes the dominant sound, with the thunder seeming to fade away like the end of a real thunderstorm! And many users will appreciate the remote-control unit that allows you to adjust the sound and volume conveniently, especially if you have noisy neighbours or a partner who snores.
Pros
Realistic natural sound profiles
Remote-control unit
Sleep timer
LCD screen with dimmer
4 different tone modes
12 soothing sounds
Mains with battery back-up
Cons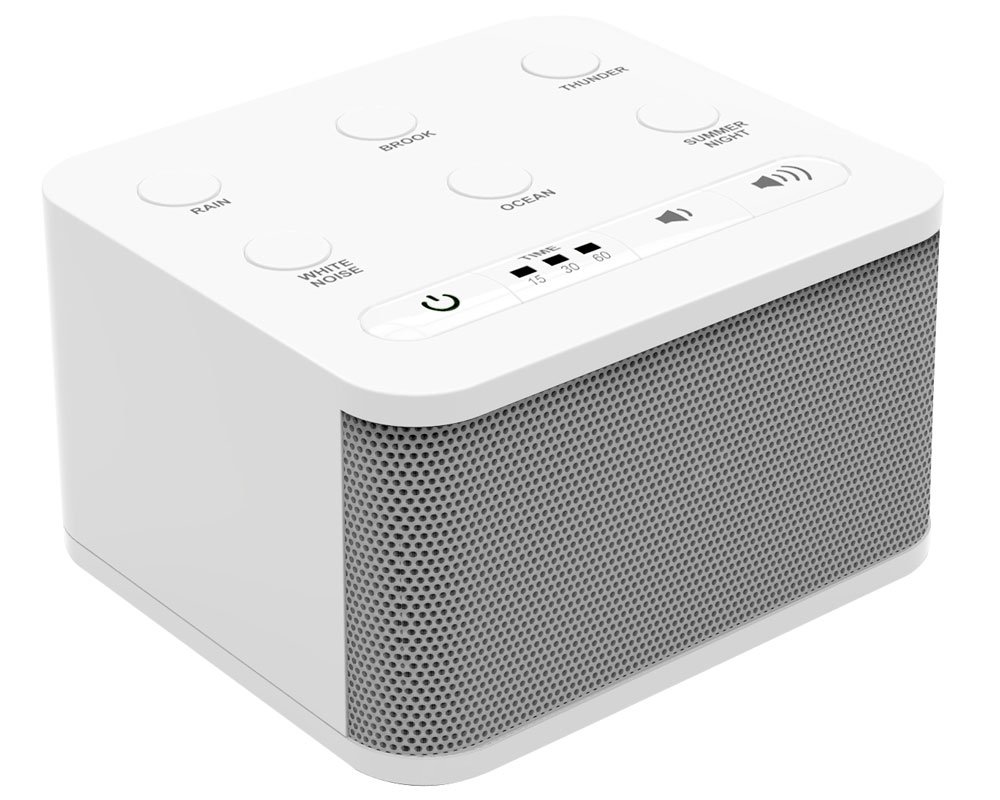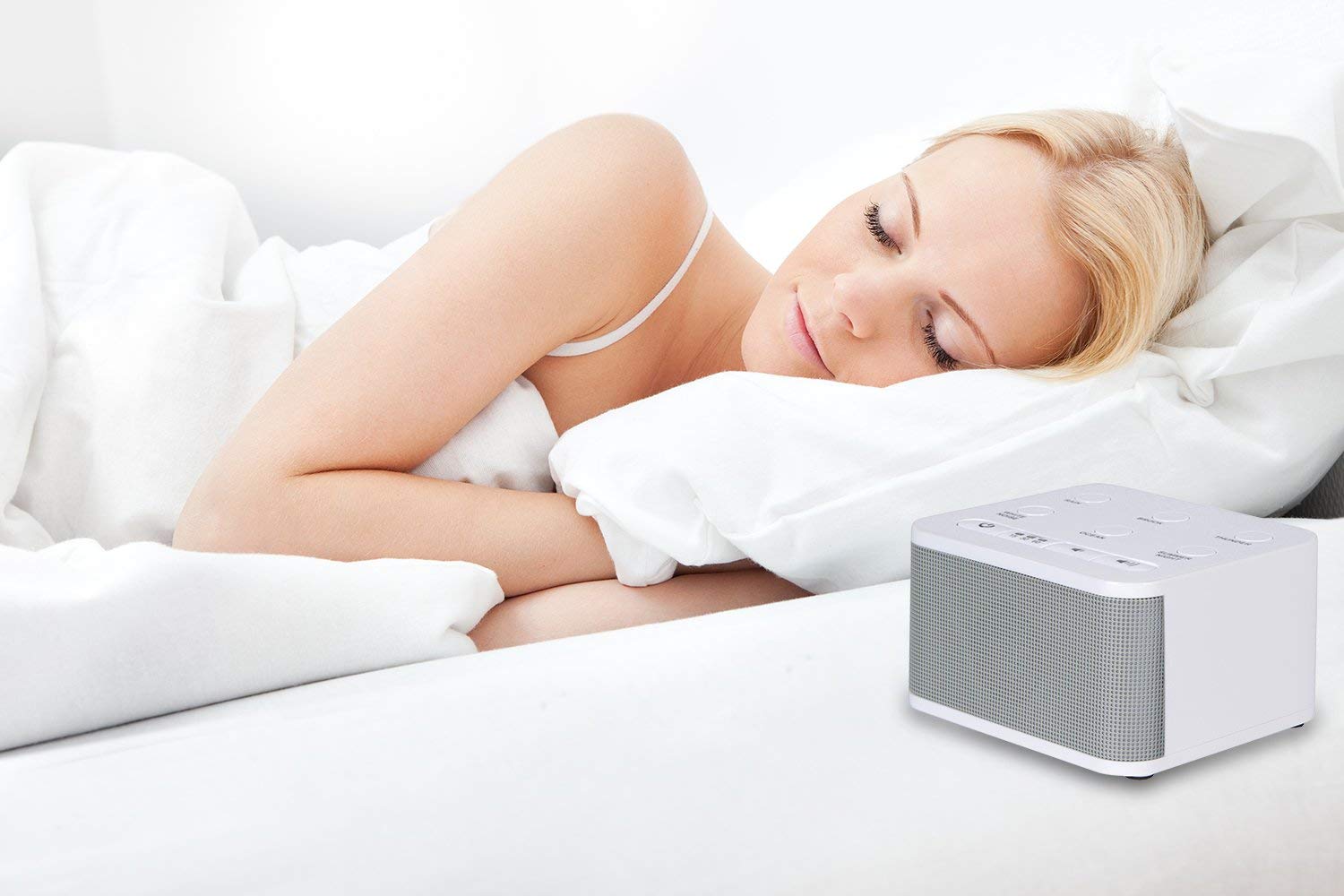 And as an inexpensive sound machine that's our choice as best travel sound machine, we've chosen the battery-operated (or mains) Big Red Rooster. It runs on 3 x AA batteries, so would be perfect for camping or travel use and there's also a mains adapter plug included in the price.  The Rooster has 5 nature sounds and just one white-noise: Rain, Brook, Ocean, Thunder, White-Noise and Summer Night.
It's not as good at masking external sounds as the other sound machines, but would suit someone who doesn't have too much trouble falling asleep. However, the sound profiles were good quality and didn't have any obvious loops. The 15″, 30″ or 60-minute sleep-timer includes the short 15-minute setting some people prefer. Users reported easy-use controls, owing to them being clearly marked on the top.  Whilst I wouldn't expect this sound machine to last for many years, as it's not as sturdy as more expensive devices, you can chuck this in a back-pack without worrying about breaking an expensive purchase!
Pros
Runs on 3 AA batteries
Power adapter for mains sockets included
5 nature sounds
1 white-noise option
No obvious loops
Sleep timer inc. 15″ timer
Easy to program
Cons
Below average noise-masking
Not as sturdy as others

When selecting the best sounds to help you fall asleep and get a full 8-hours' rest, sleep specialists suggest monotonous sounds are the most soporific. Imagine the buzzing sound of a honey-bee as you relax in a deck-chair on a sunny afternoon and you'll get the picture. Some people prefer 'anonymous' white-noise to help their brain calm down, whilst others value the natural outdoor sounds that link us subconsciously with the primitive past.  But no matter which helps you most, all of our excellent 'best sound machines' offer a healthy way to regain the benefits of natural sleep, leaving you refreshed and ready for each new day!