Health
5 Best Sleeping Masks that Worth Buying 2023 – Top Quality Sleep Masks
Do you have a roommate or significant other with an incompatible bedtime who keeps the bedroom light on far past the time you want to go to sleep? Are you sick of being awakened by the rising sun streaming through your bedroom window at 6 am every morning? Does the unpredictability of lighting in hotel rooms/other unfamiliar environments stress you out and mess up your sleep cycle every time you take a vacation or go on a business trip? Wearing a sleeping mask at night can help solve all of these problems to improve your quality of sleep–and potentially your relationship with your roommate and/or significant other, too.
Even if you don't sleep in a room where bright light late at night or early in the morning is a problem, wearing a sleeping mask can help reduce insomnia. It automatically creates a more restful, relaxing environment for sleep and preventing you from spending hours staring up at the ceiling at night.
Sleeping masks are a portable, surreptitious solution to visual distractions that disrupt your sleep at night. You can easily pack your mask with you on a business trip or on a weekend getaway. Plus, a sleeping mask is much more affordable than black-out window shades or other light-blocking products.
These top-quality sleep masks are comfortable, secure, and efficient at blocking light and other visual distractions to promote a long, restful night of sleep every night.
1. Alaska Bear Natural Silk Sleep Mask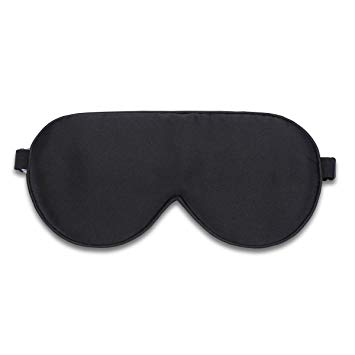 Designed to promote restful sleep and eye relaxation, this sleeping mask from Alaska Bear is the ultimate comfortable, secure, and effective mask. Crafted from all-over natural, hypoallergenic mulberry silk, this mask is ultra-smooth and soft against your skin. Its breathable silk material soothes and cools your eyes without making you feel sweaty or suffocated in the middle of the night. Don't let the breathability and comfort of this mask fool you. It efficiently blocks all light to provide a total blackout experience while you sleep.
The comfortable headband strap of this sleeping mask is easily adjustable from 15.8 to 27.6 inches. It fits snugly around your head for security without pulling or tangling your hair. To ensure maximum comfort and security, the headband of this mask features a plastic adjustor that remains at the back of your head. It won't dig into your temples if you sleep on your side at night.
Pros
Crafted from natural mulberry silk
Made from breathable, hypoallergenic material
Offers total blackout light blocking
Features a comfortable, adjustable headband strap
Cons
Some customers report that this sleeping mask leaks dye onto bed sheets during the first few uses
2. SLEEP MASTER Revolutionary Sleep Mask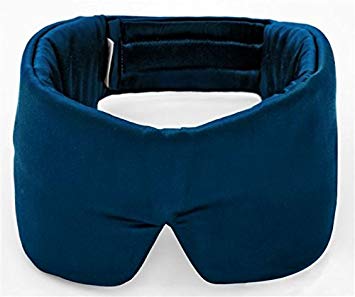 This sleeping mask from SLEEP MASTER is thick enough to block out all light, but its lightweight frame never feels heavy or suffocating against your face. It features a cotton interior for added breathability with a synthetic shell that effectively blocks out all light while you sleep. Its outer lining is made from satin fabric that feels soft and cool against your skin. All of the materials in this sleeping mask are completely hypoallergenic. The mask is one hundred percent free of latex.
The headband strap of this mask is wide and padded for added comfort and to ward off tangles in long hair. It fastens via velcro in the back for a secure, adjustable fit that stays put all night long without feeling tight, pinching your skin, or pulling your hair. You can sleep on your back, side, or stomach while wearing this mask without discomfort due to the mask's wide, flat strap.
Pros
Includes a comfortable cotton interior and effective synthetic shell
Offers total blackout light blocking
Fastens with velcro for security and comfort
Made from 100% hypoallergenic, latex-free materials
Cons
Some customers report that this mask produces lint debris with age and prolonged use
3. Babo Care Natural Silk sleep Mask and Blindfold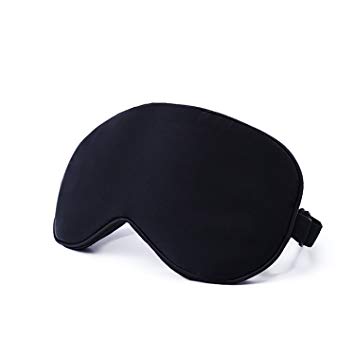 Both sides of this Babo Care sleeping mask are crafted from natural mulberry silk material. This top-quality silk is soft and smooth. It offers maximum breathability and feels cool and relaxing against your skin without trapping heat or moisture. The coverage and cooling, soothing feel it provides also help prevent eye irritation from dry air or debris in the air.
The headband strap of this sleeping mask is adjustable, comfortable, and won't get tangled in your hair. This mask also includes a special nose guard. Its shell extends down over part of your nose to cover any gaps through which light might be able to enter. This innovative nose guard provides a more authentic, light-free, total blackout experience for you while you sleep.
Pros
Made from soft, breathable natural mulberry silk material
Offers total blackout light blocking
Protects your eyes from dry air and irritation
Features a nose guard for added light blocking
Cons
Some customers report that this mask sometimes leaves black dye stains on bed sheets
4. PrettyCare 3D Contoured Sleep Mask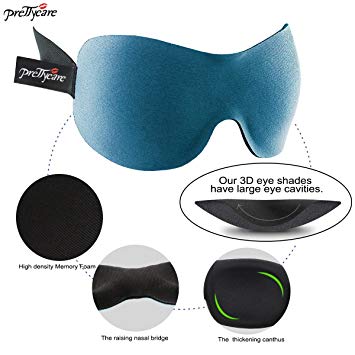 Made from completely opaque, high-density memory foam, this sleeping mask from PrettyCare effortlessly blocks out all light. It features 3D eye shades to block any gaps that could let in light and fit comfortably against your face. You won't even notice you're wearing it all night long.
This mask weighs no more than half an ounce and lays almost completely flat against your face for maximum comfort whether you sleep on your back, stomach, or side. It never feels heavy and is ultra-breathable for maximum comfort. The large, contoured 3D eye cavities of this mask are lightweight and fit securely enough to not smudge makeup, which makes this mask perfect for peaceful daytime napping or blocking out harsh overhead lights on a long plane ride.
Pros
Made from high-density memory foam for maximum light-blocking comfort and efficiency
Offers total blackout light blocking
Weighs just 0.5 ounces for maximum lightweight comfort
Offers total blackout light blocking
Fastens with velcro for security and comfort
Made from 100% hypoallergenic, latex-free materials
Cons
Some customers report that the fabric around the eye cavities of this mask can begin to peel with age and prolonged use
5. MZOO Contoured Cup Sleeping Mask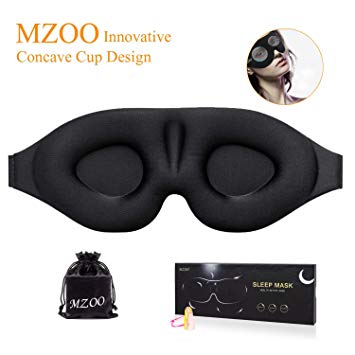 Made from top-quality fiber fabric with low-rebound memory foam lining, this sleeping mask is ultra-comfortable and effective. Its wide, deep eye cavities don't put any pressure on your eyes or face. Plus, they allow you to blink without disruption while the padded shell of the mask still effectively blocks all light from your field of vision. The buckle strap of this mask is easy to adjust and lays flat and securely against your head so you can sleep in any position without discomfort.
This sleeping mask is ultra-durable. Its fiber outer lining won't bleed dye onto your bed sheets. Plus, its frame is heat-bonded together rather than glued, so it won't fall apart or become less efficient over time even with nightly use.
Pros
Made from low-rebound memory foam
Features wide and deep eye space for added comfort
Features a wide, adjustable buckle strap for comfort and security
Offers total blackout light blocking
Crafted with innovative heat-bonding and fiber material for maximum durability
Cons
Some long-haired customers report that their hair gets caught in the buckle strap of this mask