Baby Store
7 Best Safe Sunscreens for Kids 2023 – Best Sunscreens for Kids & Babies
What is the safest sunscreen for Kids?
Choosing the most effective safe sunscreen for kids can be a real headache for parents. But we reviewed the Skin Cancer Foundation's recommended safe sunscreens for kids and created a trustworthy guide to current products. And if you're concerned for our ocean and reef eco-health, look out for natural and plant-based ingredients, too!
The basic ingredients should always be non-greasy, and have mineral-based sunscreens like titanium dioxide and zinc oxide. And remember to avoid spray sunscreens, as they may contain chemicals that can damage your kids' lungs. Read on for the latest advice on safe sunscreens for children!
1. Coppertone Water Babies Pure & Simple Sunscreen Lotion SPF 50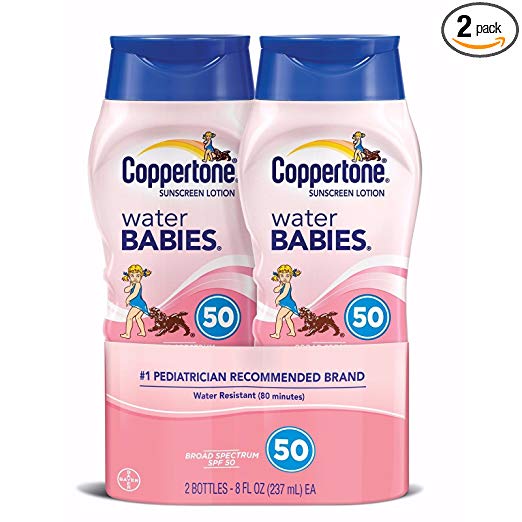 This broad-spectrum, SPF 50 sunscreen is very gentle on children's vulnerable skin. It contains the best ingredients, like zinc oxide and Aloe Vera, to make it extra moisturizing. And it won't wash off when your baby's splashing around in the water.
Coppertone Pure & Simple is highly recommended by all professional health-care providers for children. And that's because it's a 'no-tears' sunscreen that's hypoallergenic, so it won't irritate eyes or skin. Skin Cancer Foundation approval confirms you're giving your child the best sun protection!

2. Blue Lizard Australian Sunscreen SPF 30+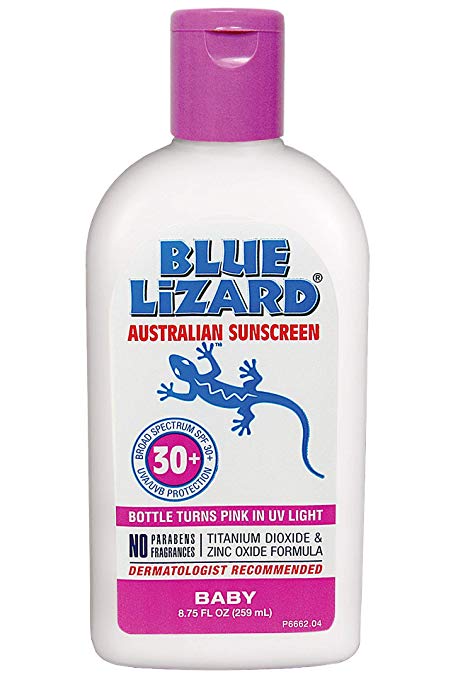 Blue Lizard Baby Sunscreen is great for babies and older kids, as it contains no parabens or chemical fragrance to irritate their skin. You get a double dose of gentle sunscreen here with both titanium dioxide and zinc oxide minerals.
This creates a highly effective mineral barrier against the sun. And unlike chemical based sunscreens, it reflects light preventing UV rays entering the body. Blue Lizard has been a trusted safe sunscreen brand in Australia for 20 years now.

3. Pure Sun Defense Minions Paradise SPF 50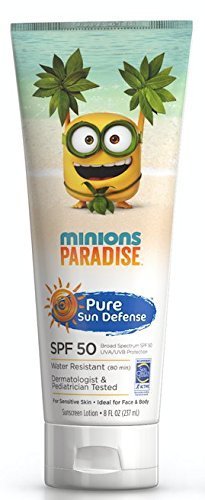 Minions Pure Sun Defense safe sunscreen for kids is decorated with appealing characters from kids' favorite movies. And that's not just a sales gimmick! Lots of parents find their children hate standing still for sunscreen application.
But when kids see a familiar 'movie pal' on the tube, they're definitely more willing to have their sunscreen protection applied! Approved by the Skin Cancer Foundation, it's free from nasty PABA's and contains no fragrance!

4. Banana Boat Kids Tear Free Lotion SPF 50

The brightly-colored tube from Banana Boat safe sunscreen for kids means you can always find it quickly in your beach bag! And you need to have it to hand for kids that are in and out of the water in hot weather.
This gentle, fragrance free lotion comes in strong protection SPF 50. But for children with sensitive skin, and for complete protection, you can buy Banana Boat sunscreen in SPF 100.

5. Alba Botanica Very Emollient Kids Sunscreen SPF 30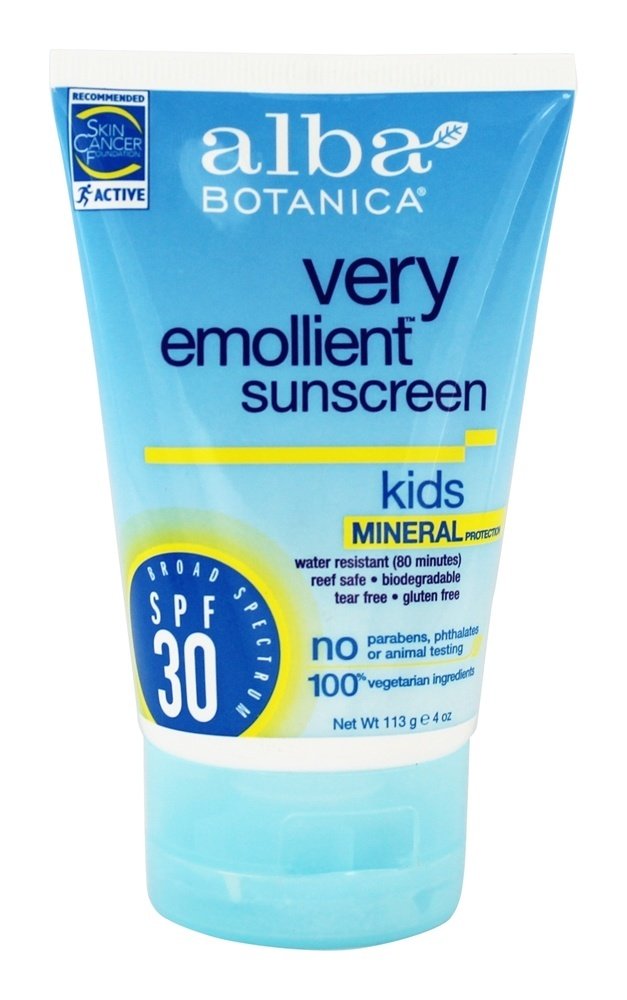 Alba Botanica makes its sunscreen for kids from 100% vegetarian ingredients. And it's also free from any animal-testing. The dual-mineral formula is highly effective against the sun. But it's tear-free and gentle enough for small kids. And it's also recommended by the Skin Cancer Foundation.
I also like this brand as their sunscreens are safe for ocean plants and wildlife. Alta Botanica sunscreen will not contaminate the water in coral reefs. So you can enjoy your time at the beach without hurting the natural environment.

6. Tropical Sands All-Natural Kid-Safe Sunscreen SPF 30
Tropical Sands is another high-quality, all natural, safe sunscreen for kids and babies. It is gentle on your kid's skin and on the ocean environment, too. So your kid's will be able to visit the same coral reef with your grandkids!
The PADI and National Geographic recommend Tropical Sands as suitable for snorkeling. And each application gives water-resistance for approx. 40 minutes. It's a mineral sunscreen that doesn't contain nano-particles. And with green tea in the formula, it's 100% environmentally sound.

7. Babyganics Mineral-Based Baby Sunscreen Lotion SPF 50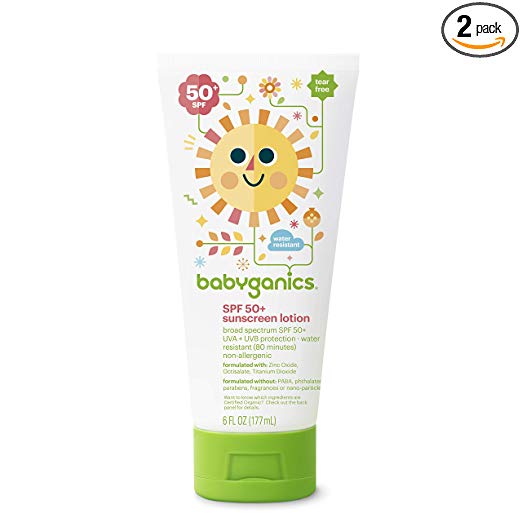 This highly popular, safe sunscreen for kids and babies, features a special blend of seed-oils. And these natural oils do a great job moisturizing kids' skin. With plant oils from raspberry, sunflower, tomato and cranberry seeds, Babyganics is a leader in the children's sunscreen market.
It's water resistant for up to 80 minutes, so suitable for kids who do a lot of swimming. Babyganics is free from PABA, parabens, nano-particles, phthalates or fragrances that cause irritation. And Babyganics do not test any products on animals.

All of our recommended, best, safe sunscreens for kids contain mineral sunscreens, as they are the most effective and safest sunscreens. And as you can see, there's now a huge surge towards more natural ingredients. So we can keep the kids – and their global environment – safe and sound!