Home & Garden
5 Best Roasting Pans 2023 for Tastier Cooking: Top roasting pans Reviews
The advantages of the best roasting pans are that cooking is done more efficiently, and produces vastly superior food flavors. And I would say that's what every cook wants! You don't need to buy the most expensive roasting pan to get the best all-round performer, either. So we've chosen a wide price range from budget to heirloom quality roasting pans.
Actually, the best pan is somewhere in between as far as price is concerned. The best roasting pans have tri-ply cladding for even heat distribution. And most can be used on the stove-top and inside a hot oven. So whether you make lovely vegetarian dishes, or juicy roasts, take a look at this easy guide. And get the best roasting pans for better cooking!
1. Best all-round roasting pan – Cuisinart 16″ Roasting Pan With Rack (MCP117-16BR)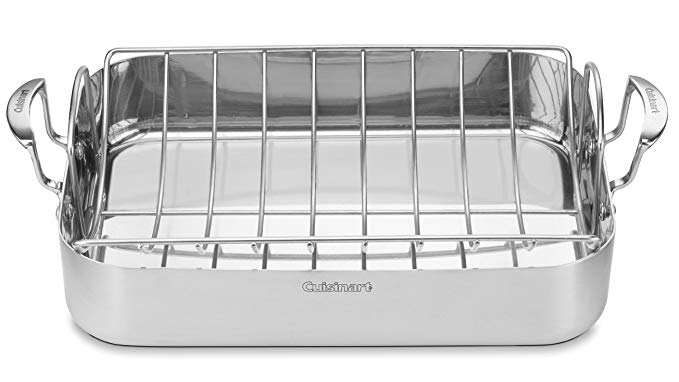 Compared to others in its price range, the Cuisinart 16 inch Roasting Pan with Rack, has the best heat distribution. This gives you very even cooking, owing to the robust tri-ply build, that's fully clad for stove-top use. It's very versatile and good heat spread makes it suitable for the searing, de-glazing and other flavor-producing tasks, like gravy on the top burners.
For oven roasting, this pan can take a large roast up to 20 lbs., or two medium-sized whole chickens, or a large, meat and vegetable casserole meal. With such a large pan, you need a secure grip and these are provided in large handles fixed safely by rivets. You can use the handles easily when wearing oven gloves or a thick kitchen cloth. Dishwasher safe.

2. Best Roaster with Non-stick Rack Anolon Tri-ply Clad Roaster with Nonstick Rack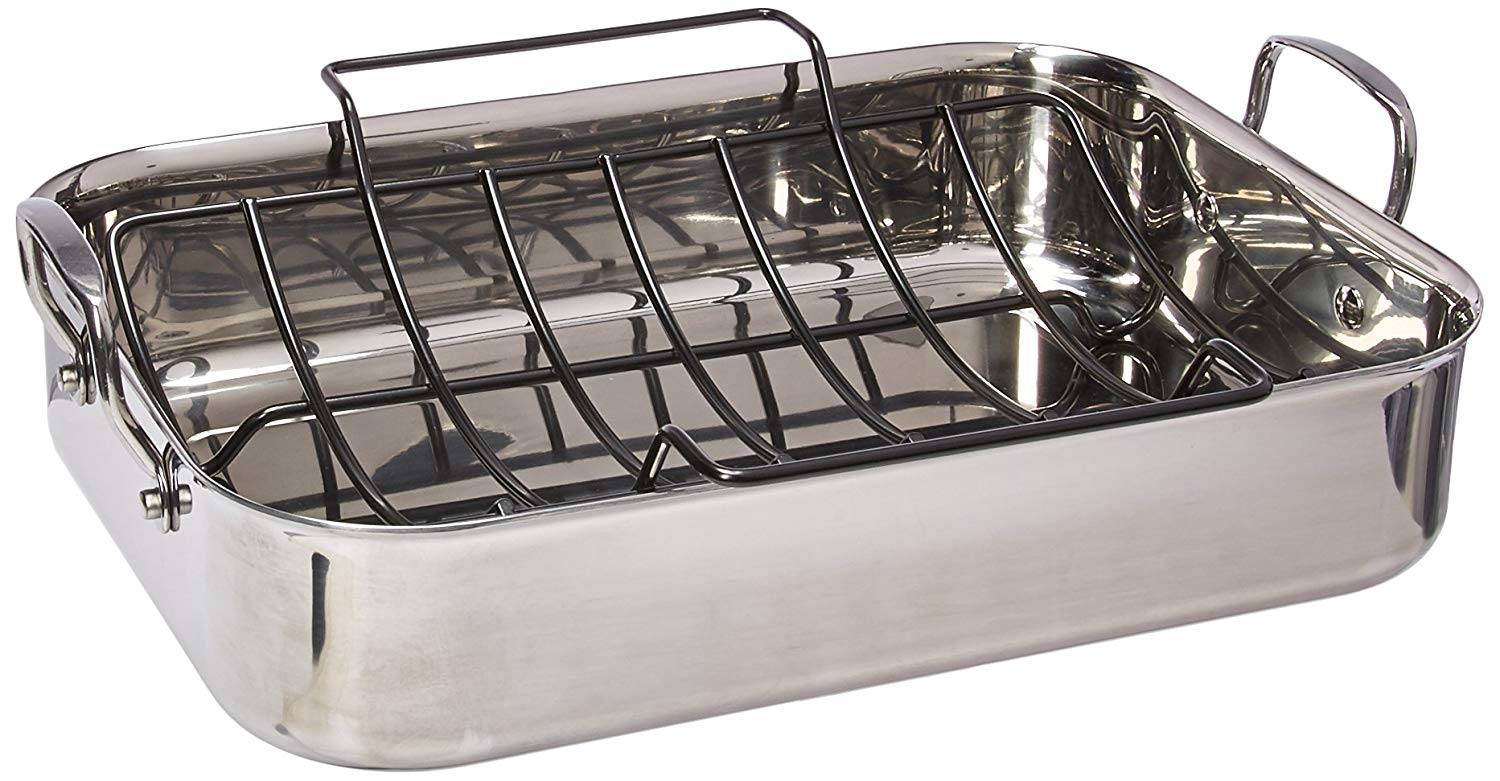 Coming in just behind our No. 1 best roasting pan, is the Anolon Tri-ply Clad Roaster/with Rack. This large roasting pan also does a great job as modern cookware. Its heat distribution is first-rate and the generously sized pan is robust, with safe, double-rivetted handles.
The only disadvantage is that it's not as easy to use on the cooker's top burner, as some other tri-ply roasting pans. But for those of us who hate trying to get the roasting pan rack clean after use, the Anolon's non-stick rack is a very appealing feature! Dishwasher safe.

3. Best Budget Roaster – Granite Ware 19-inch Covered Oval Roaster (F0510)
If you're not a regular 'roast' cooker, you don't need to spend a fortune just to cook a turkey once a year! The Granite Ware 19 inch covered oval roaster fits small ovens and does a great job inside the oven. As it's made from thinner-gauge steel, it's not really suitable for searing meat and gravy-making on the stove-top.
You'll get good service out of this roaster if you only use it occasionally, at a very economical price!

4. Best Thick-Guage Roaster – KitchenAid Tri-ply Stainless Steel Roaster
This is an excellent heavy-duty roaster, which KitchenAid designed for cooking larger quantities than average. The KitchenAid roaster matches our No. 1 best roasting pan and has a few more features a serious cook would appreciate. For instance, you can cook turkeys or meat joints larger than 20 lbs. and large meat and vegetable casseroles.
For making gravy and searing meats on the top of the stove, the thicker-gauge stainless steel provides first-rate heat distribution. It's thicker construction and larger volume makes the KitchenAid heavier than other roasting pans. But the large, rivet-fixed handles allow for steady handling. The KitchenAid's rack is V-shaped and larger than the other roast pan racks, making it better for larger roasts.

5. Best Top-end Roaster – Williams Sonoma All-Clad Stainless-Steel Flared Roaster with Rack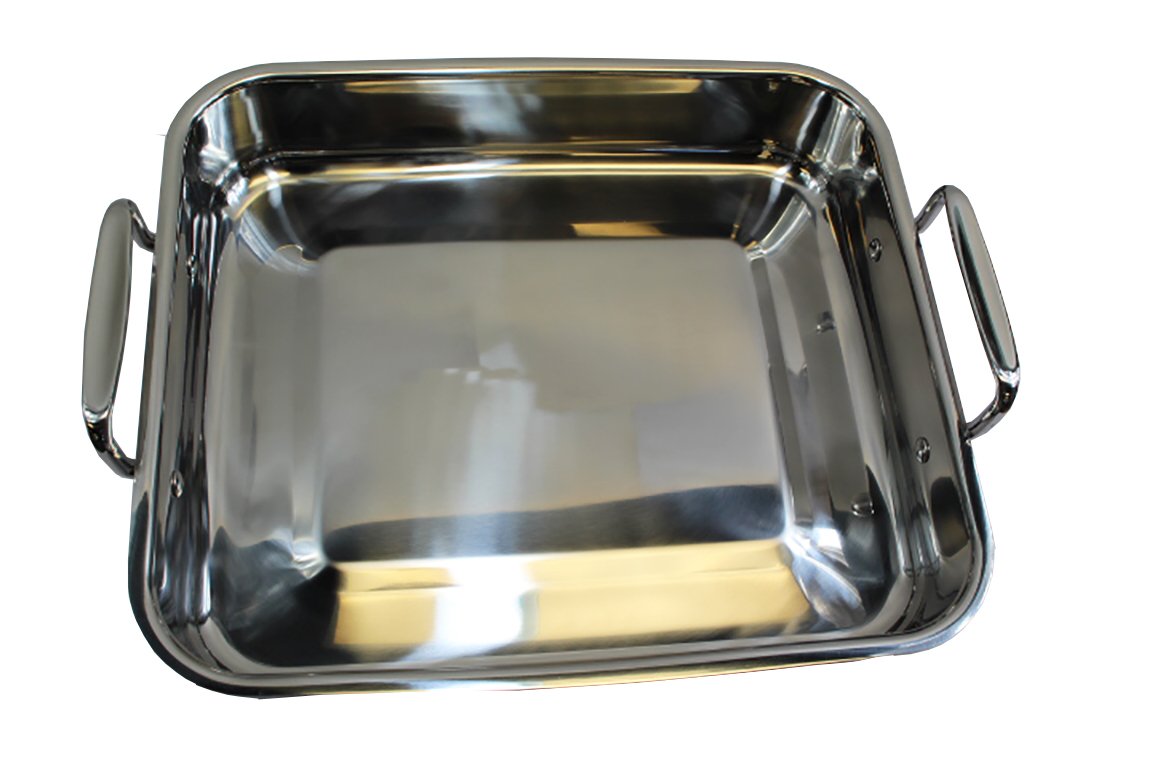 The Williams Sonoma roaster is the best quality roasting pan to choose, if you have a generous budget for cookware. It's suitable for home- and professional-cooks, who expect to be roasting meat frequently and want the best possible flavor.This pan has flared sides which disperse the heat very evenly inside the pan. And that means your poultry will have a deliciously crispy, and golden, skin.
It also performs brilliantly on the top burners, searing steak and odd shaped pieces of turkey/chicken perfectly. And that's how you get the wonderful depth of flavor we all love! Flared sides stop fat spitting all over the inside of your oven. So oven-cleaning is easier, too!

Like any other home-task, you'll never get the best results until you invest in the best tools and equipment! So make your work at home or in a restaurant easier and better with one of these 5 best roasting pans for tastier cooking!