Electronics
5 Best Programmable Thermostats for Home 2023
The best programmable thermostats are controllable via apps, so the unit is actually a 'smart thermostat'. And the difference is that a programmable thermostat works from a schedule set by you, but a 'smart thermostat' collects data about your home. This makes it far easier to set the schedule and some models even set the best schedule automatically. And a smart thermostat saves money on energy bills, by adjusting the temperature of your home to suit different times of day. This is most efficient on thermostats offering: Usage reports, motion sensors and geo-fencing. The best programmable thermostats will allow you to link with whatever 'smart-home' system you run at home. This is useful to automate the temperature of your home, for example, by lowering it when you lock your front door.  This avoids times when you forget to adjust it manually, leaving the heat higher than needed for several hours.
A good-quality smart thermostat lasts between 10 and 20 years, so bear this in mind when deciding which model to invest in. In addition, thermostats that collect data about weather conditions outside your home also save you energy. For instance, when it's unseasonably hot or cold, some thermostats can automatically adjust the system. Programmable fans can be run by your thermostat to ensure the air temperature is even through your home. And remote sensors can be placed in different areas of your home, so your system adjusts its activity to suit the room you're in. Obviously, this is more effective than having a thermostat in a hallway. Ecobee started this trend, but Nest sensors and others now offer this feature, which beneficial for smart-homes.
So if you're ready to upgrade to a modern, energy-saving unit, take a look at the best 5 programmable thermostats reviews here!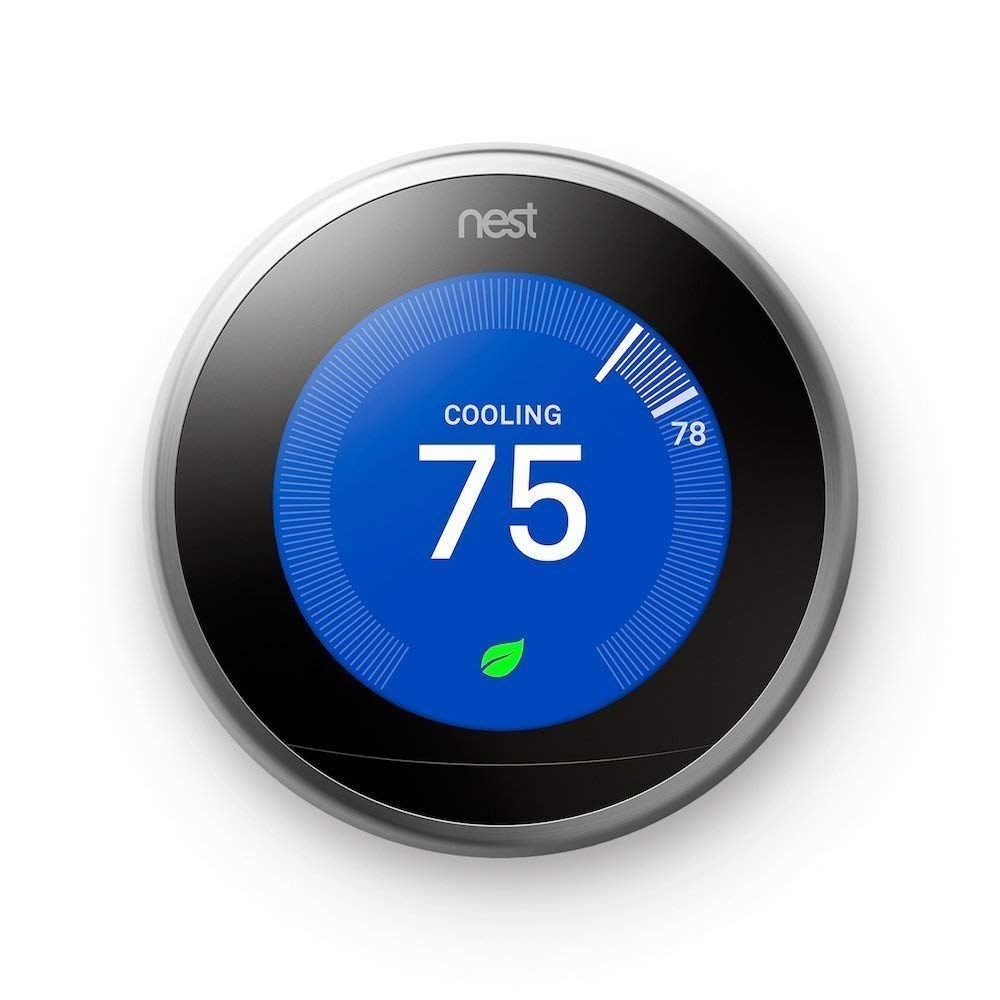 The Nest Learning Thermostat is our all-round best programmable thermostat for its many excellent features. The key is the 'learning' aspect of this smart thermostat's design, which measures the levels of light and movement around it for a week. And it also notes the schedule or temperature adjustments you make. It then uses your preferred settings to save energy, which can mean big saving in your heating bills! Furthermore, this smart device can track the weather conditions, and give you a monthly report.
You get a handy screwdriver in the purchase pack, and at 16 minutes, this was the easiest and fastest thermostat we installed. That's because the easy-use phone app also contains detailed installation instructions. You may need to charge the built-in battery before you use the unit for the first time. You can also change the settings fast through the Nest phone app. This is one of the higher-priced, smart thermostats we reviewed, but with such great energy-saving features you'll save money in the long-term. And the clincher is that the Nest Learning Thermostat works with more 'smart-home' devices, than virtually any other thermostat!
Pros
Complete 'smart-home' compatibility
Energy-saving auto-scheduling
Fastest install time
Easy-use app
2 year guarantee
Built-in battery
Cons
Battery needs charging occasionally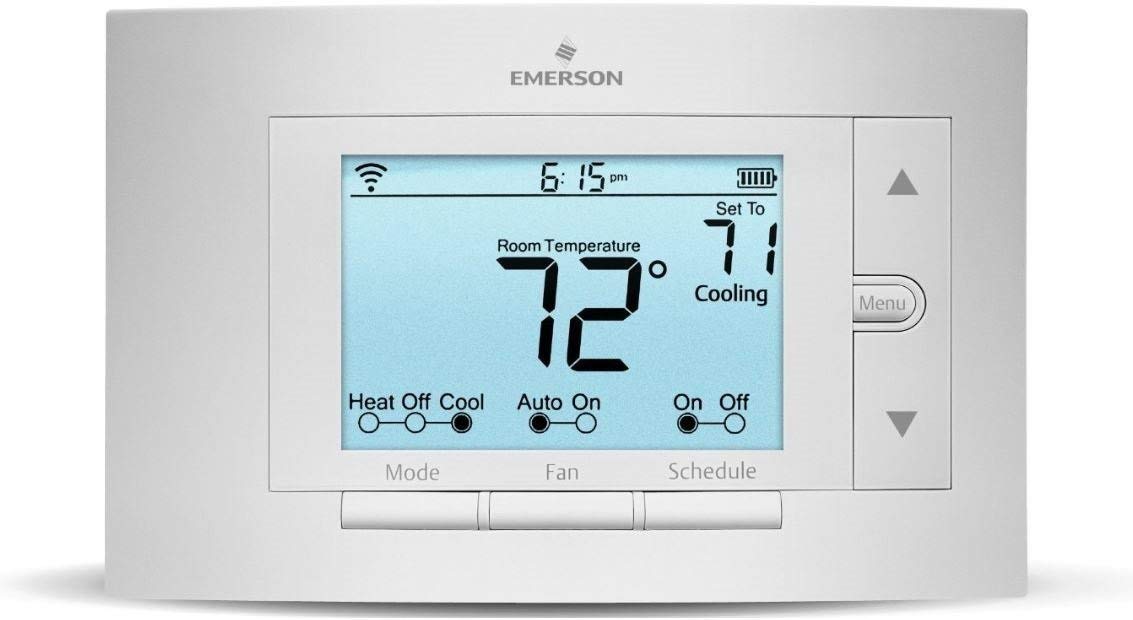 If you're looking for something simple and affordable, consider our best thermostat for value for money, the Emerson Sensi. It doesn't have so many energy-managing features, but works fine without auto-schedule or motion sensors. However, the Sensi offers useful features including 7 day settings, weather monitoring and geo-fencing. Geo-fencing is a very useful energy-saving feature, which compensates for unseasonably hot days by automatically reducing the temperature. Or it can raise the temperature if a sudden drop in outdoor temperatures occurs, and save your home from damage if you live in an extreme weather area.
It works with Alexa and Apple Home Kit, which allow you to change the temperature with a voice command. This was one of the easiest thermostats to install, too, and the phone app has clear, easy-use controls. You can't see usage data to know how much energy you save, but that's not essential. With a confident, 3 year guarantee to back it up, we believe this is great value for money.
Pros
Very affordable
Quick install time
Easy-use phone app
Works with Alexa/Apple
Longer 3 year guarantee
Cons
No auto-scheduling
No motion-sensor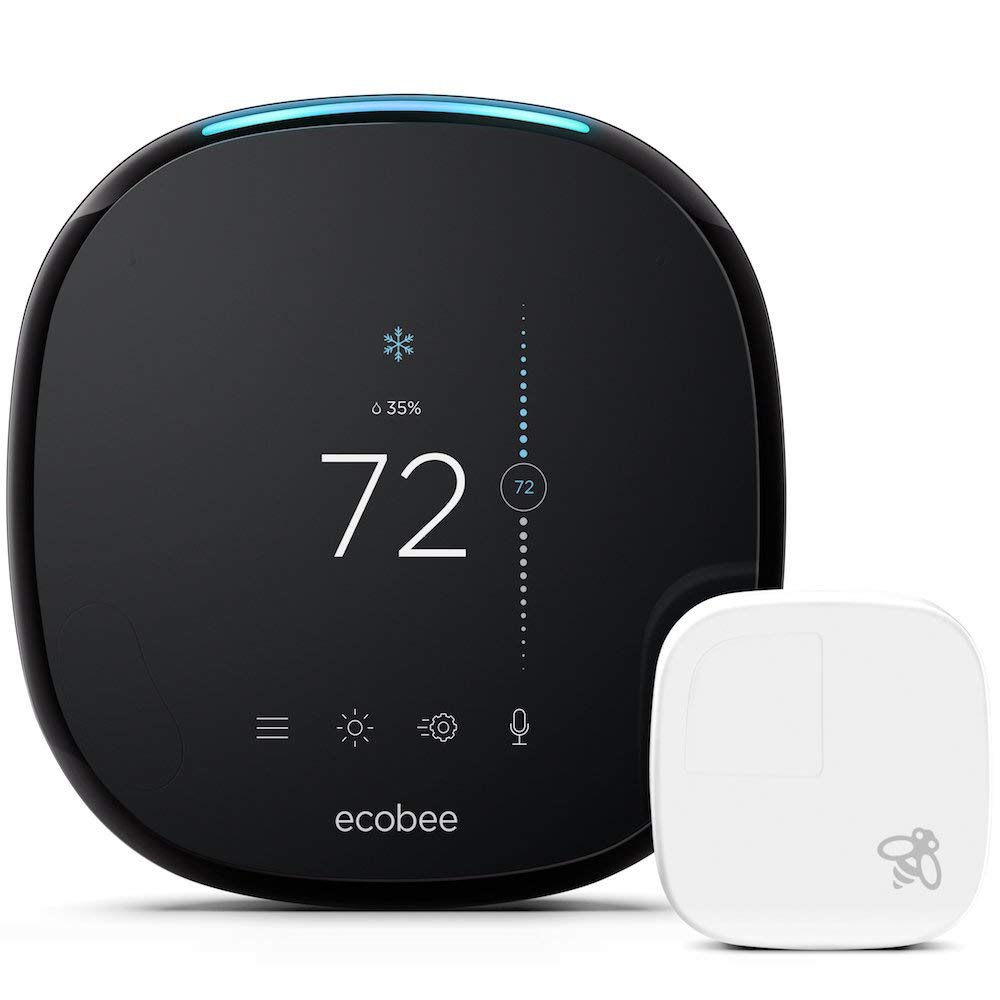 The Ecobee4 is our best smart thermostat for voice command, featuring built-in Alexa voice control. And it's the only thermostat in our review that has a remote-sensor in the purchase pack. This is a very useful feature for anyone who can't use a phone app or touch-screen, and for general use, too. The Ecobee4 can monitor temperatures in all the rooms of your home, through the handy remote-sensor. This unit features auto-scheduling, monthly usage data reports and works with many 'smart-home' systems.
It's very user-friendly, with identical controls on the phone app and screen display. And the app guides you through each step of the installation and set-up. The Ecobee4 has a long, 3 year guarantee to back-up an excellent, voice-controlled, model. (You may also be interested in the cheaper ecobee models, without the remote-sensor or built-in Alexa voice command.)
Pros
Built-in Alexa voice control
Easy/simple display & app
Remote-sensor monitors other rooms
Auto-scheduling
Smart-home compatible
Monthly usage data
Long 3 year guarantee
Cons
Scheduling not totally automatic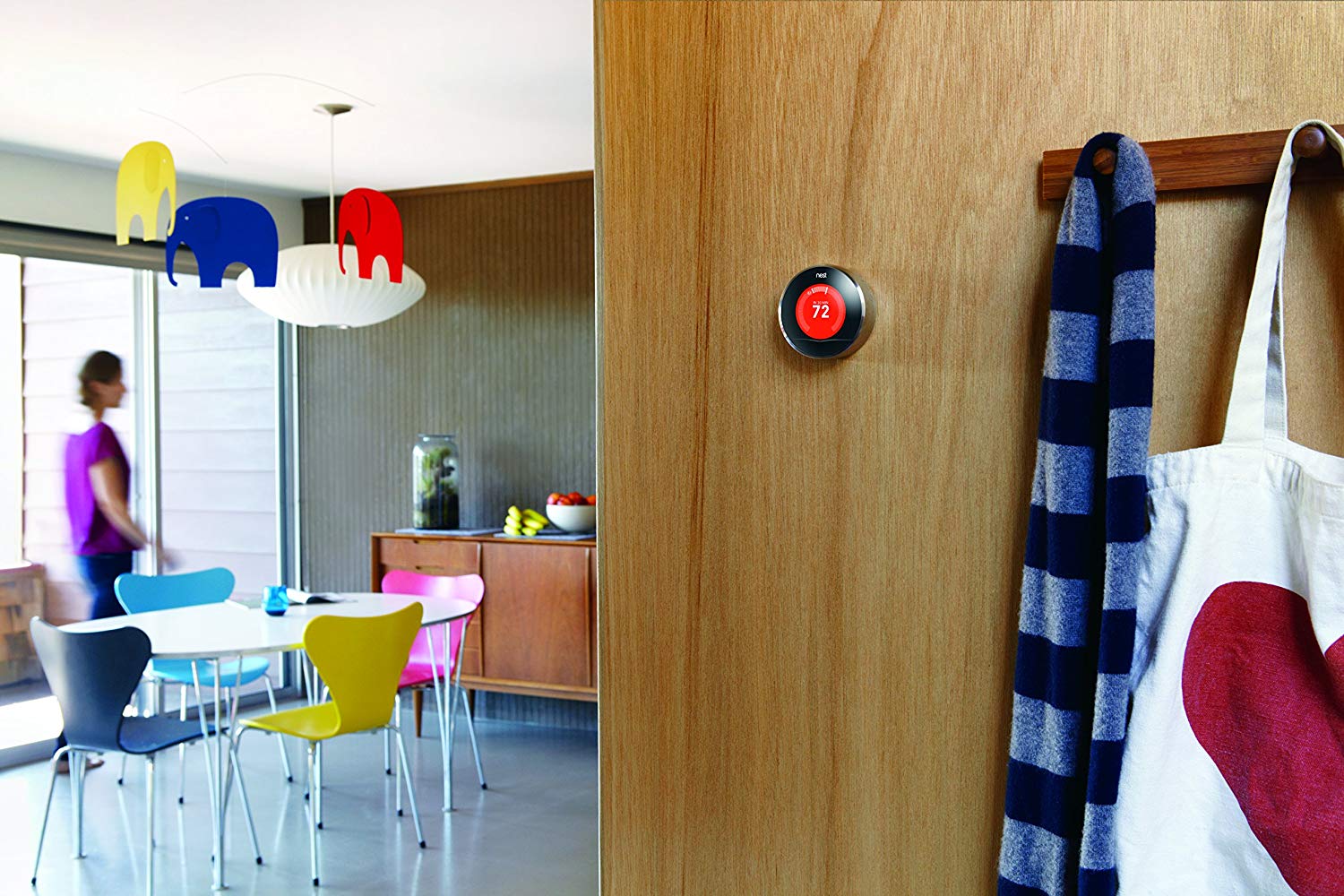 This is a newer and simpler version of the Nest Learning Thermostat, making it our choice as the best budget model. It's easy to use, with a very similar phone app and controls to the Nest Learning model. The design avoids the expensive HVAC systems and with simpler wiring, the Nest Thermostat E was very easy to install. The price is a lot less than the Nest Learning model, making it a great purchase from the makers of excellent thermostats. This model only has a 1 year guarantee.
Pros
Best mid-price thermostat
Easy to install
Excellent phone app
Easy use controls
Cons
Fairly short 1 year warranty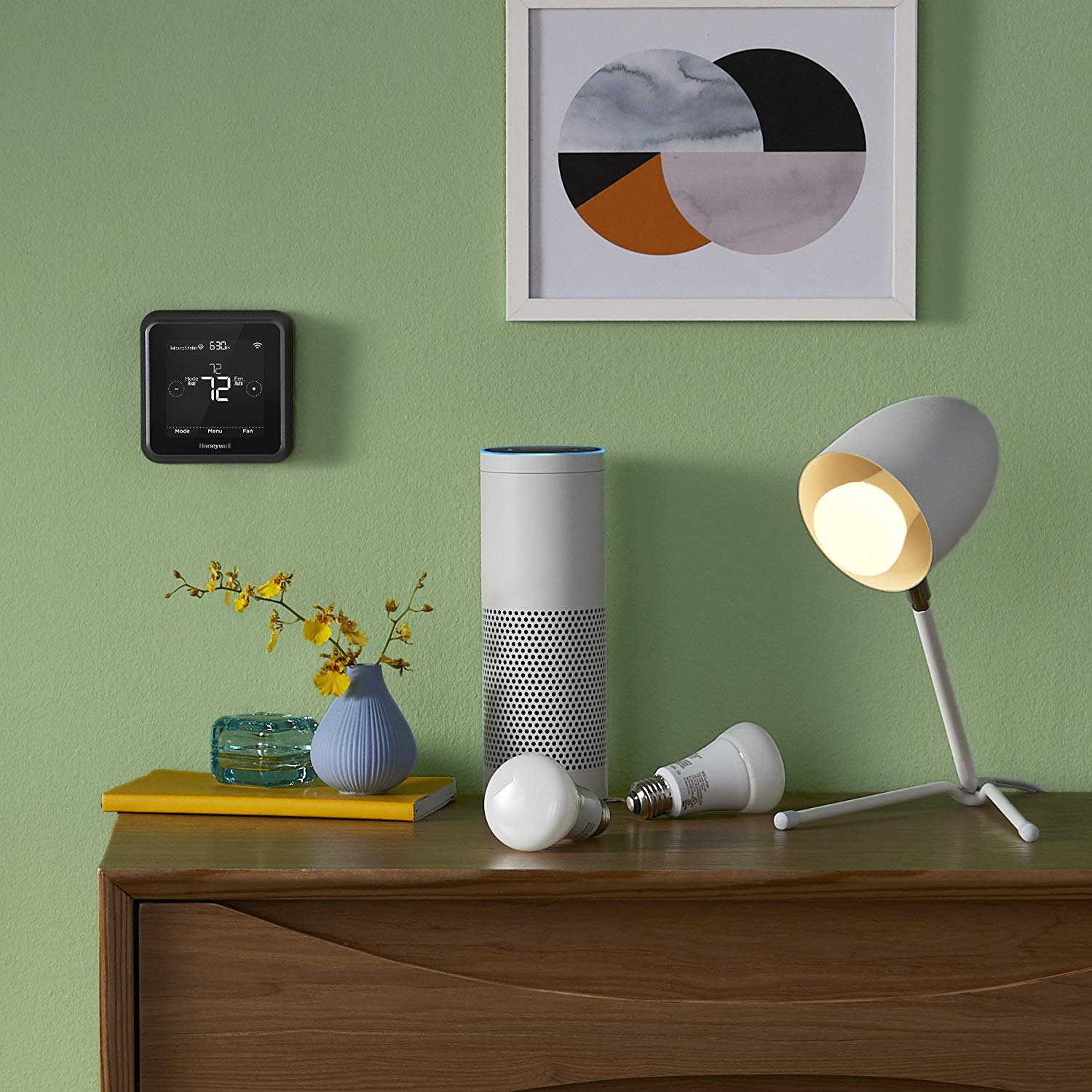 As the cheapest model in our best programmable thermostats' list, the Honeywell still offers a number of popular and useful features. It works well with Alexa, Google Home and Apple Home-Kit, but overall works with fewer systems than Nest and Ecobee models. We liked its geo-fencing feature that monitors your mobile phone's location to decide when to run the HVAC system.  It took longer to install than some other thermostats we tested, and isn't as user-friendly as the Emerson Sensi, our value for money choice.
However, the Honeywell comes with a 2 year guarantee, which is about average among its competitors. The Lyric T5 thermostat's compatible with most single-stage and multi-stage heat-pump heating and cooling systems. This model rates as the fifth best out of our 5 top smart thermostats, but to make the top 5 indicates thousands of users are very satisfied with this model!
Pros
Works with most popular 'smart-home' systems
Geo-fencing phone location runs HVAC
2 year guarantee
Cons
Not as easy to install as some in our top 5
Needs C-wire to work

Smart thermostats safe-guard the quality of the air in your home, be sending useful maintenance alerts. For example, basic tasks like replacing air-filters will never be forgotten when your smart thermostat sends you an alert. And some also send an alert if a problem develops with your HVAC system, which is worth a lot to avoid damage to your home if you live in an extreme climate. Finally, always look closely at the warranty offered by a thermostat brand, as this shows how much confidence the makers have in the quality of the components.