Baby Store
6 Best Pacifiers for Breastfed Babies 2023 – Best Pacifiers for Newborns
Pacifiers are essentials for most newborns. The world is a scary place, especially for infants that see everything as brand new for the very first time. Sucking on a pacifier can help soothe your newborn baby when they're falling asleep, fussy, or even just bored. In fact, pacifiers can be a lifesaver for exhausted, stressed out new parents when nothing you do seems to be able to stop your fussy baby from crying for seemingly no reason.
In addition to effectively soothing your baby when they're sleepy or upset, pacifiers also have physical health benefits for newborns. For example, giving your baby a pacifier at nap time or bedtime can help reduce their risk of contracting SIDS (Sudden Infant Death Syndrome) by more than 50%. Sucking on a pacifier can also relieve ear pain and pressure for newborn babies who are not yet able to clear ear pressure on their own.
Whether you're expecting the arrival of a newborn in your life soon or are on the lookout for better pacifier options for your newborn baby, check out these six top-quality pacifiers. Many of these pacifiers are orthodontic pacifiers, which keep the future of your baby's teeth in mind. They are designed to promote healthy tooth development from infancy for your baby. They help prevent tooth misalignment in addition to other orthodontic issues as your baby's teeth grow in and eventually fall out to make way for a set of adult teeth. All of the pacifiers in this post are designed with safety, comfort, effective soothing, and hygiene in mind. These six pacifiers are designed specifically for safe and comfortable use by newborn babies and are some of the best pacifier options on the current market for newborn babies ages 0 to 6 months.
1. MAM Pacifiers Newborn Pacifier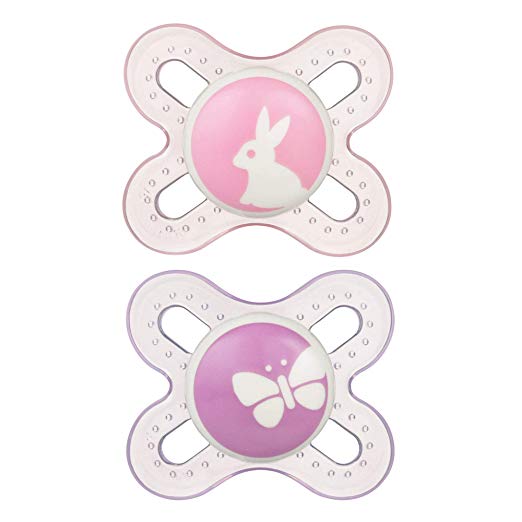 This cute pink newborn pacifier from MAM Pacifiers mimics the feel of a mother's nipples for your newborn baby. This realistic nipple-like design gives breastfeeding moms a bit of a break while automatically comforting and soothing even the fussiest newborn. It is also fully symmetrical, so you never have to worry about accidentally inserting it upside down or backwards into your baby's mouth. Large air holes around the nipple portion of this pacifier increase its breathability and prevent it from irritating the sensitive skin around your newborn's mouth.
Hygiene is a major concern for pacifiers and especially pacifiers that are designed for newborn babies because newborns are more susceptible to germs and illness than older babies. In just three minutes, you can fully sterilize this pacifier in the microwave. This quick and easy sterilization process helps you keep the pacifier is fully clean and hygienic before you give it to your baby to make sure it won't expose them to any harmful germs. You can even microwave this pacifier in its included carrying case to make sterilization even more convenient.

2. NUK Orthodontic Newborn Pacifier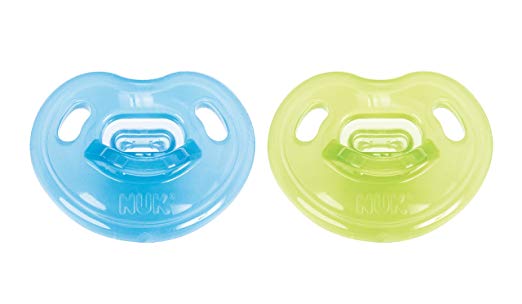 This orthodontic newborn pacifier from NUK is perfect for newborns ages 0 to 3 months. Its ultra-hygienic 100% silicone material keeps newborn safety and healthy development as its top priorities. Its one-piece construction eliminates any risk of your newborn choking on small pieces that come loose. Plus, its asymmetrical design allows this pacifier to fit safely and comfortably in your newborn baby's mouth. Its shape fosters healthy tooth development and prevents misalignment. Also, its built-in integrated channels relieve pressure on your baby's palate for maximum safety and comfort while sucking.
The nipple portion of this pacifier for newborns is realistic and automatically soothing. Its special scoop cavity allows your baby to move their tongue freely, which is important for normal healthy development of your baby's tongue, jaw, and palate. A heart-shaped shield at the top of this pacifier prevents skin irritation and allows your baby to breathe freely and easily while sucking. As an added bonus, this pacifier is safe to wash in the dishwasher as long as you put it on the top rack of the dishwasher.

3. Chicco PhysioForma Orthodontic Newborn Pacifier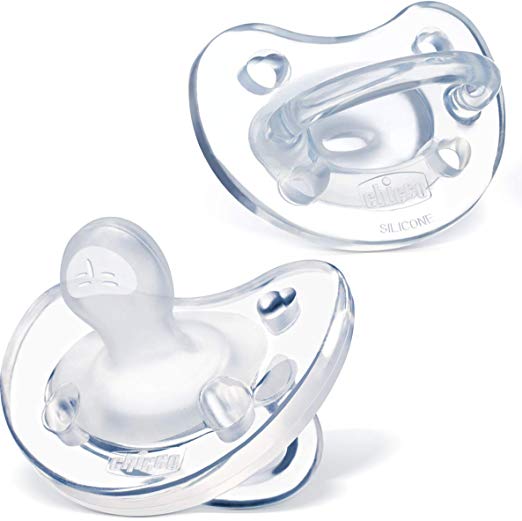 You can rest easy after giving your baby this Chicco pacifier knowing that a panel of neonatologists, pediatricians, and orthodontists agree that this orthodontic pacifier is safe, comfortable, and effective for use by newborn babies ages 0 to 16 months and up. Its one-piece construction prevents choking and ensures hygiene and comfort for your baby. Plus, it features a shield and ventilation holes to prevent skin irritation and help your baby breathe freely and easily. The nipple portion of this pacifier features a unique angle, lateral curve, and small ridges. This design prevents slip and fosters healthy oral development and comfort for your baby.
This pacifier's hygienic, 100% soft silicone material is free of any BPA, latex, or other toxic or harmful materials. Thoroughly sterilize this pacifier and kill any germs on it in just three minutes for quick and easy hygiene upkeep by microwaving the pacifier in its included sterilizing carrying case.

4. The First Years Gumdrop Newborn Pacifier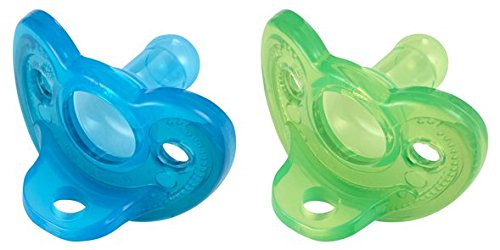 The one-piece, ultra-hygienic silicone construction of this pacifier from The First Years eliminates choking risk while your baby sucks. The shape of this pacifier fits easily in your baby's mouth and stays out of the way of their nose. This unique shape promotes healthy oral development and won't get in the way of your baby's breathing.
When you buy this pacifier, you receive not one but two separate pacifiers. That way, you'll have a spare if one is in need of cleaning or if you accidentally misplace one. Both of the pacifiers in this set come in fun, bright colors. The colorful design of these pacifiers makes them easy to spot if they fall out of your baby's mouth. Their bright colors also ensure that they will capture and keep your fussy baby's attention.

5. Philips Respironics Wee Thumbie Preemie Pacifier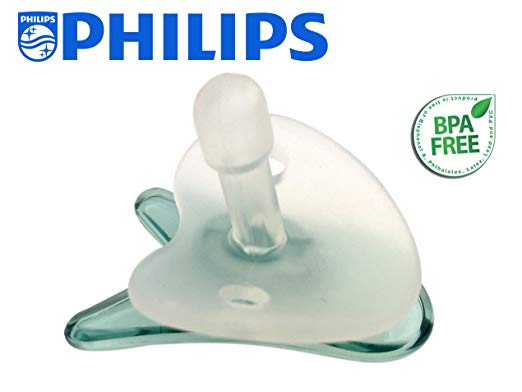 This Philips newborn pacifier is designed specifically for use by preemies. If your newborn baby was born at less than 30 weeks or with a low birth weight, this pacifier might be the best choice for soothing your premature newborn.
Amazingly, the design of this pacifier mimics the size and shape of a preemie baby's thumb. Sucking on this pacifier will quickly soothe your tiny newborn without inhibiting their healthy oral development like thumb-sucking can. Its unique shape also encourages your newborn to engage in sucking behaviors that are important for healthy development. Your premature baby may have missed out on developing some of these sucking behaviors in utero.

6. Philips Avent Orthodontic Newborn Pacifier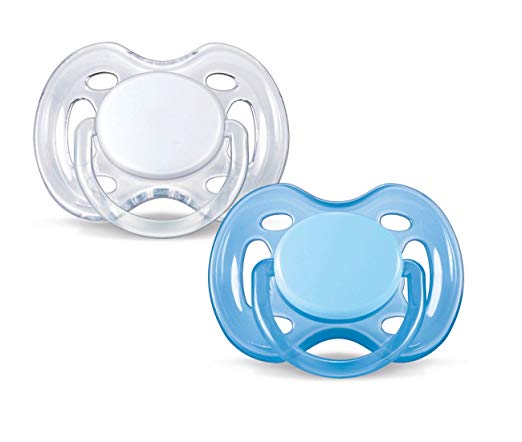 This newborn pacifier from Philips is perfect for use by babies ages 0 to 6 months. Its soft, hygienic silicone material is ultra-durable and doesn't hold onto germs. It is also free of BPA and other toxic or harmful ingredients and materials.
The nipple of this pacifier is symmetrical and orthodontic for healthy oral development. It is also collapsible. This pacifier comes with a hygienic cap that snaps on and off. This snap-on cap protects the nipple of the pacifier from germs when it's not inside your baby's mouth. The shield of the pacifier also features six large ventilation holes that promote free air flow and prevent skin irritation.