Electronics
5 Best Humidifiers for Medium to Large Rooms 2023
Dry air can worsen asthma and the best humidifiers are the perfect way to add the moisture our bronchial passages need. Even if you don't have asthma, a dry cough causes tiny tears in throat tissue, giving instant access to bacteria and molds. So for your improved health and comfort, it makes sense to buy one of the best humidifiers for your budget. Humidifiers are divided into the traditional, evaporative system, and newer ultrasonic units. Evaporative humidifiers use a wick/filter that sucks-up water from the tank and removes impurities. A fan then blows air through the filter,  producing a fine, water-mist that floats around a room. The evaporating system traps harmful bacteria and mold-spores from the air, and keeps them inside the unit. And so you need to clean and disinfect evaporative units regularly, to avoid circulating trapped germs and spores.
Ultrasonic humidifiers use vibration to create a fine, water-mist. They run on a tiny amount of electricity, much less than an evaporative unit, and are silent. However, if you fill the tank with 'hard' tap water, you may notice a fine, white dust settling on your furniture. Some people just dust it off, and others switch to 'purified water' or buy special de-mineralization cartridges to remove the calcium. And the highest-quality humidifiers have a built-in mineral removal filter that completely prevents white-dust. Ultrasonic units offer warm and cool mist settings, but warm mist humidifiers are not safe to use around small children.  If you need to humidify large rooms adequately, look for a tank capacity between 1 – 2 gallons. This will treat areas measuring 250 – 650 sq. ft. So if you're ready to find the best humidifier for your home, or office, let's get to it!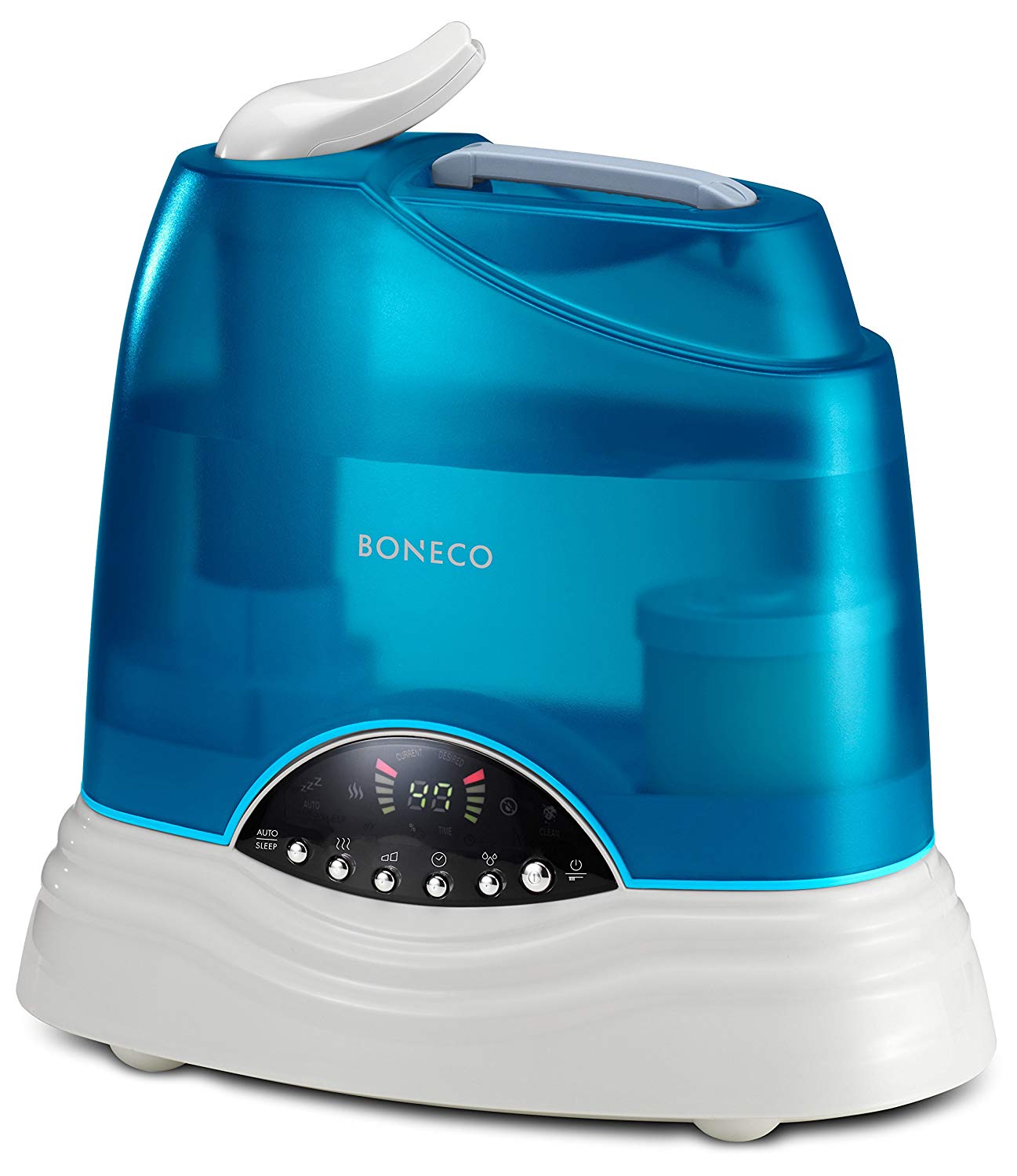 This ultra-sonic humidifier is our choice of the year's best humidifier. It has the second largest water tank in the units we reviewed, and with a capacity of 1.75 gallons you'll only need to fill it up about twice a day. It turns as much as 3 ½ gallons of water to mist daily covering rooms up to 650 sq. ft. It's great for hygiene, with a special cartridge filter to stop mold or bacteria growing in the tank. And for hard-water purification, there's a de-mineralization cartridge, too.
You can choose between warm- and cool-mist output, (although warm-mist isn't recommended in areas with small children around). It's also very quiet when running, making it suitable for use in bedrooms, too. It has easy-use controls, with a humidistat that gives you full control of humidity levels, a timer and sleep-mode. And there's a handy, panel light that reminds you when the unit needs to be cleaned.
Pros
Large 1.75 gallon tank
Controllable humidistat
Timer and sleep-mode
Great hygiene features
3-year guarantee
Cons
Needs 'pure' water for best performance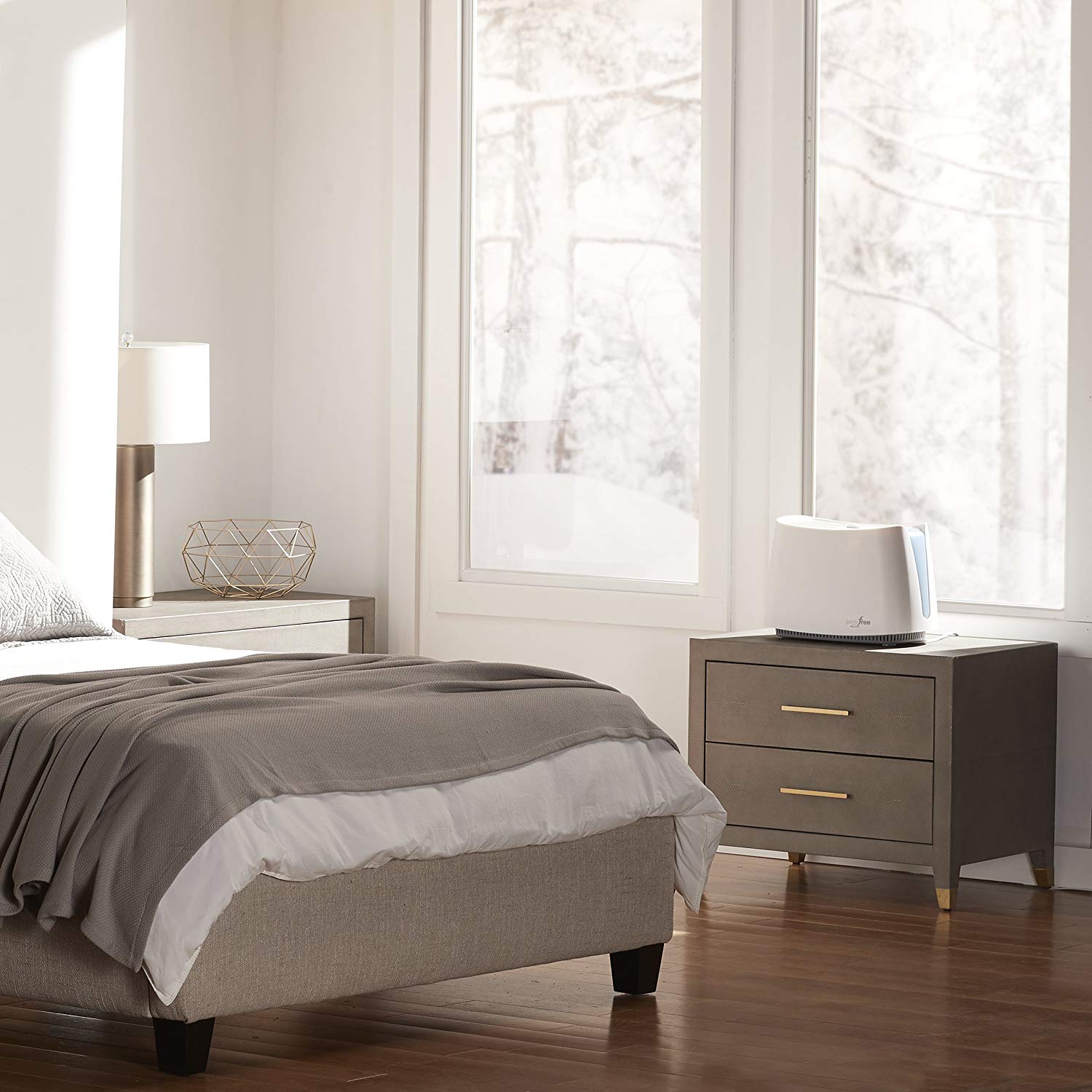 The Honeywell HCM humidifier is our best value for money humidifier. It combines efficiency with affordability, by cutting down on the 'extra features' not needed by everyone. It's an evaporating humidifier, with a 1.5 gallon tank that's larger than other units in the same price range. And with a cool-mist output of 2 1/3 gallons daily, it is suitable for spaces up to 500 sq. ft. For added hygiene, the wick helps filter out minerals, and is anti-bacterial material. But this humidifier scores extra points for the UV-light set between the tank and the wick, which kills bacteria, and gives excellent water purification.
You do need to replace the wicks periodically and this adds cost in the long-term.  So depending on how often you plan to use the humidifier, you can consider the cost of replacement wicks against the higher initial cost of a 'wick-less' ultra-sonic. This model has 3 fan speeds, which are not particularly noisy, which control water output. The Honeywell HCM-350 doesn't have handy features, like automatic-switch-off, a timer or a humidistat, so you need to monitor the unit and ensure it never runs dry and over-heats. With a solid 3-year guarantee, the Honeywell HCM-350 is a popular, best-selling humidifier with excellent value for money.
Pros
Economically priced
UV bacteria killing light
2 1/3 gallon output
Covers rooms up to 500 sq. ft.
Quiet in use
Cons
No timer or automatic switch-off
Replacing wicks adds long-term cost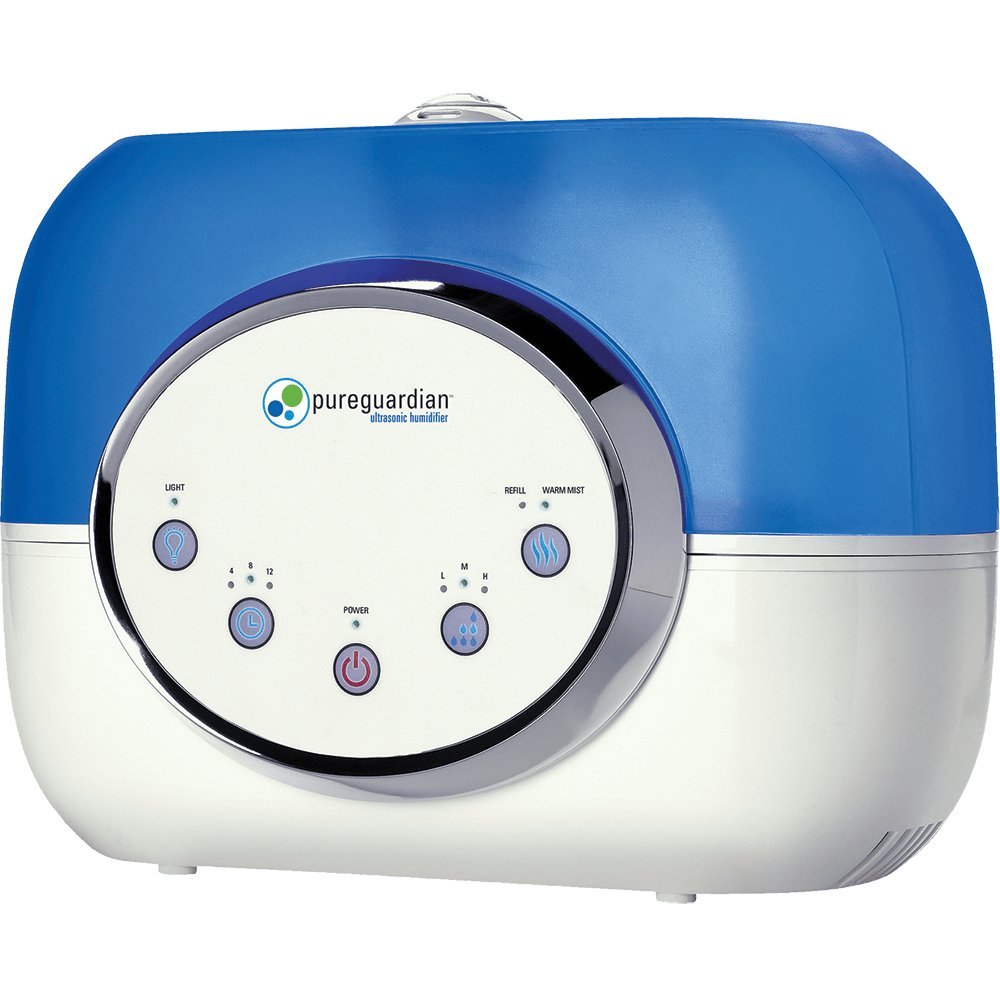 The PureGuardian H4610 Ultrasonic is our best humidifier for large tank capacity, which at 2 gallons surpasses all other humidifiers we reviewed. Moreover, as the PureGuardian has a lower water output than some other humidifiers, at 1.4 gallons a day, it needs fewer refills than most units. It treats large rooms up to approx. 650 sq. ft. with ease, but doesn't equal the speed of a more powerful humidifier. However, you can switch between cool- and warm-mist settings.
As for hygiene, you need to run it on purified water, or you can buy a 'de-mineralization cartridge' from PureGuardian. This unit has useful 'automatic switch-off', which is always a good feature. In addition, there's a handy timer, which lets you control when the humidifier runs. It doesn't have a humidistat, but that's not a necessity for all users by any means. This large-tank humidifier comes with a 3 year guarantee, which is comparable with its competitors.
Pros
Largest tank 2 gallons
Rooms up to 650 sq. ft.
Cool and warm mist
Auto switch-off
Timer
3 year guarantee
Cons
Lower daily water output
Only runs on pure water
No humidistat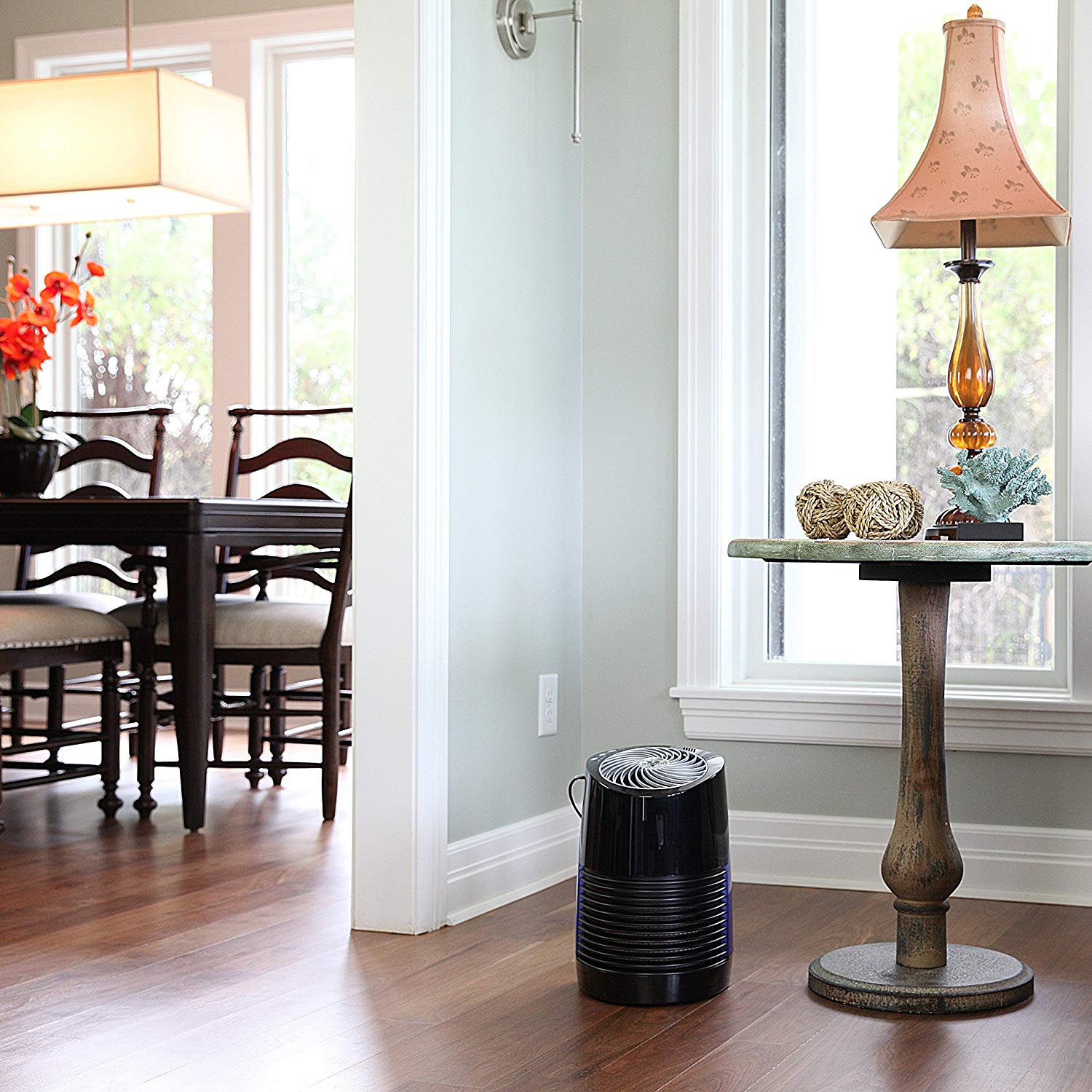 The Vornado Evap2 came out as the best evaporative humidifier in our tests. It covers medium rooms of approx.600 sq. ft. and with a 1 gallon tank, it only needs to be refilled once a day. It runs 2 gallons a day and is completely dry underneath, so you can safely set it on wooden furniture/flooring. The Vornado Evap2 only offers cool-mist, which makes it absolutely safe for areas used by small children, as there's no risk of accidents with hot-steam or hot water.
This model uses more energy, and makes a louder sound than an ultrasonic humidifier. But that's not always a problem, as lots of people find the sound of a fan calming, like white-noise.
Pros
Good-sized 1 gallon tank
Needs just one daily refill
Safe for use near small children
No white-dust residue on furniture
Cons
No warm-mist option
Louder than an ultrasonic unit
Uses more energy than ultrasonic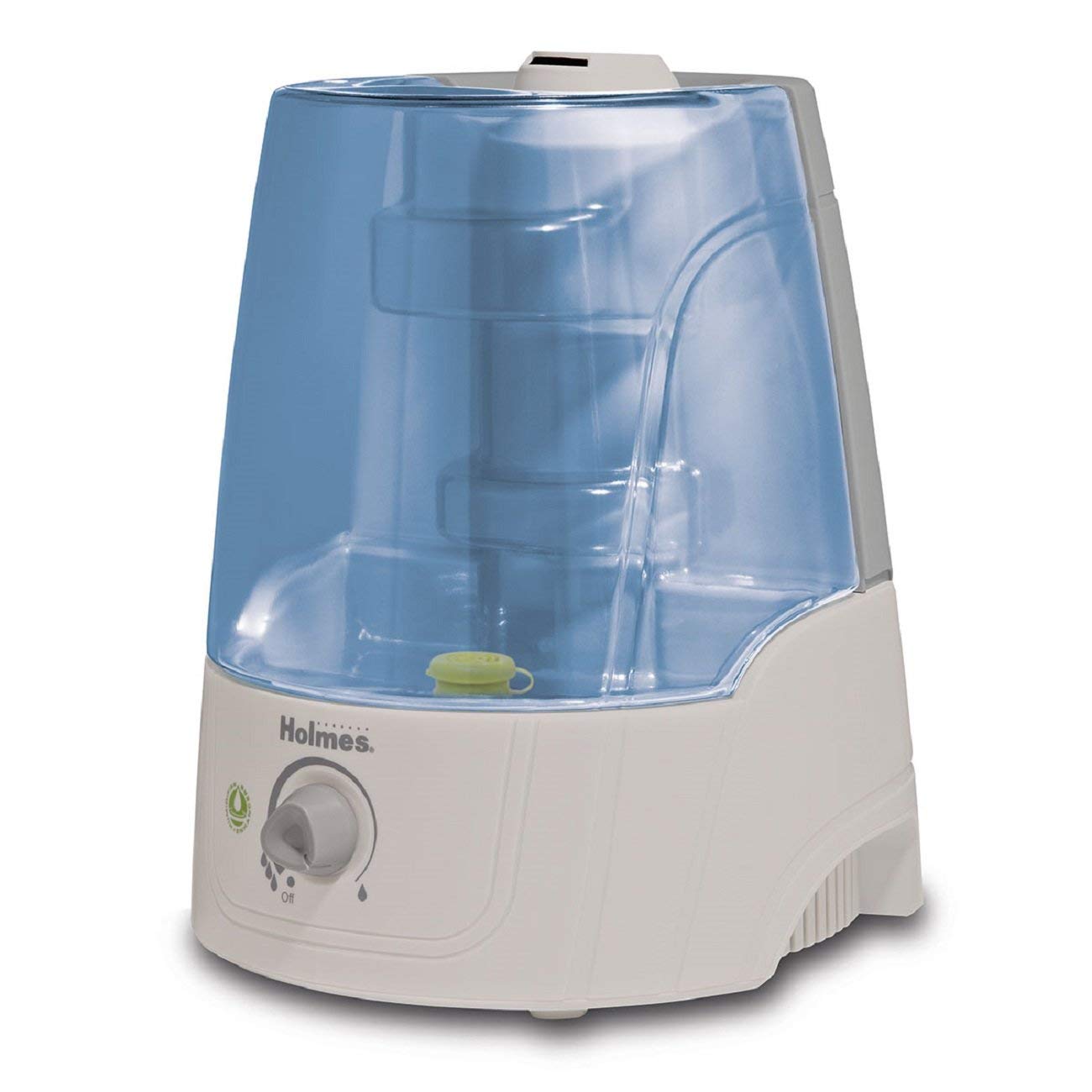 Ultrasonic humidifiers are quieter, use less energy and work more efficiently than evaporative models. But they do cost a lot more, so we searched and tested to find the best, low-priced, ultrasonic. And that contest was won by the Holmes HM2610. It's the most affordable ultrasonic humidifier, so not as quiet as pricier ultrasonics. However, this model is far quieter in use than any evaporative humidifier. The Holmes HM is able to cover spaces measuring up to 500 sq. ft., with a daily run of 2 gallons. Its generously sized 1 ½  gallon tank operates for a full 24 hours without interuption, minimizing the need for refills.
The only negative aspect to ultrasonic humidifiers, is that they may produce white-dust that settles on furniture. But it's perfectly harmless and can just be dusted off without causing any damage to wood. It's actually the calcium deposit found in 'hard-water', so if you live in an area with 'soft-water' it won't be an issue. But if you do have 'hard-water', you can also buy a 'de-mineralization cartridge' to extract the calcium and make your water soft!
Pros
Affordable
Large 1 ½ gall. tank
Refill once every 24 hours
Efficient up to 500 sq. ft.
Low energy use
Very quiet compared to evap units
Cons

There's a pretty wide gap in the prices of humidifiers, which reflects the different room sizes people need to treat. When shopping for humidifiers online, at first glance it seems that humidifiers are incredibly cheap! LOL! But that's because the best-selling humidifiers are the smallest, lowest-priced humidifiers for small areas of 10 – 20 sq. ft. And that would only treat a single desk-space or a tiny, nursery bedroom. Our reviews cover the best humidifiers for medium to large rooms, ranging from 250 sq. ft. – 650 sq. ft.