Beauty
Top 5 Best Electric Toothbrushes 2023 for Whiter Healthy Teeth
Electric toothbrushes increase oral health to a level impossible to reach with a manual toothbrush. Both rotary and sonic systems are excellent for keeping teeth and gums cleaner, whiter and healthier. And although some premium sonic toothbrushes aren't cheap, there are plenty of excellent rotary and sonic brushes at affordable prices. When you use an electric toothbrush every day, it prevents plaque forming and you no longer need to pay a dentist to scrape and whiten your teeth twice a year. And the saving on dental treatment over a few years can be enormous, when you switch to an electric brush. If you use a manual brush too lightly, you can leave debris that causes caries and the dreaded 'drill' fillings. But if you use too much force, it's very easy to damage teeth and gums, which also needs expensive dental repair work!
However, you only need to place an electric toothbrush in contact with your teeth, and the rotary or sonic movements make it 'float' over teeth and gums. And doesn't it make complete sense that a sonic toothbrush lightly brushing teeth at 30,000 brushes-per-minute will certainly leave them cleaner and whiter?  When you switch to an electric toothbrush, you notice how much smoother your teeth feel after the first brushing session. And a gentle, electric brush massage will also restore gums to a much healthier condition within a few weeks. So if you want a permanent bright, white smile – without paying a fortune to your dentist – just read what this year's best electric toothbrushes can do for you!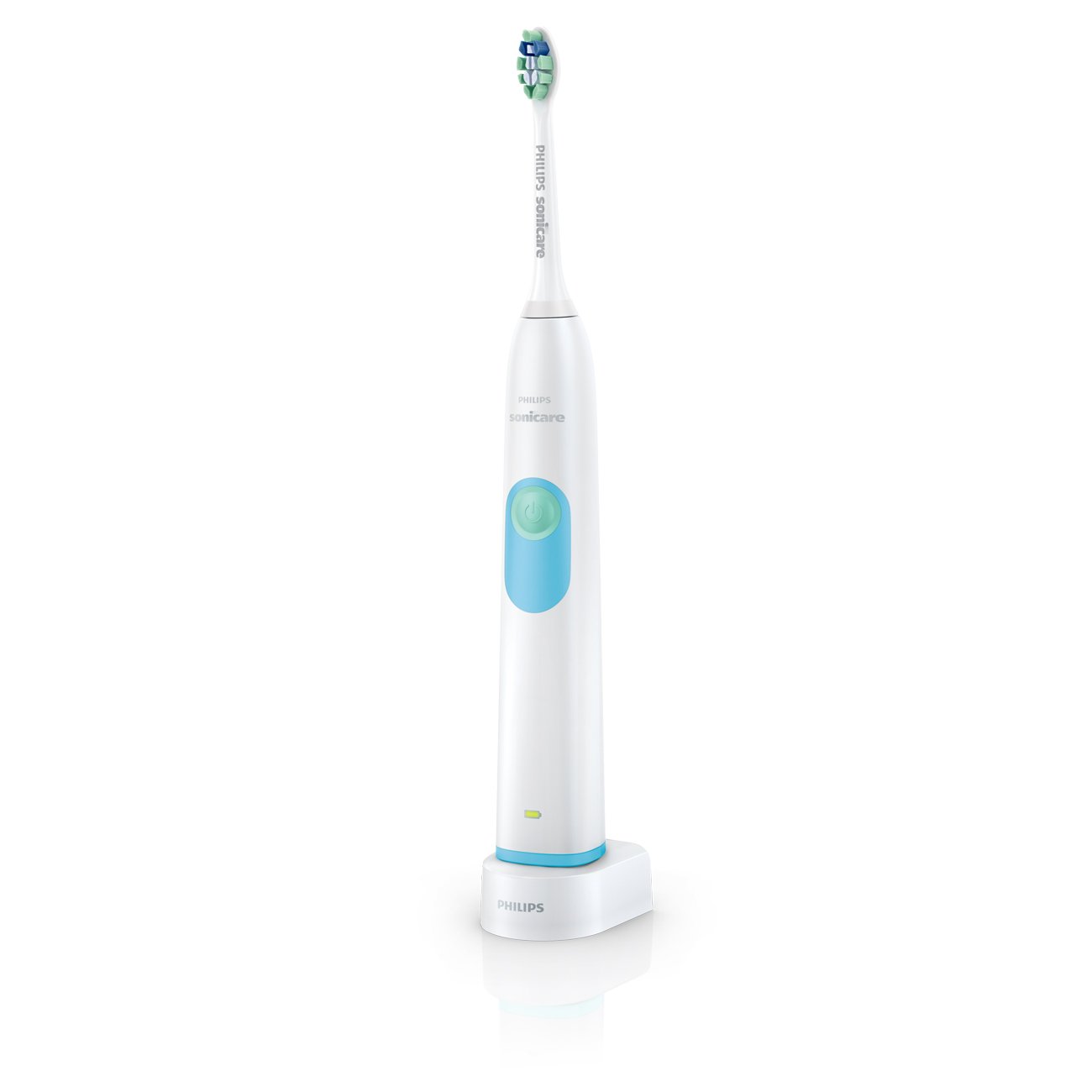 The overall best electric toothbrush was the Philips Sonicare 2. Sonic wave brushes are powered by high-frequency vibrations to clean your teeth gently, but thoroughly. The process forces liquid around the spaces between and behind your teeth. And this means it's cleaning lots of places where the brush-head doesn't physically touch. Philips is a long-established leader in all types of electrical appliances. And this model cleans your teeth with a super-efficient sonic wave, without being the most expensive toothbrush. Its angled brush is just what you need to clean back molars comfortably, and there are no extra accessories.  This avoid you paying a higher price for accessories you don't need.
The battery lasts about 2 weeks of twice-daily brushing and the charger is small and easy to use. The brush has three different vibrating modes – sensitive, regular and whitening – making it suitable for everyone to use. After two minutes, the built-in timer stops the brush and your teeth feel smooth and look shiny. It's one of the quieter electric toothbrushes, with an easy-to-hold design. It just seems to 'float' up and down your teeth, using over 30,000 brush movements per minute. Of the last 10 toothbrushes we tested personally, this happens to be the model I've been using at home for a few years now and I know it's absolutely first-rate!
Pros
Excellent tooth and plaque cleaning
Comfortable slim handle
Sensitive mode for gentle cleaning
Suitable for use on veneers and orthodontics
2-year guarantee
Cons
Comes with one brush head
Doesn't come with a travel case
No 'brushing too hard' sensor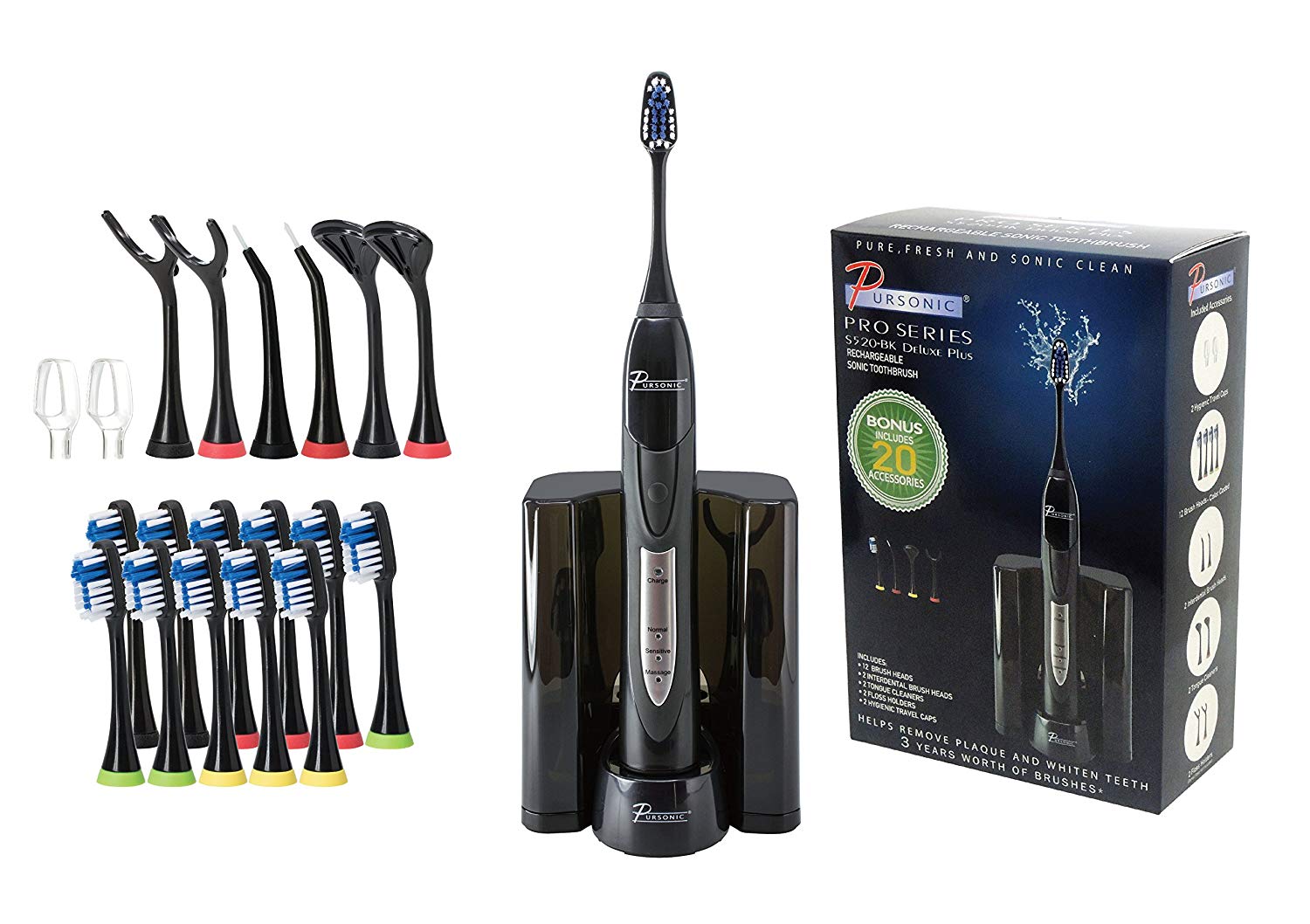 The Pursonic S520 was our choice of best sonic electric toothbrush with accessories, for those who require interdental brush heads, tongue cleaners, floss holders and two travel caps. These are all useful accessories and along with a docking and charging station, add up to the most accessories in our best electric toothbrush selection. There are also 12 color-coded brush heads and a storage case with space for 6 brush heads. Compared to the Philips above, which has only one brush head, this is a great buy for a family and the price reflects that.
You still get excellent sonic wave cleaning and the battery lasts for two weeks twice daily use for one person. This model also has a two-minute brush-time cut-off and three-cleaning modes.  If you like your colors to harmonize you'll be pleased to know the Pursonic comes in 4 different colors. The S520's battery lasts for up to 28 two-minute brush cycles. And the battery takes about 12 hours to re-charge, with a handy LED light showing its progress. This great quality toothbrush has a two-minute timer and three cleaning modes.
Pros
Excellent sonic cleaning
Wide range of useful accessories
3 cleaning modes including sensitive
Two minute timer
12 color-coded brush heads
Cons
Switching cleaning modes is tricky
No pressure sensor
One year guarantee only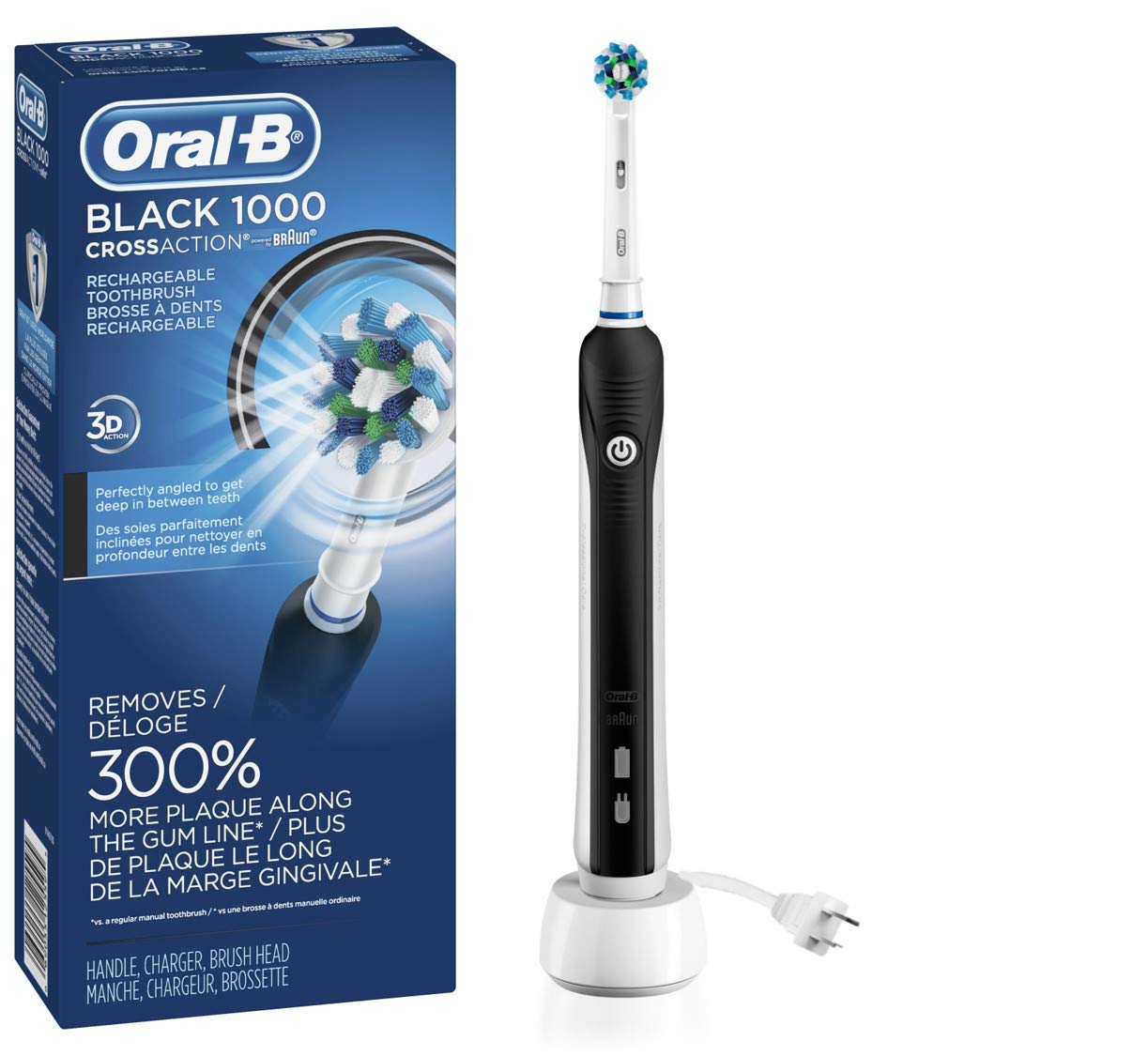 The Oral-B Pro 1000 is our choice of the best 'value for money' electric toothbrush. This is a rotary electric toothbrush which cleans extremely well with rotating, pulsing and up/down movements. And the Oral-B has a two-minute timer that indicates every 30 seconds, reminding you to spend equal time brushing all four sections of your teeth. Oral-B has a long history of producing high quality electric toothbrushes. And was one of the first electric toothbrush brands to get the American Dental Association's official recommendation.
Another useful feature is the built-in pressure sensor, which stops if you begin pressing down too hard on the brush. A lot of people moving from a manual to an electric brush use too much pressure at first, and this feature automatically prevents damage. All nine Oral-B brush heads will fit the Pro 1000, making it easy to buy the perfect replacement brushes for your needs. The head has Cross-Action brushes well-angled at 16 degrees, allowing efficient plaque removal along the gum-line.
Pros
    ADA Seal of Acceptance
    30 second reminder to switch areas
    Built-in pressure sensor
    Choice of 9 compatible replacement heads
    Cross-Action brush cleans gum-line well
Cons
    Battery lasts 7 days
    Comes with one brush head
    Noisier than sonic wave system
    Grip less comfy than other handles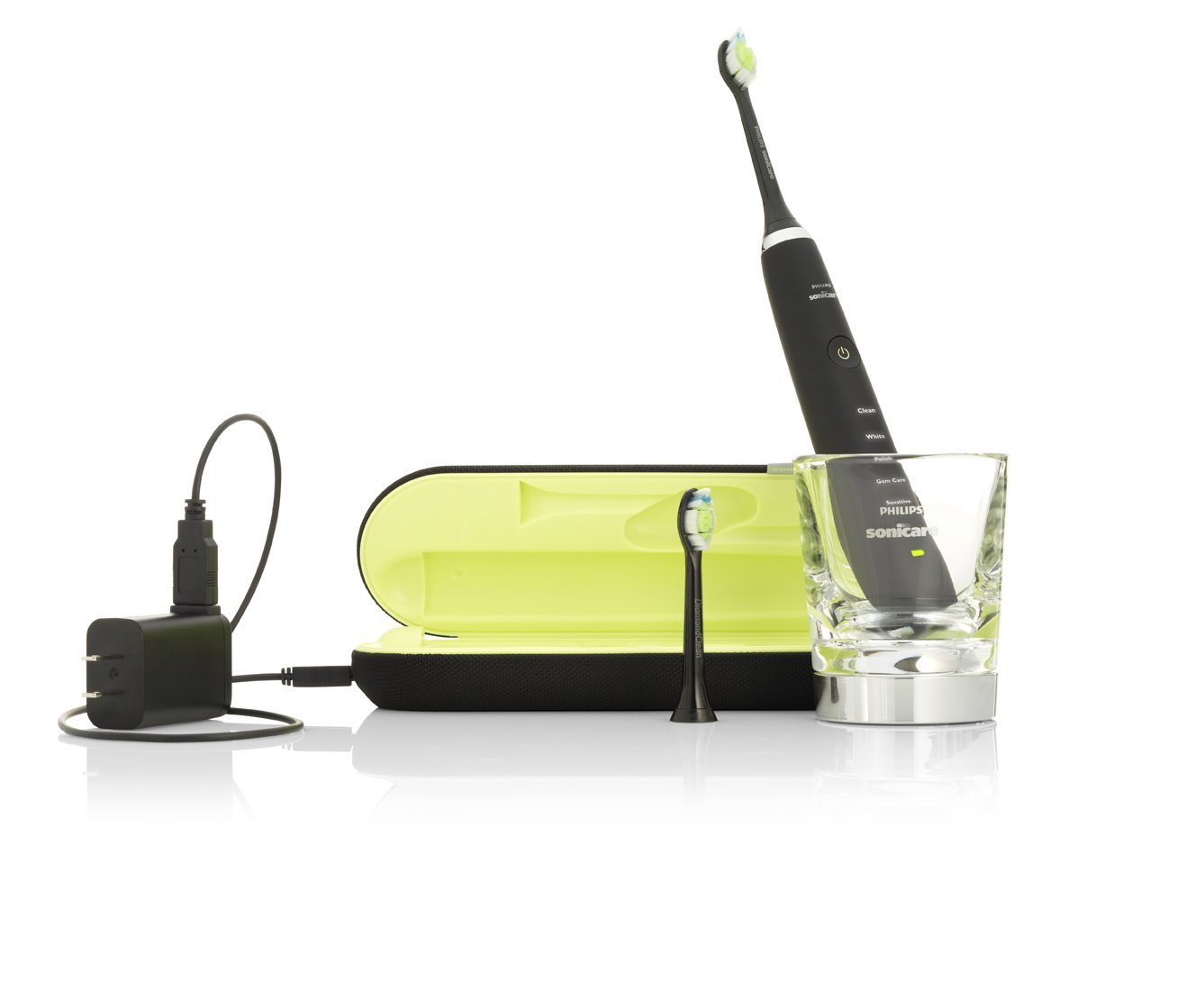 The Phillips Sonicare Diamond Clean Smart toothbrush easily won our recommendation as the best high-end, high-tech toothbrush. Its brush heads have micro-chips that the handle can read and then instantly adjust the intensity and cleaning mode to suit. This is a sleekly styled black electric toothbrush designed to impress by looks and high performance. The Diamond Clean has 4 cleaning modes: Clean, Whitening, Deep Clean and Gum Health and 3 speed modes. This toothbrush will give you whiter teeth in one week as it removes about 7-times more plaque as a manual toothbrush.
The snazzy Bluetooth and Phillips DiamondClean app help you use good brushing technique, track your teeth-cleaning and it even order replacement brush heads automatically. There's a pressure sensor to stop you pressing too hard and several useful accessories: 3 brush heads, a tongue brush, charging travel case and a charging glass/rinsing glass. Like all of our best electric toothbrushes this has a gentle mode, which will improve your gum health in about 2 weeks of use.
Pros
4 cleaning modes and 3 speed modes
Built-in pressure sensor
3 brush heads and tongue brush
Charging travel case
App to track and improve tooth care
2-year guarantee
Cons
Expensive
Not the best brush for sensitive teeth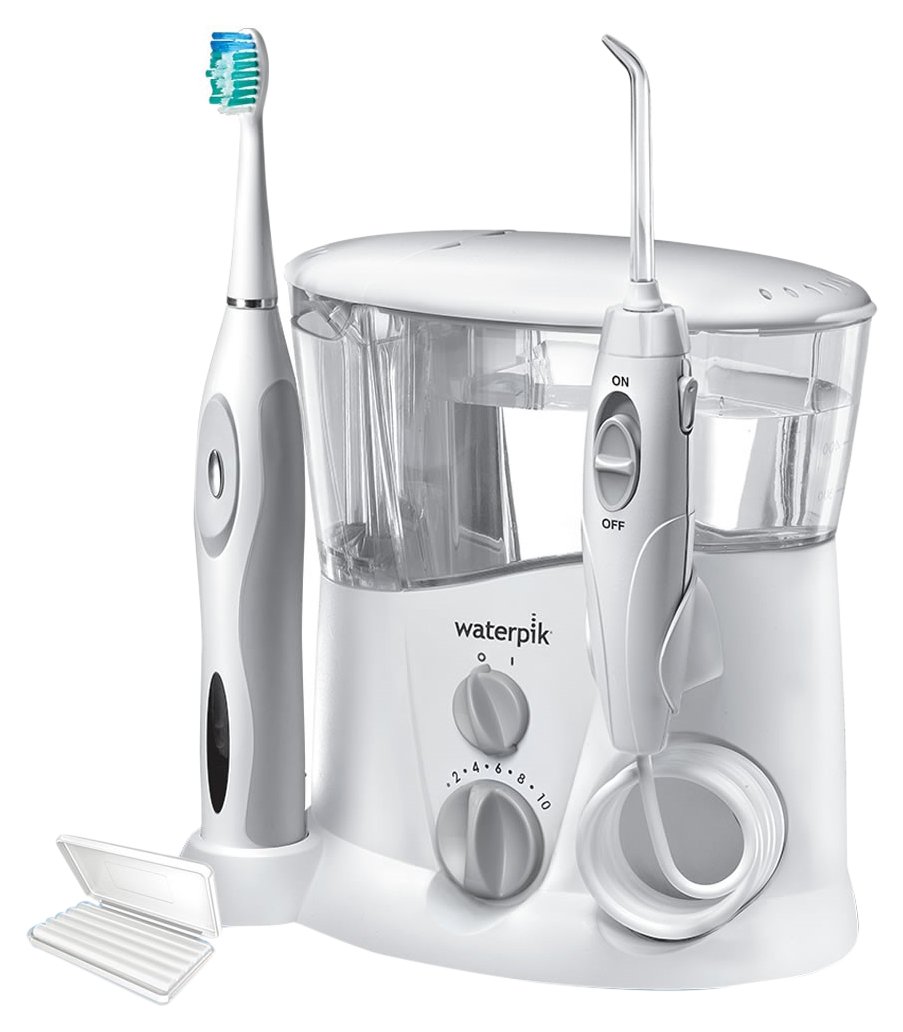 If you're more interested in a good, basic electric tooth-brush take a look at the best budget model. The Waterpik Sensonic uses sonic-wave cleaning to give you a high-quality clean, with brushes that have soft, rounded ends. There are just 2 cleaning modes, and it has a gentle cleaning action, so you don't really need a pressure-sensor. This model also has the useful two-minute timer, with 30 second alerts, reminding you to clean all four areas of your mouth.
If you travel frequently, you'll love the global charger and handy travel case. There are three brush heads, two brush covers and a docking/charging station included in the price. A full charge lasts for up to a week of twice a day brushing, and you can always see how much battery-life is left. The handle grip is comfortable and this electric toothbrush does an excellent cleaning job on teeth and gums.
Pros
Excellent sonic cleaning
Soft brushes with rounded ends
Gentle action
30-second 'move along' alert
Inductive charger for global use
Travel case/voltage compatibility
Cons
No pressure sensor
7 days use per charge

If you're concerned about the cost of replacing brush heads, look out for brand offers on brush-head packs. And there are plenty of good 'brand compatible' brush heads available, too. You need gentle brushes for cleaning damaged gums and more intense cleaning modes to remove stubborn plaque from starchy foods. But all of our best electric toobrushes offer both 'modes'. So whichever model you choose, you'll love how quickly your whiteness and oral health improve!