Electronics
4 Best Digital Pens for Laptop and Mobile – Best Smart Pens 2023
The best digital pens or 'smart-pens' are a great way to upload hand-written notes, or sketches, to your online storage space.  This nifty device fills the gap between our love of online technology, and those times when hand-written notes are preferred. For instance, during meetings or job-interviews, it's far less intrusive  to discreetly write notes on a paper notepad. And in key business meetings, having an obvious p.c. barrier between you and your clients is very bad in terms of non-verbal communication. Moreover, note-taking during lectures is still faster in hand-writing for most people, unless you're a true, touch-typist.  Although some digital pens also have a voice-recorder, we would only recommend using it as a back-up to your written notes. Because if you tend to rely on audio-recordings, a good quality voice-recorder will give you much clearer reproduction.
Digital pens, and the coded paper/notebooks you need to use them, are an investment compared to pen and paper. But having an instant typed transcript on your p.c. later, offers huge savings in your time and money! The digital pens in our review have been tested for hand-writing, and for handling artistic/technical drawing. We've also looked at the long-term costs of ink-refills and special paper in our overall rating.  And there is one great-value, digital pen in our list you can use on any paper, including the back of till receipts! Moreover, some pens can handle sloppy hand-writing well, but can't transfer drawings correctly. We've tested a ton of digital pens with a close eye on accuracy, performance and durability. So if you need fast transcription of your notes – or drawings – read on to find out which of the best digital pens is perfect for you!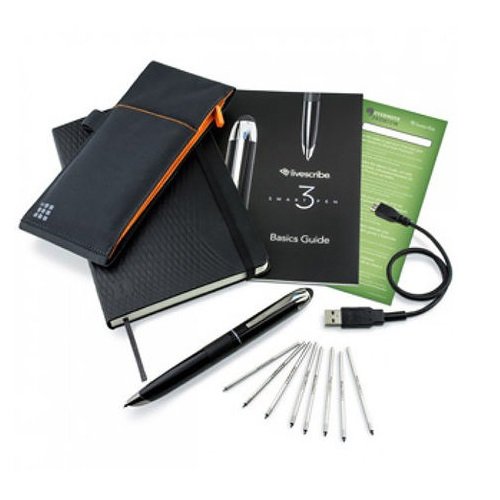 Our choice of the all-round best digital pen is the Livescribe 3 Smartpen, which offers first-rate accuracy for hand-writing and drawing. It is designed to be comfortable to hold, with a soft rubber grip and ergonomic shape, so it's easy to use. This smart pen is fatter and heavier than a number of other pens we tried out.  However, we felt that the rounded shape was far more comfortable to use than the triangular digi-pens. The Livescribe 3 lasts up to 14 hours of continuous use, which is long enough for most situations.  And it's convenient to re-charge via a micro-USB port on the tip.
Performance-wise, this digital pen was 100% accurate in the writing and sketching tests. And that's a very important advantage for serious smart pen users. It only took us 30-seconds to set it up and it synced with our smartphone immediately after we installed the Livescribe 3 app. To digitize your hand-writing you only have to swipe left or right. And the app lets you start or stop the audio recording feature, which can also be controlled via the icons printed on the Livescribe notebook.
Pros
100% accuracy
Ergonomic round grip
Easy-use on/off switch
14 hours use per charge
Easy set-up/app sync
Audio record feature
Cons
Only works with Livescribe notebooks
Heavier than most digital pens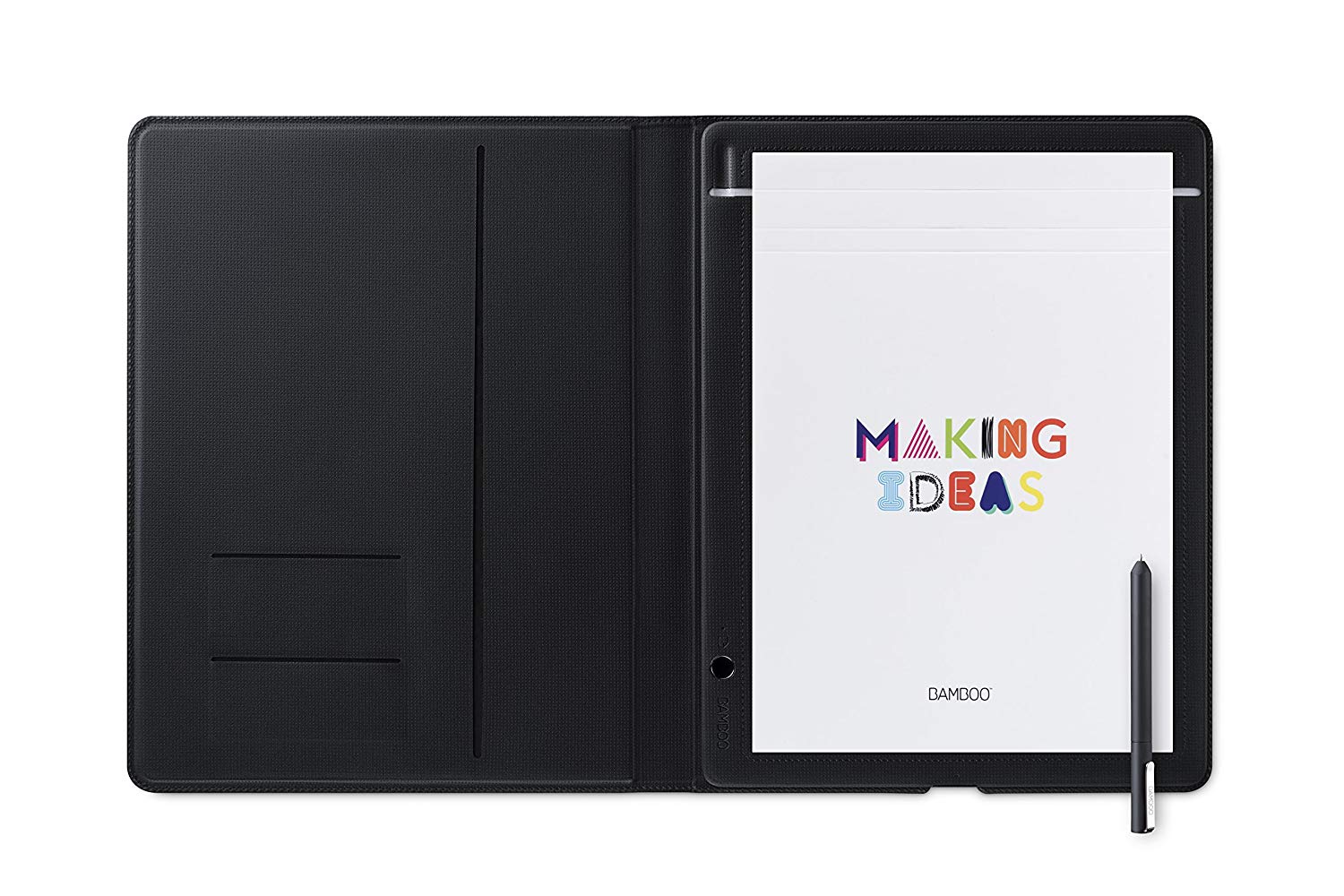 We chose the Wacom Bamboo Folio smart pad/pen system as the best digital pen for artistic drawing. It works with any type of paper in the pad and its accuracy was only very slightly less than 100%.  The pen is very comfortable to hold and the on/off is a simple twist action. The pad/smart pen unit runs for up to 8 hours per charge. And this can be done easily via a micro-USB port at the bottom of the pad.
To use the pen, you only need to touch any paper placed on the pad and it starts work immediately.  We liked the ease with which the pad/pen synchronized with our smartphone plus automatically saving the work to the Wacom Inkspace app. You can view your saved drawings and make simple edit directly from the app. This pad-pen system took about 1.5 minutes to set-up and sync with our smartphone. If you're an artist who prefers to work with a particular grade of drawing paper, this smart pad/digital pen system is perfect for you.
Pros
Works with any type of paper
Near 100% accuracy
Pen grip is ergonomic
Easy set up
Saves work automatically
Cons
Paper has to be placed on the smart pad
8 hours per charge
No audio recording feature

Neo Smartpen N2 – Neo smartpen N2 Bluetooth 4.0 Digital Pen for iOS, Android Smartphones and Tablets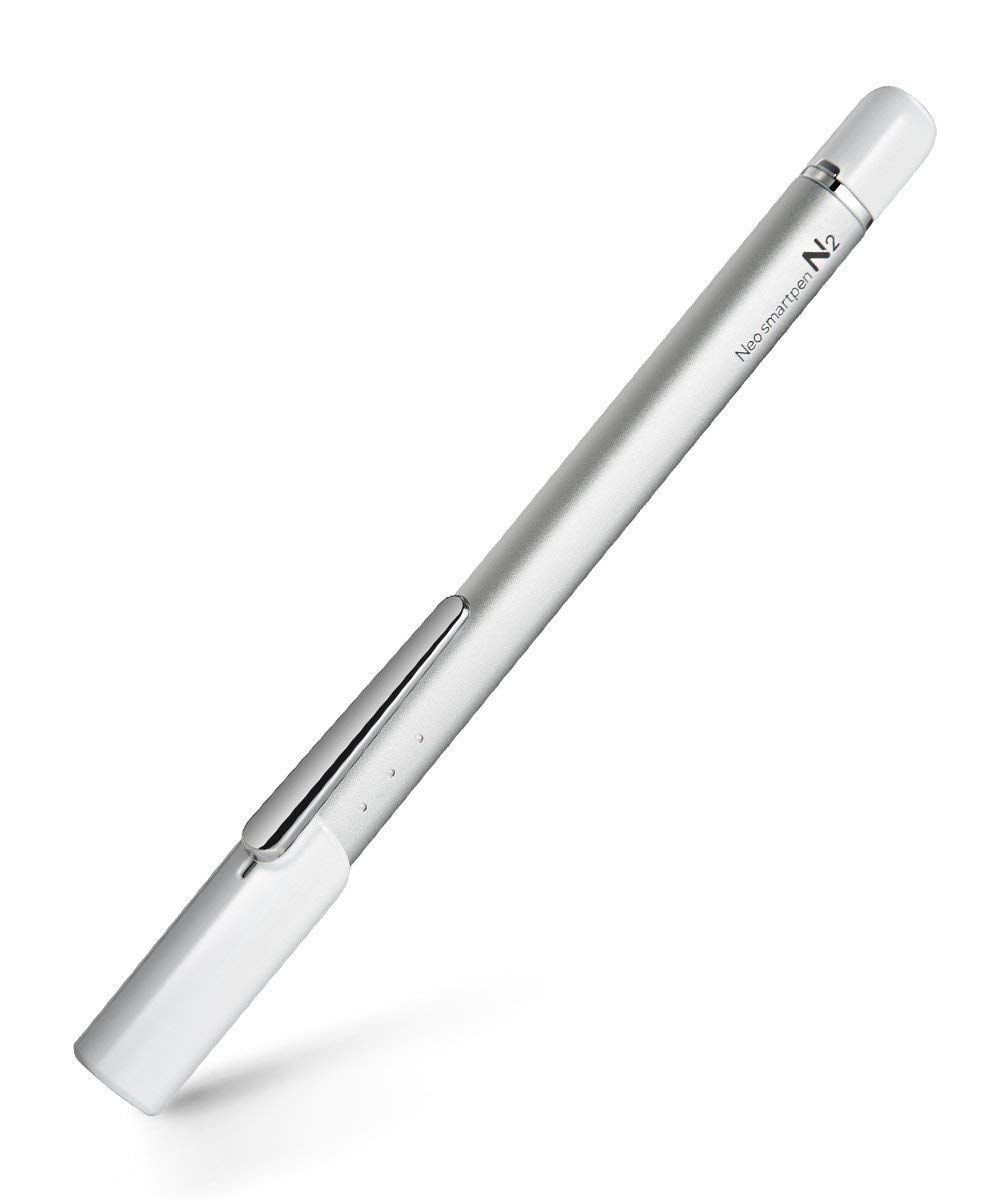 For long periods of writing/drawing, the best digital pen for comfort is the Neo Smartpen N2. It's longer than most digital pens, but the design is attractive and it fits the hand better than the triangular digital pens. This is another user-friendly design, with a single button controlling on/off and Bluetooth paired settings. The accuracy of the Neo N2 was higher than average in writing and drawing checks.  There were 2 errors in the writing and 2 in the drawing tests.
Set up and Bluetooth pairing took just 1.5 minutes, so you won't waste time priming it for first-use. It has an attractive, sleek shape and is all-metal. This digital pen has a shorter battery-life per charge than the other pens in our list, lasting just 5 hours. But it's easy to re-charge through the micro-USB socket on the top. The Neo Smartpen only works with special Neo notebooks and writing-paper.
Pros
Good accuracy
Very comfortable grip
One-click to email your written notes
Easy set-up and use
Cons
Only 5 hours per charge
Longer than other smart pens
Heavier than some digital pens

IRIS Notes Air 3 
Bluetooth SMARTPen PRO Digital Note Taker Rechargeable Battery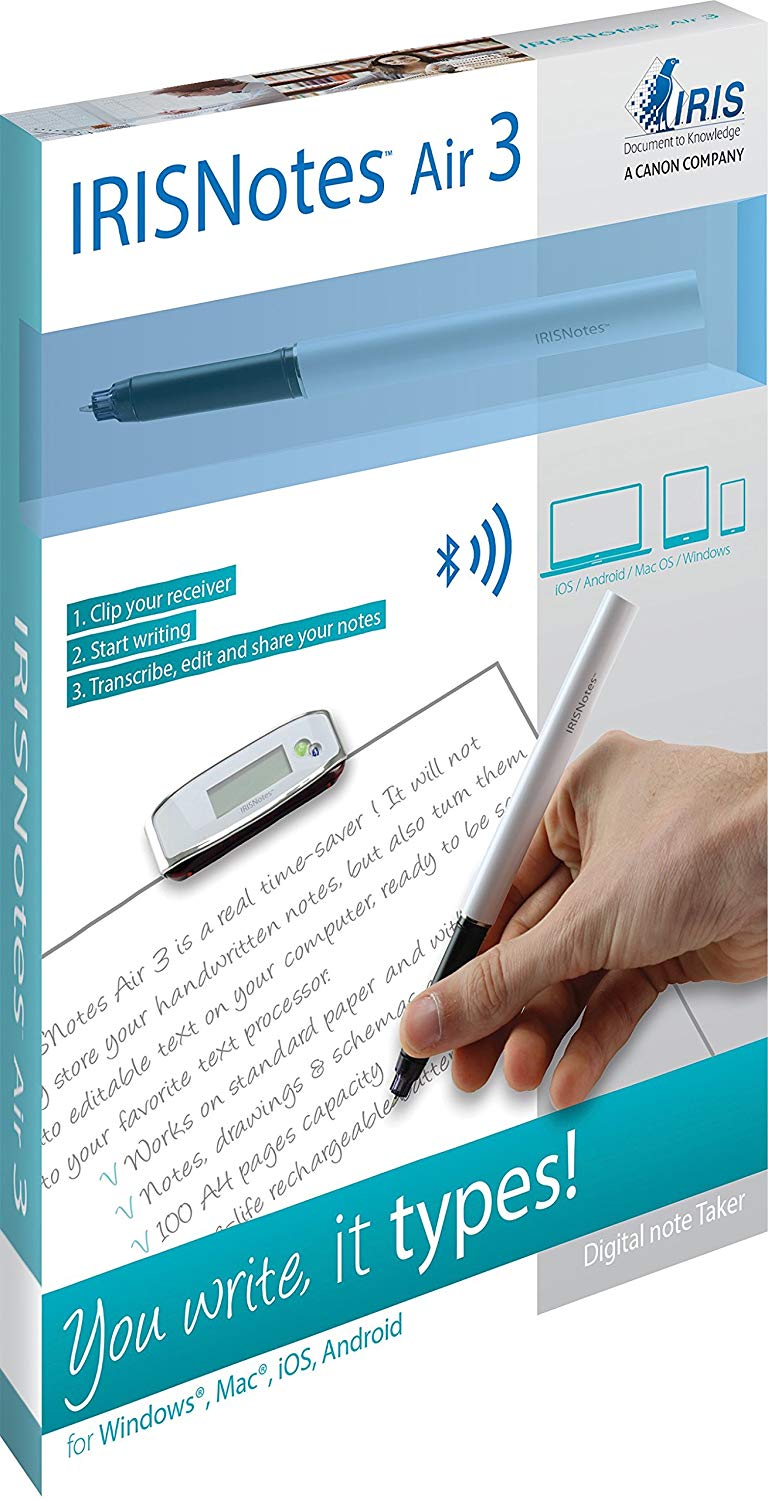 Digital pens and Notebook sets are an investment, so we've chosen the IRIS Notes Air 3 as our best digital pen for value for money. Its principal advantage is that you can use it on any paper, because it uses a transceiver to record your hand-writing strokes.  Transceiver technology gives very accurate transcription of hand-writing.  This feature means huge savings in the long-term, as it completely removes the ongoing expense of buying costly coded paper.
In addition, the IRIS Notes 3 offers a phone app and p.c. software for efficient note-taking and uploading later. However, this is not a suitable digital pen for artists, as it doesn't replicate drawings very well. Apart from that, the IRIS has two minor design oddities, in that the pen comes in two separate pieces, which both need charging. But the package only includes one mini-USB charger. And the pen-cap doesn't fit onto the end of the pen, so could get lost.
Pros
Works with any paper
No ongoing paper costs
Accurate writing transcription
App & software for uploading
Cons
Not accurate for drawings
No place for cap when in use
Both sections of pen need re-charge

The best digital pens are very user-friendly and you can continue writing by hand, with the security of knowing you have a digital back-up for every paper-note you've made. This is a great way to improve your personal efficiency and avoid time wasted searching for paper notes. And in extreme hot or cold climates, where holding a tablet and stylus would be impossible, your handy digital pen can be the perfect tool!