Baby Store
Top 6 Best Baby Bassinets 2023 – The Best Baby Bassinets to Buy
Bassinets, which are also known as cradles, are special beds that are made specifically for newborn babies to sleep safely and comfortably from birth to when they are approximately 3 to 5 months old. Newborn babies sleep a lot. In fact, infants spend the first few months of their lives sleeping an average of 16 hours every day. That means that your newborn baby will spend almost twice as much sleeping than they will spend awake on a daily basis. Even though newborns need to sleep so much, it can still be a stressful struggle for new parents to get their infant to sleep at nap-time, through the night, etc. A bassinet helps keep your baby close by and provides them with a comforting and comfortable sleeping environment that encourages them to sleep peacefully for longer.
Because newborn babies sleep so much and are so dependent on their parents or caretakers to fulfill all of their basic needs, it makes sense for your little one to sleep very nearby for the first few months after they are born. A bassinet provides a safe, comfortable sleeping environment for your newborn in your proximity. Bassinets are small and lightweight and are easy to move around. Many new parents choose to place their newborn's bassinet right next to their bed so that they can more quickly, easily, and conveniently tend to their infant's needs throughout the night.
These six top-quality bassinets offer comfortable support for your newborn to help your little one get the rest they require during the first few months of their lives. They also offer new parents much-needed peace of mind knowing their precious newborn will be able to sleep safely. These bassinets represent the best options on the market in terms of safety, comfort, durability, and portability.
1. Halo Swivel Sleeper Bassinet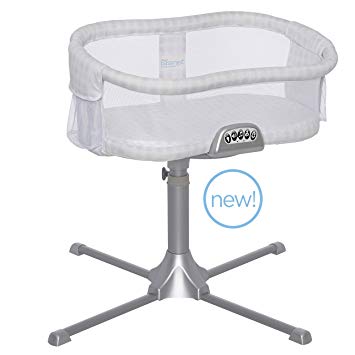 This bassinet from Halo will keep your newborn safe, comfortable, calm, and sleeping peacefully. It features 360-degree rotation that makes nighttime feedings and checking on your baby throughout the night easier and more convenient. Its height is adjustable from 24″ to 34″ to fit the height of most standard beds so you can keep the bassinet and your baby right beside your bed at night. The construction of the bassinet's 4-point base is very sturdy to keep your baby safe and secure all night long. The bassinet also comes with a  waterproof, non-toxic mattress and a soft, 100% polyester fitted sheet that fits over the mattress.
A special Soothing Center within this bassinet offers calming entertainment that will help keep your baby calm and happy while they're in their bassinet and encourage them to fall asleep and stay asleep peacefully. The Soothing Center includes three soothing sounds, three lullabies, calming vibration, and a nightlight. Plus, it has a built-in 30-minute auto shutoff feature that prevents the noise and light form disrupting your baby's quality of sleep once they fall back asleep. As an added bonus, the bassinet comes with two large outside pockets. You can use these pockets to store your baby's essentials and keep them within reach throughout the night.

2. BabyBjörn Cradle Bassinet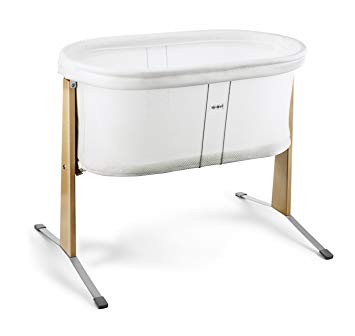 This simple, convenient bassinet from BabyBjörn is ultra-lightweight and portable. You can move it around the house to keep your baby by your side no matter where you are. Keep the bassinet by your bedside at nighttime. In the morning, move it into the living room or wherever you'll be throughout the day. You can carry it easily from room to room in your home without taking it apart.
The mesh sides of this bassinet are low to allow you to easily check on your baby while they sleep. The airy mesh material with no loose parts eliminates choking hazards and keeps your baby safe and secure while they sleep. The airy mesh material provides plenty of ventilation and circulation that allows your baby to breathe freely. The mattress cover in the bassinet is waterproof, removable, and machine-washable for easy cleaning. This bassinet is designed for use by newborns from birth up to 6 months. It can safely support newborns as long as they weigh less than 18 pounds and are unable to sit up or stand up by themselves.

3. Chicco LullaGo Portable Bassinet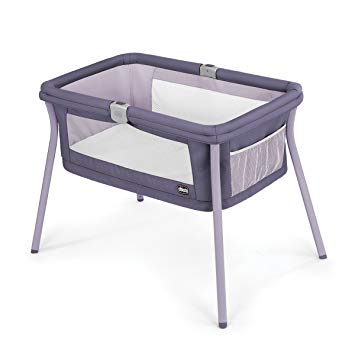 If you're searching for a sleek and stylish bassinet for your new baby, this portable bassinet from Chicco might be the perfect option for you and your new little one. This bassinet features mesh sides that are breathable. They also allow you to keep an eye on your newborn in the bassinet at all times. It comes with a mattress that zips up into a machine-washable pad for quick and convenient clean-up. A large mesh storage pocket on the outside of the bassinet is perfect for keeping your baby's essentials within reach at all times.
This bassinet prioritizes portability. Its snap-on metal legs make it easy to take apart this bassinet, travel with it, and put it back together in minutes once you reach your destination. The cradle part of the bassinet itself folds flat. The cradle and legs fit neatly together into the bassinet's included carry bag for easy and convenient storage and portability.

4. Graco Dream Suite Bassinet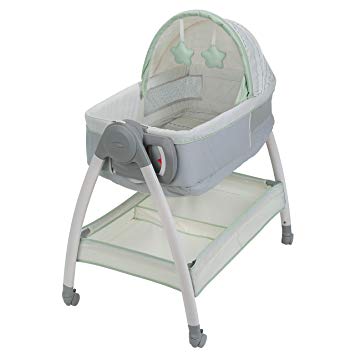 This bassinet from Graco fills the roles of two nursery furniture essentials with just one item. It is a dual bassinet and changer with an innovative, space-saving design.
The reversible bassinet features two different vibration speeds to soothe your baby to sleep and help them stay asleep peacefully throughout the night. Its mesh sides are well-ventilated and let you keep an eye on your baby at all times while they're sleeping or resting in the bassinet. The bassinet also includes a canopy to block light from your little one's eyes. The canopy features multiple soft toys for soothing entertainment that present no choking hazard.
The changer includes fabric that you can easily wipe clean for easy clean-up and sanitization. Plus, the changer extends the longevity of this bassinet. It can safely support older babies up to 30 pounds. You can use the changer in your baby's nursery after your newborn gets too old to sleep in the bassinet. As an added bonus, this bassinet/changer includes a built-in large storage basket. This basket can easily hold all of your baby's essentials for naps, nighttime, and changing.

5. Fisher-Price Soothing Motions Bassinet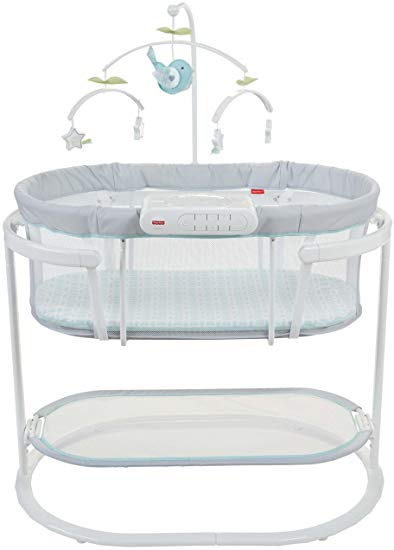 This Fisher-Price bassinet keeps your baby calm and entertained throughout the night with light, music, vibrations, toys, etc. It is perfect for fussy newborns that make nap-time and nighttime a struggle.
The swaying motion of this bassinet can be activated by the parent gently pushing the bassinet from the outside or by the baby's movement from the inside. You can also easily lock the bassinet to prevent it from swaying at any time. This bassinet includes dual-mode lighting: a soothing projection and a night light. It also comes with 30 minutes of vibrations and gentle music to calm and soothe your baby. This bassinet even features an overhead mobile that includes plenty of soft toys to soothe and entertain your little one.

6. Summer Infant Brentwood Bassinet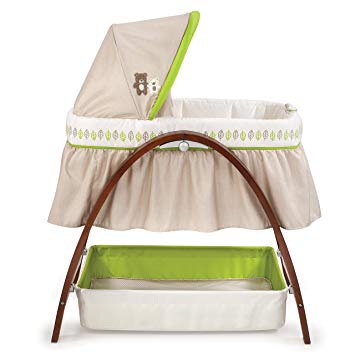 This Summer Infant bassinet makes an ultra-stylish addition to any nursery. Its design shows attention to detail complete with an embroidered canopy and a smooth dark wood finish.
The bassinet comes with 4 built-in soothing melodies to help your baby fall asleep and stay asleep. It also sways silently at multiple speeds. Plus, this bassinet features a large storage basket that offers plenty of room for storing all of your newborn's essentials.