Baby Store
7 Best Baby Walking Toys 2023 – Walking Baby Push & Pull Toys Reviews
The best way to choose the top reviewed baby walking toys is to talk to thousands of parents and find out what worked for their kids! So while you may have chatted with a few local parents, we have access to the opinions of thousands of satisfied baby walking toys' shoppers!
The top reviewed baby walking toys help your child become stronger, more confident and able to reach those vital milestones in good time. And it just takes five minutes to sip a cup of coffee and read this season's top picks!
1. VTech Sit-to-Stand Learning Walker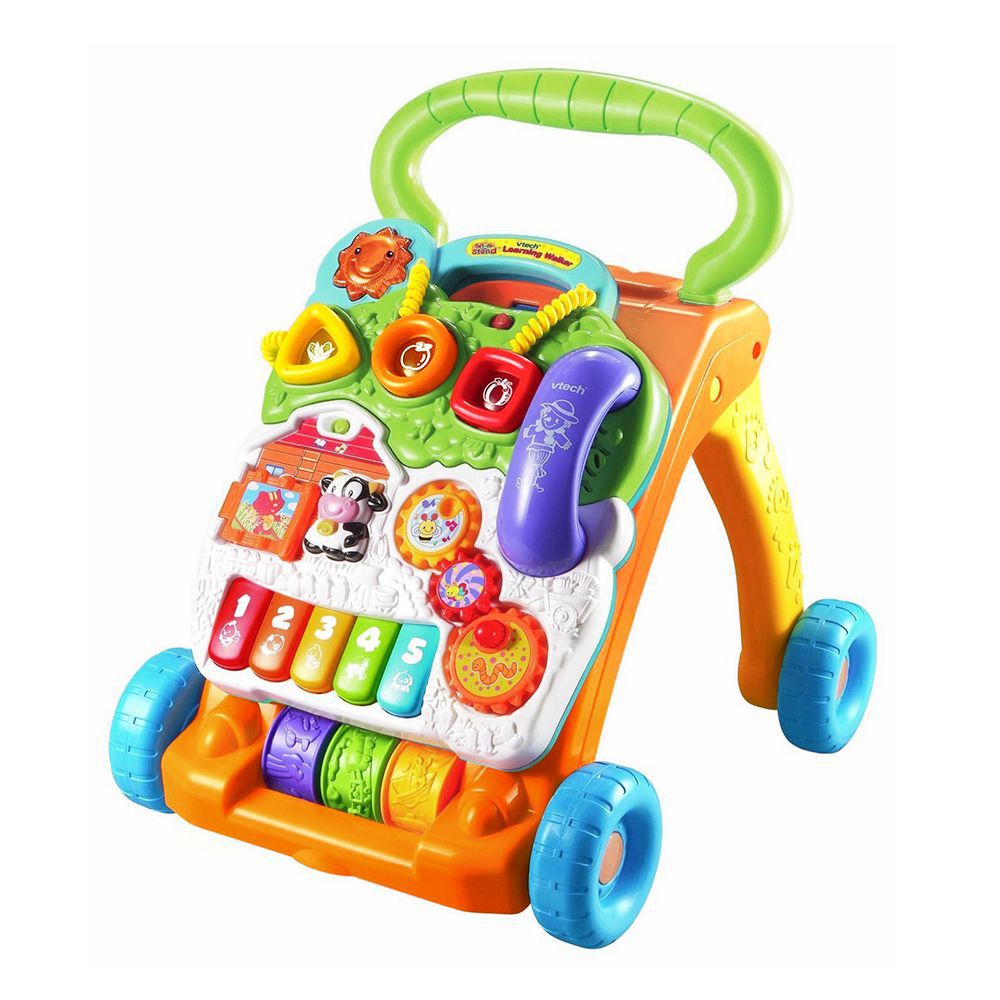 This is excellent buy as it combines an activity center with a super baby walking toy! Kids love the variety of activities on offer here. And that includes shape-sorters, numbers, buttons that light-up, piano keys and popular songs.
The easy-grip handle and stable four-wheels make it a great way for your child to learn to balance and walk with confidence. And they'll never get bored with this lively activity center! The VTech company provides excellent baby equipment and toys, so you can rely on the quality.

2. Bright Starts Giggling Gourmet Shop 'n Cook Walker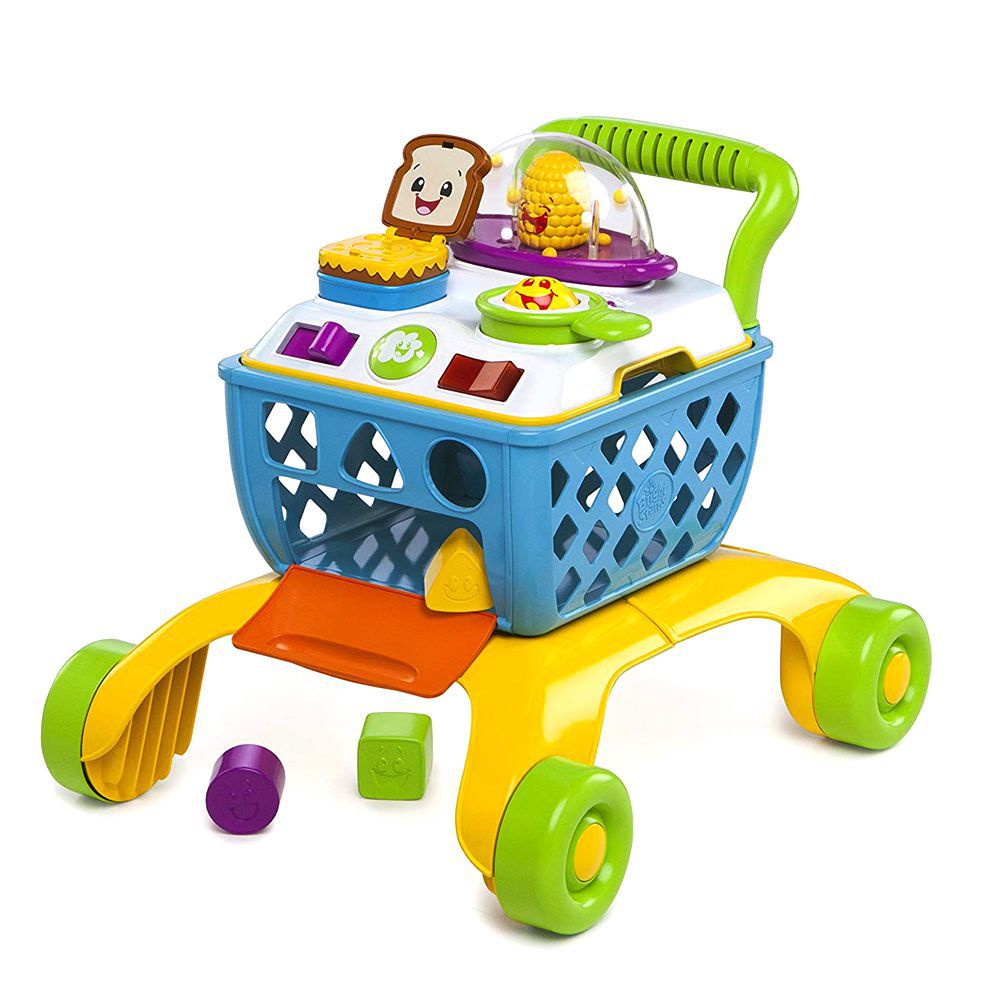 This very appealing toy will keep your child happy for hours. It features foods and cooking sounds, like the sound of popcorn 'popping' when your kiddie pushes the trolley! It's a toy that will stay popular for years, as it can also be a non-moving, sit or stand play center.
This child's activity/walking toy has a very steady base. And the shopping basket on wheels is instantly attractive to babies who love to copy their moms and dads grocery shopping!

3. Melissa & Doug Deluxe Chomp and Clack Alligator Wooden Push Toy and Activity Walker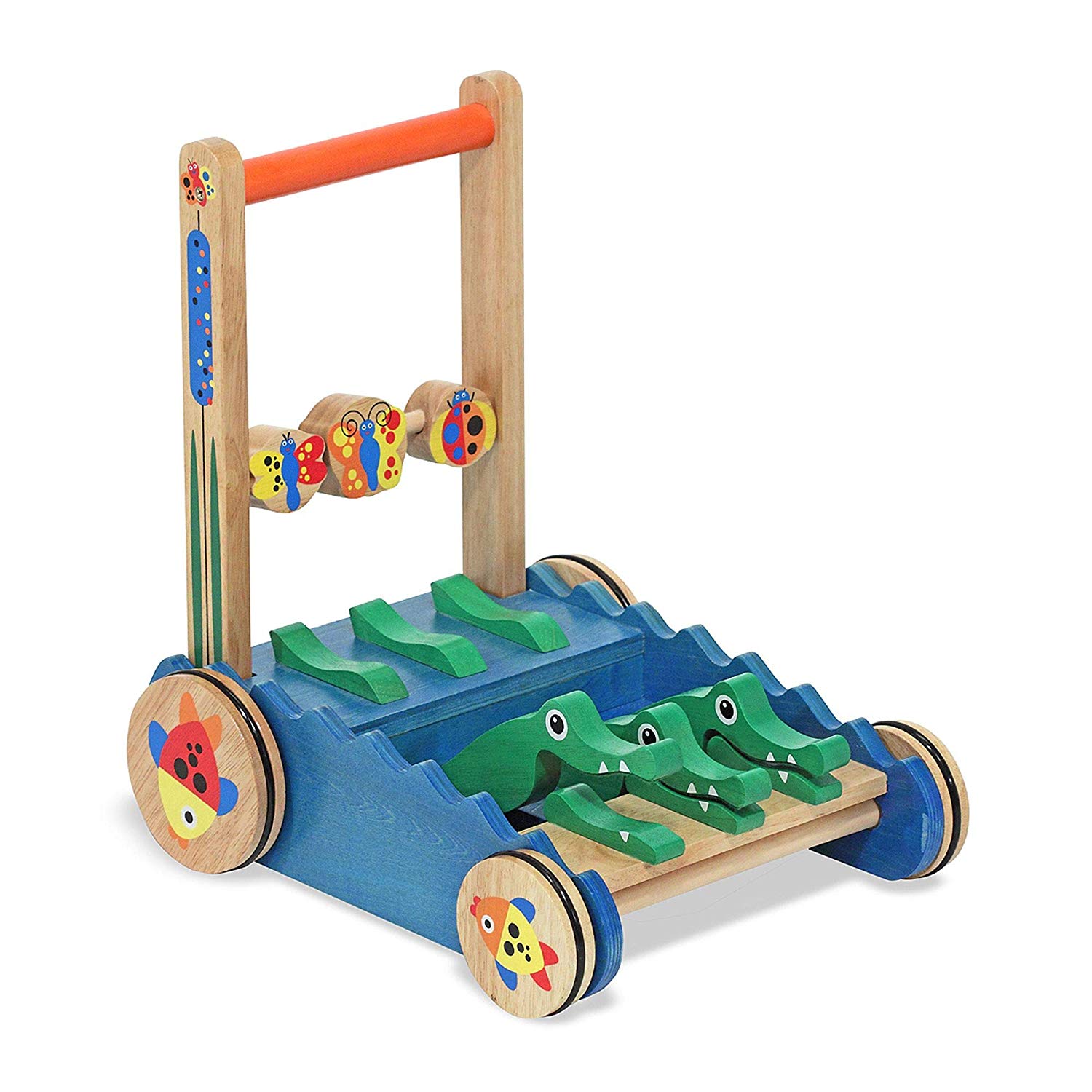 Recommended by NBC as the 'gold-standard' brand for kid's creative toys, Mellissa & Doug's snappy alligators keep children happy for hours! This toy is a popular gift for children aged 12 months or so and helps encourage them to walk safely.
The aligator mouths open and close, with a soft, clacking sound depending on the speed. And this very well-crafted toy, could well be passed down to other children for its utility and attractive look!

4. Melissa & Doug Toy Shopping Cart with Sturdy Metal Frame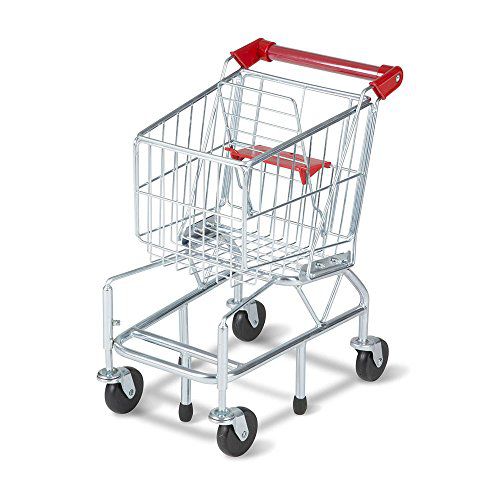 The Melissa & Doug brand is No. 1 U.S. Parent Recommended Toy Brand for Creativity & Learning. This baby walking toy's an exact replica of an adult cart and that means children feel important and confident using it.
It's safe and solid, giving excellent support to young walkers and encourages children to use it imaginatively in their play. Plus like all push-toys, kiddies love to load it up with their soft toys and take them for a nice stroll!

5. Safety 1st Dino Sounds 'n Lights Discovery Baby Walker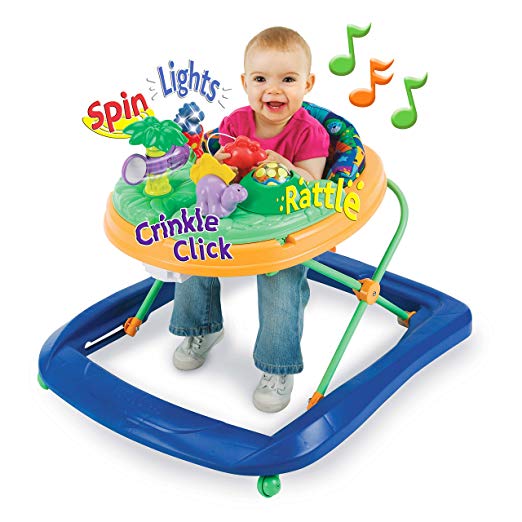 This versatile walker offers plenty of extra features to keep your small child happy and secure. There are 5 dinosaur toys and the top slides to one side revealing a handy spot to serve a snack. The padded seat is machine washable to keep it fresh and hygienic.
This toy grows with your child by offering 3 different height settings. And it folds down easily for easy home storage, so you can also throw it in the trunk when travelling.

6. Cossy Wooden Baby Learning Walker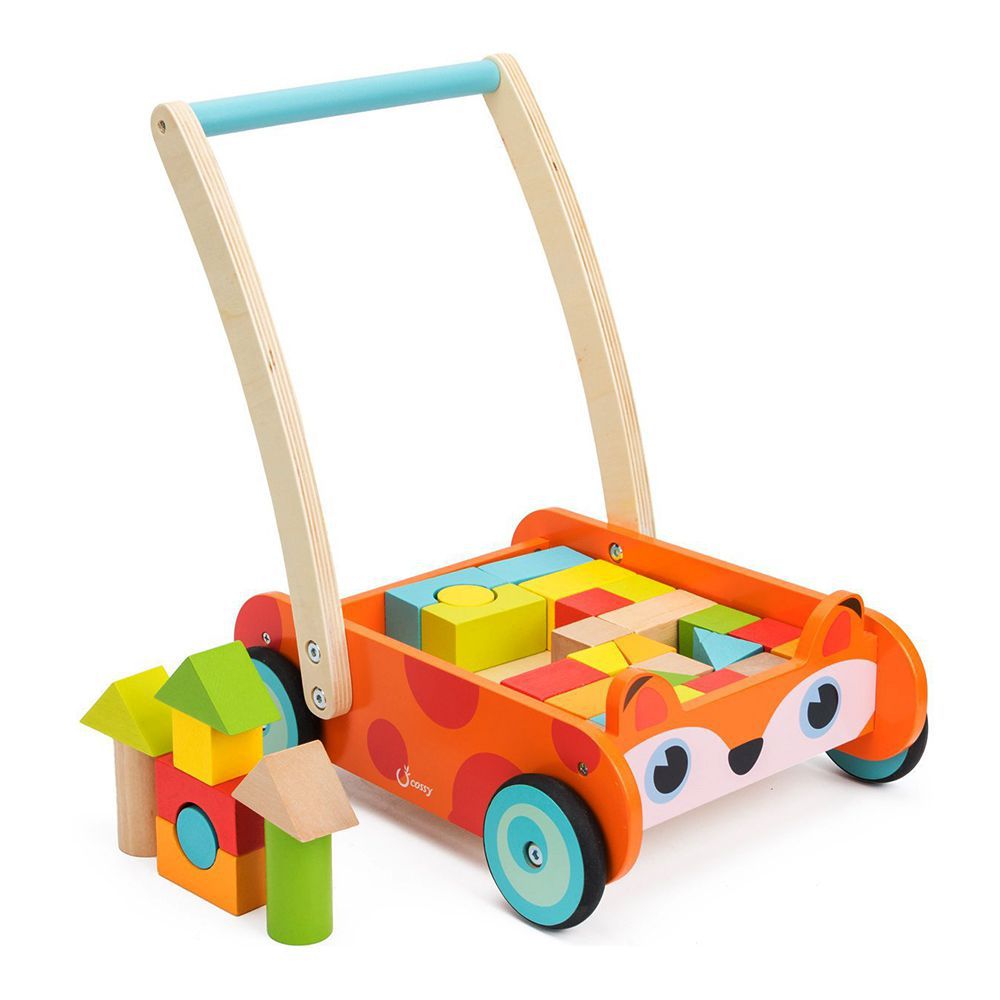 This cute wooden fox tray on wheels is perfect for babies just learning to walk. It's aesthetically pleasing to have in your home. And has soft, rubber wheels that are kind to all floor types. Children love to wheel their soft toys around in this simple toy.
It also encourages your child to build little houses from the brightly colored wood-blocks. The sweet face on the front seems to attract babies right away!

7. VTech Sit, Stand and Ride Baby Walker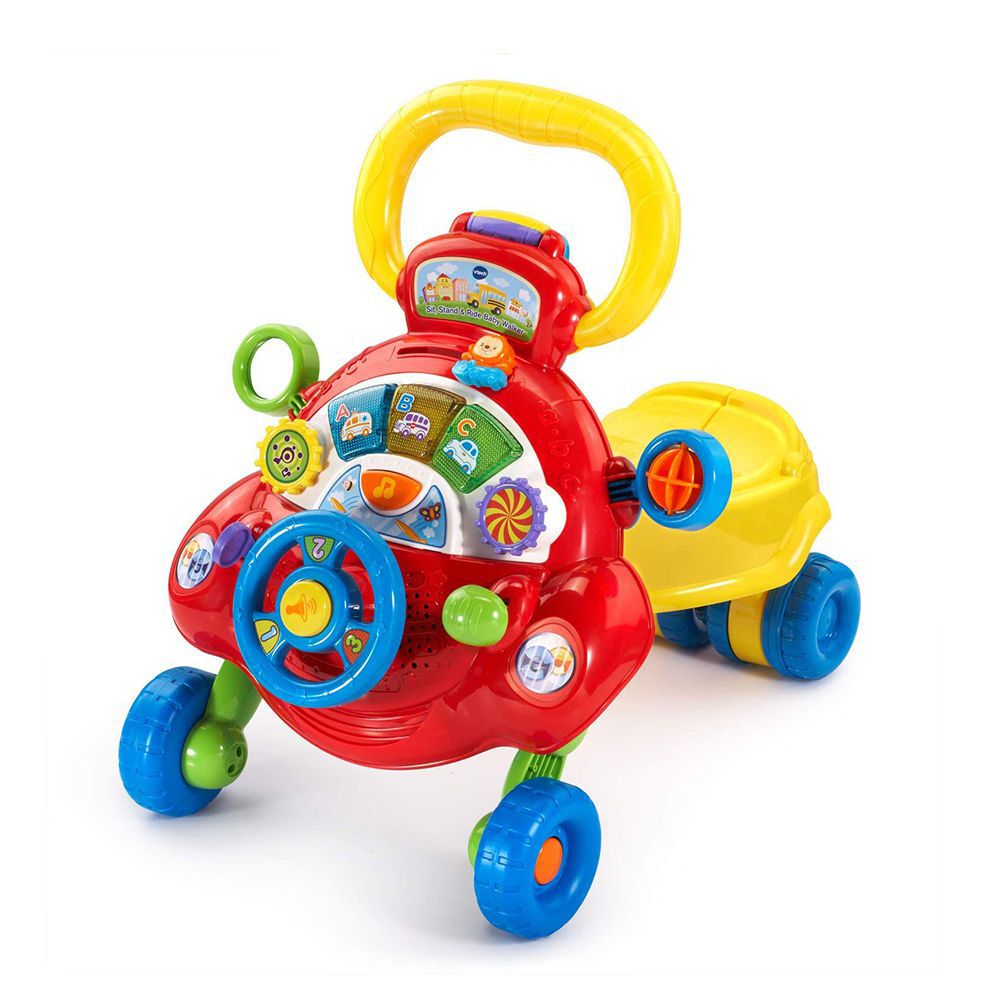 What child wouldn't want to play on this toy airplane? It helps tiny pilots get used to using their legs and feet, as they learn to walk. And for tired tots, it's an exciting ride-on cart, too.
With a steering wheel and dashboard feature, you kiddie will love copying your driving style! And there are 60 tunes to play in this fun, baby walking toy, keeping babies and toddlers happy for hours!

As you can see, there are plenty of different baby walking toys to suit different age-groups, personalities and travel requirements. So we hope you'll now find it easier to buy the best baby walking toys for your new family members!