Baby Store
6 Best Baby Bouncers 2023 – Best Sellers: Infant Bouncers & Rockers
A baby bouncer is an essential in your home when your child is very young. A high-quality baby bouncer provides soothing entertainment that can help your baby stop crying when they're upset, keep them entertained when they're bored or cranky, and help them fall asleep when they're restless.
The right baby bouncer is a new parent's best friend. It keeps your baby safe, sound, and content, giving you peace of mind and the chance to get some chores done around the house or even the rare opportunity to relax yourself. These six baby bouncers are some of the best options on the market. They offer top-quality safety, comfort, and entertainment for your baby whether they're sleeping, eating, playing, or just relaxing.
1. Graco Duet Soothe Swing Rocker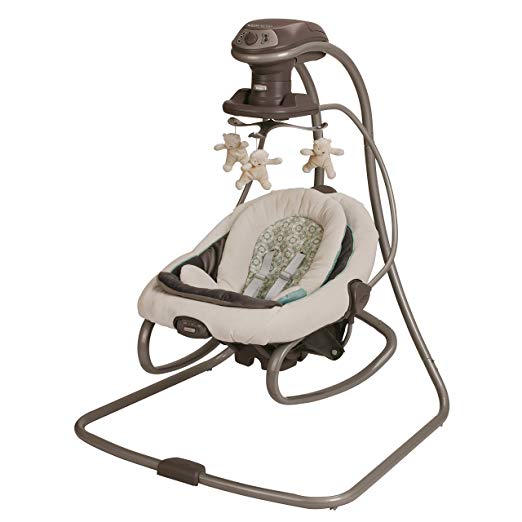 This two-in-one bouncer serves as both a rocker and a swing seat for your baby. You can easily detach the plastic swing seat from the metal frame of the bouncer to create a portable rocker seat that you can take with you wherever you and your baby go. The swing seat comes with a handle for easier, safer portability when you and your baby are on the go. The swing is designed for very young infants with a weight range of 5.5 to 18 pounds, while the rocker has a slightly higher maximum weight limit of 30 pounds.
Also, the three different seating positions this multi-directional baby bouncer offers allows your child to either swing front to back or side to side depending on their age and preference. This versatile rocker and swing seat features six different swing speeds that you can adjust depending on whether your baby is sleeping, relaxing, or playing. It also comes with two different vibration speed settings to ensure maximum relaxation for your baby. To top it all off, this baby bouncer includes fifteen different sounds: ten fun, entertaining melodies and five relaxing, soothing nature sounds.

2. Bright Starts Playful Pinwheels Bouncer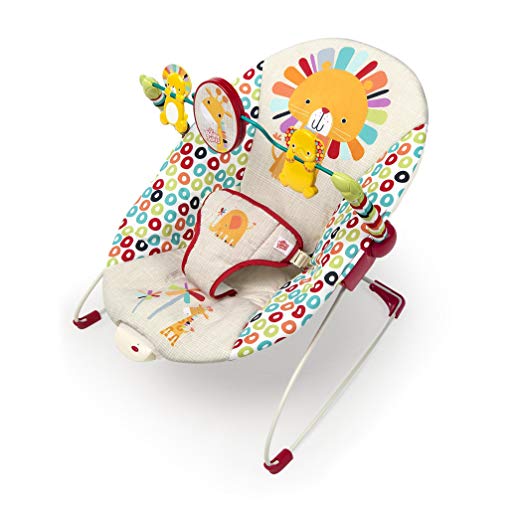 Providing maximum comfort and security along with hours of entertainment options, this baby bouncer from Bright Starts offers the best of all worlds for your little one. Its extra-deep seat is ultra-cozy, comfortable, and secure. It offers safety and security for your baby to keep them calm and help you maintain your peace of mind.
This battery-operated bouncer vibrates to help soothe your baby, keep them calm and relaxed, and even help them fall and stay asleep. Along with soothing vibrations that prevent fussing, the bouncer also includes a removable toy bar. This toy bar features a variety of built-in toys that your child can spin and interact with to keep them entertained and engaged while they're sitting in the seat of the bouncer.
Clean-up is easy with this bouncer. You can detach and wipe down its built-in removable toy bar when necessary. Plus, its material is machine-washable to take care of any stains or messes that may occur. As an added bonus, this baby bouncer is ultra-stylish with its bright, fun, animal-themed design that is both colorful and effortlessly gender-neutral.

3. Fisher-Price Infant-to-Toddler Rocker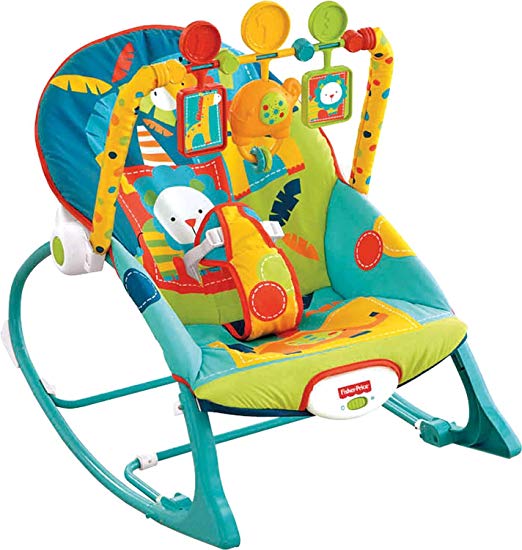 Designed to support your baby as they grow from an infant into a toddler, this rocker from Fisher-Price is ultra-versatile. It features a built-in fold-out kick stand that holds the rocking seat in a stationary position for when your baby is eating. When the kickstand is not engaged, this baby rocker gently sways back and forth for playing and soothing. Its seat also reclines to two different positions to help your baby relax when it's time to take a nap. A defining characteristic of this baby bouncer that sets it apart from other similar bouncers on the market is its high weight limit of up to 40 pounds. Your child can safely enjoy this bouncer through their infancy, babyhood, and their years as a toddler.
The bright, colorful circus-themed design of this rocker screams fun. For added engagement and entertainment for your child, an attached toy bar with bat-at toys hangs above the seat of this rocker for your child to interact with to prevent boredom and fussiness. Plus, its lightweight frame and machine-washable material makes this rocker easy to transport and clean to ensure much-needed added convenience and reduced stress for busy parents.

4.  4moms mamaRoo Infant Seat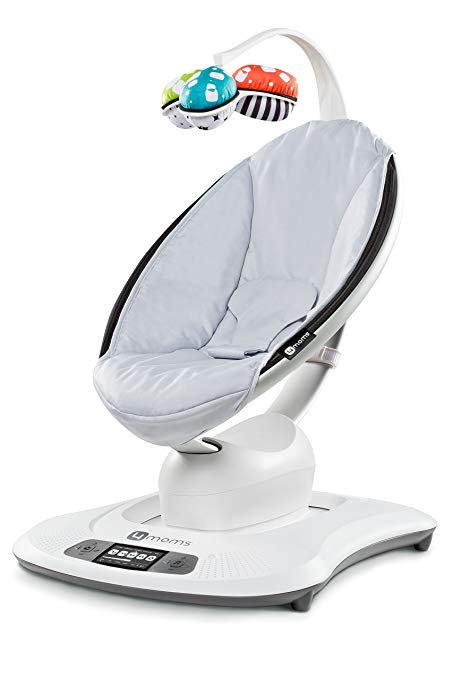 This infant seat from mamaRoo is by far one of the most high-tech, modern baby bouncers available on the current market. It is designed exclusively for infants and is recommended for babies who cannot yet sit up. Its maximum weight limit is 25 pounds. Its deep, round seat is ultra-cozy and secure to help soothe your baby and keep them safe whether they're sleeping, playing, or relaxing. The seat also reclines for added soothing and relaxation, especially if your infant is napping.
The five motion settings that this infant bouncer features entertain and engage your baby. Your baby can enjoy the feeling of a car ride, a kangaroo-like bounce, a swing, a waving side-to-side motion, and a gentle rock–all from the comfort of your own home. For more entertainment and engagement opportunities, this bouncer features 4 built-in soothing sounds along with an overhead mobile of reversible toys.
It is even Bluetooth-compatible. You can connect your Smartphone or other mobile device to the bouncer via Bluetooth connection. Then, you can play music from your mobile device through the seat itself for your baby (and/or you) to enjoy. Both the sound and the motion of this bouncer is controllable via Bluetooth. To start soothing and entertaining your baby with this rocker, just plug it into the nearest wall outlet–no batteries are necessary.

5. BabyBjörn Bouncer Balance Soft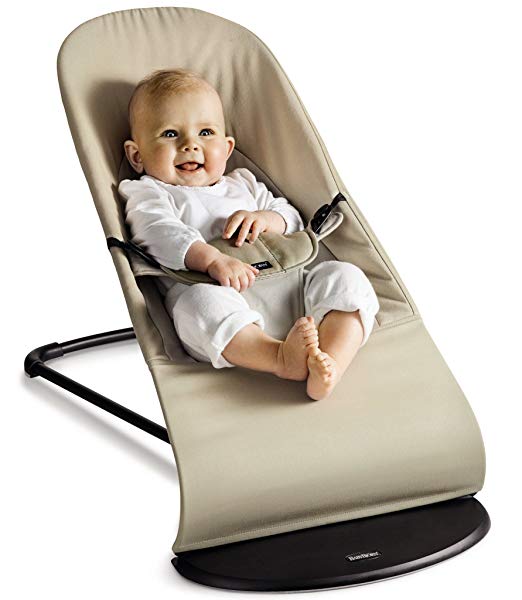 This baby bouncer from BabyBjörn offers ultimate comfort for your baby. It features an ergonomic design that evenly distributes your baby's weight. This design provides comfortable support for their neck, head, and back. It naturally and effortlessly soothes your baby and keeps them safe and secure. This versatile bouncer is designed for infants, babies, and toddlers from birth up until your little one turns 2. Its minimum weight limit is just 7.8 pounds, which is much lower than that of many other baby bouncers on the market. As an added bonus, the simple and sleek design of this unobtrusive bouncer blends seamlessly into the decor of any home. It looks more like a piece of stylish modern furniture than a baby toy.
You can adjust this ultra-versatile baby bouncer into four different positions that range from laying flat to sitting up. These different positions make this bouncer ideal for any activity from playing to eating to sleeping and everything in between. In any position, the seat of this bouncer is rockable. As they grow, your baby can learn how to control the rocking movement themselves, which in turn helps them develop essential balance and fine motor skills.

6. Fisher-Price Sweet Snugapuppy Deluxe Bouncer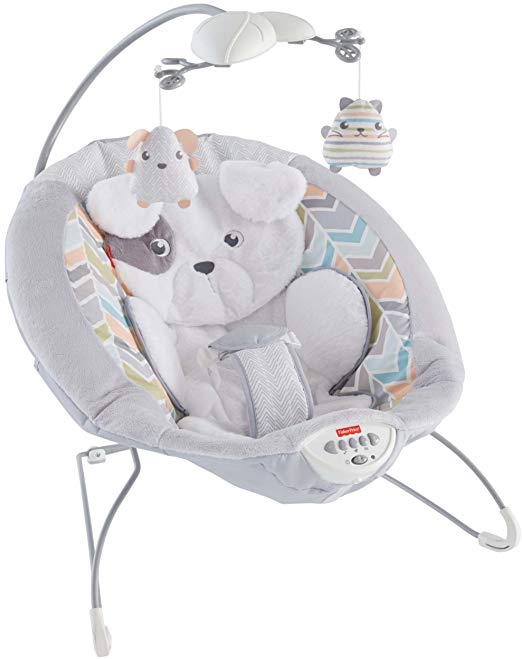 This adorable puppy-themed baby bouncer from Fisher-Price is ideal for new babies while they are infants. Its material is ultra-soft and cozy, and its seat is extra deep for added comfort and security. It also features a built-in head rest for support. Plus, it includes a removable newborn insert that provides extra cushioning, support, and security for very young infants.
This bouncer comes with a detachable overhead toy mobile. This mobile features a toy puppy and a toy kitty that soothe, entertain, and engage your baby. The seat of the bouncer also vibrates and plays soothing music and other sounds to promote sleep and relaxation. The lightweight design of this bouncer's frame makes portability easy for when you're on the go with your baby.