Baby Store
Top 5 Best Baby Bottle Sterilizers 2023 – Bottle Sterilizers & dryer Reviews
We've reviewed steam, microwave and UV sterilizing systems, to find the best baby bottle sterilizers for your needs. Small sterilizers are handy where kitchen surface space is limited. But we've also included two large sterilizers that can take up to 11 baby bottles at a time.
One of our favorite sterilizers is a multi-tasking device that also heats up milk and can swiftly de-frost and heat up baby food. So whether you're looking for a baby shower gift or are a mom-to-be, this guide to the best baby bottle sterilizers will show you the full range!
1. Best sterilizer & dryer
Papablic Baby Bottle Sterilizer & Dryer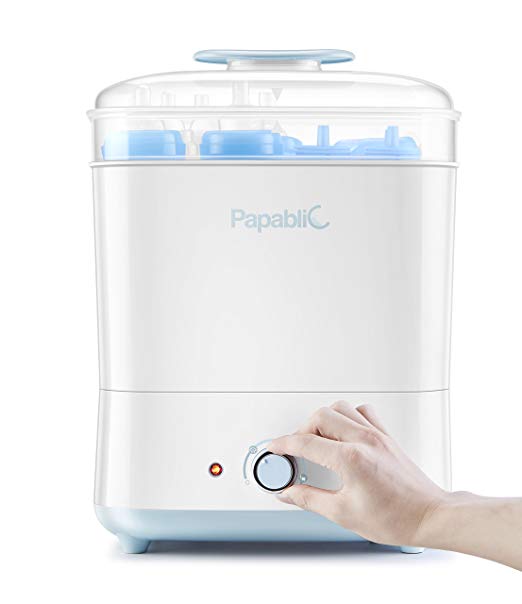 Drying your baby equipment with a towel is a common way bacteria is transmitted to freshly sterilized feeding equipment. So it makes sense to use a bottle sterilizer that steams, deoderizes and dries everything in one go.
A clean and dry cycle in the Papablic machine takes just 8 minutes. And that's pretty impressive when you know this professional machine processes as many as 11 bottles in one cycle. This is a great help for parents with twins or multiple births!

2. Best budget sterilizer
Munchkin Steam Guard Microwave Sterilizer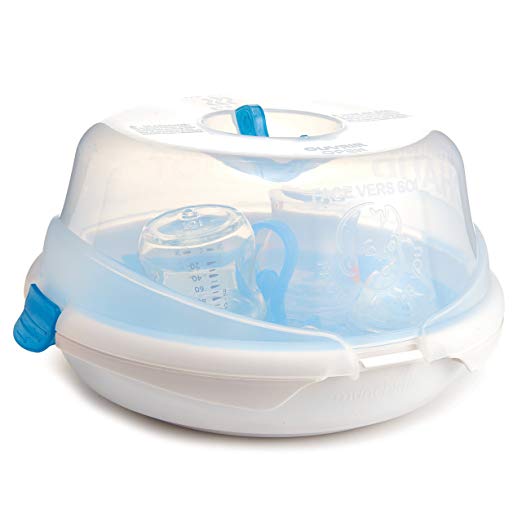 This is a very handy microwave sterilizer that only takes a couple of minutes to sterilize your baby bottles and equipment. Even though it's fairly small on your work surface, it can actually take two breast-pump shields, as well as 4 bottles.
There's a secure, lock-tab to keep the seal intact as it does its job inside your microwave cooker. It's easy to use and a reliable sterilizer. Like all the best baby bottle sterilizers, the Munchkin kills up to 99.9% of household germs.

3. Best UV sterilizer
Wabi Baby UV Sterilizer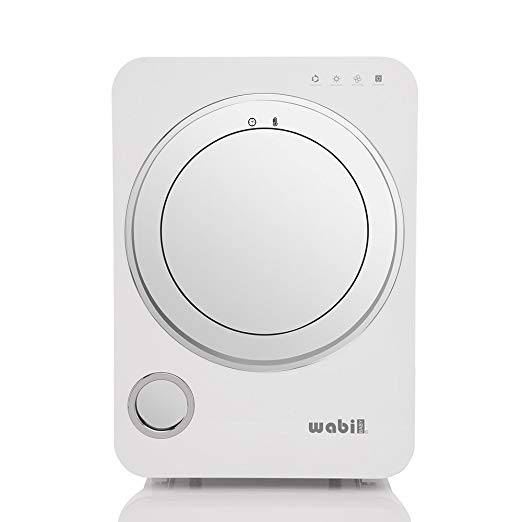 This top-of-the-range baby bottle sterilizer uses the latest, UV system of sterilization. It offers a larger capacity than some other similar products, but the cleaning cycles are longer. For example, it can take from 30 to 70 minutes to make bottles, rubber teats and pacifiers sterile.
However, when you take your baby equipment out of the machine, it's all dry and ready to use. It kills 99.9% of common household bacteria. And is very popular with parents lucky enough to have this up-to-the-minute sterilizer.

4. Best for multi-functions
Bable Multi-purpose Bottle Sterilizer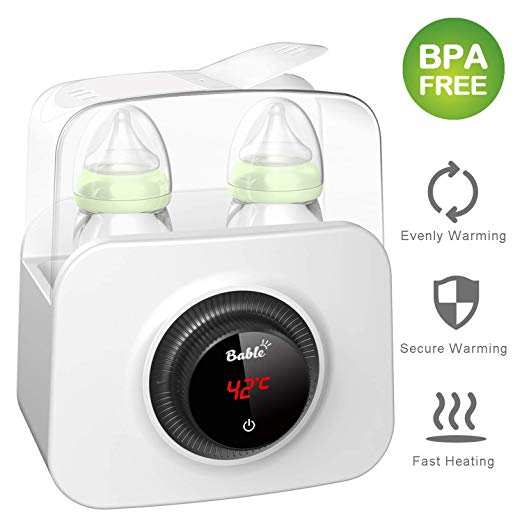 New parents love this do-it-all machine that really helps with all aspects of baby food preparation! Along with being a compact sterilizer, it heats milk. And it can do a fast de-frost and heat-up on frozen baby food.
Warming milk in the middle of the night takes roughly 7 minutes, with this efficient machine. And it keeps milk at the temperature you choose, too. Parents find this so helpful in getting a feed prepared in advance for a hungry infant!

5. Best all-round sterilizer
Philips AVENT 3-in-1 Electric Steam Sterilizer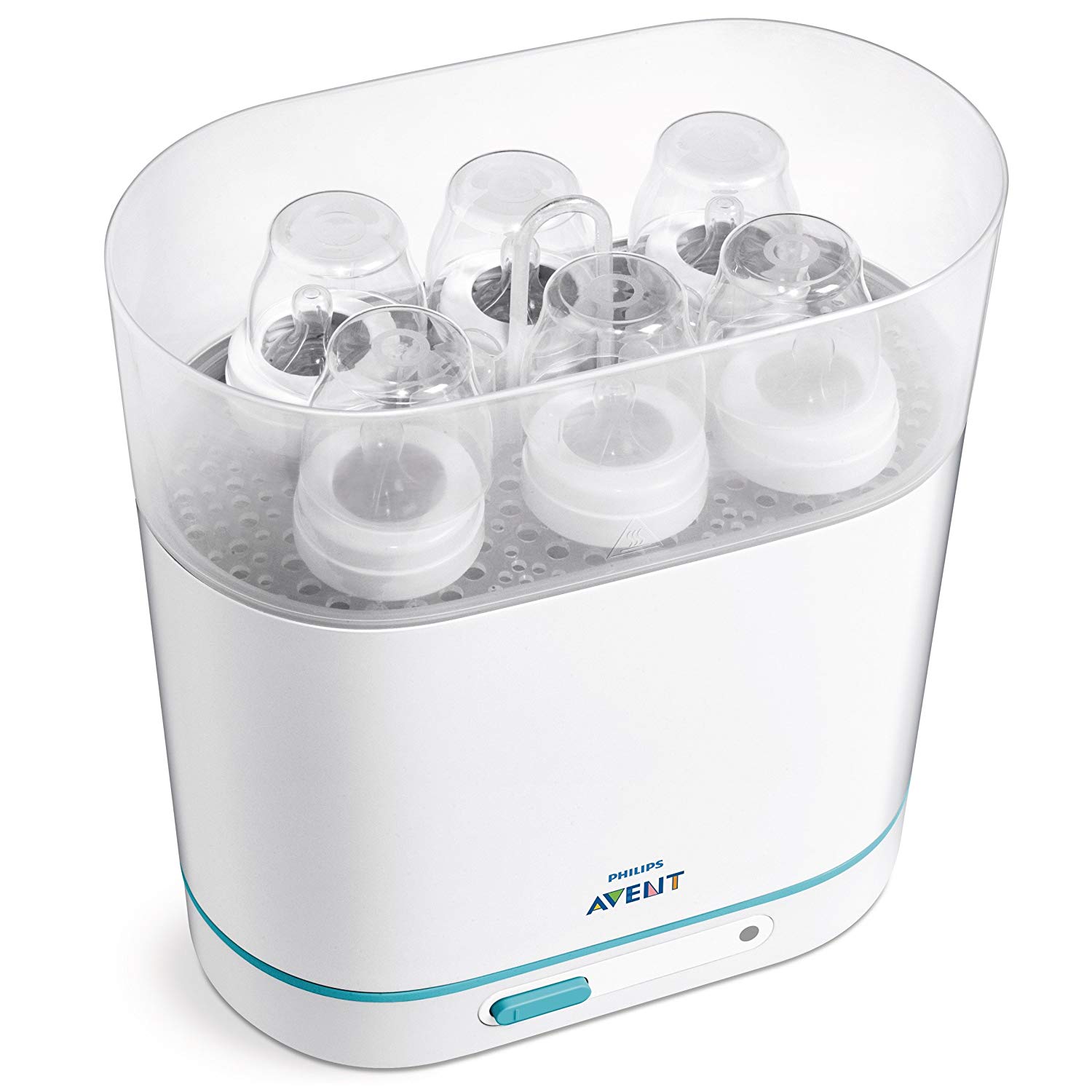 Philips is a trustworthy, global brand with a great reputation for reliable electronics. And the Avent steam sterilizer is an excellent choice to keep your baby's bottle and other food utensils safe and sterile.
It works fast, too, with a rapid 6-minute sterilizing cycle that cleans without chemicals. And sterilized equipment can be kept that way for as long as 24-hours. Plus moms like the fact that it doesn't take up much space on your crowded kitchen surfaces!

All of these sterilizers eliminate 99.9% of common household bacteria, so you can easily find one that suits your budget and does an excellent job!