Home & Garden
5 Best Air Mattresses for Most People 2023 – Best Rated Air Mattress Reviews
An air mattress is a handy thing to have around. Whether you're an avid outdoorsman–or woman–and spend your weekends camping or a host and find yourself with overnight guests without a proper guest room to put them in, an air mattress could be your solution.
A high-quality air mattress can make unconventional sleeping situations much more pleasant. In fact, a really great air mattress can even help you lock down some top-quality sleep without discomfort or next-day soreness when you're away from your own bed. These air mattresses are great-quality, durable, long-lasting, and easy to store.
What is the best air bed for long term use? Here is the answer!
1. SoundAsleep Dream Series Air Mattress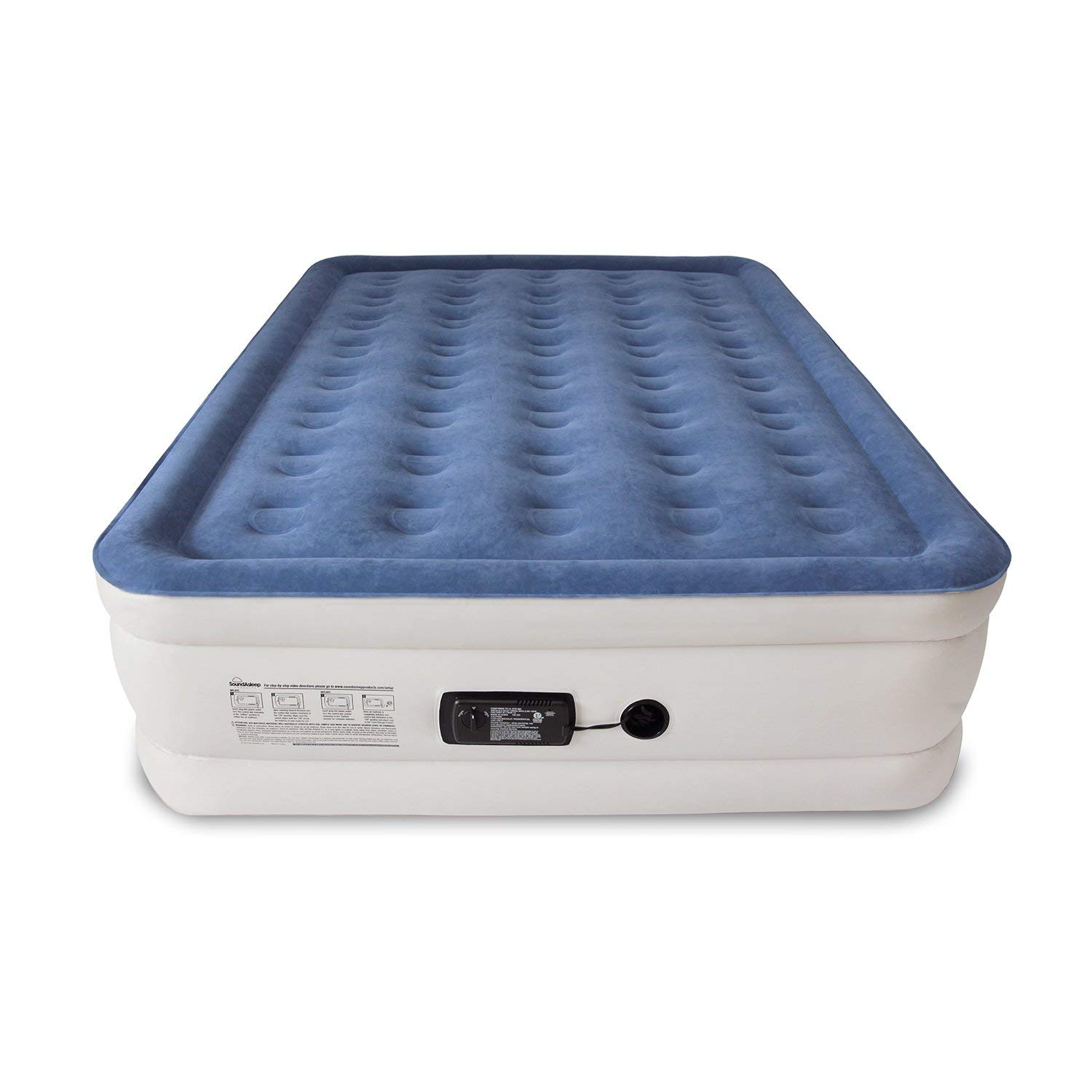 Ideal for a guest room or a brand-new unfurnished apartment, this versatile indoor air bed adapts to any situation to give you (or your guests) a great night's sleep no matter where you are. 40 individual air coils line the inside of this air mattress for comfort and support. The top of this mattress is extra thick for extra comfort. Plus, it's waterproof and made from multiple layers of puncture-resistant material for added durability. A no-slip bottom prevents this air bed from sliding around if you move in the night, no matter what surface you place it on.
Make your guest room look luxurious with this air bed. Its integrated cord storage makes it look more like a "real bed" and prevents frustrating cord tangles and hang-ups while not in use. One click of the built-in, whisper-quiet EZ pump inflates or deflates this air mattress in less than four minutes for easy set-up and storage.
Pros:
Made with thick, durable, waterproof material
Includes 40 individual air coils for firm, solid comfort and support
Features a built-in pump and cord integration
Cons:
Requires a wall outlet to power its internal motor, so is not equipped for outdoor use

2. King Koil Luxury Raised Airbed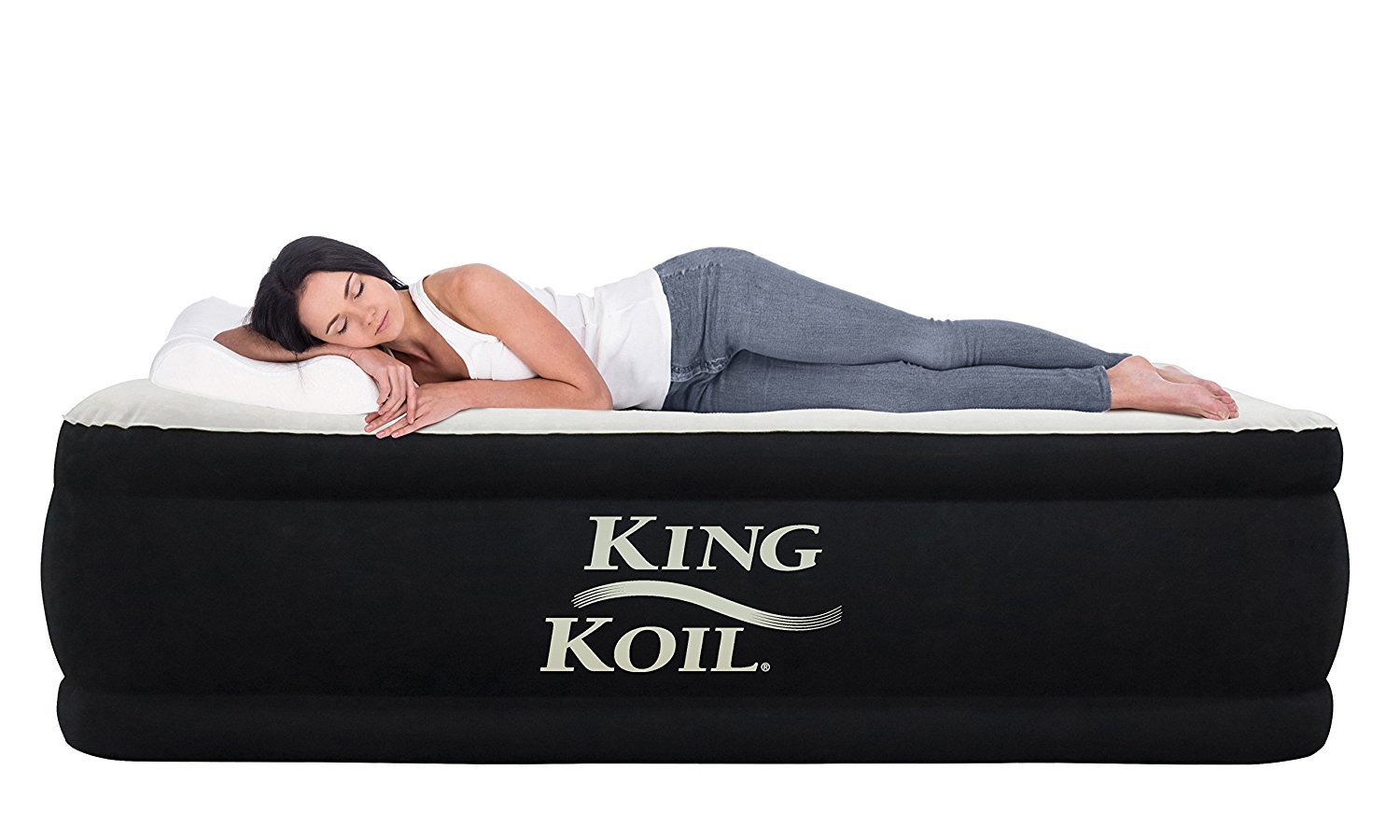 Designed for indoor and outdoor use, this air mattress can be by the trusty bedtime companion by your side from a campground to your mother-in-law's living room floor. It  inflates fully within five minutes, so it can effortlessly transform from flat in storage to ready to be slept on in just a few minutes. If you need an extra boost of air during the night, just turn the pump on with the click of a button for a firmer, more supportive sleeping experience.
This air mattress is raised up to offer comfort and a more natural feel. Its sueded top is soft, comfortable, and holds standard bedding in place to mimic the experience of sleeping in a "real bed". Plus, the internal coil-beam construction of this air mattress offers firm support that helps you get a comfortable night's sleep and staves off next-day soreness. When you or your guests sleep on this air mattress, you'll feel less like you're sleeping atop a traditional air bed and more like you're getting your rest in a luxurious bed you'd find in any well-furnished bedroom.
Pros:
Designed for both indoor and outdoor use
Raised and built to feel like a "real bed"
Fully inflates within five minutes or less
Cons:
Deflates slowly over time with prolonged use

3. Restoration Air Mattress
Multiple layers of waterproof, puncture-resistant material make this air mattress virtually indestructible in both indoor and outdoor settings. Its flocked top with coils offers comfortable, firm support. Double the height of a traditional air mattress, this air mattress is easy to get on and off of and feels just like a regular bed.
This air mattress self-inflates because it features a built-in air pump that inflates with maximum efficiency indoors or outdoors–no power cords or external pumps required. Plus, it takes no more than a few minutes to self-inflate fully.
Pros:
Designed for both indoor and outdoor use
Features a flocked top with coils for maximum comfort and support
Includes a built-in self-inflatable air pump
Cons:
May expand slightly over time with prolonged, repeated use

4. ALPS Mountaineering Velocity Air Bed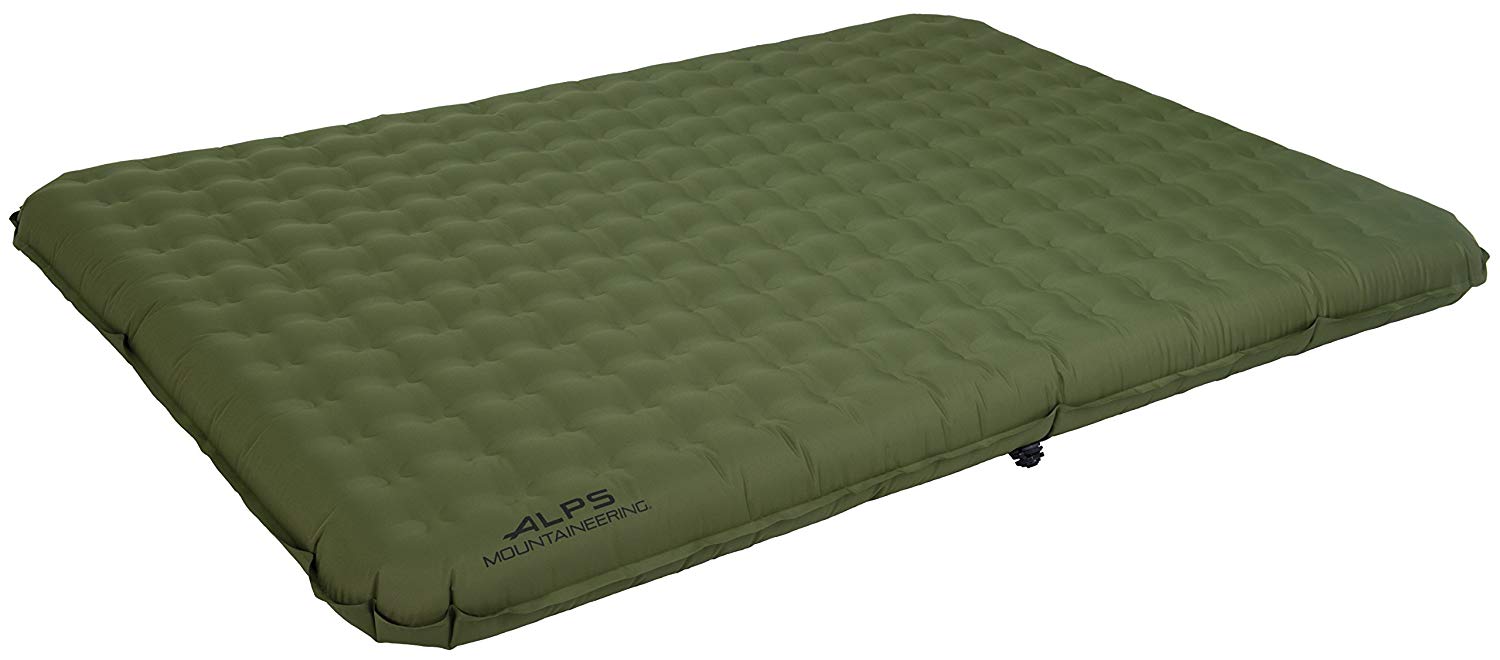 If you're an avid camper, hiker, or lover of other outdoor activities that keep you in the wilderness overnight, this is the air mattress for you. Don't let its flat appearance fool you. Crafted from ultra-durable TPU-coated polyester fabric with a built-in coil system, this air mattress is puncture-resistant and offers maximum comfort and support. Best of all, it remains fully inflated all night long and won't deflate slowly while you're sleeping. You'll never feel the hard surface underneath you with this mattress as a comfortable, supportive layer in between.
Inflate this air mattress on the go with its compact rechargeable AC/DC pump that is easily portable. Along with this pump, the mattress also comes with three different adapters for easy, frustration-free use.
Pros:
Designed with maximum durability for outdoor use
Includes a built-in coil system for comfort and support
Comes with a compact rechargeable pump and three adapters
Cons:
Rechargeable pump only lasts for two to three complete inflations before requiring a charge

5. Serta Raised Air Mattress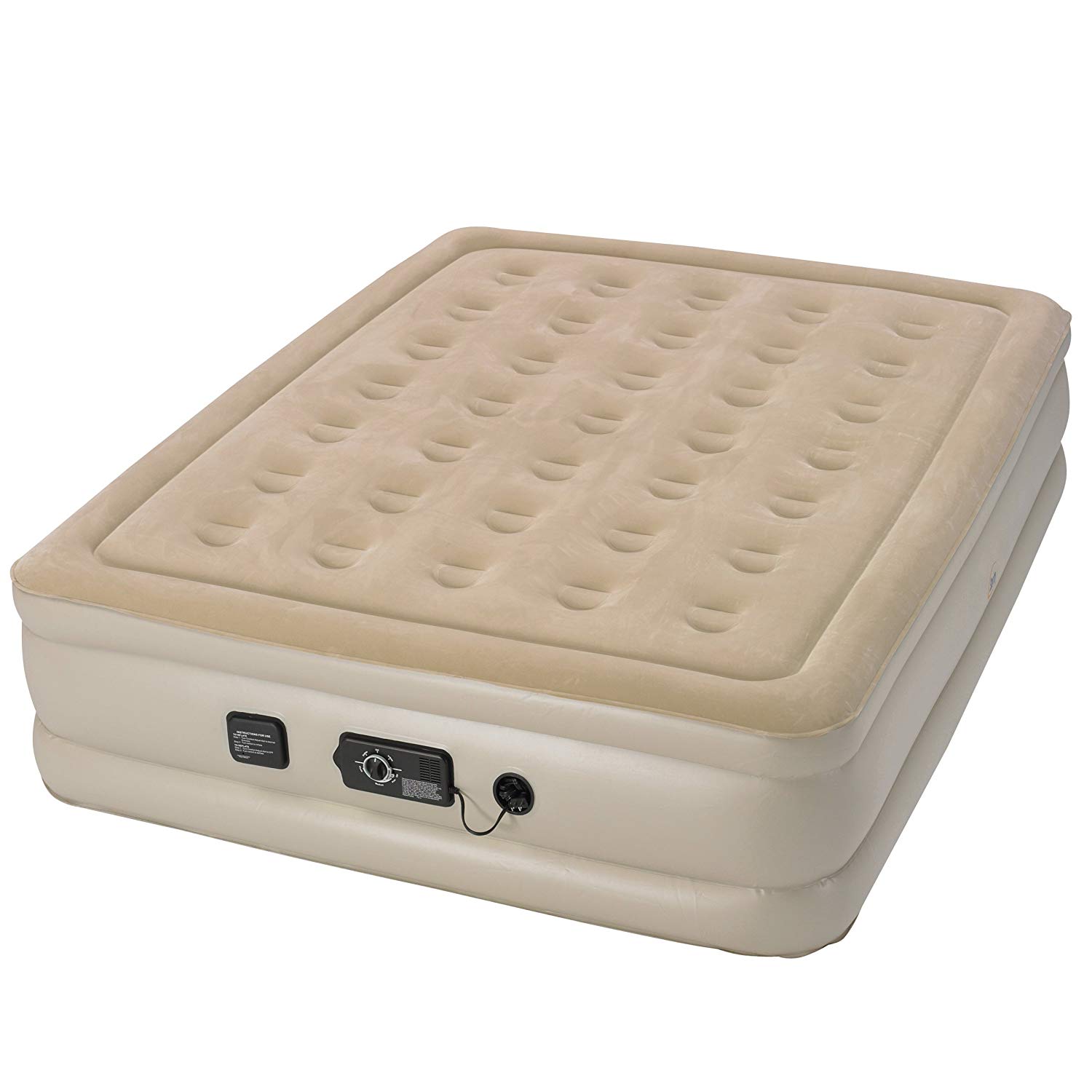 Say goodbye to mattress leaks and waking up on the hard ground with this air mattress and its miraculous built-in NeverFlat pump. This air mattress includes two built-in pumps. Its primary pump fully inflates or deflates the mattress in four minutes or less. Its secondary NeverFlat pump runs backup during the night. It monitors the air level in the mattress and silently re-inflates it if it loses any air while you're sleeping on it in order to maintain a comfortable level of firmness and support.
35 circular coils are built into the interior of this mattress for added support. Its soft flocked top offers cozy comfort and prevents standard bedding from sliding off of this mattress while you sleep on it. As an added bonus, this mattress's material is puncture-resistant and water-resistant for maximum durability.
Pros:
Features two built-in pumps: a primary pump and silent NeverFlat pump to constantly monitor and maintain optimal air pressure
Built with 35 internal coils for maximum firm comfort and support
Includes a soft flocked top for cozy comfort
Cons:
Slightly smaller than a standard queen size bed