Baby Store
6 Best Baby Carriers 2023 – Best Baby Carriers for Dads & Moms
A baby carrier is any new parent's new best friend. After a while of toting your little one around in your arms, you're going to get tired. Plus, it's very inconvenient to have your hands full carrying your baby at all times when the two of you are out and about together. Carrying your baby in a baby carrier instead of in your arms keeps your little one calm and close by but leaves your hands free to carry a shopping bag or open a door in front of you.
The right baby carrier can make outings more comfortable and enjoyable, lessen the stress of getting things done around the house, deepen the bond between you and your baby, and reduce any baby-carrying-related back and arm pain that's been plaguing you. A worthwhile baby carrier should make your life as a new parent easier. It should be durable, reliable, safe for your baby, and comfortable for both you and your little one.
These six baby carriers are some of the best options on the market for modern, top-quality baby carriers. All of these baby carriers are safe and comfortable for long-term wear. They are reliable and durable and will last you and your baby for months or even years. Anyone of these six baby carriers can easily make a great supportive side-kick to help any new parent safely support their beloved little one at home or on the go.
1. LILLEbaby Complete Ergonomic Baby Carrier
Carry your little one in six different ways with this ultra-versatile, six-position baby carrier from LILLEbaby. These six different available carrying positions include fetal, infant, outward, toddler, hip carry, and back carry and allow for 360-degree carrying. The two-way padded shoulder straps of this carrier allow for both front and back carrying. All six positions this carrier offers provide ergonomic comfort and support for both baby and parent.
This carrier is made from 100% cotton material that is super soft and breathable to keep both baby and parent cool, dry, and comfortable.  The extendable torso, adjustable hip panels, and extendable waist belt of this carrier help it comfortably fit babies and parents within a wider range of sizes. Its dual adjustable straps also make breastfeeding on the go easier, more discreet, and more convenient. This carrier also includes several added features to help keep your baby calm and comfortable. These features include a lumbar support headrest and a sleeping hood that protects your baby from the sun and creates a calm environment where they can rest.
Another special feature of this carrier is its large zippered storage pocket that is built into this carrier. This pocket allows you to keep all of your baby's necessities on hand at all times for easier access while on the go. This baby carrier can comfortably and safely support babies within a weight range of 7 to 45 pounds.

2. Infantino Flip 4-in-1 Convertible Carrier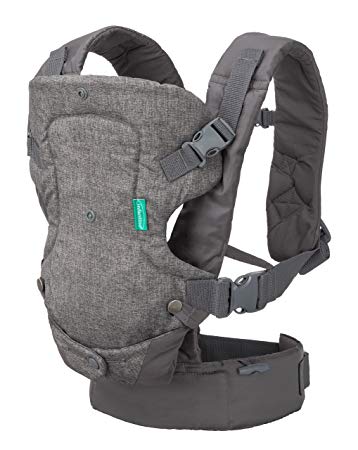 This convertible baby carrier from Infantino offers four different ways to comfortably and safely carry your baby. It features a facing-in narrow seat for cradling newborn babies as well as a facing-in wider seat for when your baby gets a little older. It also includes a facing-out narrow seat that is perfect for babies who can hold their heads up and a facing-out wide seat that is ideal for toddlers.
The seat, leg openings, waist belt, and straps of this baby carrier are all fully adjustable. This adjustability allows this versatile carrier to safely and comfortably support babies as they grow and develop from newborns to older babies to toddlers. Special features of this baby carrier include a built-in bib to protect both the carrier and your clothes while you're eating or while your baby is breastfeeding. The carrier is also machine washable for quick and easy cleaning. This baby carrier can comfortably and safely support infants, older babies and toddlers within a weight range of 8 to 32 pounds.

3. BabyBjörn Original Baby Carrier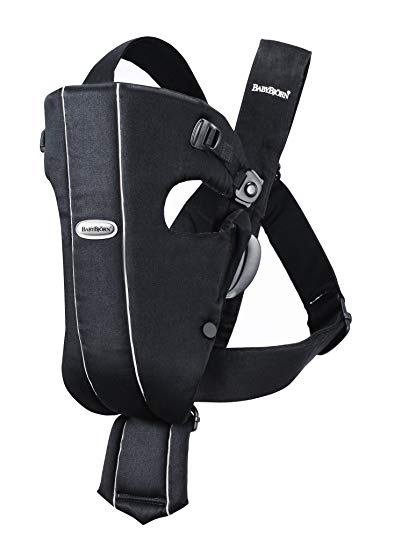 This baby carrier from BabyBjörn is designed to promote bonding and closeness between you and your baby while leaving your hands free. It is ultra-soft and cozy with its breathable cotton material that soothes your baby and keeps both of you comfortable for long-term wear. It features two available ergonomic carrying positions that allow you to carry your baby facing in or facing out.
This pediatrician-approved baby carrier promotes healthy and normal development of your baby's hips, head, neck, and spine for safe and comfortable carrying.  As an added bonus, this carrier is lightweight and ultra-portable. Its portable design makes storage and travel easy and convenient. Having this baby carrier by your side takes the hassle and frustration out of outings with your little one. The innovative design of this baby carrier allows it to safely supports infants without the need to hassle with a separate infant insert. Your baby should be able to use this carrier from birth until they are about one year old.

4. Moby Classic Baby Wrap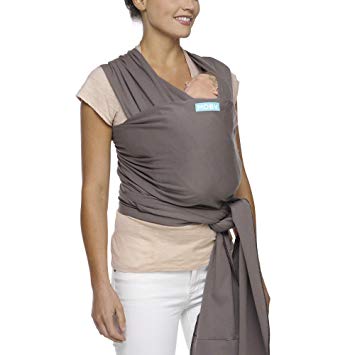 The unique, innovative design of this baby wrap keeps your little one snug and close against your body at all times. This baby wrap is ideal for soothing fussy young babies who need to feel warm and secure always. It promotes bonding and closeness between you and your baby while offering comfort and support for both of you while you're on the go. The design of this wrap instantly calms fussy babies and keeps them calm while the two of you are out and about. It also encourages breastfeeding and makes breastfeeding on the go an easier and smoother process for both baby and Mom.
Made from 100% cotton material, this safe, stylish, and comfortable baby wrap is soft and breathable. It evenly distributes the weight of your baby across your shoulders, back, and hips to prevent soreness or discomfort. Its fabric is stretchy and durable to extend the longevity of this wrap and the comfort it provides. This baby carrying wrap can safely and comfortably support babies within a weight range of 8 to 33 pounds.

5. Osprey Packs Child Carrier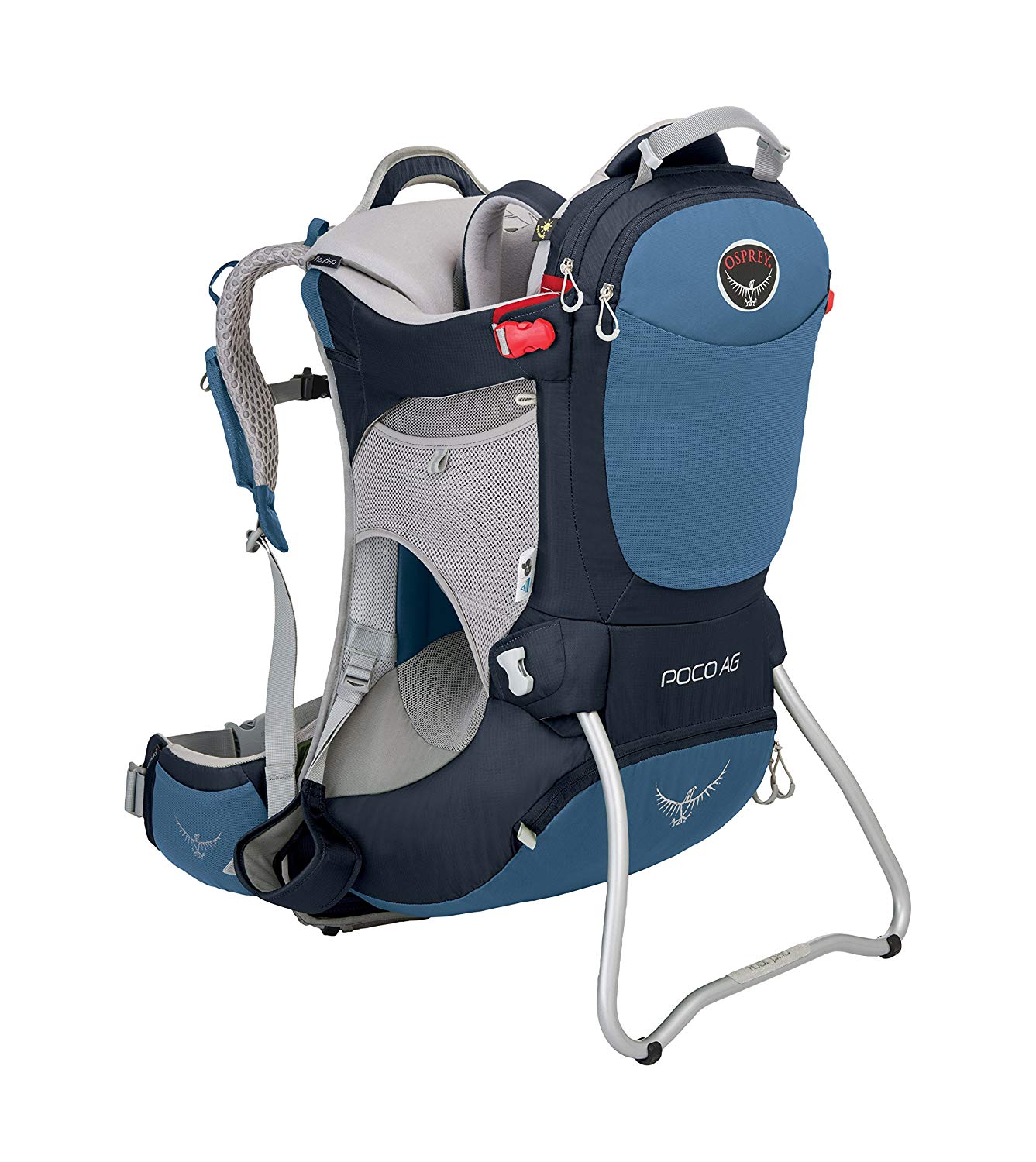 This sturdy baby carrier from Osprey is ultra-safe yet comfortable for both baby and parent. It features a lightweight aluminum frame that creates comfortable and supportive structure for your baby. This lightweight frame creates a platform that allows you to set your baby down in the carrier.
You can adjust the torso of this baby carrier in order to accommodate your baby as they grow and develop. The hip belt of the carrier is also adjustable to fit adults within a wider range of sizes. A built-in sunshade keeps your baby safe from the sun's rays while the two of you are outside. This safe, sturdy, and secure baby carrier is ideal for parents who like to take their little one along to embark on long walks around the neighborhood, hikes on nature trails, and other outdoor activities.

6. Boba 4G Baby Carrier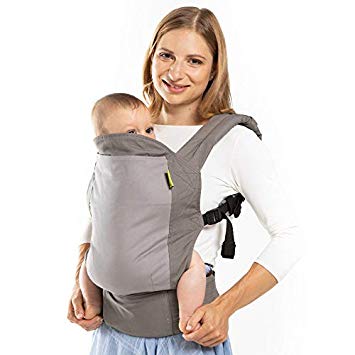 This Boba baby carrier is completely non-toxic and made only from materials that are safe for you and your baby. It features a removable sleeping hood and foot straps. These features add comfort and security for your baby while the two of you are on the go.
An infant insert with two positions is integrated into this baby carrier. That means you don't have to worry about purchasing an infant insert separately for your baby. This baby carrier can safely support newborns from 7 to 25 pounds as a front carrier. It safely supports older babies and toddlers between 25 to 45 pounds as a back carrier.