Cars
Top 6 Best Car Power Inverters 2023 – Best Power Inverters for Cars
What is a Power Inverter?
A power inverter is a handy thing for almost anyone to have in their car. To put it simply, car power inverters are devices that convert DC power to AC power. Car batteries create DC voltage. This is fine for the purposes of keeping the car itself running. However, the vast majority of consumer electronic devices run off of AC power. For example, the power outlets you use in your home provide AC power. Therefore, anything you can plug into one of your home outlets is AC-powered. Therefore, a power inverter for your car allows you to charge your AC-powered devices by harnessing DC power from your car's battery and neatly converting it into AC power.
How do Power Inverters Work?
You'd have to delve a little bit deeper into the more complex technological and electronic components of DC and AC power and inverters themselves  to really understand how power inverters work in cars. That being said, all you as a driver and consumer really need to understand is that power inverters for cars convert DC power to AC power without damaging your car's battery or the AC-powered electronic devices you want to charge. For the average busy consumer, having a power inverter handy in your car allows you to charge basically any electronic device that's running low on juice from inside your car while on the go.
Using a Power Inverter in Your Car
Power inverters are very easy to install in your car, as well. Obviously, the power inverter has to hook up to your car battery somehow in order to convert the DC voltage from the car battery into AC power. There are multiple options for installing your power inverter into your car. However, most drivers opt to simply plug their inverter into their car's built-in cigarette lighter or other 12v accessory socket.
Investing in a power inverter for your car can help you avoid the ultra-frustrating scenarios of having one of your electronic devices die on you while you're on the go and won't be able to reach a standard power outlet for hours.For avid road-trippers or campers, a car power inverter offers many other uses as well. Portable cooking equipment, game systems, and DVD players can be plugged into a power inverter in your car to allow you to conveniently cook food at your campsite or keep your kids and other passengers entertained on a long drive. Keep reading to discover 6 of the best power inverters for cars that are available on the current market.
1. POTEK 500W Power Inverter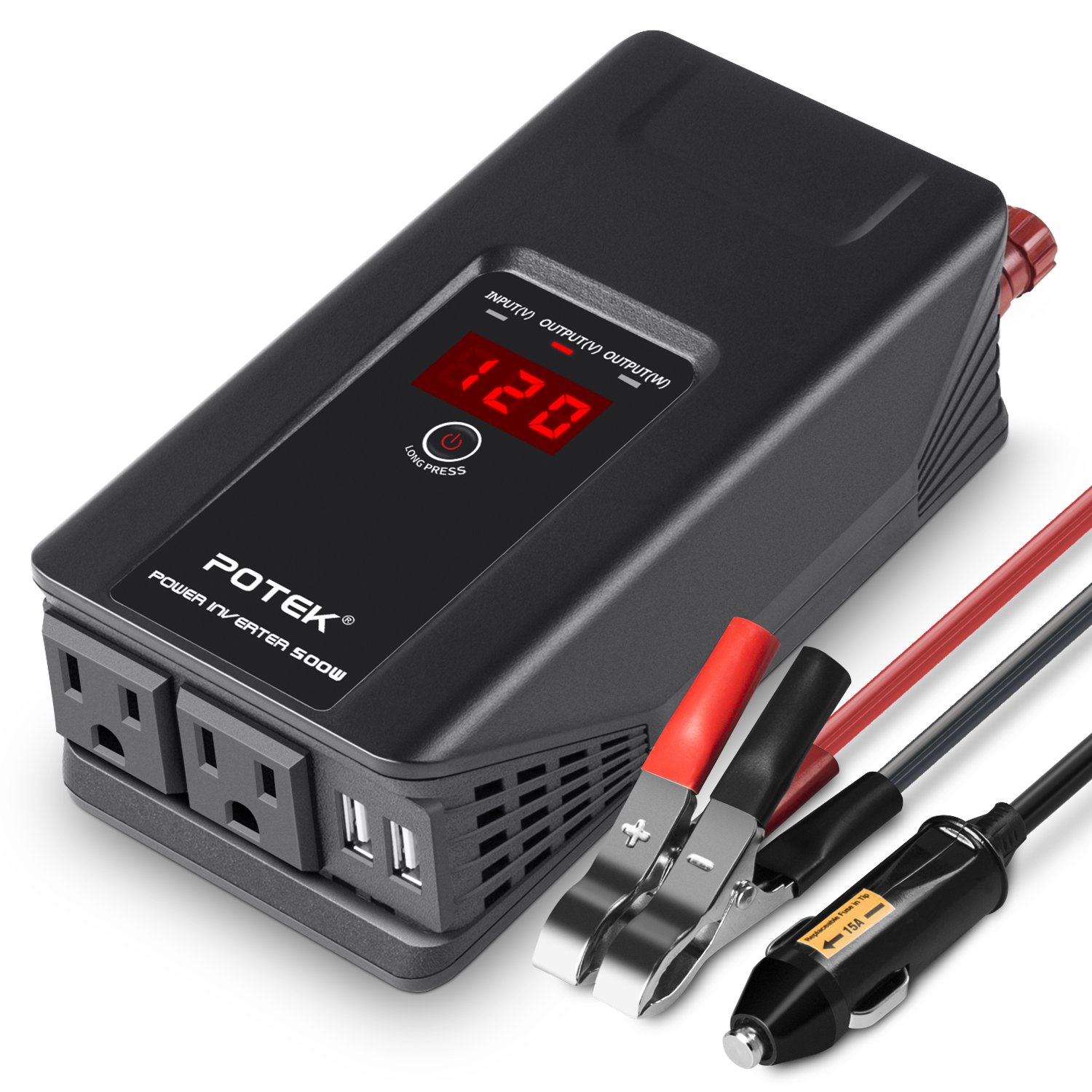 This powerful, portable 500W car power inverter from POTEK features two 110V AC outlets and 2 USB ports. It provides 1000W of peak power and modified sine output wave. These outlets allow you to charge, for example, your laptop, tablet, and smartphone all at the same time. The digital display on this power inverter's surface shows the inverter's input voltage, output voltage, and output wattage. It also displays clear, easy-to-read alerts for low voltage protection, high voltage protection, short circuit protection, over load protection, and over heat protection when applicable.
You can connect this inverter to your car's cigarette lighter outlet if you only need 150W of power to charge a smaller device, such as a smartphone. If you need more than 150W of power, you will need to hook this inverter up directly to your car's battery. When the output wattage of this inverter exceeds 200W, its built-in cooling fan automatically turns on to protect against overheating and potential damage to the inverter and your device. By only turning on when necessary, this cooling fan helps saves power and keeps the inverter quiet when it is running.

2. Power Bright Pure Sine Power Inverter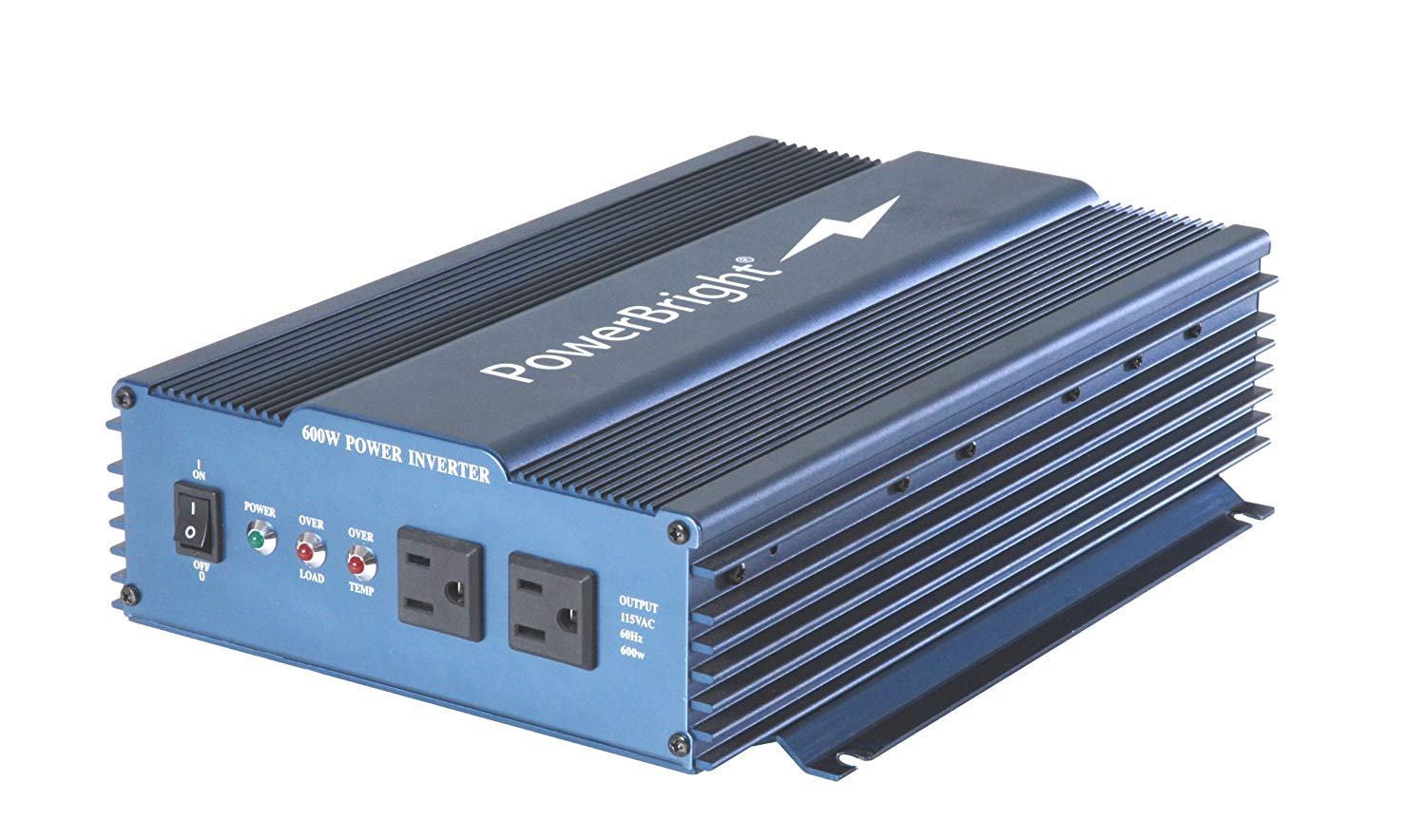 This Power Bright power inverter provides 600W of continuous power and 1000W of peak power. It features dual 120V AC outlets to make charging multiple different electronic devices at one time convenient and effortless. Its pure sine wave output provides a steady pure sine wave that flawlessly mimics the AC power that stems from standard home power outlets.  Plus, this inverter boasts a super low distortion rate of less than 3%.
In addition to efficiently converting DC to AC power for convenient charging on the go, this car power inverter is also super durable. Its anodized aluminum case protects the inverter and keeps it in top condition for a long time. It also includes a built-in thermal cooling fan that prevents the inverter from overheating. In the event that something does go wrong, the convenient digital display on the surface of this inverter includes built-in overload and over temperature indicators for safety to let you know immediately that something is amiss.

3. BESTEK 1000W Power Inverter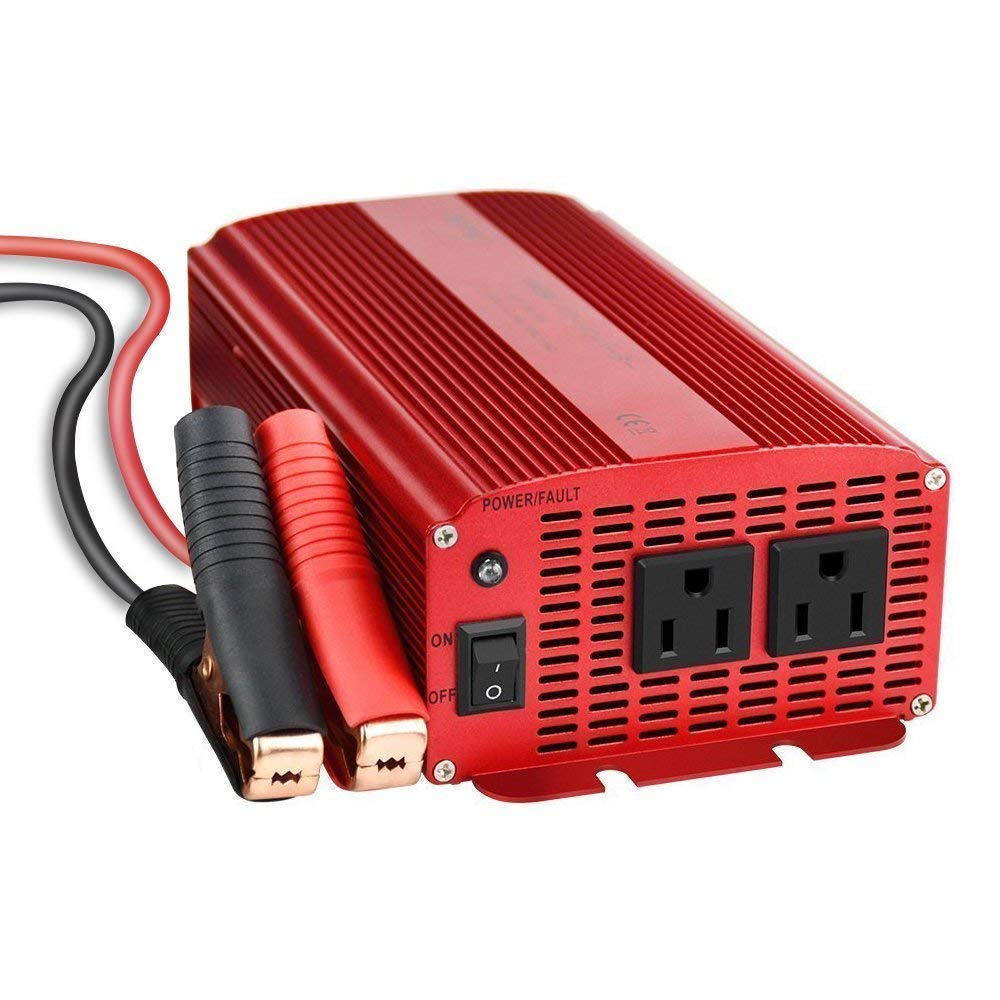 This incredibly powerful, durable car power inverter from BESTEK offers 1000W of continuous power and 2400W of peak power. It includes two 110V AC outlets to allow you to easily charge multiple electronic devices simultaneously. Its rugged construction keeps this inverter working in top-notch condition whether you're on a long roadtripe or at a campsite.
If you have concerns about the safety of having a power inverter in your car, look no further. This inverter features multiple built-in safeguards that prevent damage to the inverter, your devices, or your car. These built-in safety features include automatic overload protection, an automatic low-battery shutdown feature, and a cooling fan.

4. Power Bright Ultra-Slim 175W Power Inverter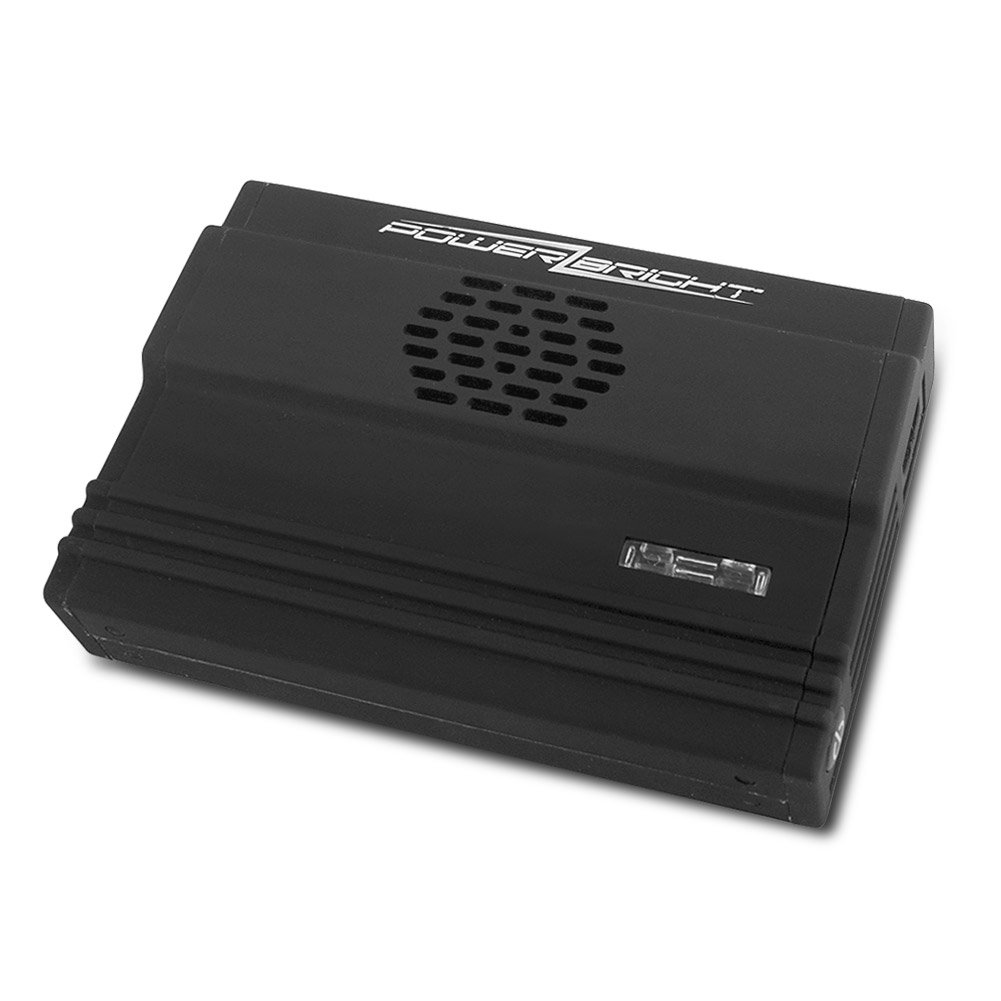 If you're looking for a power inverter for your car that doesn't take up too much space and is easy to travel with no matter where you're headed, you've found it.
This ultra-slim power inverter from PowerBright features a single 175W AC outlet and a USB port. These three ports allow for convenient charging of multiple devices on the road. It is slim and lightweight for effortless portability. Within its lightweight frame, this inverter includes a built-in cooling fan and an overload indicator. These safety features provide foolproof protection against overheating and damage for your devices. This ultra-portable power inverter is ideal for charging small devices such as your smartphone or tablet computer.

5. Duracell Power Black Power Inverter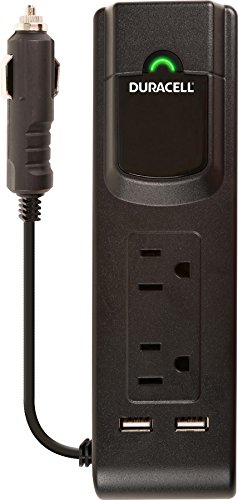 This innovative mobile power strip inverter from Duracell can charge up to four of your devices simultaneously. It features two standard AC outlets and two USB ports. This 175W power inverter includes a built-in cooling fan that protects your devices from overheating and sustaining damage.
Laptops, tablets, smartphones, MP3 players, video game systems, and DVD players are just a few of the most common electronic devices that are compatible with this inverter. As an added bonus, the extra-long three-foot power cord of this mobile power inverter offers more convenient plug-ins from anywhere in your car.

6. Enkey 150W Car Power Inverter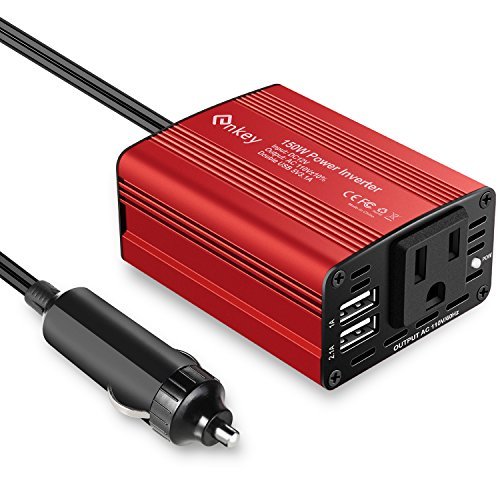 This power inverter from Enkey is just about the size of a credit card, but it is mighty. This 150W inverter includes dual 110V standard AC outlets and two USB ports. Don't let its size fool you; it can charge up to four of your electronic devices at one time.
In addition to being small, lightweight, and powerful, this inverter is also ultra-durable. It is built with an aluminum shell that protects it from damage over time while on the go. The built-in cooling fan in this power inverter protects your devices from overheating while charging. However, it is completely silent to avoid annoying you or your passengers in the process.