Baby Store
6 Best Crib Mattresses 2023 – Safest Affordable Crib Mattress for Babies
Deciding on a crib to buy for your child is a major decision, but the crib mattress you buy for your baby or toddler is also an important decision that is often underrated and overlooked. The crib mattress you decide to buy is what your child is going to sleep on every night until they grow out of their crib and graduate to a "big-kid bed". The right crib mattress can help your baby or toddler get high-quality sleep and even sleep through the night–which is every parent's dream for their young child. On the contrary, a low-quality crib mattress can severely disrupt your baby's sleep–and therefore disrupt your sleep as well. The wrong crib mattress can even pose dangers–including choking hazards, risk of suffocating or CO2 rebreathing, allergic reactions, etc.–to your sleeping child.
When it comes to choosing a mattress for your child's crib, comfort, safety, durability, and ease of cleaning are all important considerations. The crib mattresses for infants, babies, and toddlers in this post defy expectations in all of those categories and offer a safe and peaceful sleeping environment for your precious child to spend their nights and nap times. Safe, comfortable, durable, and easy to keep clean, these six crib mattresses promote peace of mind for you and peaceful sleep for your little one.
1. Newton Baby Crib Mattress and Toddler Bed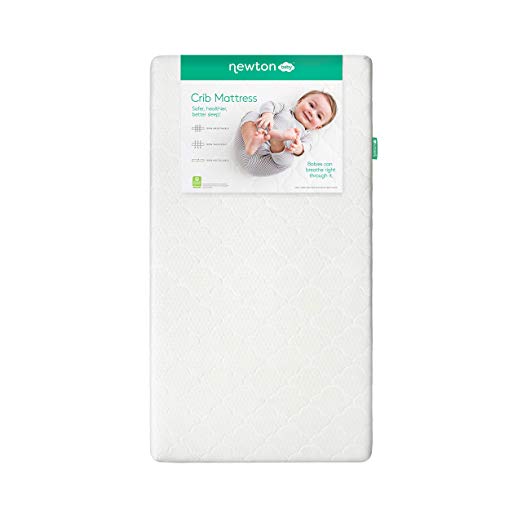 This safe, breathable crib mattress from Newton Baby is made from 90% air. Its unique design allows your baby to keep breathing safely and comfortably–without any risk of suffocation or CO2 rebreathing–even if they roll over in the middle of the night. The mattress does not include any polyurethane foam, glue, adhesives, or other harmful, toxic materials and is completely hypoallergenic. Plus, it features no metal springs, so it won't pose a choking hazard for your baby.
The ultra-lightweight design of this crib mattress not only prevents suffocation and promotes breathability, it also enhances comfort and naturally regulates temperature to keep your baby cool, dry, and comfortable all night long. As an added bonus, the entire mattress is made entirely from washable material that you can easily rinse and clean to prevent bacterial growth and allergic reactions.
If you're shopping for a crib mattress for your new baby, you won't have to worry about replacing this mattress anytime soon. It is a 2-stage crib mattress that is specifically constructed to safely and comfortably support your sleeping child as they grow. This crib mattress provides a peaceful and secure sleeping environment for both babies and toddlers.

2. Naturepedic Organic Cotton Crib Mattress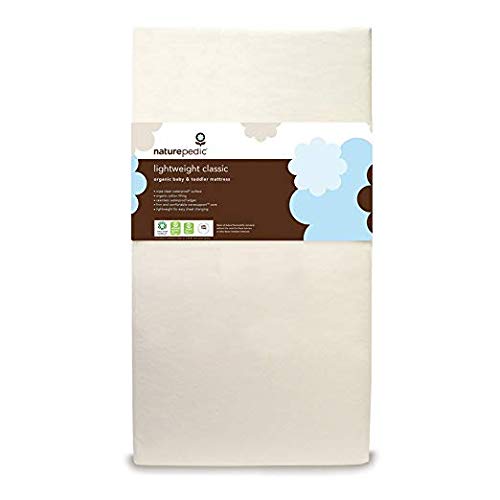 Formulated without polyurethane foam or any toxic chemicals, this crib mattress from Naturepedic is completely hypoallergenic. Instead of harmful materials, it is made with cotton filling and cotton material. All of the cotton in this crib mattress is 100% organic. Not only is the cotton material of this crib mattress free of chemicals, it is also super soft and ultra-breathable. You can lay your baby or toddler down to sleep comfortably and safely on this crib mattress without worrying about breathing problems or allergic reaction.
The waterproof seams and surfaces of this crib mattress make clean-up quick, easy, and low-effort. You can wipe down every surface of the mattress to remove dust, dirt, and stains without worrying about water penetrating into the mattress's cotton filling.

3. Moonlight Slumber Dual Sleep Surface Crib Mattress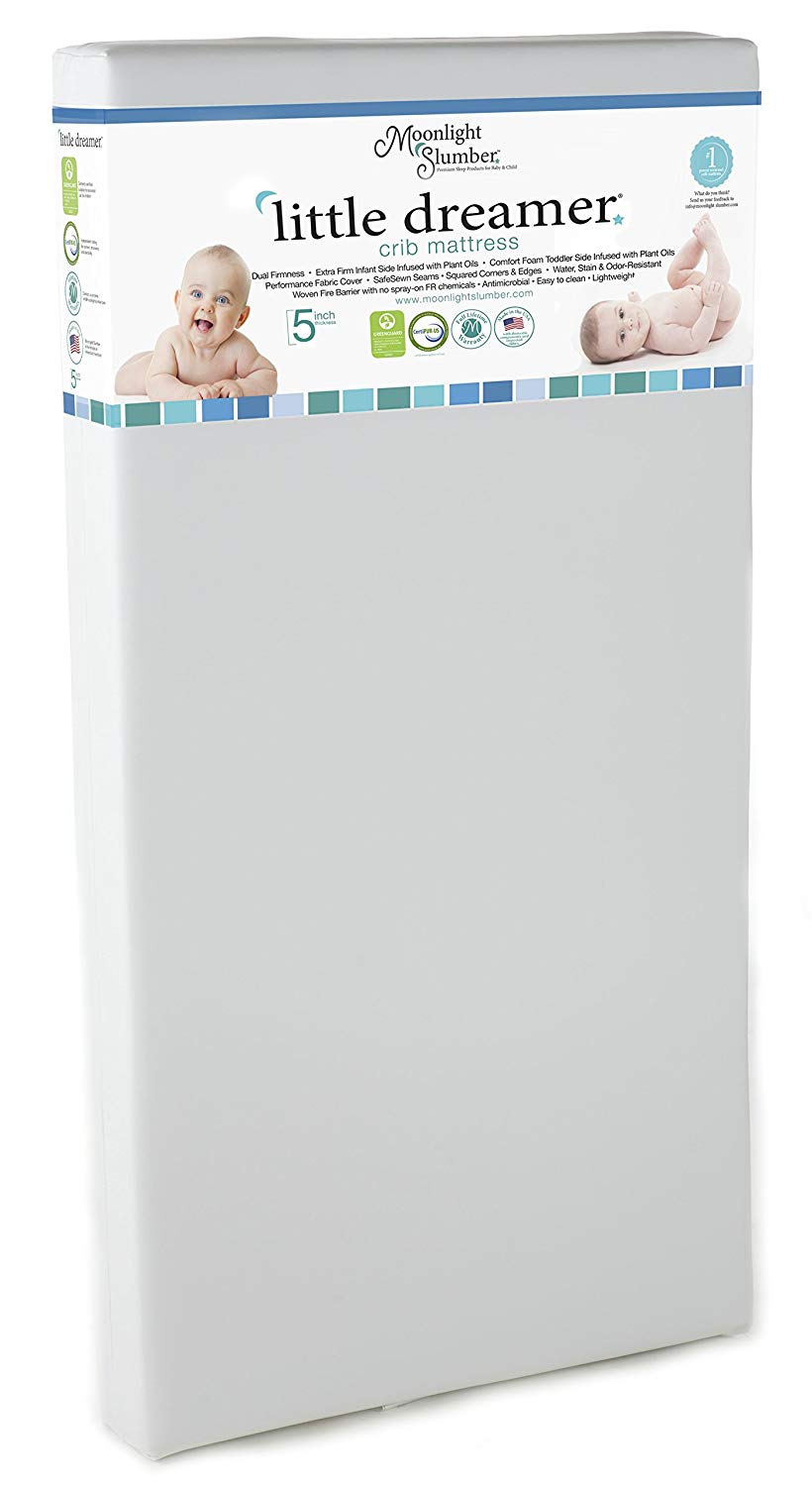 The unique dual-side design of this crib mattress from Moonlight Slumber allows you to continue to use it as your child grows from an infant to a baby to a toddler and beyond. The mattress features a unique two-stage sleep system. One side of it is firm with an inner layer of foam. This side comfortably and safely supports your child when they are an infant or baby. The other side of this mattress is softer. It allows for more comfortable, peaceful sleep once your child gets a bit older and enters their toddler stage.
Made from medical-grade stretch knit fabric, the outside surfaces of this crib mattress are soft, breathable, safe, and durable. This material is also hypoallergenic and waterproof to make clean-up quick and easy and prevent allergic reactions. The seams of this crib mattress also feature reinforcements to keep out bed bugs, mites, and any other creepy-crawlies that might disrupt your child's sleep during the night.

4. Graco Dual-Comfort Crib Mattress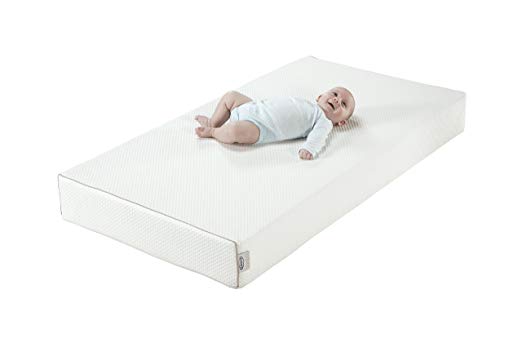 This dual-comfort crib mattress from Graco offers all-natural comfort to ensure a peaceful sleep for your baby or toddler. The mattress itself is made from breathable, top-quality polyurethane foam. Its outer cover is crafted from a viscose-polyester blend fabric that is super soft to the touch. The outer cover of this mattress is functional and practical as well as soft and comfortable. It is durable, water-resistant and fully removable. It keeps your child cool and dry throughout the night and prevents moisture from seeping into the mattress. Plus, you can easily unzip it and take it off completely to spot-clean or hand  wash it to remove dirt, dust, stains, and allergens.
Designed to support your child through infancy, babyhood, and as a toddler, this mattress features two different sides. One side is smooth and firm to safely support your child as an infant. The other softer, more convoluted side is for toddlers. Both sides offer a safe and comfortable sleeping environment to your child as they grow.

5. Dream on Me Portable Crib Mattress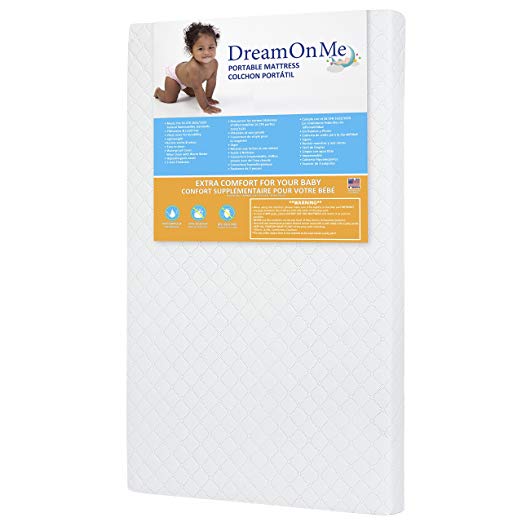 If your family is frequently on the go, consider this ultra-convenient portable mini crib mattress from Dream On Me. It fits most portable cribs, mini cribs, and Pack 'n Plays with no gaps. This mattress allows your child to sleep safely and easily while your family is traveling.
Made from top-quality, breathable materials, this mini crib mattress allows for maximum air flow. It provides your child with a safe and comfortable place to sleep no matter where they are. Plus, it offers you peace of mind as a parent. When your child is sleeping on this mattress, you know that they can sleep safely, peacefully, and easily even when your family is away from home.

6. Sealy Cotton Cozy 2-Stage Crib Mattress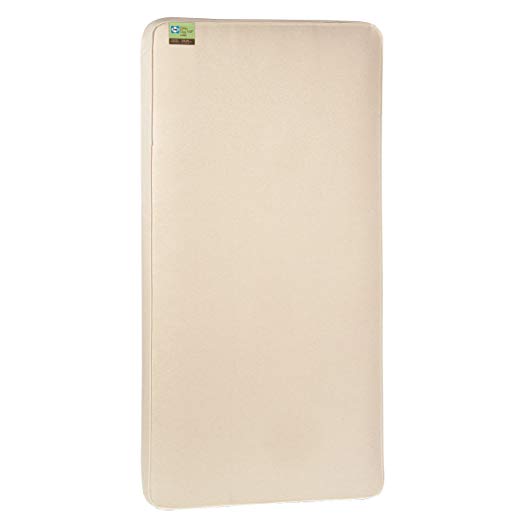 This Sealy crib mattress provides a safe and comfortable sleeping environment for your child as they grow and develop. Its 2-stage design caters to infants and young babies as well as toddlers. This long-lasting, durable crib mattress is an ideal choice for infants who need room to grow. In addition to its 2-stage design, it features a waterproof, hypoallergenic soft cotton cover that is easy to keep clean.
One side of this crib mattress keeps infants and young babies safe and secure. Premium steel coils, special strength pillars, and border wire on this side provide all of the support and security your child needs through their infancy and babyhood. A sturdy core and a special weight distribution system makes the infant side of this mattress firm. This firm design keeps your baby safely in the middle of the mattress as they sleep. The other side of this mattress allows older babies and toddlers to sleep peacefully. It features a soft cotton layer that offers toddlers comfort along with adequate support and security.