Baby Store
6 Best Baby Monitors with APP 2023 – Which Baby Monitors Should I Buy?
It can be almost impossible to get enough sleep as the parent of a little one. Even when your baby falls asleep and stays asleep, it can be tough for many parents to relax enough to get some sleep themselves because they're so worried about their sleeping baby's well-being.   When you're a new parent, over-worrying about your baby is totally normal and natural, but having a baby monitor by your side can help you catch up on the rest you need and deserve.
Investing in a top-quality baby monitor is crucial for your baby's safety and your peace of mind. Having a baby monitor that is worthy of your confidence can help you and your baby get longer, better, more peaceful sleep each and every night. A baby monitor allows you to check up on your baby at any time of day or night to instantly make sure they're okay, even when you and your baby are in separate rooms.
What are the best baby monitors? Here are the answers.
1. Nanit Smart Baby Monitor with App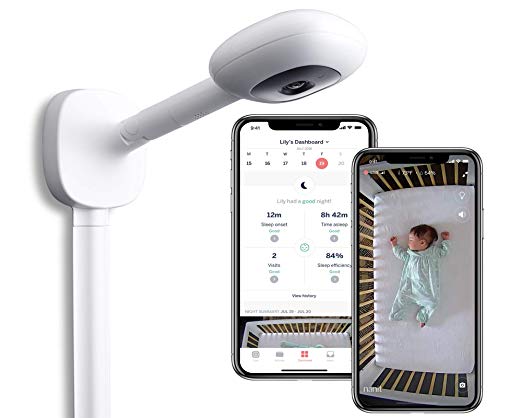 This baby monitor from Nanit comes with both the baby monitor itself and an easy-to-use wall mount that makes installation effortless and gives you a clear overhead view of your baby. As an added bonus, installing this baby monitor leaves no cords exposed to improve the aesthetics of your baby's room and eliminate any choking hazards. This baby monitor features HD live streaming that allows you to see your baby in real time at any time of day or night.
One notable feature of this baby monitor is its ultra-clear night vision that allows you to check in on your baby and see them clearly even while they're fast asleep in a dark room. If you need a little more light, you can also turn on the monitor's built-in soft glow LED night light that lights up remotely without disturbing your baby. You can also use this monitor's zoom-in feature to quickly get a closer look at your baby without disturbing them. In addition to showing you a 24/7 HD live stream of your baby in real time, this baby monitor also keeps you appraised of the conditions of your baby's crib. It includes built-in temperature and humidity sensors that monitor your baby's sleeping environment to make sure it is safe and comfortable.

2. Infant Optics DXR-8 Video Baby Monitor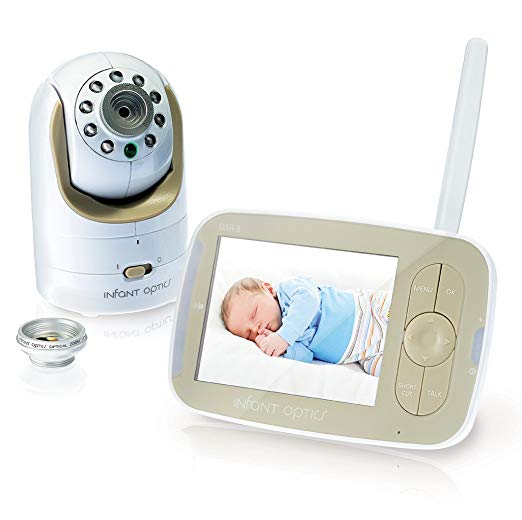 This 2.4GHz video baby monitor from Infant Optics is a perfect example of all the benefits of a non-Internet baby camera. It comes with two pieces: a baby monitor that you place in your baby's room, and a separate screen that you can set up wherever you will be. This baby monitor eliminates loading time of opening apps, which is one major drawback of Internet cameras. Instead, it comes with a clear, 3.5″ screen that provides lag-free, instant playback of your sleeping baby at any time. Plus, it has a large transmission range of up to 700 feet.
Because it does not connect to the Internet, this baby monitor ensures 100% digital privacy for you and your baby. You can rest easy knowing that no one will ever be able to access any footage of your baby online. Instant playback of your baby transmits directly from this baby monitor itself to its separate included monitor screen. The Internet doesn't act as a middle man for this simple yet ultra-effective baby monitor.

3. iBaby M7 Baby Monitor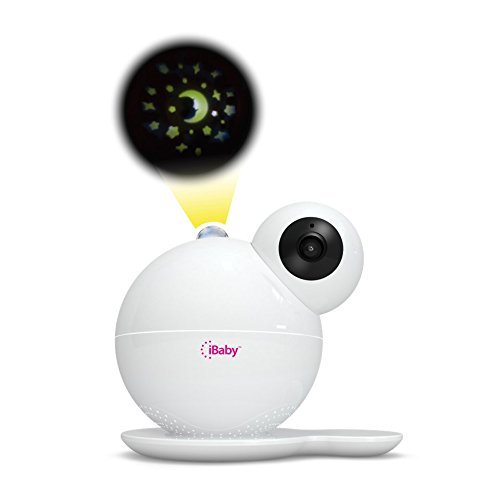 This baby monitor from iBaby lets you check in on your baby at any time of day or night while soothing your abby at the same time to promote more peaceful, restful sleep for both you and your little one. It includes a moon and star-patterned night light that keeps your baby calm and entertained as they fall asleep. This night light also helps your baby fall back asleep more quickly and peacefully if they happen to wake up in the middle of the night. Plus, this monitor stores up to thousands of lullabies and white noise sounds that you can play to soothe your baby back to sleep when necessary.
The camera in this baby monitor provides ultra-clear HD video that boasts 1080p video resolution. A special app connects to this baby monitor. This app makes it easy and convenient for you to check in on your baby during nap time or throughout the night. You can quickly download the app on your smartphone, tablet, or other compatible mobile device. This app allows you to access video feed of your baby, of course. It also connects to the monitor's built-in TVOC air quality sensor that monitors the temperature, humidity, CO2 levels, and general air quality of your baby's sleeping environment and notifies you if something is amiss. You can even schedule diaper and feeding alerts through this monitor's app. These alerts prevent you for never missing a feeding or diaper change–even in the middle of the night.

4. Lollipop Baby Camera Smart Baby Monitor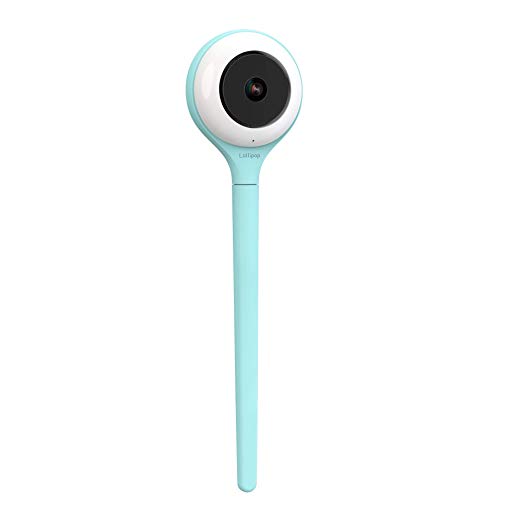 This simple Lollipop baby camera includes multiple high-tech features that offer you peace of mind while your baby sleeps. The smart baby monitor includes built-in true crying detection via AI technology. It recognizes crying sounds with more than 96% accuracy. It alerts you immediately if your baby starts crying at any time of day or night. This monitor also alerts you in the rare case that it disconnects from the camera. This feature lets you rest easy knowing for sure that the monitor and camera are functioning correctly. It even includes multiple built-in lullabies and soothing sounds that you can play remotely to promote peaceful, uninterrupted sleep for your baby.
The baby camera itself easily attaches to the side of your baby's crib with no hassle of complex hook-up or time-consuming installation. It is made from non-toxic, smooth silicone material that won't harm your baby and eliminates any choking hazard.

5. Owlet Baby Monitor with Mobile APP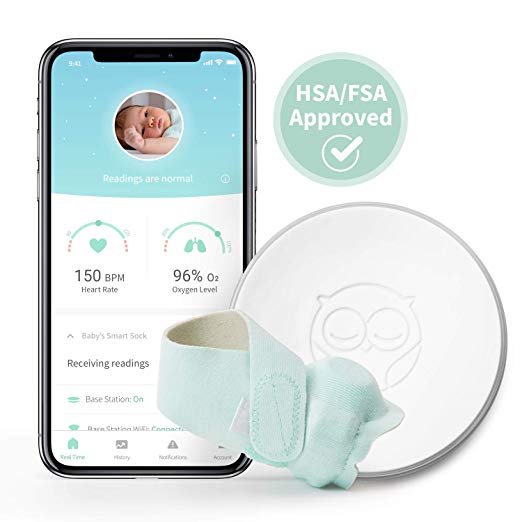 If you want a baby monitor that tracks your baby's health, this Owlet baby monitor is perfect for you. It features three special choking hazard-free, washable socks for your baby. These socks wrap around your baby's ankle and foot. These socks then monitors your baby's health while they sleep. They transmit this information to a base station and app to keep you appraised of how your baby is doing. You can access the app and your baby's health stats instantly at any time. All you need is your smartphone, tablet, or other compatible mobile device.
The sock that monitors your baby's health tracks your baby's heart rate and oxygen levels using pulse oximetry technology. The connected base station alerts you if anything goes amiss with your baby's pulse at any time throughout the night. It continuously glows green when everything is okay and signals you with colored lights and sounds if anything goes wrong.

6. Angelcare Baby Monitor
This baby monitor from Angelcare includes a 5″ LCD touchscreen parent unit, a wireless Breathing Sensor Pad that goes under your baby's crib mattress, room temperature display, and a versatile wall-mount or tabletop camera unit.
This non-Internet baby monitor offers 100% digital privacy. However, it still keeps you in the know about your baby's health like any other high-tech baby monitor system. Its camera tracks movement and room temperature and transmits a digitally secure picture of your baby to the parent unit. Its room temperature display helps you monitor the conditions of your baby's sleeping environment. Plus, its Breathing Sensor Pad tracks any tiny movements and audio that go undetected by the camera.