Baby Store
6 Best Baby Gates 2023 – Baby Gates with Door, for Stairs (Top, Bottom)
As a parent, it's simultaneously exciting and terrifying when your baby starts rolling, crawling, walking, or otherwise moving around on their own. Of course, it's a good thing when your baby starts exploring their own mobility as they grow and develop. Increasing mobility and independence is obviously a benchmark of healthy, normal development for babies and toddlers.
That being said, when your baby can move around the house on their own, they also suddenly have a lot more opportunity to make messes or hurt or endanger themselves. No matter how closely you watch your little one around the house, your eyes can't be everywhere all the time. Investing in one or more baby gates to install in doorways and hallways around your home can provide you with much-needed peace of mind and help keep your baby and your possessions safe.
Setting up a baby gate(s) in your home allows your baby to safely explore their increasing mobility and independence with more freedom–without giving you a heart attack every time they crawl near the top of the staircase. Baby gates safeguard against messy and dangerous accidents without over-restricting your baby's freedom to move around the house on their own without getting into trouble. These six baby gates are some of the best options on the market in terms of safety, durability, and ease and convenience of set-up and use.
1. North States Wide Easy-Close Baby Gate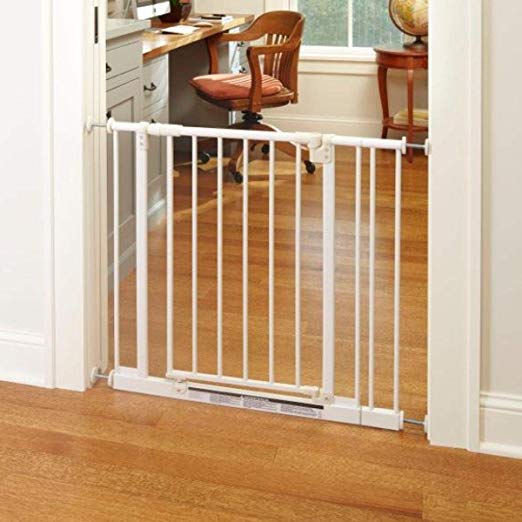 As its name suggests, this baby gate from North States is ultra-easy to close. It shuts firmly with just one push. You don't have to worry about fumbling with complicated latches to keep your baby safe with this baby gate. Don't let the simplicity of this baby gate fool you. It is crafted from heavy-duty steel and features a triple-locking system for maximum security and durability. It swings open inward and outward and also has a hold-open feature for added convenience when you want to keep the gate open for a while.
A simple yet secure design and smooth white finish helps this baby gate blend effortlessly into your home without becoming an eyesore. With this gate's unassuming aesthetic and how easy and convenient it is to use, you and your houseguests will barely even notice it's there. Plus, setting up this baby gate is no hassle at all. Its pressure mount design with tension knobs ensures easy, stress-free installation that will keep the gate securely in place indefinitely. This versatile, wide baby gate is made for both doorways between rooms and to put at the bottom of stairways. It measures 29″ high and fits openings that are between 28″ to 38.5″ wide.

2. Summer Infant Multi-Use Baby Gate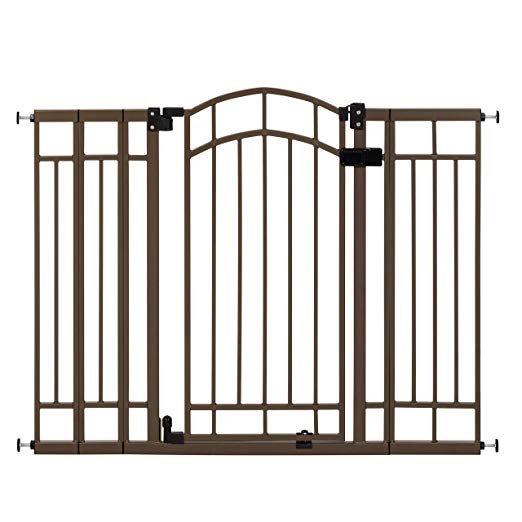 If you're hoping to invest in only one baby gate that you can safely and easily move around to different locations in your home, this multi-use baby gate from Summer Infant might be the right choice for you. This ultra-versatile gate has a pressure mount design that allows for effortless set-up in doorways between rooms. Plus, it also comes with hardware mounts (including a door stopper for added security for stairway use) that you can use to set up the gate at the top or bottom of the staircase as well. It's a dual-use between-rooms and stairway-compatible baby gate all in one.
This versatile, multi-use baby gate has an auto-close feature and a double locking system for maximum security. It is made from heavy-duty metal for durability and is designed to be extra tall (36″ tall) to keep your little one safe inside once they start standing up or walking around on their own. This gate fits doorway and stairway openings that are between 28.5″ to 45″ wide.

3. Dreambaby Chelsea Security Baby Gate for Stairs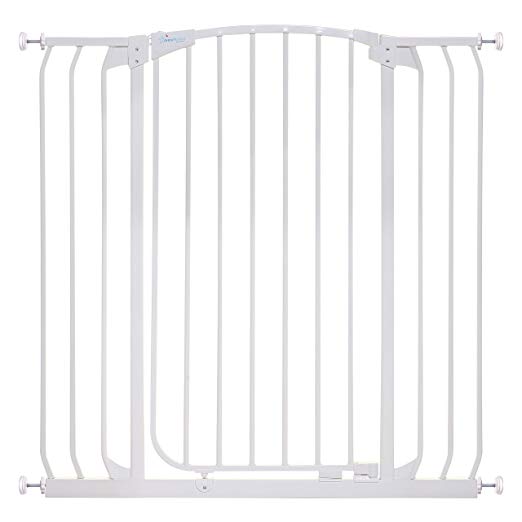 Easy set-up and operation makes this Dreambaby baby gate every busy, worried parent's dream come true. You can easily open and close it with just one hand, leaving your other hand free. The gate also features a stay-open mechanism that allows you to keep the gate open indefinitely when needed. For added security and peace of mind, the gate locks at both the bottom and at the top via a double locking system that is simultaneously ultra-secure and easy to use. Plus, you never have to worry about whether or not the gate is secure. It features a special indicator that clearly shows red in the case that the gate did not close securely.
This baby gate is extra tall at 39.5″ high and fits door openings that are between 38″ to 42.5″ wide. It is also approved for safe and secure use at the top and bottom of stairs. If the doorway where you want to set up a baby gate is wider than 42.5″, you can purchase separate extensions for this gate. With separate extensions, this versatile gate can securely fit opening as wide as 198.5″.

4. Munchkin Easy Close Metal Baby Gate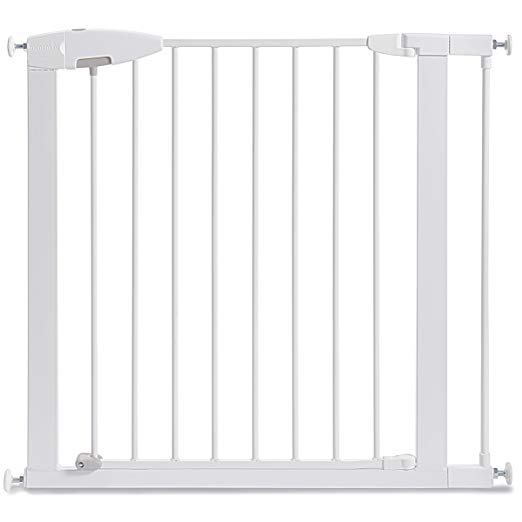 This safe and secure baby gate from Munchkin features a dual-locking system that is childproof but easy for adults to open with just one hand. This gate accommodates the needs of a wide range of doorways and homes. In addition to an included extension, it also comes with everything you need to install it with pressure mounts or wall-cup mounts–depending on what is easiest for the opening where you want to set up the gate. It is also approved for safe use at the top and bottom of stairways when installed with the included wall-cup mount hardware.
This baby gate measures 29.5″ inches high and includes one 2.75″ extension to fit a wider range of doorways between 29.5″ to 35″. If you need a baby gate in a wider doorway, you can purchase additional extensions that are compatible with this gate to extend it to fit openings as wide as 54″.

5. Regalo Easy Step Baby Gate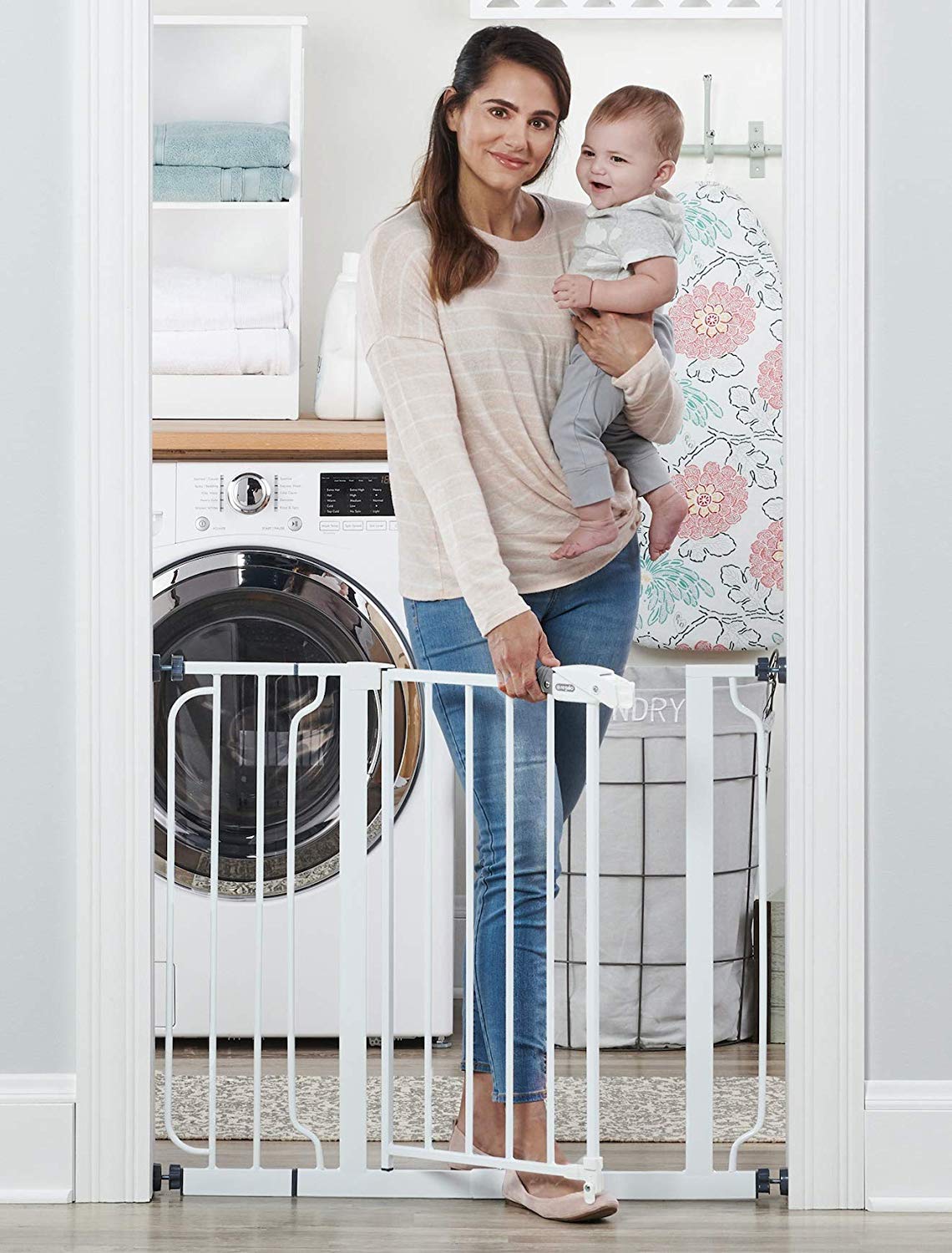 A 100% steel construction makes this Regalo baby gate durable and secure for even the most curious babies and toddlers. Its lever handle and one-touch release safety lock is very easy for adults to use. However, it is impossible for little ones to operate. The gate's innovative walk-through design allows adults to walk through it easily and comfortably without interrupting its security.
This baby gate measures 30″ high and is adjustable and expandable to fit openings that are between 29″ to 34″ or 35″ to 38.5″. You can install it with either pressure mounts or wall mounts depending on what works best for your home and where you want to place the gate. Installing this gate is very quick and easy. You can set it up and take it down within minutes with zero stress or frustration for even the least handy parents.

6. Evenflo Soft and Wide Baby Gate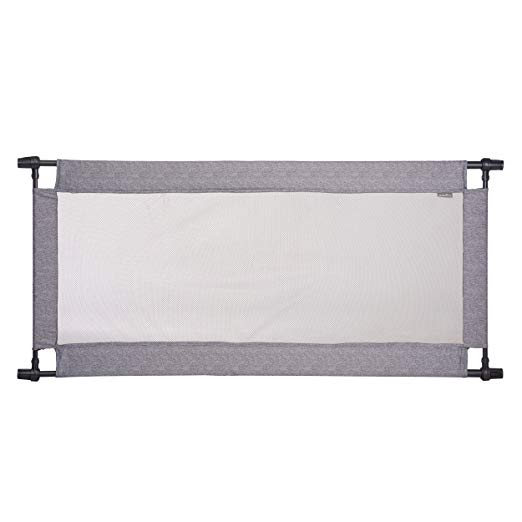 If you want a baby gate that won't damage your walls, you've found it with this soft gate from Evenflo. Its pressure-mount design and rubber bumpers prevent this gate from causing any damage to your painted or unpainted walls. This gate is ultra-easy to assemble and requires no tools to put together, set up, or take down. The metal and cloth frame of this gate is soft so your little one won't accidentally injure themselves on it. However, it is also secure to keep your child safe and give you peace of mind.
This wide baby gate measures 27″ high. It is also expandable to fit door openings that are between 38″ to 60″ wide. It is very portable and easy to travel with to keep your little one safe wherever your family goes. The gate is also very versatile. It is approved for safe use in doorways between rooms, hallways, and at the bottom of the stairs.