Baby Store
6 Best Baby Food Makers 2023 – Check Out the List!
Making your own baby food for your little one has many practical benefits. The vast majority of jarred baby food you'll find on the shelves of your local grocery store is processed heavily and is full of preservatives and low in nutrients. Making your own baby food at home allows you to choose exactly what goes into your baby's food. It also ensures that the baby food your little one eats is fresh and full of essential nutrients from raw, non-processed ingredients. If you have a baby who is a fussy eater, you might be surprised at how well they tolerate and even enjoy home-made baby food over store-bought jarred food.
Many parents of little ones write off making their own baby food as being too time-consuming or requiring too much work. On the contrary, making your own baby food doesn't have to require an inordinate amount of time or effort. The convenience–or lack thereof–of making baby food is largely dependent on the baby food maker you get. It is possible to make some types of baby foods without a baby food maker, but investing in a baby food maker expands your options and makes the whole process 100x easier. With the right baby food maker in your kitchen, making your own baby food at home can actually become even more cost-effective and less time-consuming than buying store-bought baby food. Both you and your little one win.
These six baby food makers represent the best the market has to offer in terms of quality, durability, convenience, variety, and ease of use. Investing in any one of these baby food makers for your own kitchen can be a major game-changer for mealtime with your baby.
1. BEABA Babycook 4-in-1 Steam Cooker and Blender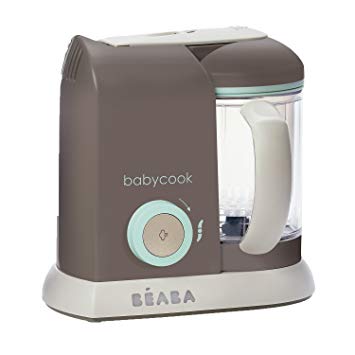 In just 15 minutes and using just one hand, you can transform raw ingredients into fully-cooked food for your baby with this Beaba baby food maker. This 4-in-1 baby food maker with one-hand operation is ultra-versatile. It defrosts, reheats, blends, and steam cooks fruits and veggies, fish, poultry, etc. from raw or frozen in just 15 minutes with its patented steam heating system. Its mixing bowl can hold up to 4.7 cups of food, or more than 18 servings of baby food, at a time. Once your baby's food is ready to eat, the baby food maker's built-in timer sounds an alarm to preserve nutrients and prevent you from overcooking your baby's food.
This baby food maker is completely non-toxic. It is free of any BPA, lead, or phthalates. As an added bonus, this baby food maker comes with an included basket for cooking, lid and spatula for mixing, and a recipe booklet for more inspiration and ideas.

2. Babymoov Duo Meal Station Baby Food Maker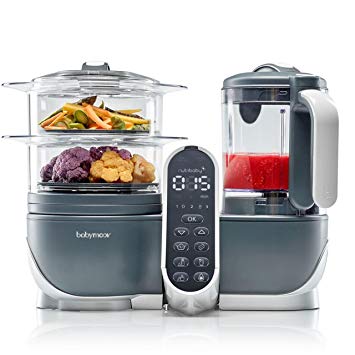 You can make a full week of food for your baby at one time with this large-capacity baby food maker from Babymoov. You can use this baby food maker to cook up to 11 cups of food (or more than 25 servings) of food at one time. Prep your baby's food just one time at the beginning of the week, and your baby will have enough fresh and nutritious food to eat until the end of the week.
This programmable baby food maker includes two steamer baskets and a 3-speed blender. It defrosts, reheat, blends, and steam cooks your baby's food with ease and speed. It actually have six functions, as it can also be used as a bottle warmer and sanitizer. If your baby eats solid food/puree but is still bottle-fed as well, you can cook food for your baby and warm or sanitize their bottle using just this one space-saving appliance in your kitchen. This baby food maker is ultra-easy to operate with its built-in LCD screen that features separate buttons for each function. It is also very easy to clean. All of its pieces come apart easily and are dishwasher-safe.

3. QOOC 4-in-1 Mini Baby Food Maker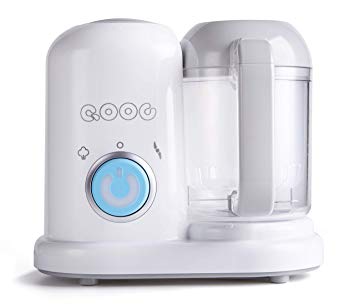 This mini baby food maker from QOOC won't take up much space on your kitchen counter, but it effortlessly fulfills all of your baby food-making needs for your little one. Its strong blade quickly chops and purees to transform raw ingredients into delicious and nutritious, ready-to-eat baby food of the consistency you desire in no time.
The one-handed operation feature of this baby food maker means you can make baby food and hold your baby at the same time. This baby food maker also has a whisper-quiet motor that won't disturb or upset your baby when they're sleeping or resting. It is compact and dishwasher-safe, so it's very easy to clean. Plus, this baby food maker also comes with a recipe booklet that gives you a ton of ideas for easy, nutritious and tasty recipes to make for your baby to try.

4. Cuisinart Baby Food Maker and Bottle Warmer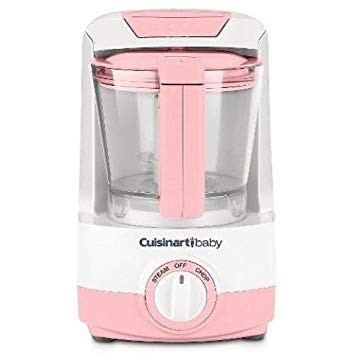 This top-of-the-line Cuisinart appliance doubles as a baby food maker and a bottle warmer. It expertly steams baby food with its special steam blade that evenly distributes steam to give you higher-quality baby food in less time. Its innovative bowl seal also prevents messes and steams baby food more quickly and efficiently.
This baby food maker can also warm baby bottles. This function is ideal if your baby still eats from a bottle in addition to eating solid baby foods. As an added bonus, this baby food maker comes with a spatula, bottle adapter ring for bottle warming, measuring cup for easy measurements, and recipe booklet for more meal-time inspiration.

5. Hamilton Beach Bebe Baby Food Maker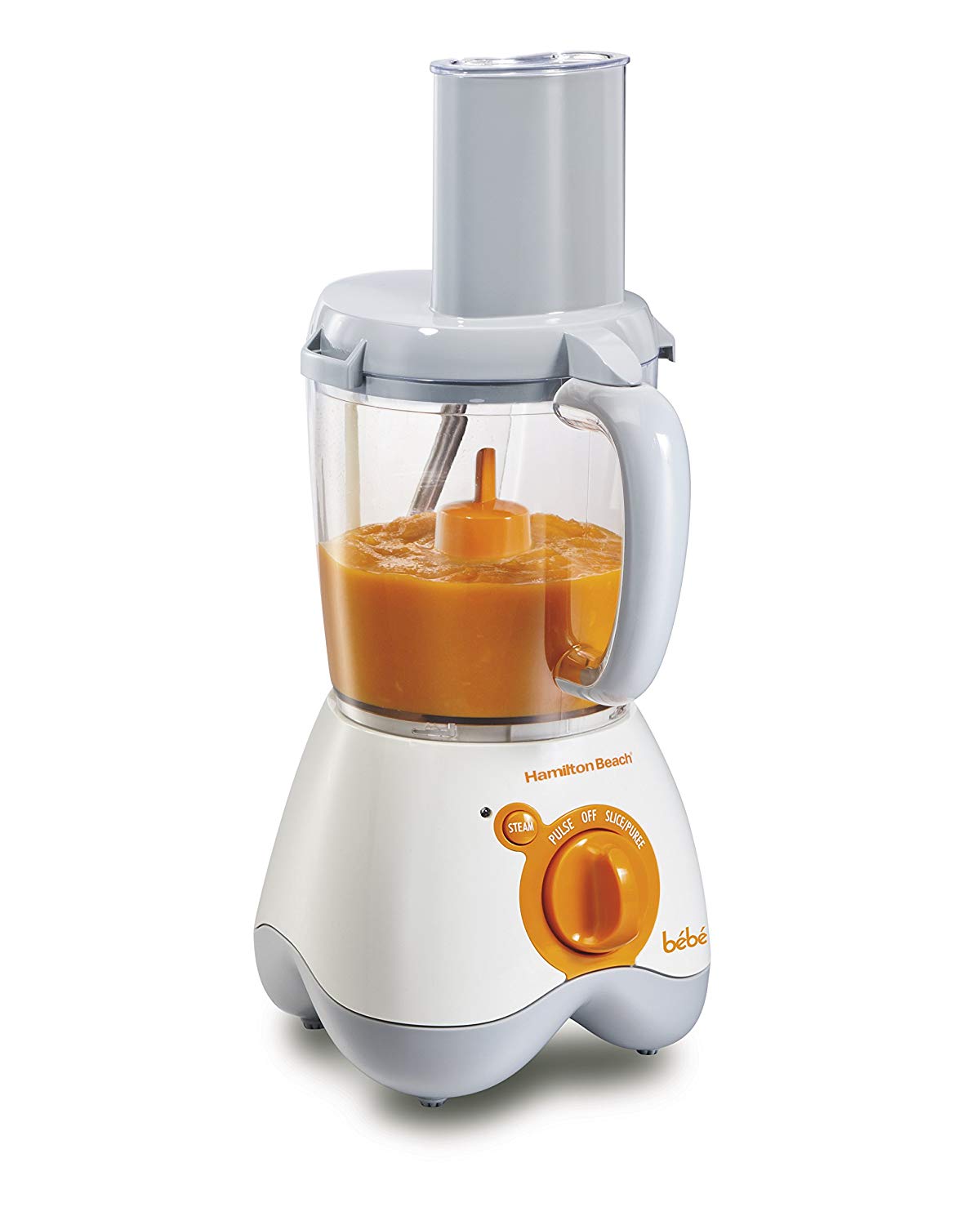 This ultra-versatile baby food maker from Hamilton Beach is multi-use. It shreds, steams, slices, chops, and purees raw ingredients effortlessly. This creates a wide variety of different baby foods of various consistencies and textures. This wide range of possibilities can help you introduce your little one to a broad variety of different foods. This exposure at a young age can help expand their palate early. Plus, all of of the baby food maker's parts are easy to disassemble and are dishwasher-safe for easy clean-up.
This baby food maker takes care of all of your needs for both cooking and storing your homemade baby food. It comes with 10 food containers that you can fill with baby food and store, freeze, and reheat. These freezer-safe, BPA-free storage containers make it easy  for you to save time by prepping your baby's meals for the week early and reheating some each day. If you're looking for more ideas for baby food, you can browse through the recipe booklet and baby feeding guide that comes with this baby food maker.

6. Babymoov Nutribaby 5-in-1 Baby Food Maker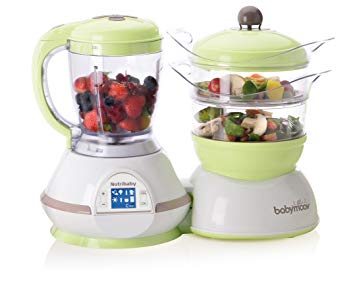 This large-capacity, ultra-versatile Babymoov baby food maker helps you handle all of your baby food-making needs with ease and convenience. This 5-in-1 miracle appliance defrosts, reheats, blends, and cooks baby food and warms and sterilizes baby bottles.
This baby food maker holds up to 25 servings of food at a time. Its large capacity makes it easier for you to prep multiple meals for your baby in advance. Refrigerate or freeze the leftovers and just reheat the meals when you need them for your little one. For added convenience, all of its individual parts are easy to disassemble and are dishwasher-safe for easy clean-up. All parts of this baby food maker are BPA-, lead-, and phthalate-free.