Baby Store
6 Best Accurate Baby Thermometers 2023 – Digital Thermometers for Kids
Most new parents do everything they can to help protect their baby from the spread of germs. Nevertheless, your baby can get sick no matter how tirelessly you work to sanitize everything they touch and limit their exposure to germs. It is normal and very common for babies to get sick. Nine times out of ten, your baby's developing immune system will fight off the attacking germs and your baby will be just fine. Even so, it can be very frightening for new parents when their baby gets sick.
Common germs are more dangerous for babies than for adults. Babies' immune systems are not fully developed, and getting sick can have more severe consequences for little ones than it normally does for adults. Having a baby thermometer on hand in your home can offer comfort and relief if and when your baby does get sick. Being able to monitor your baby's temperature from the comfort of your own home helps you keep track of their sickness in real time. It prevents you from freaking out prematurely and helps you determine logically whether or not more serious action is necessary.
If you're going to purchase a baby thermometer to keep in your home, though, it's important to choose one that works well. These six baby thermometers represent some of the best thermometers for babies on the market. They work quickly to measure babies' temperatures with impressive accuracy, and their accuracy wards off unnecessary stress. You'll never have to worry about second-guessing the reading of these six thermometers. Anyone of these six thermometers for babies is a must-have essential for new parents who want to stay on top of their baby's health and safety.
1. iProven Digital Thermometer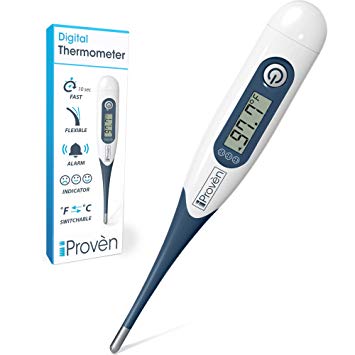 This thermometer from iProven is a simple but extremely accurate digital thermometer. It works as both an oral and rectal thermometer and is safe for use by babies, older children, and adults. The versatility of this thermometer makes is ideal for parents who are looking for a thermometer to have on hand for the whole family.
An optimized algorithm is the key to this digital thermometer's ultra-quick readings and incredible accuracy. In just 10 seconds, this thermometer establishes an accurate reading and displays it clearly to the nearest tenth of a degree on its built-in digital screen. The thermometer's digital screen also displays different smiley faces that indicate how serious the temperature is. These simple, clear indications helps you easily determine the best course of action when your child is sick.
This thermometer features a flexible tip that makes getting an accurate reading from a fussy, feverish baby much more convenient. Its tip is also waterproof, which makes it easier to sanitize. For added protection against germs, the thermometer comes with a hard case that encloses the entire thermometer when it is not in use.

2. Fever Fighters Forehead Thermometer Strips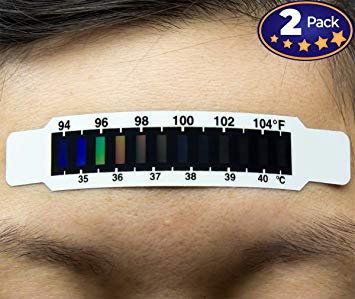 These ultra-innovative forehead thermometer strips from Fever Fighters take all of the hassle out of taking your baby's temperature. The last thing most fussy, sick babies is a thermometer probing them, whether it's rectally or orally. This makes the temperature-taking process easy and convenient for both you and your little one. All you have to do is press the thermometer strip to your baby's forehead and wait for the accurate reading to appear on its surface.
These forehead thermometer strips come in a pack of two strips. The strips are reusable and very easy to clean. Just wipe each strip gently with soap and water for quick and easy sanitization. The strips also come with a slim storage case for easy storage and portability.

3. Engji Prime Medical Digital Thermometer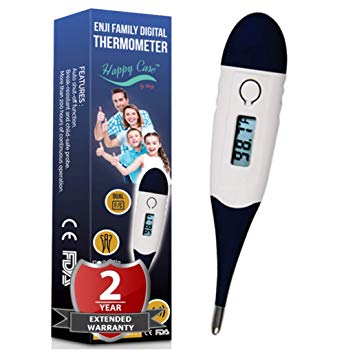 This digital thermometer from Enji Prime is made for everyone in the family. It is safe for use by babies, children, and adults and provides accurate temperature readings for all ages.
The thermometer is top-quality and is widely used professionally in hospitals, medical clinics, vet clinics, and schools due to the fast and accurate readings it provides. It features a waterproof tip that is easy to clean and sanitize effectively. The waterproof tip is also soft and flexible, which makes it simple and convenient to take even the fussiest baby's temperature and get an accurate reading. The thermometer's digital display window shows the temperature reading down to the nearest tenth of a degree in large, clear numbers for easy reading. You can switch the format of the temperature reading between Fahrenheit and Celsius with the click of a single button.

4. Kinsa Smart Thermometer for kids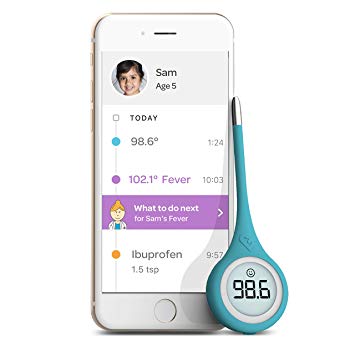 This high-tech smart thermometer from Kinsa tells you everything you need to know about your baby's temperature via an app. You have to download the Kinsa app to your smartphone or other compatible mobile device to set up and use the smart features of the thermometer.
The Kinsa app takes into account your child's age, temperature, and other symptoms to help you determine the best course of action to get your little one feeling better as soon as possible. It helps you make sense of what your child's fever means and makes recommendations for whether or not you should take them to see a doctor right away. The app also recommends over-the-counter medicines you can give your child that might help relieve some of their worst symptoms.
The thermometer itself is digital with a digital display screen that shows temperatures to the nearest tenth of a degree. It provides very accurate readings from oral, armpit, and rectal measurements in less than 8 seconds. It is safe for use by people of all ages from newborns to adults.

5. Braun Digital Ear Thermometer for Babies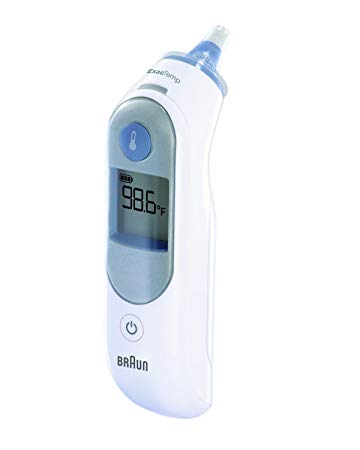 Taking a sick baby's temperature rectally or orally can be an unpleasant experience for both the baby and parents involved. This digital ear thermometer from Braun makes the temperature-taking process much easier for everyone. It even comes with a disposable lens filter. You can switch out the filter between temperature measurements. This cuts out the time and effort it takes to thoroughly clean and sanitize a standard thermometer tip.
This digital thermometer offers very accurate temperature readings. Unlike many other ear thermometers on the market, this ear thermometer features a special pre-warmed tip that prevents inaccurate low temperature readings. All you have to do is insert the tip of this thermometer into your little one's ear. In just a few seconds, an accurate temperature reading to the nearest tenth of a degree will show up in large, clear numbers on the thermometer's digital display screen. This thermometer is safe and accurate for infants, toddlers, kids, and adults of all ages.

6. Metene Digital Infrared Non-Contact Forehead Thermometer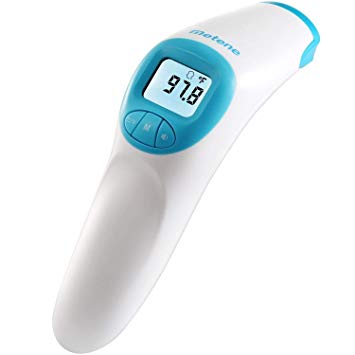 This instant digital thermometer from Metene uses innovative infrared technology to instantaneously provide accurate body temperature readings–with no skin contact. It is ultra-fast-acting and measures and displays temperature readings in less than one second.
You can use this thermometer to scan your little one and determine their temperature while they are asleep or awake. The thermometer features a quiet mode. This mode allows you to take your sleeping baby's temperature without any audible beeps that might disturb or awaken them. Even with its no-contact design, this digital thermometer provides temperature readings with hospital-grade accuracy. Each reading shows up on the thermometer's built-in digital display screen within one second after the initial temperature scan.