Baby Store
5 Best Baby Changing Tables & Dressers 2023
When your little one is young, their changing table is a very important part of both of your lives. It's where you spend time changing your baby every single day, multiple times per day and night. Changing your baby may not be the parenting task any parent looks forward to or relishes, but it's a daily necessity. The right changing table can help both you and your baby get through this magical, stressful, frustrating, amazing phase of their very young life as smoothly as possible.
A high-quality changing table is essential for keeping your baby safe, reducing your stress as a parent, and helping maximize your bonding time with your baby. After all, your little one's infancy and babyhood will pass by in the blink of an eye. With that in mind, you definitely want to take the time and effort to make sure that the changing table you choose for your baby offers safety and comfort for them and convenience and peace of mind for you as the parent. Ranging from sleek and simple to complex and convertible, these five changing tables are all some of the best options on the market in terms of safety, convenience, functionality, and style.
1. Delta Children Eclipse Changing Table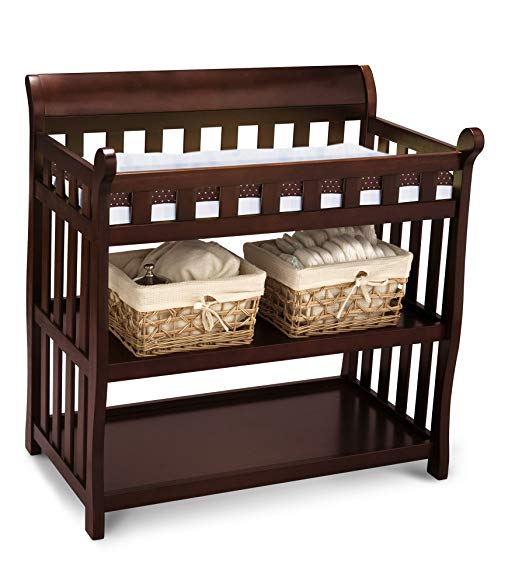 This simple, stylish changing table from Delta Children is the perfect basic changing table that is both functional and fashionable without any unnecessary bells and whistles. It is made with solid black cherry wood and its simple yet sleek slatted wood design adds a modern, homey touch to your baby's nursery.  The wood table comes with a comfortable changing pad along with a safety strap for added security for your baby. The pad  In addition to its included safety strap, this table's high safety rails keeps your baby secure from all four sides to prevent rolling off.
For added convenience, this changing table includes two built-in open solid wood shelves that save space and offer an expanse of room for storage. On these wide, open shelves, there is plenty of space for you to store all of your baby's changing essentials. These shelves allow you to keep diapers, clothes, wipes and much much more within your reach while you change your baby. You won't have to leave your baby unattended even for a moment because everything you need is right in front of you.

2. Dream On Me Emily Changing Table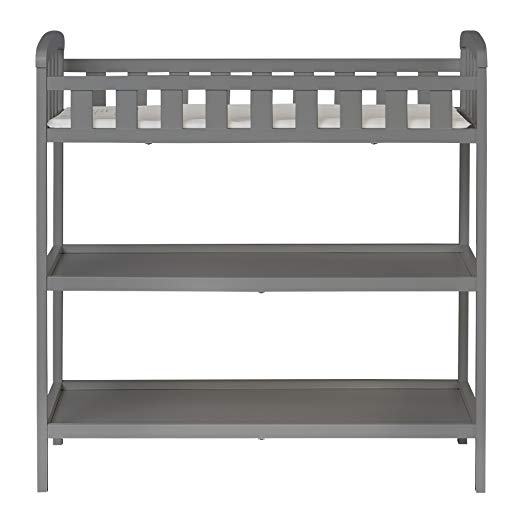 Don't let the simplicity of this sleek changing table from Dream on Me fool you. It is a stable, reliable, and durable piece of furniture built from solid finished wood with top-quality construction. Plus, its simple design helps it blend effortlessly into any nursery regardless of your baby's gender or their nursery's theme and decor.
This changing table keeps your baby's safety as its highest priority. It features tall slatted wood safety rails that enclose all four sides of the table, so your baby won't be able to roll off no matter how much they move around. It also comes with a pad that is thick enough to be comfortable but not so thick it reduces the effectiveness of the table's sturdy safety rails. This pad is ergonomic to maximize your baby's comfort and includes a safety strap to provide ultimate safety and security.
Despite its top-quality solid wood construction and sturdiness , this changing table doesn't weigh more than 20 pounds. Its ultra-lightweight frame allows for easily portability and added convenience. Plus, its two wide open shelves offer space-saving storage for everything from clean diapers to stuffed animals and beyond. This open shelving design makes assembling this table a breeze and gives you easy access to all changing essentials without worrying about opening drawers or cabinets.

3. Delta Children Infant Changing Table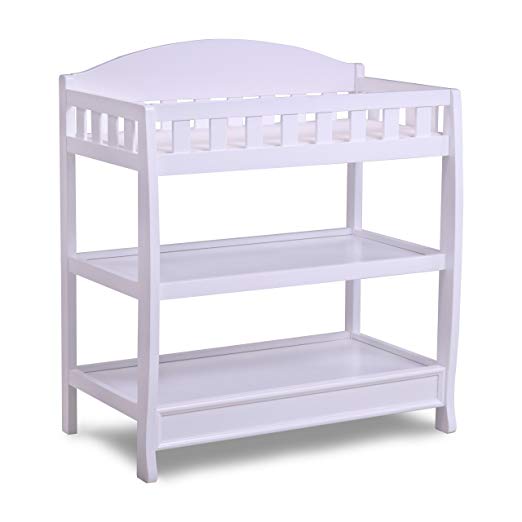 Made from solid wood, this basic changing table is both simple and elegant with a modern design. Its high safety rails protect your baby from all four sides. It comes with a water-resistant pad for easy clean-up and convenience. The pad includes a safety strap for maximum security.
Two shelves are built in beneath this changing table. The shelves are wide and open, which leaves you with plenty of space to store everything you or your child might need–from wipes to diapers to PJs and more.

4. Dream On Me Anna 4-in-1 Crib and Changing Table Combo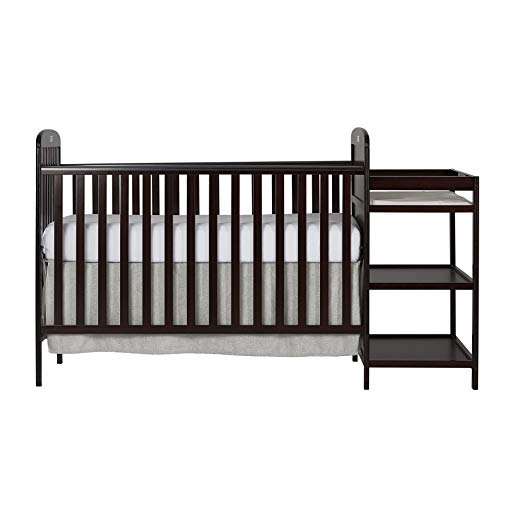 This crib and changing table combo is an ingenious design that saves space in your nursery and will serve you and your little one well for years. The combo design of this table does not force you or your child to sacrifice anything in terms of comfort, functionality, or safety for both the changing table and the crib.
In fact, this crib and changing table isn't just a 2-in-1 piece of furniture. It is actually 4-in-1, as the crib itself can convert into a daybed and a full-size bed. All in all, this one piece of ultra-versatile furniture can be a crib and a changing table for your baby, a toddler bed when your little one gets older, a full-size bed for your child's adolescence, and a daybed for guests once your child is out of the house. Its three-level mattress support system supports your child even when they're not a child anymore. The simplistic, elegant design of this solid wood crib is timelessly trendy. It matures with your little one from birth through adulthood. This crib and changing table can remain in your family for decades and serve your child well for a lifetime.
Throughout your child's infancy and babyhood, use this 4-in-1 simultaneously as a crib and changing table. The baby crib is full-size, so it is compatible with most standard crib mattresses. It features teething rails and non-drop sides for safety and comfort for your baby. The attached changing table comes with a changing pad and safety strap. Its locking wheels and safety railings maximize your baby's safety and security. Plus, it features two open shelves for convenient storage and easy access to all changing essentials for your baby.

5. Storkcraft Portofino 4-in-1 Convertible Crib and Changer
This amazing convertible crib and changing table from Storkcraft is not something you throw out. You won 't have to donate it once your baby turns two. This piece of furniture is made to last a lifetime and serve your family for just as long. The 4-in-1 design of this crib means that the crib and changing table combo effortlessly converts into a toddler bed, a full bed, and a daybed. Your child can keep using it as they grow up from an infant to an adolescent and beyond.
The solid wood construction of this changing table is ultra-durable and its elegant design with a glossy wood finish will never go out of style. The changing table comes with an easy-to-clean vinyl changing pad for comfort and convenience. Both the crib and the table feature all-around safety rails to prevent rolling and safety hazards. This combo crib and changing table puts everything you need within reach. Midnight changing sessions are simplified when your baby's crib is attached to their changing table. Plus, the changing table includes three drawers in front and three shelves in back. This space allows you to effortlessly store all of your baby's changing essentials right where you can reach them.