Home & Garden
4 Best Small Saucepans 2023 – for Basic and Advanced Cooking
When it comes to getting the best saucepans it does pay to buy the best you can afford at the time. Unless you're just going to be heating up tinned soups, of course. Fair enough, you say, but how do I know which is the best cooking pan to invest in? You never really know until you've actually used a few different pans. Of course, you need to choose the size and shape of your new saucepan based on what type of dishes you intend to cook.
So we tested a selection of 10 different saucepans, and then whittled the list down to the top 5 Best Small Saucepans. We looked at the design features of the latest 2 quart saucepans on offer. And we also consulted experts with years of professional cooking experience. So the views of professional cooks, cooking instructors and private chefs helped us narrow down the best utensils. And then we tested those saucepans in home environments, to create this handy 5 Best Saucepans guide for you!
1. Best safety handles saucepan – Cook N Home 02416 Lid, Silicone Handle 2-Quart Stainless Steel Saucepan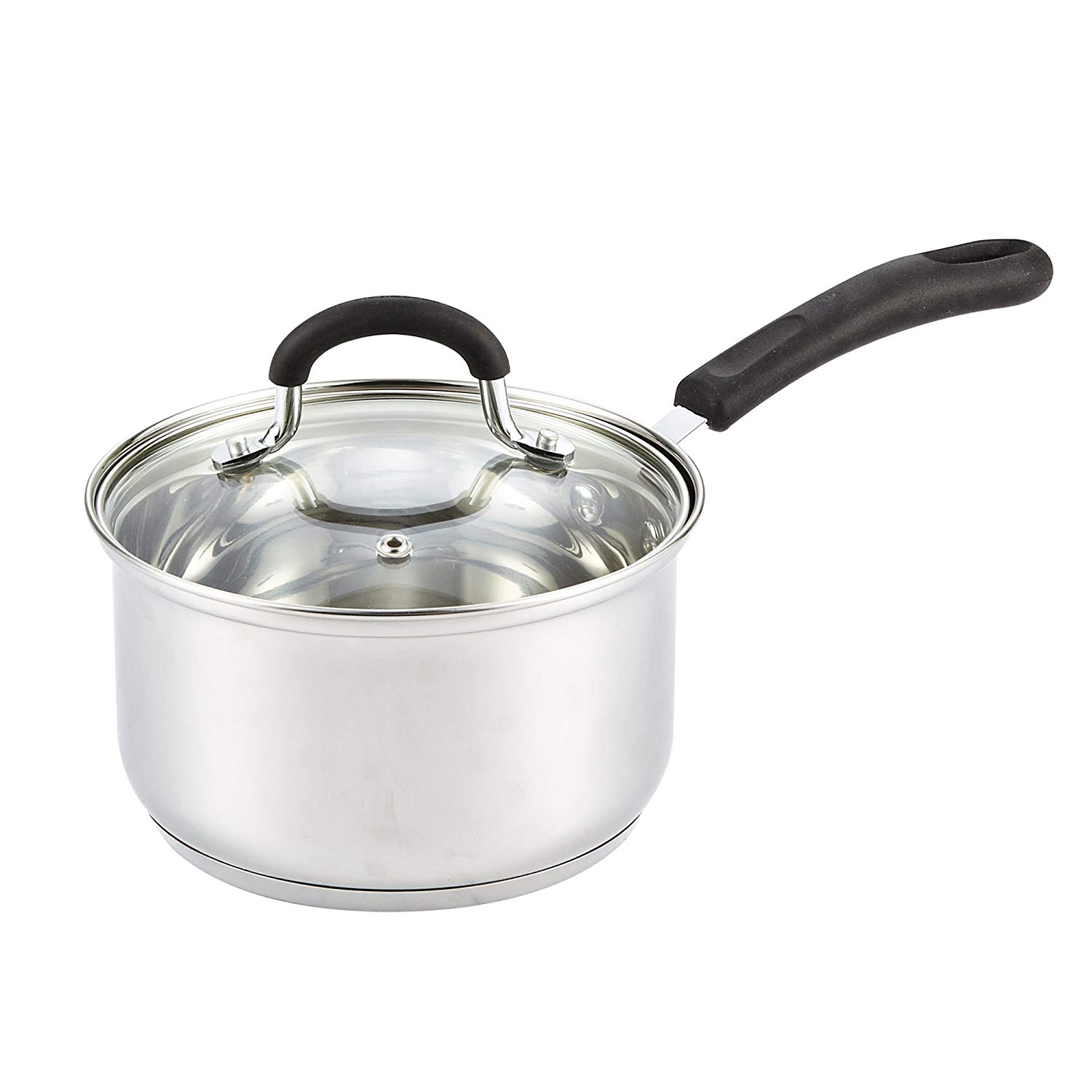 Another brilliant design from Cook N' Home, this 2 quart saucepan comes with a glass lid, which is very easy to clean. This saucepan has first-rate heat distribution from an aluminum disc bonded to the bottom exterior. And the stainless steel interior has a safe, non-reactive cooking surface. We really liked the way this lid fits down inside the rim of the saucepan, as it means you never get water dripping down onto the hob/gas burners.
It's suitable for experienced and beginner cooks, but has an extra safety feature we appreciated. And that's the silicone handle, which is very comfortable to hold and doesn't get hot during the cooking process. We feel this is a good feature for people who don't cook all the time, and may forget that handles get hot. So recommended for both experienced and basic cooks, who like a glass lid to see exactly when your food starts to boil!


2. Best budget saucepan – Farberware Classic 2-qt. Saucepan with Lid
As a fully stainless steel saucepan, the Farberware may have hot-spots, so you need to watch it as you cook. But if you just need a decent quality saucepan to heat up tinned foods or boil water, this is an excellent choice for simple cookery. And we also found it useful for cooking up a delicious pot of rice.
For added safety, the handles are made of plastic. And plastic stays cool during cooking, so if you're an amateur cook you won't burn yourself! It's easy to clean and that's always an important feature for cookware. The well-fitting lid allows you to save energy as you cook, and let things simmer on a low heat. We recommend it for heating up any food and for teens learning to cook simple dishes.

3. Best investment for long-term use – All-Clad 4212 Stainless Steel Saucier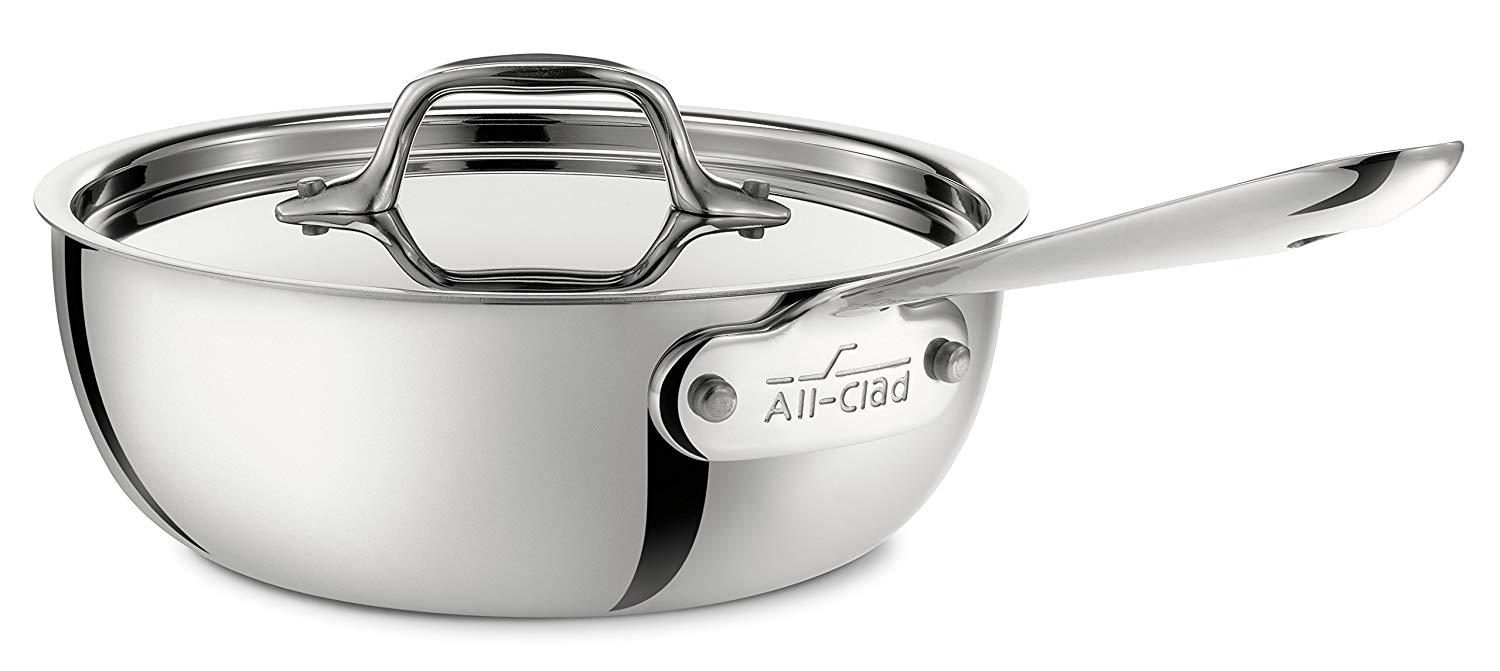 Whether you're setting up home, looking for a super wedding gift or upgrading your kitchen equipment, the All-Clad S.S. Saucier is the best you can get! It's fully clad, which means the heat distribution is perfect. And the sloping sides mean stirring is extremely easy for the busy cook. The 4212 Saucier is wide enough to use a standard electric whisk inside. So making sauces and risottos is easier and much more successful in this flared side pan. The wide, flared shape also makes it easy to 'reduce' liquids, too!
The only con we could come up with is that there's no handy dip in the lip, to make it easy to pour out hot liquids. But if you only want to buy your kitchen equipment once, this is the best quality and utility available. It's also an eco-friendly choice as these pans are virtually indestructible and frequently handed down to children and grand-children! This saucepan is perfect for home cooks who enjoy creating special meals using advanced cookery skills, in addition to the usual basic tasks.

4. Best overall – Cuisinart Multi-Clad Pro Stainless Steel 2-qt. Saucepan with lid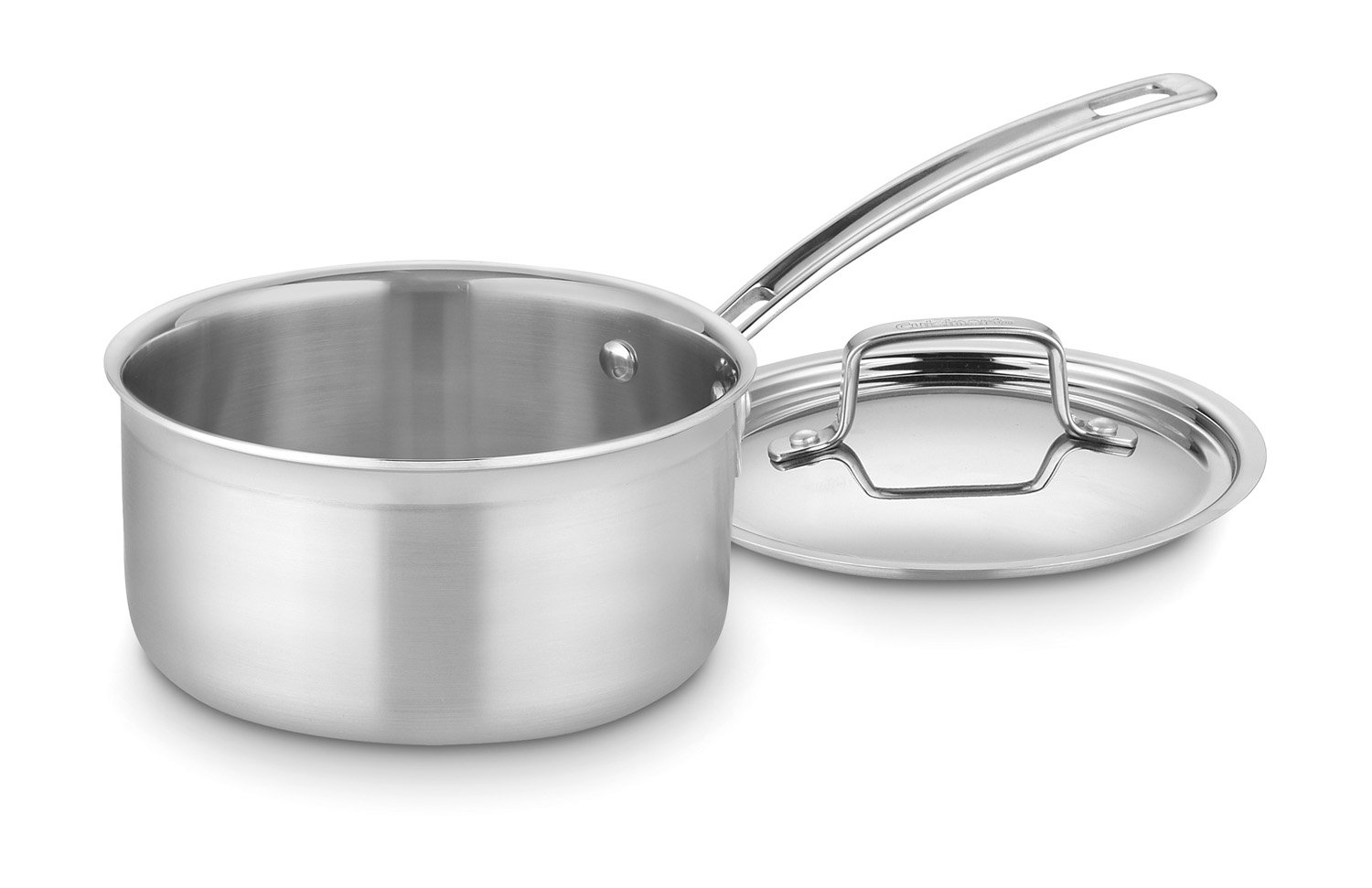 Most family kitchens rely on the 2 quart saucepan to provide a versatile and sturdy cooking pot. And our testers enjoyed whipping up everything from patisserie cream, home-made toffee and a mouth-meltingly moist, rice pilau in this great all-round cooking utensil. We were impressed with the performance of the Cuisinart Multi-Clad Pro, which is almost equal to saucepans costing a whole lot more!
The rivet-fixed handle is safe and comfortable to use. And there's a very handy dip in the lip which lets you pour hot liquids precisely. This prevents the danger of burns to your hands or floods of hot food going all over your work surfaces. The lid fits securely and has a large top handle, so you can remove it easily whilst wearing an oven glove. And with a wide shape, you can do your whisking directly inside the saucepan and get great results from its even heat distribution.

So whether you use saucepans for basic home cooking, heating up tinned foods or are a gourmet chef in the making, there's a great small saucepan here for you!