Baby Store
10 Best Gifts for Baby Girls 2023 – Baby Girls Gift Ideas
These 10 gifts are perfect for spoiling the baby girl in your life. Maybe you're a parent searching for the best keepsake gift for your little one who's growing up way too fast. Maybe you're the cool auntie hoping to spoil your little niece for her first birthday. Or, maybe you're the BFF of a pregnant new mom hoping to find a Regardless, you're sure to find something on this list that's perfect for the special baby girl in your life.
This list of gifts for baby girls provides 10 diverse options for everything from educational gifts to adorable accessories to just-for-fun toys. All of these gifts are targeted specifically toward baby girls and top-rated by little girls and their parents alike.
1. Custom Catch Personalized Baby Blanket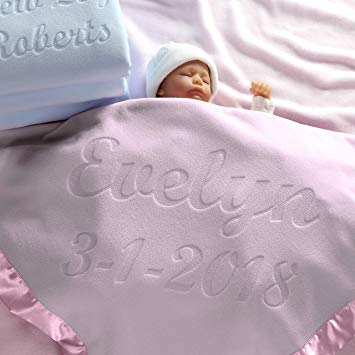 Both practical and meaningful, this personalized baby blanket from Custom Catch makes a great useful and sentimental gift for any new baby girl in your life. The blanket is a large, 3′ x 3′ square blanket that is made from ultra-soft fleece material.
You can choose two lines of text to appear in large, soft letters on this personalized blanket. Choose the baby's first name and birth date, first and last name, or any other brief message you want to appear on the blanket. The letters are ultra-soft and are not stitched on as rough embroidery like the letters on many other monogrammed blankets. Super soft pink fleece material and wide satin ribbon trim on all four sides add style and femininity to this baby girl blanket.

2. C.R. Gibson 'Sweet Baby Girl' Bound First Five Years Baby Book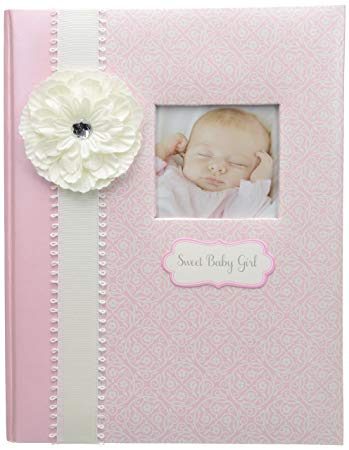 This precious baby book from C.R. Gibson captures is the ideal keepsake gift for the special baby girl in your life. It captures 64 pages of special memories from the first five years of a baby girl's life. Any baby girl and her parents will treasure this book forever.
Its pink cover features ribbon and floral decor with the words 'Sweet Baby Girl' and a space where you can place a picture of the book's special baby girl recipient. This baby book is easy to customize, even for parents who have no experience with scrapbooking or crafting. Its 64 pages feature different themes that help you choose text and pictures to place on each page.

3. Rockabye Owlivia Pink Owl Rocker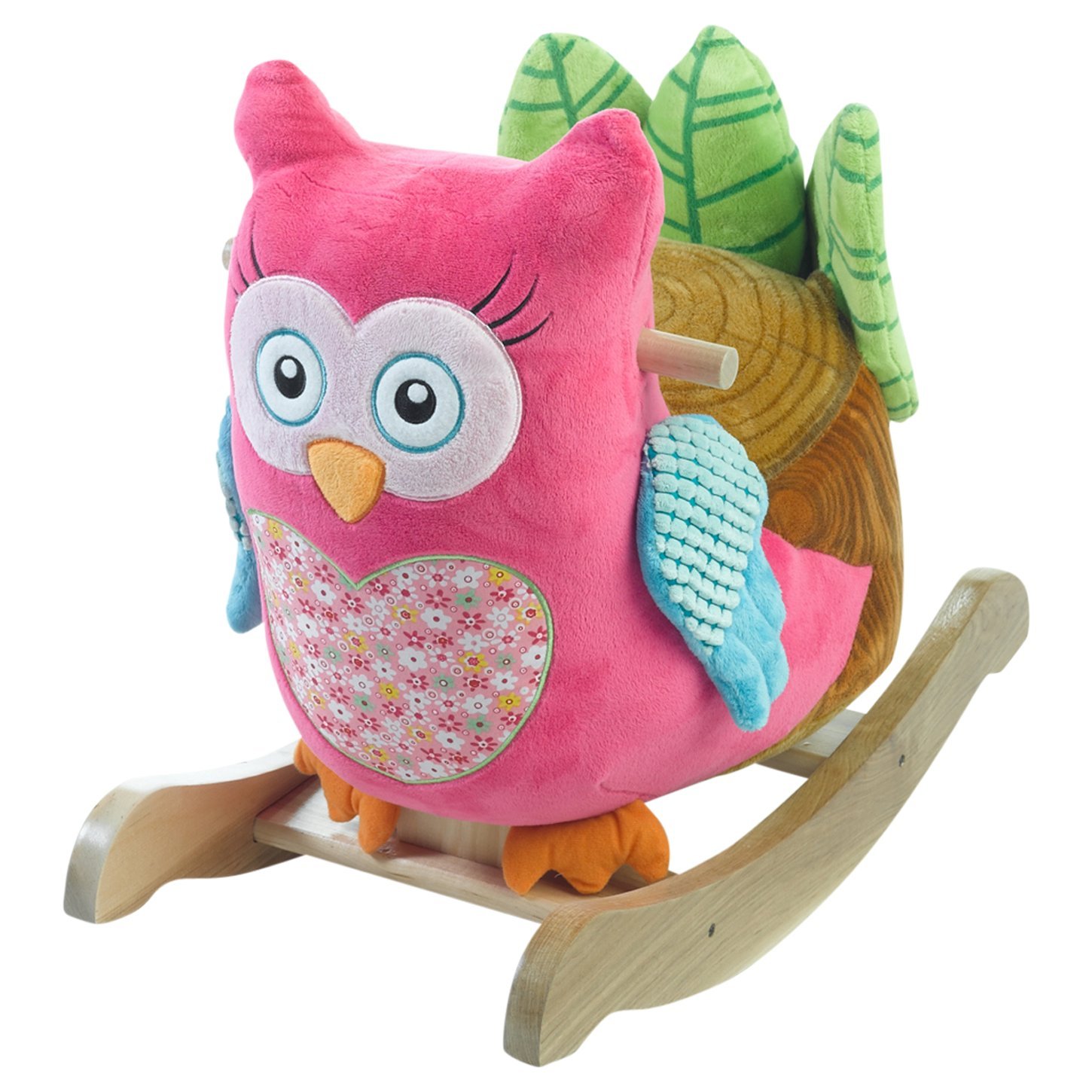 Cute, fun, educational, and durable, this pink owl rocker from Rockabye is a one-of-a-kind toy that sets itself apart from any other toys baby girl will receive. This rocker will last a new baby girl throughout her babyhood and beyond. Unlike other interactive toys that stop working or fall apart within a year, this rocker is designed to last decades. Its amazing durability means this rocker can become a special keepsake toy that your baby girl recipient can pass down to her children and even grandchildren eventually.
In addition to being fun, unique, and adorable, this rocker is also an educational toy. It features four built-in educational songs that teach baby girl her letters, colors, numbers, etc. in a fun way that doesn't feel like a chore. This rocker is sponge-washable for easy clean-up and maintenance. It is designed for babies 9 months and up and can safely support children who weigh up to 80 pounds.

4. Burt's Bees Baby Getting Started Gift Set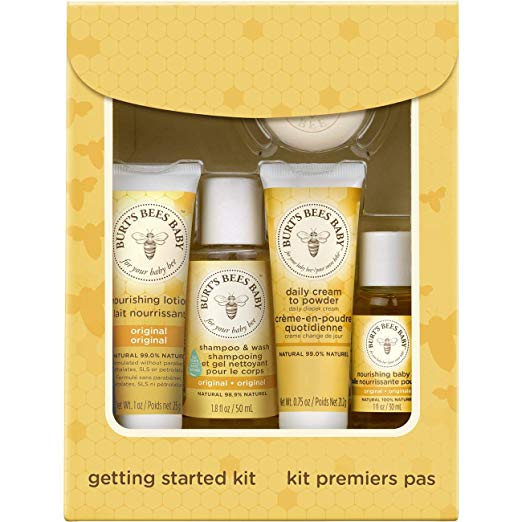 While this gift might not seem like the most exciting item on this list, any new parent will appreciate receiving this useful Burt's Bees baby skin care gift set for their baby girl.
This 5-piece gift set features safe, non-toxic bath products and skin care products that are especially for use by babies. It includes dual shampoo and body wash, buttermilk soap, cream-to-powder diaper rash cream, nourishing lotion, and nourishing oil. All of these products are safe for use on a baby's delicate skin. They are all natural and are free of any harmful, irritating ingredients including petroleum, parabens, phthalates, etc.

5. Baby Aspen Simply Enchanted Unicorn Hooded Spa Robe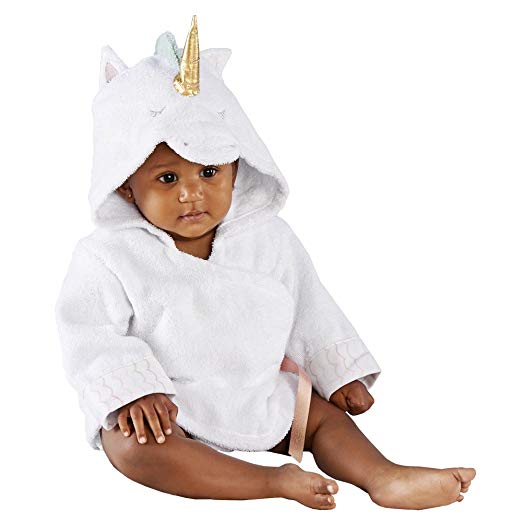 Any baby girl will look adorable in this unicorn-themed spa robe. It features a unicorn hook with embroidered eyes, a gold unicorn horn, aqua mane, multi-colored gold, pink, and aqua ribbon tail, and pink ribbon closure.
In addition to being super cute, this 100% cotton terry robe is also practical. Its soft material and kimono-style design make drying off after bath time more fun, more comfortable, and more convenient for any baby girl.

6. Powell's Owls Baltic Amber Teething Necklace Gift Set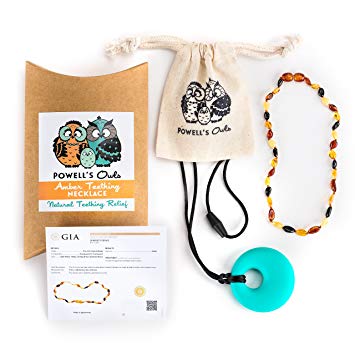 This gift set of handcrafted teething necklaces from Powell's Owls makes the painful process of teething more bearable for any baby girl–and her parents. The gift set includes an authentic Baltic amber teething necklace. This teething necklace features succinic acid that improves babies' immune systems, minimizes inflammation, and acts as an all-natural pain reliever.
The all-natural amber teething necklace in this gift set is completely safe for babies. It is completely non-toxic and is designed to minimize drooling and fussiness and maximize comfortable relief and happiness for suffering teething babies. The teething necklace comes with a cute and convenient draw-string carrying bag and an informational packet that explains how this one-of-a-kind amber teething necklace works.

7. Vulli Sophie la Girafe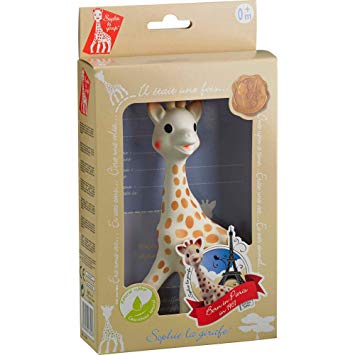 This Vulli giraffe might seem like an ordinary baby toy, but it is much more than that. In fact, Sophie la giraffe is actually an effective teether for babies who are suffering through the painful teething process. It features multiple different soft, chewable parts that baby girls can gnaw on to soothe their sore gums while they're teething.
This giraffe-shaped teether is completely safe for babies. It is free of any BPA plastics and phthalates and does not pose any choking risks or other safety hazards.

8. Fisher-Price Laugh & Learn Smart Stages Piggy Bank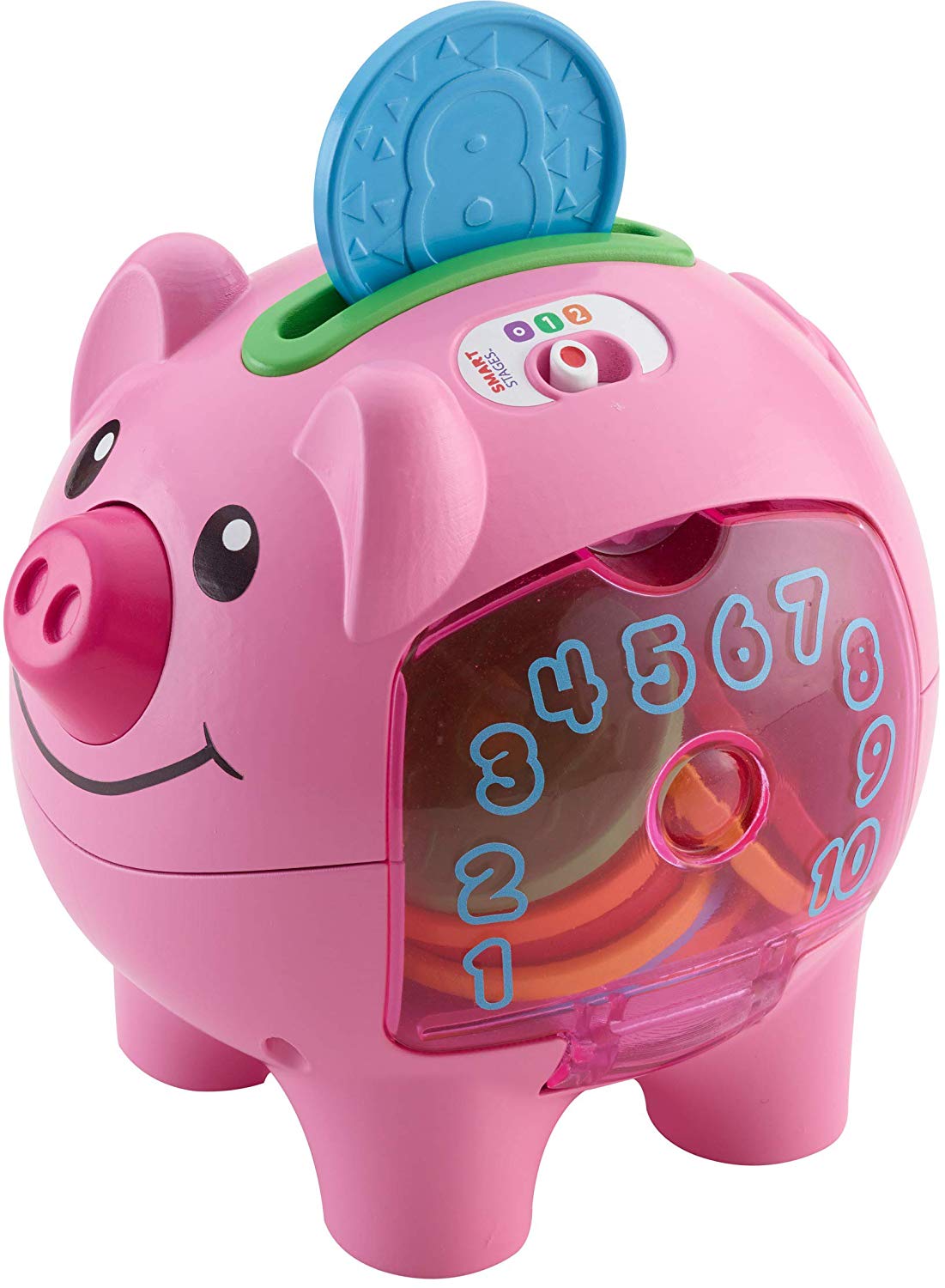 Encourage early learning in the special baby girl in your life with this one-of-a-kind Fisher-Price piggy bank. This piggy bank is a fun and educational toy for babies.
The bank includes ten colorful coins, each of which features dual sides that teach babies about animals and numbers. The piggy bank also comes with more than 40 built-in sing-along songs and educational phrases. One of the best things about this piggy bank toy is its adaptive nature with two different levels of play. As its baby girl recipient grows and develops, the piggy bank switches up its content to continuously entertain and educate.

9. Trumpette Baby Girls Sock Set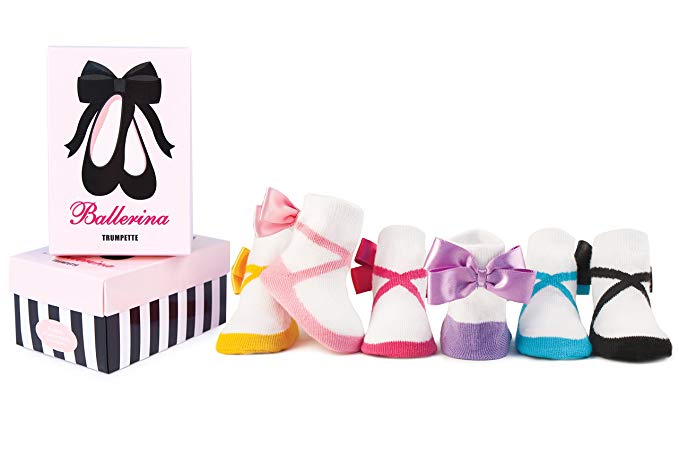 Even if the special baby girl in your life can't walk yet, these ultra-adorable ballerina socks from Trumpette will keep her in style.
This sock set for baby girls features six different pairs of colorful socks that are designed to look like ballet shoes. The socks are 80% cotton and 20% nylon-spandex blend material with a special elastic top that prevents them from sliding down baby's ankles. They are ultra-soft, comfortable, durable, and breathable for any baby girl's feet.

10. Crystal Creations Floral Baby Girl Monthly Milestone Stickers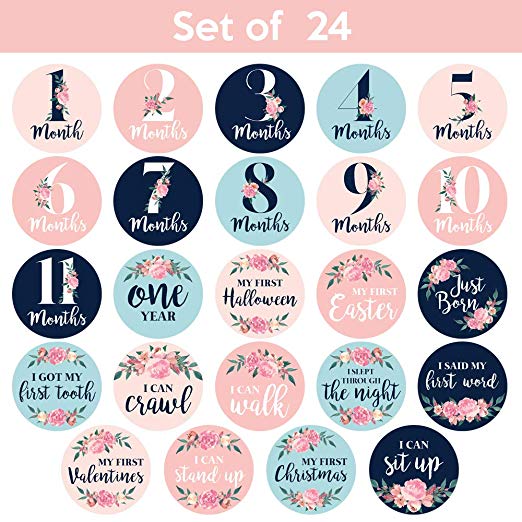 This set of 24 baby milestone stickers from Crystal Creations helps new parents mark every important milestone throughout the first year of their baby girl's life.
All of the stickers feature a hand-drawn floral illustration with a different label related to a baby milestone. There is a sticker for each month in the first year of a new baby girl's life. There are also stickers for celebrating a new baby girl's first holidays, first words, first tooth, etc. etc. These stickers have a 4-inch diameter and come pre-cut. They make the perfect prop for milestone photos or the perfect addition to a baby scrapbook.